(Cover Photo: Company of Gilbert & Sullivan's "Pirates of Penzance or, The Slave of Duty" at Valley Light Opera. Photo Courtesy of VLO)

"For what, we ask, is life without a touch of Poetry in it?"

Kevin T. Baldwin
METRMag Reviewer
# 774-242-6724

Valley Light Opera
Presents
Gilbert and Sullivan's
"PIRATES OF PENZANCE"
Music by Arthur Sullivan and Libretto by W. S. Gilbert.
Stage Director: Steve Morgan
Music Director: Aldo Fabrizi
"Pirates of Penzance" a Comic Opera in Two Acts
Cast Includes: Thom Griffin, Matt Roerig, Rory Mason, Travis Benoit, Kathy Blaisdell, Robin Parsons, Tim Plankey, Elaine Crane, Heather Williams, Grace Olmstead, Donna Griffin, Claire Kenny, Phobee Knapp, Andra Rose, Elysse Link, Amanda Seymour, Sally Spencer, Tassie Plankey, Louise Antony, Elizabeth Neill, Katherine Benfer, Nina Pollard, Bill Tobey, Sue Keller, Steven Williams, Ted Fijal, Ted Blaisdell, Paul Pelle, David Bull, Kevin Cox, David Bull, Kevin Cox, Bob Datz, Gordon Freed, Mark McMenamin, Tim McNierney.
Performances:
November 6, 12 & 13 at 8:00pm
November 7 & 14 at 2:00pm
To be held at the Academy of Music, 274 Main Street, Northampton, MA 01060
"Pour, O Pour, the Pirate Sherry" is how Gilbert and Sullivan's "The Pirates of Penzance" begins and, from there, things get just plain ridiculous, which is a highlight, not a complaint.
The musical is a comic opera in two acts written by Arthur Sullivan and W. S. Gilbert and is being presented by Valley Light Opera in November.
The cast ranges in age from 18 to "folks in their 80s" according to Coordinating Producer Ted Blaisdell during opening announcements and the entire company brings a wonderful sense of spirit to the comedic opera.
Written in 1879, the material may be dated but, if one abandons all attempts to apply logic to its preposterous plot (and some of the "age-blind" casting), the musical can still bring many laughs (as a matter of fact, some of the "age-blind" casting contributes to the humor, at times).
We meet Frederic (Travis Benoit) who has just turned 21 years old and has served as an apprentice to sympathetic pirates under the leadership of the Pirate King (Matt Roehrig). Frederic serves and resides with the pirates on the coast of Cornwall during the time of Queen Victoria's reign.
I know - Who knew pirates offered apprenticeships?
Benoit seems a little self-conscious on stage as Frederic but his angelic tenor voice helps elevate the performance. By the second act, he is much more confident and dominates many of the scenes he is in.
Roehrig is quite capable as the manipulative but honorable Pirate King. His band may be robbers, thugs and pirates, but, like their Pirate King, they are still always polite and loyal to their Royal Queen.
Frederick has never seen another female, as he sings to his former nursemaid Ruth (Kathy Blaisdell) who is responsible for Frederic winding up with the pirates in the first place. Ruth was instructed to put Frederic into an apprenticeship as a "pilot", not "pirate."
Whoops. Off by one little word. Thus sets the stage for the remainder of our story.
Blaisdell has some wonderfully funny moments, then disappears for far too long between appearances. Her return in the second act is very much welcome.
Frederic meets and falls in love with Mabel (Rory Mason), the daughter of Major-General Stanley (Thom Griffin) who has arrived on the island with her maiden sisters.
Griffin seemed to occasionally get ahead of the music during the Saturday night performance of the iconic G&S tune, "I Am the Very Model of a Modern Major General" but his overall portrayal as Major-General Stanley is a delight with some of the funniest line execution in the production.
Mason, as "Mabel", is pleasing and has a fine, almost genteel quality, to her soprano vocals. However, she seemed, at this same performance, to rely heavily on conductor/music director Aldo Fabrizi for guidance, especially during her duets with Benoit.
The orchestra under Fabrizzi's guidance was expert and presented the score fluidly and with great aplomb.
Returning to the rest of the Major-General's "wards" - the collective vocal talent (principal characters and chorus combined) was obviously there and, thanks to some clever blocking, the group has some wonderfully humorous moments on stage.
As to the believability of some of the women being young "maidens" to the Major-General, please return to the above comment by Blaisdell and the note about suspending disbelief (To be fair, this same comment would, of course, obviously apply to some of the pirates, as well). But they are ALL vital to the show's essence of lampoonery and, again collectively, deliver a substantive, quality performance.
In fact, probably the most cleverly staged moment in Act Two is during the penultimate number, "Hush, Hush! Not a Word" when the entire ensemble are on stage. Some wonderful staging by the show's director, Steve Morgan.
Frederic warns the maidens that they are in danger from the pirates who arrive to plunder the maidens and attack their "father."
The vocal acuity by all members of the ensemble was solid. The clown-inspired antics by the G&S version of the "Keystone Cops" during Act Two made much of the second act's comedy flow exceptionally well.
The set used for the second act was simpler and far superior than that of the first. The first act drop had numerous wrinkles and almost detracted from the otherwise sufficient sets placed on stage. Lighting and sound were exemplary throughout the production.
Finally, a word about the curtain call, which some might find head scratching if trying to think logically of who the story's "central" characters are in the musical. You will see the show's "lovers" Frederic and Mable take their bow, followed by the trio of the Major-General, the Pirate King and Ruth. Some may wonder why.
If not familiar with some of the procedures involved: In some older musical forms, tradition (and, perhaps, even sentimentality) over story construct tends to dictate the order of curtain call. The above order will make perfect sense to some while others might find it perplexing. Ultimately, it does not matter, for all those involved certainly earned their bows with impressive performances.
"Penzance" is a charming piece of historical theatre and it is wonderful to see it so expertly performed thanks to VLO's great sense of enthusiasm with the musicians involved and its ensemble.
The show runs approximately two hours 30 minutes with one intermission.
Kevin T. Baldwin is a member of the American Theatre Critics Association (ATCA)
@MetrmagReviews
@Theatre_Critics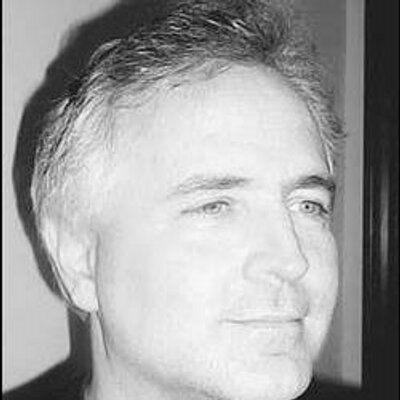 TICKETS FOR FALL PRODUCTIONS
Tickets are $10-$33 available from the Academy of Music box office by mail, telephone, in person, by email, or online.
Box office hours: Tuesday-Friday 3pm-6pm, and one hour before each performance.
THE ACADEMY OF MUSIC BOX OFFIC

E
boxoffice@academyofmusictheatre.com
413-584-9032 x 105
If you can't print your tickets at home, they will be available for you at the will-call desk or mailed to you for an additional fee. Online ticket purchases are subject to a $1.50 per ticket fee plus a 5% credit/debit card fee. Need accessible seating or have a special request? Call the Academy box office to make arrangements.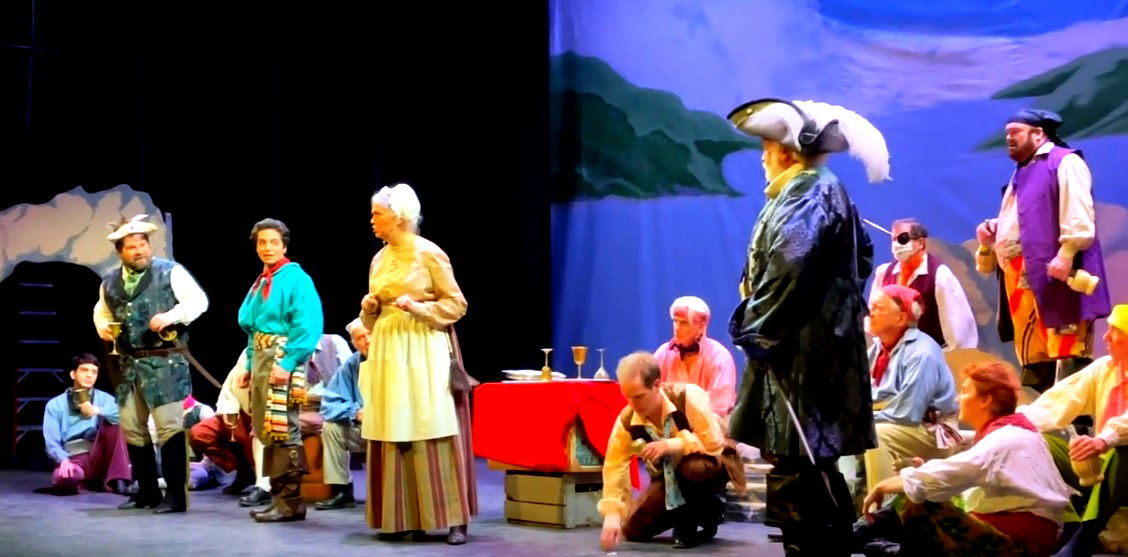 (Company of Gilbert & Sullivan's "Pirates of Penzance or, The Slave of Duty" at Valley Light Opera. Photo Courtesy of VLO)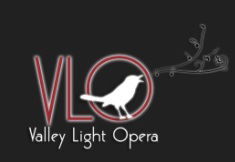 ABOUT VALLEY LIGHT OPERA
The Valley Light Opera Inc., is a volunteer-run nonprofit organization based in Amherst, Massachusetts. Founded in 1975 by a group of Gilbert and Sullivan devotees, the VLO presents a fully-staged opera every fall at the Academy of Music in Northampton, with less formal productions each spring.
Valley Light Opera
PO Box 2143
Amherst MA. 01004-2143