(COVER PHOTO: (L to R) Chris Sullivan, special guest appearance by Wayne Brady, Anthony Veneziale, Aneesa Folds and Kurt Crowley (on keyboard) in an earlier performance of Freestyle Love Supreme, now playing at the Emerson Colonial Theatre in Boston, MA. Photo by Joan Marcus)
Kevin T. Baldwin
METRMag Reviewer
# 774-242-6724
"...graduation..."

The Emerson Colonial Theatre
Presents
"FREESTYLE LOVE SUPREME"
Conceived By Anthony Veneziale
Created By Thomas Kail, Lin-Manuel Miranda, Anthony Veneziale
Directed By Thomas Kail
Executive Producers Andy Jones & James Hickey
Music Supervisors: Arthur Lewis, Bill Sherman, Chris Sullivan
Associate Directors: Cody Renard, Richard Patrick Vassel
Cast Includes: Andrew Bancroft aka Jelly Donut, Richard Baskin Jr. aka Rich Midway, Jay C. Ellis aka Jellis J, Aneesa Folds aka Young Nees, Kaila Mullady aka Kaiser Rözé, Morgan Reilly aka Hummingbird, James Rushin aka Not Draggin, Chris Sullivan aka Shockwave, Anthony Veneziale aka Two Touch.
Founding Members of Freestyle Love Supreme: Christopher Jackson, Thomas Kail, Arthur Lewis, Lin-Manuel Miranda, Bill Sherman, Chris Sullivan, Anthony Veneziale.
Additional Creative Team: Scenic Design Beowulf Boritt; Costume Design Lisa Zinni; Lighting Design Jeff Croiter; Sound Design Nevin Steinberg; Company Manager Holli Campbell; National Press Representative Candi Adams PR; Tour Marketing Laura Matalon, Gabriella Godínez; Production Stage Manager Mckenzie Murphy; Technical Supervision Hudson Theatrical Associates; General Management Baseline Theatrical.
Performances:
March 18 - April 2, 2022
(Contact Box Office for Exact Times)
Emerson Colonial Theatre, 106 Boylston Street, Boston, MA.
https://www.emersoncolonialtheatre.com/Online/default.asp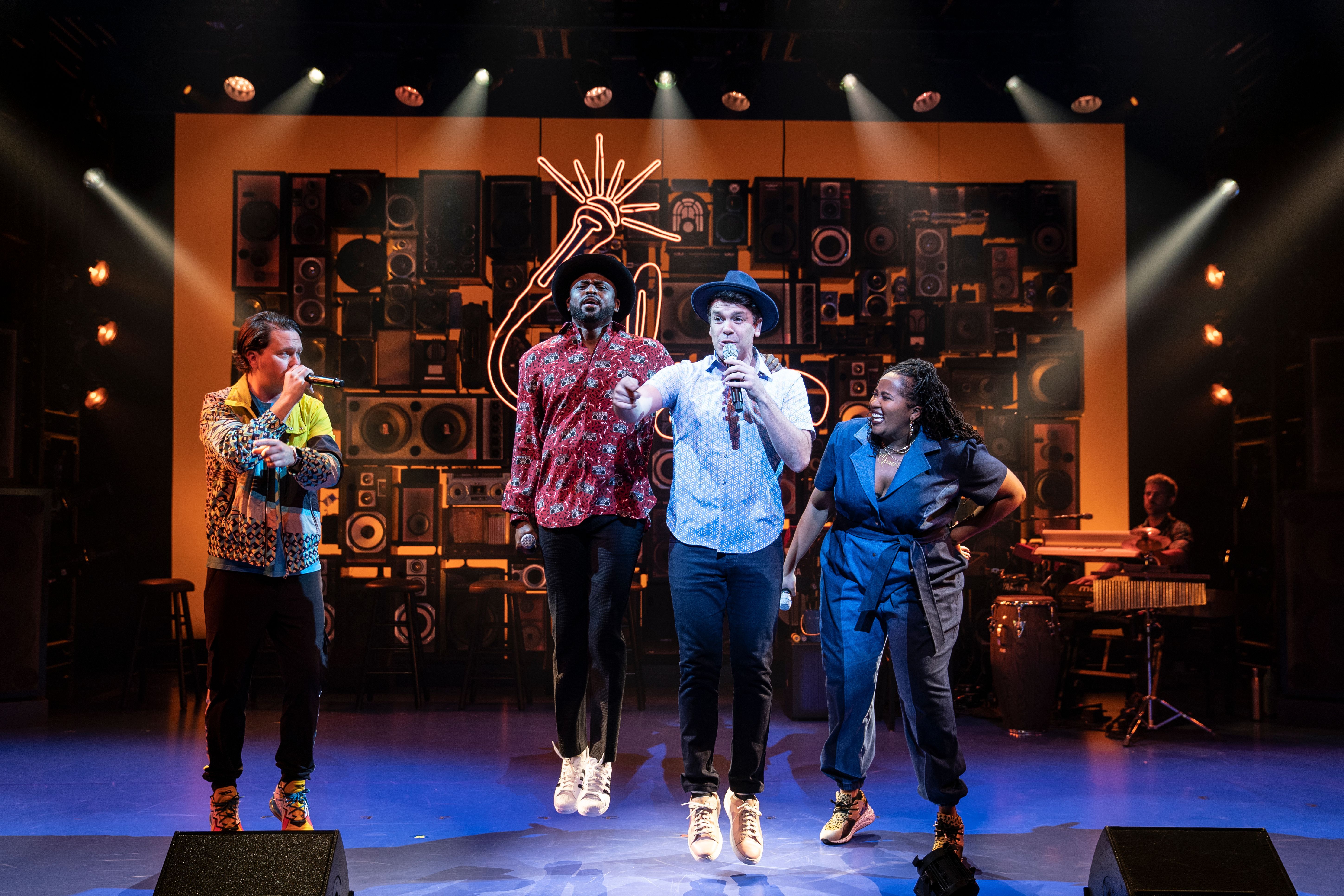 (PHOTO: (L to R) Chris Sullivan, special guest appearance by Wayne Brady, Anthony Veneziale, Aneesa Folds and Kurt Crowley (on keyboard) in an earlier performance of Freestyle Love Supreme, now playing at the Emerson Colonial Theatre in Boston, MA. Photo by Joan Marcus)
They arrived without a set.
They performed without a set.
They thrived without a set.
Turns out...they didn't need a set.
Friday night's performance of Freestyle Love Supreme, now playing at the Emerson Colonial Theatre, got off to a rocky start but soon became a fantastic free-for-all of music, laughs, rhymes (off and on) and fun.
Much of the material was spontaneous as is the show's trademark. This evening's proceedings were capably conducted by cast members Andrew Bancroft (aka "Jelly Donut"), billed as that evening's special guest (which varies each night), Jay Ellis ("Jellis J"), Aneesa Folds ("Young Nees"), Chris Sullivan ("Shockwave") and Anthony Veneziale ("Two Touch") who also acted as the emcee for the evening.
Conceived by Anthony Veneziale, Freestyle Love Supreme was created by Thomas Kail (who also directed the show), Lin-Manuel Miranda and Anthony Veneziale.
The stream of consciousness flows via the built-in, finely honed architecture of the show.
Audience members provide suggested words or phrases to the impressive improvisers who then take the suggestions and roll with them, incorporating them into funny, rhythmic routines based on subjects like a person's day, a past experience or even just simple words like "macadamia nuts."
The results were outrageously inventive and laughs came every few minutes without fail if not with everything necessarily "rhyming."
The audience "suggestions" for the evening seemed to align perfectly for each one of the performers, as it turns out.
Two Touch, as emcee, may have had the audience occasionally "shivering" but they were obviously in the palm of his hands.
"Music theory" was imbued by Foxboro's own Shockwave who was mathematically mesmerizing as the team's beatbox rhythm and sound effects master. His "fifth grade teacher" should feel proud.
Jellis J flew into the scene like a griffin, socking it to the "Yankees" (ALL kinds of "Yankees") and was the passion of the quintet, emoting his "absolutely true story" which made up the more subdued segment, "Graduation."
Maine's Jelly Donut was pure "music theory" adrenaline, keeping it street and maintaining the overall pace of his castmates while moving at breakneck speed.
But it was the fabulous Young Nees, who occasionally shocked like a "penny in a wall socket," just electrified the audience with her stunning musical vocal prowess.
(Trailer for the recently released Hulu documentary "We are Freestyle Love Supreme)
The show is in Boston for three weeks and makes for a fabulous night out.
The show runs approximately 90 minutes with no intermission.
Kevin T. Baldwin is a member of the American Theatre Critics Association (ATCA)
@MetrmagReviews
@Theatre_Critics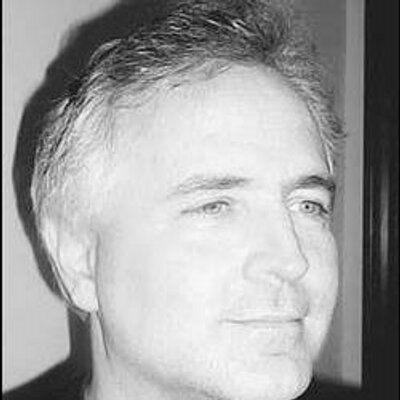 ABOUT THE SHOW
Before HAMILTON, before IN THE HEIGHTS, there was FREESTYLE LOVE SUPREME.
Now — direct from Broadway — the original hip-hop musical phenomenon from Thomas Kail, Lin-Manuel Miranda, and Anthony Veneziale arrives in Boston.

The recipient of a 2020 Special Tony Award® and the subject of the recently released Hulu documentary "We are Freestyle Love Supreme," every performance of this Grammy-nominated show brings the unexpected, as the crew takes the crowd on a freestyle, hip-hop, improvisational comedy ride.
The performers take suggestions from the audience and spin them into instantaneous riffs and full-length musical numbers. See it for the first time each time — as no two shows are ever the same.

A "delightfully wit-laced evening of comedy rap for a wide range of ages"
The Washington Post

Freestyle Love Supreme is "fast, furious, funny, and wildly entertaining"
The Hollywood Reporter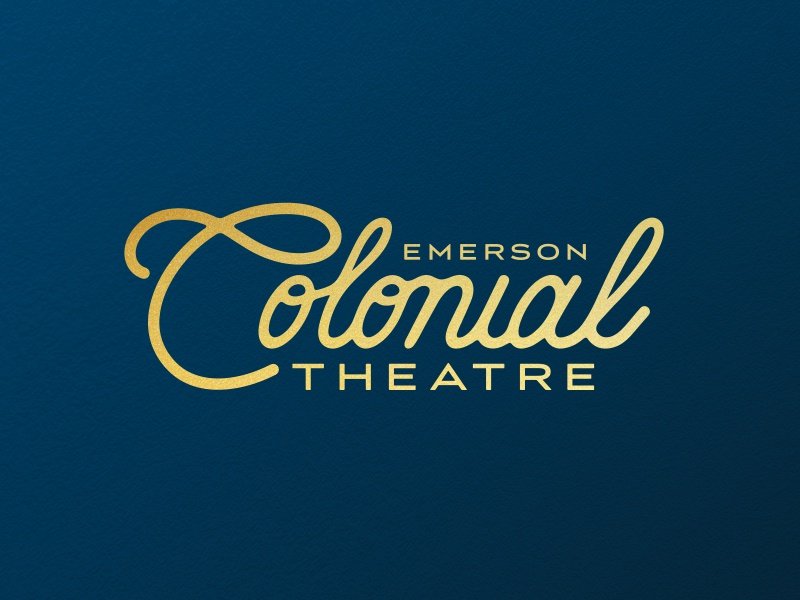 ABOUT THE EMERSON COLONIAL THEATRE
In its storied history, The Emerson Colonial Theatre has debuted such seminal Broadway shows as Anything Goes , Porgy and Bess , Oklahoma! , Born Yesterday , Follies , A Little Night Music , Grand Hotel , and La Cage aux Folles, among others. Reviving a great theatrical tradition, Boston's newly restored Emerson Colonial Theatre officially re-opened its doors in July 2018 with the pre-Broadway World Premiere of Moulin Rouge! The Musical . Emerson Colonial Theatre, which opened in 1900 with a production of Ben-Hur, is the oldest continuously operated theater in Boston; as well as being amongst the most magnificent, having retained most of its original period details. A theatre for the community, Emerson Colonial Theatre will once again contribute to the rich cultural landscape of Boston, with a new and varied program of Broadway shows, live music, comedy and events.

Emerson Colonial Theatre
106 Boylston Street
Boston, MA 02116