Cover Photo Caption: (Left to Right) Tomm Knightlee, Brian Michael Henry , Bryan Austerman and Chris Coffey in "Forever Plaid" at West Springfield's Majestic Theater. (Photo by Kait Rankins)
Resurrecting classic songs in Majestic Theater's "Forever Plaid"
By Kevin T. Baldwin
METRMAG Reviewer
# 774-242-6724

WEST SPRINGFIELD: "Forever Plaid" written by Stuart Ross, presented by the Majestic Theatre in West Springfield 131 Elm Street, West Springfield, MA. 01089. Performances Oct. 24, 31, Nov. 7, 14, 21 & Dec. 5 at 7:30pm, Oct. 25, 26, Nov. 1, 2, 8, 9, 15, 16, 22, 23, 29, 30, Dec. 6 & 7 at 8:00pm, Oct. 27, Nov. 3, 10, 17, 23, 24, 30, Dec. 2, 7 & 8 at 2:00pm, Oct. 29, 30, Nov. 6, 10, 13, 17, 20, 26 & Dec. 4 at 7:00pm. Ticket prices range from $27 to $34 and can be purchased by calling the box office at (413) 747-7797 or visiting while the box office is open (Monday – Friday 10am – 5pm, and Saturday 10am – 1pm).
Directed by Ben Ashley. Music Director Mitch Chakour. Choreography Stacy Ashley.
Cast Includes: Tomm Knightlee, Brian Michael Henry, Bryan Austerman and Chris Coffey.
It reads like a perfect spooky plot for a Halloween story:
Four young men known as the "Plaids" die in a tragic automobile accident. They all arise from the dead as part of some bizarre zombie jamboree where, of course, they croon ancient 1950s medleys in total pitch-perfect four-part harmony.
What else could this be but the musical "Forever Plaid" by Stuart Ross being presented at the Majestic Theater in West Springfield?
So many great melodies with some, unfortunately, practically lost to time. Songs such as "Three Coins in the Fountain" and "Love is a Many-Splendored Thing" perfectly bookend the show and are performed quite admirably by the quartet.
The four unfortunate souls that make up the "Plaids" died in February, 1964, when their car crashed into a bus filled with Catholic school girls en route to see the Beatles make their American debut on the old "Ed Sullivan Show" (a show which is recalled in a marvelously staged medley during the show's second act).
The girls on the bus survived. The "Plaids"? They weren't so lucky. But lucky for us they weren't so lucky, else we wouldn't have this terrific musical comedy revue.
The four young actors look as if they had barely even been born before the "Backstreet Boys" had their first hit in 1996, let alone be familiar with the era of the "Four Lads" and "Four Freshman" – So, it is hard to imagine them making a connection to the music presented in "Plaid" but connect they do and simply wowed the crowd.
Under the direction of Ben Ashley, the set was simple but effective, beautifully lit with impressive equally simplified dressing. Color coordination all around between sets, lighting and costumes was all immaculately designed.
A nice touch was having the spirited quartet, lost to time for 55 years, re-emerge for this wonderful concert performance and are a bit unnerved, at first, as they try to get used to performing with cordless microphones.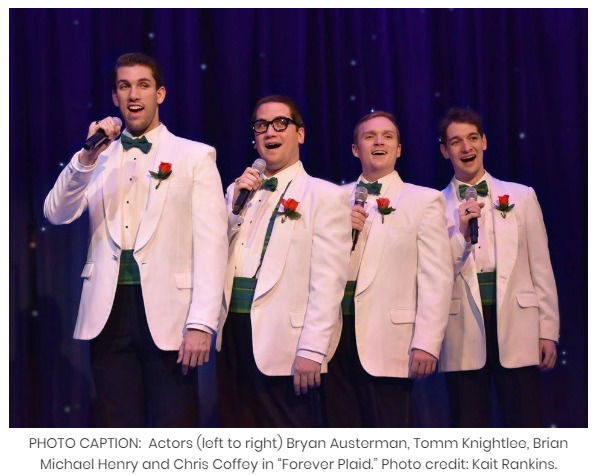 Each member of the quartet had their chance to shine.
"16 Tons" and "Rags to Riches" were capably delivered thanks to the vocal styling of Tomm Knightlee as "Smudge".
As "Sparky" Brian Michael Henry provided a strong comedic element to the show and also proved himself quite the talented instrumentalist.
Chris Coffee, as "Francis," is the leader of the quartet and the glue that holds the group together.
But the most surprising moment of the evening came when Bryan Austermann, as nosebleed prone "Jinx," proved he was anything but in his breakout song, "Cry" which was the highlight of the show.
The prevailing strength of the show is in writer Stuart Ross's constructed material under the coordinated collaborative effort of the cast and crew. The foursome's songs were aided greatly by music director, band leader and accompanist Mitch Chakour and the fine choreography of Stacy Ashley.
The show, conceived, written and originally staged by Stuart Ross, premiered Off-Broadway in 1989, with musical arrangements, vocal arrangements and musical direction done by James Raitt. This latest production holds up quite well when compared to the original.
However, there were moments when the songs were NOT all "pitch perfect" – some of the harmonies struggled in the mid to upper ranges and did not always blend well and some of the choreography was not always as synchronized as it should have been.
And yet, when everything did "click" musically = it was practically "spiritual". The four actors were a cohesive unit which ably executed the material.
Other standout moments included the numbers "Caribbean Maid," with the ugliest straw hats ever, the more somber and touching "Scotland the Brave," and act one high points "Perfidia" and "No, Not Much."
Love may be a "Many-Splendored Thing" like the song suggests, but so is "Forever Plaid" and folks should make every effort to see it. And, as always, drive carefully.
Tickets are available at www.majestictheater.com
During the show, there are a couple of references to the show's holiday themed sequel, "Plaid Tidings." Coincidentally, that show will be presented by the Barre Players beginning December 7th.
https://www.metrmag.com/upcoming-shows/forever-plaid-plaid-tidings-barre-players
The show runs approximately 2 hours with one intermission.
Kevin T. Baldwin is a member of the American Theatre Critics Association (ATCA)
@MetrmagReviews
@Theatre_Critics