(Cover Photo: Ali Arian Molaei of "Fiddler on the Roof" at the Emerson Colonial Theatre on December 21, 22 & 23, 2021 at 7:30pm and December 23, 24 & 26, 2021 at 2:00pm. Photo by Joan Marcus)
Kevin T. Baldwin
METRMag Reviewer
# 774-242-6724
"On the roof, it's peaceful as can be,
And there the world below can't bother me" Goffin-King

The Emerson Colonial Theatre
Presents
"FIDDLER ON THE ROOF"
Based on the stories by Sholem Aleichem
Performances:
December 21, 22 & 23, 2021 at 7:30pm
December 23, 24 & 26, 2021 at 2:00pm
Book By Joseph Stein.
Music by Jerry Bock and Lyrics by Sheldon Harnick.
Original Choreography & Direction by Jerome Robbins.
Director Bartlett Sher.
Music Director/Conductor Jonathan Marro. Music Director and New Orchestrations Ted Sperling.
Choreographer Hofesh Shechter.
Cast Includes: Yehezkel Lazarov (Tevye); Maite Uzal (Golde); Andrew Hendrick (Lazar Wolf); Brooke Wetterhahn (Yente, Grandma Tzeitel); Kelly Gabrielle Murphy (Tzeitel); Noa Luz Barenblat (Chava); Ruthy Froch (Hodel); Daniel Kushner (Motel); Solomon Reynolds (Perchik); Jack O'Brien (Fyedka); Jason Thomas Sofge (Constable); Danny Arnold (Mordcha); Nick Berke (Swing); Andrea Marie Bush (Swing); Morgan Cohen (Ensemble); David Scott Curtis (Ensemble / Rabbi); Eddieomar Gonzalez-Castillo (Ensemble); Ansley Grace Hamilton (Swing); Jenna Harwood (Shprintze); Jonathan Hashmonay (Avram, Villager); Elliot Lazar (Ensemble / Mendel); Randa Meierhenry (Ensemble / Rivka); Carlye Messman (Ensemble / Mirala); Ali Arian Molaei (Ensemble / Fiddler); Jacob Nahor (Swing); Max O'Connell (Ensemble); Honza Pelichovsky (Ensemble); Carly Post (Bielke); Lauren Blair Smith (Ensemble); Alex Stone (Ensemble / Sasha); Rosie Webber (Ensemble / Fruma-Sarah); Scott Willits (Ensemble/Nachum/Yussell) (NOTE: Information from tour web site and subject to change)
Creative Team Includes: Michael Yeargan - Scenic Design; Catherine Zuber - Costume Design; Donald Holder - Lighting Design; Scott Lehrer & Alex Neumann - Sound Design; Mikiko Suzuki Macadams - Additional Set & Adaptations; Tom Watson - Hair/Wig Design; B.H. Barry - Fight Director; Oran Eldor - Dance Arrangements; John Mezzio - Music Coordinator; Bond Theatrical Group - Marketing & Publicity Direction; Andy Drachenberg - Interactive Marketing; The Booking Group - Tour Booking; Jason Styres – Casting; Charlie Stone - Executive Producer; Networks Presentations – Producer; Claire Farrokh - Production Stage Manager; Christopher T.P. Holman - Company Manager; Gentry & Associates, Inc. - General Management; Steve Varon - General Manager; Sari Ketter - Associate Director; Shelley Butler - Tour Director; Christopher Evans - Associate Choreographer; Kathy Fabian - Props Supervisor; Liam Millward Assistant - Company Manager. (NOTE: Information from tour web site and subject to change)
The Broadway National Tour of the musical "Fiddler on the Roof" comes to Boston, directed by Tony® Award winner Bartlett Sher (winner for South Pacific) and is both inventive and exhilarating.
After premiering in 1964, the one description that has probably never been associated with most productions of "Fiddler" is "pumped up" but this production certainly is - Running as if everyone in it received a shot of "Hans and Franz" level steroid injections, occasionally achieving mixed results but always succeeding in entertaining.
"Fiddler" was first musical theatre run in Broadway history to surpass 3,000 performances. It held the record for the longest-running Broadway musical for almost 10 years (until "Grease" surpassed it).
The original musical production starring the incomparable Zero Mostel as lead character "Tevye" won nine Tony® Awards, including ones for Best Musical, Score, Book, Direction and Choreography.
After the success of the highly successful show, an Oscar®-winning film adaptation starring actor Topol as "Tevye" was made in 1971 under acclaimed Director Norman Jewison. The film was nominated for 13 Academy® Awards and won nine altogether.
This latest tour production under Bartlett Sher bares little resemblance to either the original staging or the 1971 film nor does it need to as it thrives on its own merits.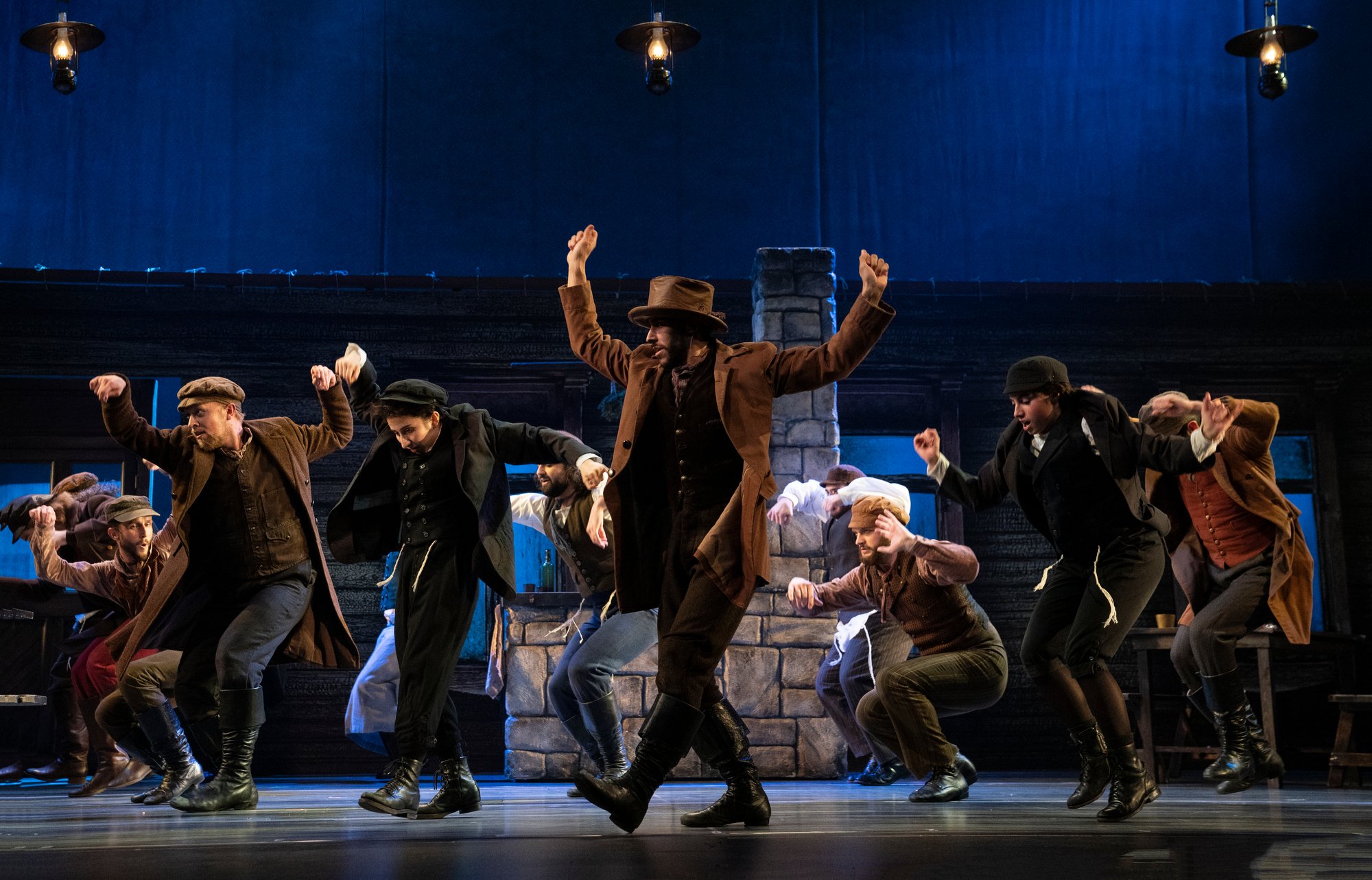 (Company of North American Tour of "Fiddler on the Roof" now playing at the Emerson Colonial Theatre December 21, 22 & 23, 2021 at 7:30pm and December 23, 24 & 26, 2021 at 2:00pm. Photo by Joan Marcus)
At the beginning of the musical, a man in a red jacket appears on stage reading a book (Yehezkel Lazarov).
The book's title is obscured but it might just as easily be a book of stories by author Sholem Aleichem, upon which the musical is based.
Suddenly, the familiar opening music of "Fiddler" begins and we are instantly transported back into the beginnings of the 20th century.
We find ourselves in the tiny village of Anatevka, occupied by a peasant but functioning populace under an oppressive pre-revolutionary Russia of the Czars and his occupying soldiers.
Lazarov transforms into the iconic character of struggling village milkman "Reb Tevye" and one of the most famous show openers in musical history, "Tradition," commences.
Lazarov does not try to impersonate any of the other "Tevyes" that came before - there's little or no resemblance to Zero, Herschel Bernardi, Topol or (thankfully) Harvey Fierstein.
No, Lazarov instead provides us with an upbeat, energetic Tevye. Gone are the slow ponderances when Tevye speaks with his closest friend, God. This milkman does not "milk" the moment. The conversations move briskly, cherubic at times, and with very little introspection. This works in some places but some may find it off-putting or even rushed at various points.
Throughout the song, Tevye describes where we are and who we will encounter throughout the show. It is a brilliant show construct that has lasted almost 60 years. All families and neighbors immediately become familiar to us and we find ourselves caring about them and their lives almost as much as their fellow neighbors.
Much of this is due to the combination of the show's Book By Joseph Stein, Music by Jerry Bock and Lyrics by Sheldon Harnick and with Original Choreography & Direction by Jerome Robbins.
Some of Robbins dance composition has been updated for this current production by Choreographer Hofesh Shechter using more inclusive and traditional Gaga and Batsheva movement choreography which adds an element of authenticity and an astounding burst of energy.
Tevye describes how both Jews and Orthodox Christians live a tense, unsettled existence in Anatevka balancing a peace between them like the aforementioned "fiddler on the roof."
Tevye is not a rich man (although he amusingly dreams about being one, describing such a life in detail in the wishful thinking song, "If I Were A Rich Man") and one married for 25 years to his wife, Golde (Maite Uzal).
Uzal gives a dynamic performance as the no nonsense, ever-practical Golde, who sometimes comes across more as Tevye's employer than spouse. But then, slowly we see how this couple could never not be together.
Together, Tevye and Golde have five daughters. They only want the best for their children which, to them, comes in the form of loving, providing husbands, which they include in their prayer for their daughters during the emotionally somber homage to Jewish Sabbath Prayer, "Sunrise, Sunset."
Among the traditions of the Jewish community, it is Yente the Matchmaker (Brooke Wetterhahn) who arranges the "match" for weddings of neighboring families and the father approves it.
Wetterhahn is spot on in her approach to the role of a woman whose important matrimonial function becomes challenged by the changing times and the danger of couples who seek to choose their own mates…their own loves.
Almost instantly, it seems as if their prayers might be answered as Yente arranges a match for oldest daughter, Tzeitel (Kelly Gabrielle Murphy) to old widowed butcher Lazar Wolf (Andrew Hendrick).
Young Tzeitel is horrified at this prospect even though it would greatly benefit the family as Lazar Wolf is considered a wealthy man in the village. However, Tzeitel is in love with poor yet aspiring village tailor Motel Kamzoil (Daniel Kushner).
After meeting with Lazar Wolf, Tevye agrees to the wedding and, under one of the most rousing numbers in the show "To Life," a pact is made for a joining of their houses. The dancing here is raucous, rowdy and absolute fun.
Tzeitel and Motel confess their love to Tevye and seek his permission for them to get married. After a series of arguments, Tevye ultimately relents, giving them his permission (and not knowing how to break the news to Golde).
Motel beams at his good fortune as he sings "Miracle of Miracles." Kushner resonates a great vocal prowess as he demonstrates his beautiful tenor voice throughout the song.
Later, Tevye discovers a similar situation when his second oldest daughter, Hodel, (Ruthy Froch) and radical socio-political student Perchik (Solomon Reynolds) also decide to marry each other - only this time they are not seeking Tevye's approval – only his understanding, his acceptance and his blessing.
Continuously throughout the show, Tevye is challenged - forced to accept many new values which directly oppose his long-held beliefs. The same applies to many of the residents of Anatevka. How they deal with these changes to their norm is what has made this show so special for many.
The same could be said for the changes made to this production. Many may still long for the shows with the Zeros, the Bernardis, or the Topols - but change is fluid and the changes made to "the norm" of this production may make it also a production that is special or unique.
Many familiar musical numbers from the score are still performed flawlessly including "Matchmaker, Matchmaker" sung by Murphy and Froch with Noa Luz Barenblat who plays third daughter, Chava.
Chava also decides to get married, but to a member of the Czar troops and a Christian, Fyedka (Jack O'Brien). Tevye attributes this as marrying an enemy as the Czar troops seek the ouster of the villagers which Tevye sees as an eventuality. As such, he will not accept their union.
When Chava and Fyedka elope to marry, Tevye completely rejects Chava and tells Golde that Chava is now "dead" to them.
The emotions range from how family treats family, how neighbor treats neighbor, how spouse chooses spouse and how love and faith is embedded in all these things and more.
Technically, costumes are wonderfully period-specific, the sets are painstakingly detailed and scene changes are done expeditiously. The only snag was at the end of Act One (during the 12-21 performance) when the proscenium curtain hit several of the cast (Tevye, Motel & Tzeitel) as it dropped a little too quickly upon their exit. No one appeared to be injured but, considering the events that had just transpired, it almost seemed like the curtain was also working for the Czar.
In the end, it is Tevye who guides us through the overall emotional musical odyssey and at the end of the show, we see that the odyssey for the people of Anatevka, is only just beginning.
Overall, this is a joyous production with much to recommend it. So, don't miss out - try to catch this show for the short time it is in Boston.
The show's approximate run time is three hours with one intermission.
Kevin T. Baldwin is a member of the American Theatre Critics Association (ATCA)
@MetrmagReviews
@Theatre_Critics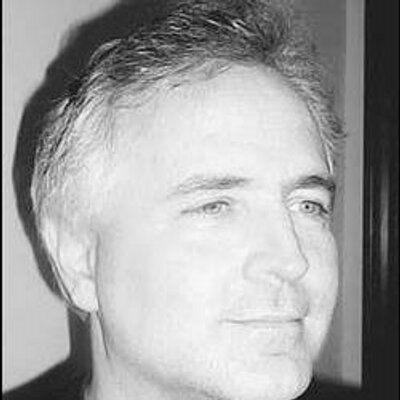 ABOUT THE SHOW
Audiences across North America are toasting a new production of FIDDLER ON THE ROOF!
Rich with musical hits you know and love, including "Tradition," "Sunrise, Sunset," "If I Were A Rich Man," "Matchmaker, Matchmaker" and "To Life (L'Chaim!)," FIDDLER ON THE ROOF is the heartwarming story of fathers and daughters, husbands and wives, and life, love and laughter.
Tony®-winning director Bartlett Sher and the team behind South Pacific, The King and I and 2017 Tony-winning Best Play Oslo, bring a fresh and authentic vision to this beloved theatrical masterpiece from Tony winner Joseph Stein and Pulitzer Prize winners Jerry Bock and Sheldon Harnick.
Featuring a talented cast, lavish orchestra and stunning movement and dance from Israeli choreographer Hofesh Shechter, based on the original staging by Jerome Robbins, FIDDLER ON THE ROOF will introduce a new generation to the uplifting celebration that raises its cup to joy! To love! To life!
(VIDEO CLIP: Company of "Fiddler on the Roof" now playing at the Emerson Colonial Theatre on December 21, 22 & 23, 2021 at 7:30pm and December 23, 24 & 26, 2021 at 2:00pm. Courtesy of the Tour Website)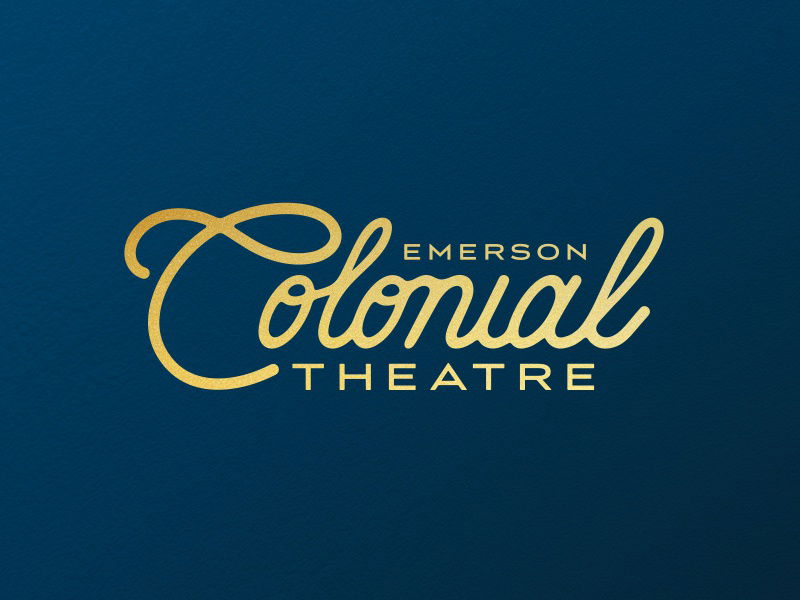 ABOUT THE EMERSON COLONIAL THEATRE
In its storied history, The Emerson Colonial Theatre has debuted such seminal Broadway shows as Anything Goes , Porgy and Bess , Oklahoma! , Born Yesterday , Follies , A Little Night Music , Grand Hotel , and La Cage aux Folles, among others. Reviving a great theatrical tradition, Boston's newly restored Emerson Colonial Theatre officially re-opened its doors in July 2018 with the pre-Broadway World Premiere of Moulin Rouge! The Musical . Emerson Colonial Theatre, which opened in 1900 with a production of Ben-Hur, is the oldest continuously operated theater in Boston; as well as being amongst the most magnificent, having retained most of its original period details. A theatre for the community, Emerson Colonial Theatre will once again contribute to the rich cultural landscape of Boston, with a new and varied program of Broadway shows, live music, comedy and events.

Emerson Colonial Theatre
106 Boylston Street
Boston, MA 02116