(Cover Photo: The CAST of James Ijames' "FAT HAM" presented by the Huntington Theatre Company in Boston, MA. through October 29, 2023 in co-production with Front Porch Arts Collective and Alliance Theatre. Photo Credit T. Charles Erickson)


By Kevin T. Baldwin
METRMAG Reviewer
# 774-242-6724

"You not crying no more. And you begin to consider what your life would be like if you chose pleasure over harm."
("Tio") / James Ijames

Huntington Theatre Company
Presents James Ijames'
by James Ijames
Directed by Stevie Walker-Webb
Choreographed by PJ Johnnie, Jr.
in co-production with Front Porch Arts Collective and Alliance Theatre

Cast Includes: James T. Alfred as "Rev"; Amar Atkins as "Larry"; Thomika Marie Bridwell as "Rabby"; Marshall W. Mabry IV as "Juicy"; Lau'rie Roach as "Tio"; Victoria Omoregie as "Opal"; Ebony Marshall-Oliver as "Tedra"; Understudies: David J. Castillo, Vincent Ernest Siders, Kai Tshikosi and Shanelle Chloe Villegas.
Additional Creative Team:
Dawn M. Simmons – Associate Director; Yewande Odetoyinbo - Associate Choreographer; Luciana Stecconi - Scenic Designer; Aubrey Dube - Sound Designer; Celeste Jennings - Costume Designer; Xiangfu Xiao - Lighting Designer; Jesse Hinson - Fight Director and Intimacy Consultant; Earon D. Nealey - Hair and Wig Designer; Evan Northrup - Illusions Designer; R. Lamar Williams - Production Stage Manager; Ashley Pitchford - Stage Manager; Adi Cabral - Dialect Coach; Yewande Odetoyinbo* - Dance Captain; Amar Atkins* - Fight Captain; Sarah Goshman* - Stage Manager Substitute; Production Assistants: Winnie Chiang, Lucas Bryce Dixon; David Freeman Coleman - Voice Lessons; Carpenters: Hannah Ashe, Joe Ellard, Michelle Walker, Nick Robinette, Steven Asaro; Charlie Berry - Deck Run Crew; Scenic Artists: Sam Galvao, Guthrie Morgan; Props Artisans: Steven Doucette, Ian Thorsell; Corey Roberts - Props Run; Stitchers: Stephanie "Sam" Martin, Sasha Nemi Lato; Wardrobe Run: Jennie Fuchs, Katherine Lawrence; Brighid DeAngelis - Wardrobe Swing; Kiara Escalera - Wig Run; Ellie DeLucia Production - Wig Run Swing; Violet Gayzagian – Electrician; Electricians: Dean Covert, Hannah Jope, Joseph Lark – Riley, Jessie Marasco, Isaak Olson; Jemma Kepner - Follow Spot Operator.
Performances:
September 22, 2023 through October 29, 2023
(Contact Box Office for Exact Times)
Calderwood / BCA, 527 Tremont Street, Boston MA 02116
Tickets:
Available online at huntingtontheatre.org, by phone at 617-266-0800 or in person at The Huntington Theatre, 264 Huntington Avenue, Boston.
COVID 19 PROTOCOLS
Contact Venue for Most Updated COVID-19 Safety Protocols and Information.
PURCHASE OR RENEW A 2023-2024 SEASON TICKET PACKAGE
The Huntington Theatre Company presents a unique perspective on William Shakespeare's "Hamlet" with "FAT HAM" by James Ijames and the results are insightful, raw, touching and, surprisingly, hysterical.
"Hysterical" is not a word normally associated with the Bard's iconic tragedy, but it is mostly applicable in this case.
Sometimes, you encounter a show that feels "over-hyped" to the point where it could not possibly live up to one's expectations.
With performances that are all "spot-on" brilliant and unfaltering, "FAT HAM" not only lives up to these hyperbolic expectations...it exceeds them..
While theatres in the country were just beginning to reopen from the pandemic, "FAT HAM" debuted in a filmed production in 2021 in Philadelphia. It debuted Off-Broadway in 2022 where it would become a critics' darling. The subsequent Broadway run continued through July, 2023.
The one-act, 90 minute "FAT HAM" ultimately became a 2022 Pulitzer Prize Award Winner for Drama and was nominated for five Tony Awards including Best Play.
Ijames also won the John Gassner Award for New American Play from the Outer Critics Circle Awards.
Now, as adroitly directed by Stevie Walker-Webb for the Huntington, in co-production with Front Porch Arts Collective and Alliance Theatre, has staged it with a ace cast and the results are a truly impressive production.
Juicy (Marshall W. Mabry IV) is a queer Black online college student who discovers revenge is a dish best served with some barbeque sauce.
Ijames's take on "Hamlet" bares little resemblance to it but also, mostly thanks to Mabry's superbly sensitive performance, captures its very essence and leaves us hungry for more.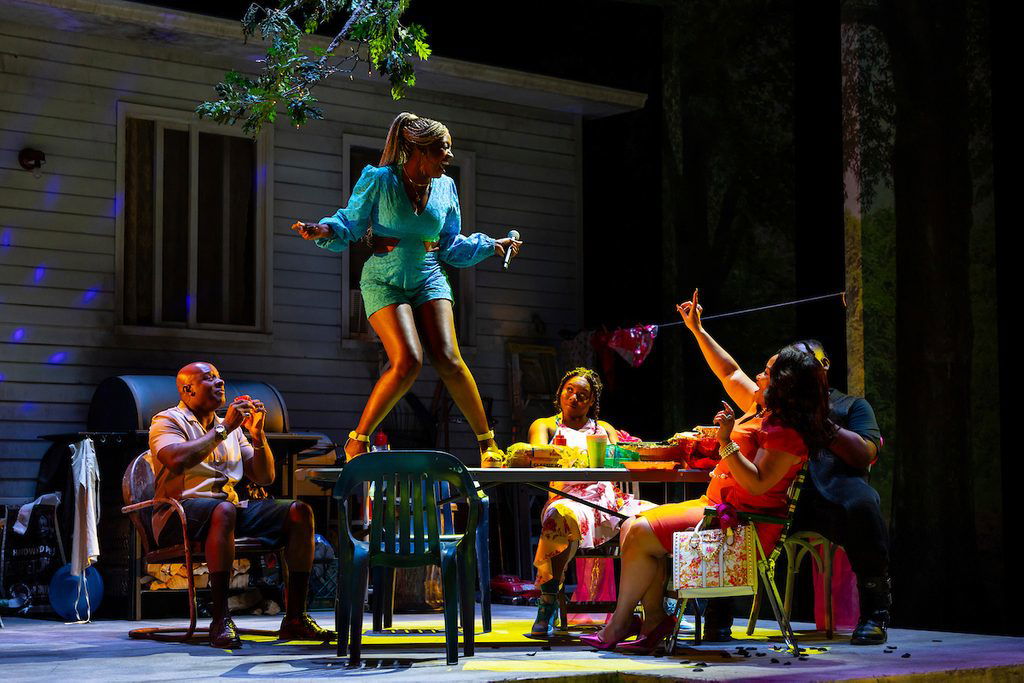 (Photo: James T. Alfred, Ebony Marshall-Oliver, Victoria Omoregie and Thomika Marie Bridwell in James Ijames' "FAT HAM" presented by the Huntington Theatre Company in Boston, MA. through October 29, 2023 in co-production with Front Porch Arts Collective and Alliance Theatre. Photo Credit T. Charles Erickson)
The story takes place in a multi-framed set of what appears to be the backyard of an average blue collar single family home where the world's weirdest barbeque "celebration" is about to take place.
There is a tree limb overhanging the backyard. The screen door to the back of the house is off its train. The house is obviously in a state of disrepair, much like its occupants, as we soon discover.
A lit "barrel smoker" grill is seen smoldering just behind a set picnic table with some several rusty chairs and lawn furniture surrounding it.
A nicely designed "aromatic" set, to be sure. The only thing missing is the smell in the air of succulent smoked ribs cooking.
The celebration is for the union of Juicy's mother, Tedra (Ebony Marshall-Oliver) and Juicy's uncle, Rev (James T. Alfred), as husband and wife, only one week after the death of Juicy's father, "Pap" (also played by Alfred) in prison.
So far, Shakespeare, so good.
Marshall-Oliver as Tedra is outrageously funny as Juicy's otherwise fractured mom.
Tedra is torn between wanting to keep peace between her son and new husband but more driven by not wanting to end up abandoned and alone.
However, rather than coming across as demure or riddled with guilt, thanks to the resolute performance by Marshall-Oliver, Tedra is, instead, wildly naughty, delightfully gritty - and NOT altogether guiltless, as the story continues.
Alfred is a stern, powerful presence on stage, both as Juicy's toxic pig farmer "pit master" uncle Rev (a stunning, irredeemable irascible miscreant) - and as the ghost of "Pap," who is not much better than his lecherous, murderous brother.
Mabrey shines in the conflict of wanting to see Tedra happy but simply wants to vomit at the thought of her being with Rev. Added revelations simply exacerbates this conflict.
The family pig farming business seems apropos to the story as there is a lot of pig headedness witnessed in this family.
Pap appears to Juicy as an apparition (exceptionally executed, visually), accusing Juicy's new stepfather Rev of arranging for Pap to be killed in prison.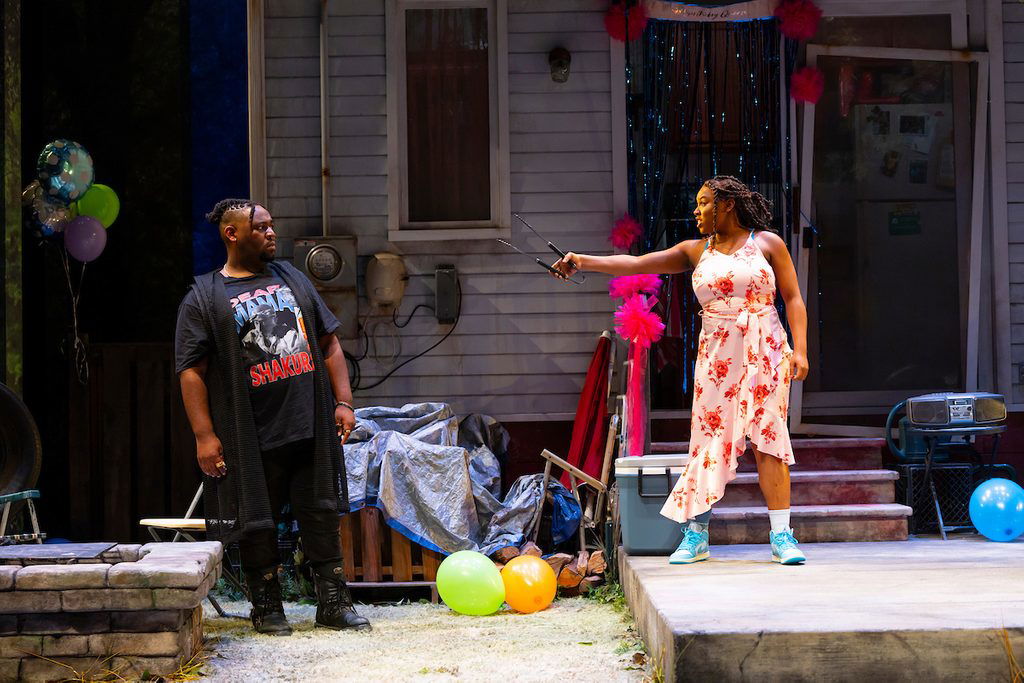 (Photo: Marshall W. Mabry IV as "Juicy" and Victoria Omoregie as "Opal" in a scene from James Ijames' "FAT HAM" presented by the Huntington Theatre Company in Boston, MA. through October 29, 2023 in co-production with Front Porch Arts Collective and Alliance Theatre. Photo Credit T. Charles Erickson)
For those familiar with the tale, the main plot points of "Hamlet" all appear to be captured throughout (albeit in linear dribs and drabs), but the story is told in such an intricately clever, methodically textured and "earthy" way, that it barely resembles the source material at times.
What's left is a heartfelt companion tale - one told in tandem and one about identity, loyalty, compassion and, above all, conscience.
Pap's ghost instructs Juicy to avenge his father's murder by killing Rev during the barbeque. Juicy is inclined to carry out his father's instructions, even though there was no love lost between the two upon Pap's murder. However, Juicy is even less fond of his reprehensible uncle.
Joining in at the barbeque celebration is Juicy's cousin, Tio (Lau'rie Roach), a funny, foul-mouth, porn-obsessed companion who, like Hamlet's "Horatio" is not directly involved in much of the actions that take place once all hell breaks loose as the story unfolds.
Roach is absolutely a scene stealer any time on stage and, while it seems he is gone from the story far too long, near the end of the play, Tio elicits an absolutely mesmerizing...and utterly graphic...monologue that will have you thinking differently about "gingerbread" by its conclusion.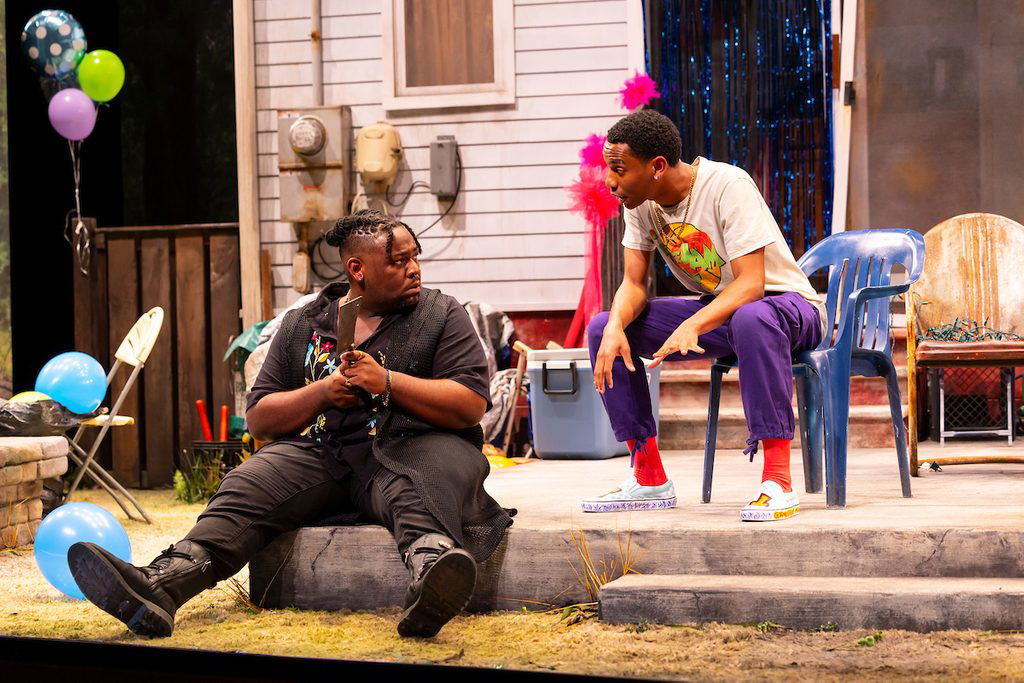 (Photo: Marshall W. Mabry IV as "Juicy" and Lau'rie Roach as "Tio" in a scene from James Ijames' "FAT HAM" presented by the Huntington Theatre Company in Boston, MA. through October 29, 2023 in co-production with Front Porch Arts Collective and Alliance Theatre. Photo Credit T. Charles Erickson)
Other celebrants show up to the barbeque:
Rabby (Thomika Marie Bridwell) Tedra's friend, who brings along her marine son, Larry (Amar Atkins), who suffers from Post-Traumatic Stress Disorder and is harboring a secret from everyone...everyone, that is, but Juicy.
Also dragged to the party in (gasp!) a dress is Rabby's daughter, Opal (Victoria Omoregie) a fierce, kindred spirit to Juicy but someone who would probably have thrived in service to the marines in areas where Larry struggled.
The overwhelming dogmatic contrast between the siblings, thanks to the unwavering performances by Atkins and Omoregie, brings an added dynamic to the tandem "Hamlet" tale that is absorbing until the end.
This is especially true once their respective needs become in direct conflict with their futures - at least their futures as envisioned by their devout, demanding and domineering mother (played brilliantly by Thomika Marie Bridwell).
In "A Comedy of Errors" Shakespeare wrote how "unquiet meals make ill digestions." Well, that could also apply in the case of what is served up at this really raucous "Hamlet-esque" barbeque.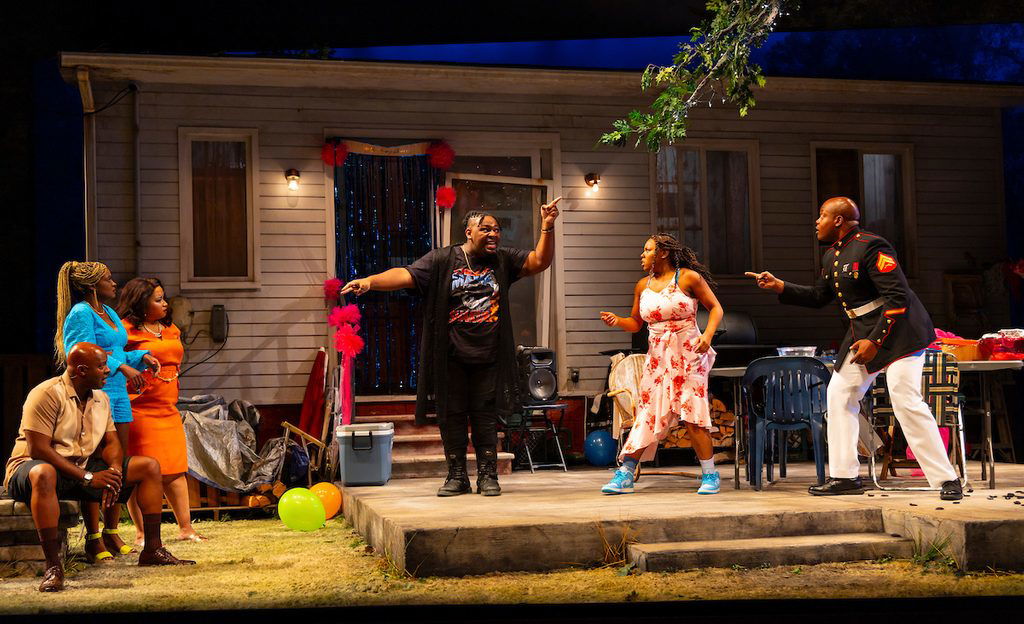 (Photo: The CAST of James Ijames' "FAT HAM": James T. Alfred, Ebony Marshall-Oliver, Thomika Marie Bridwell, Marshall W. Mabry IV, Victoria Omoregie and Amar Atkins - presented by the Huntington Theatre Company in Boston, MA. through October 29, 2023 in co-production with Front Porch Arts Collective and Alliance Theatre. Photo Credit T. Charles Erickson)
Sticking with the recurring barbecue theme: "FAT HAM" never comes off as half-baked.
With a perfectly combined stage direction and execution, it is evenly basted throughout with moments both satirical and salacious.
Yes you, fine diner, shall enjoy many succulent moments brimming with laughter, tenderness and things that, occasionally, will just make you go "hmmm..."
Top this off with a dash of savory monologues and palatable breakings of the fourth wall and you've got yourself one hell of a recipe for success.
"FAT HAM"" continues in Boston until October 29th. Don't let this plate pass you by.
Approximately 90 minutes with no intermission.
Kevin T. Baldwin is a member of the American Theatre Critics Association (ATCA)
@MetrmagReviews
@Theatre_Critics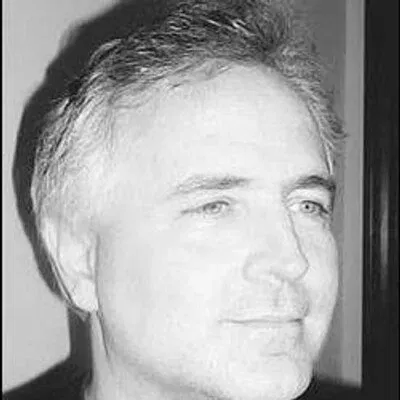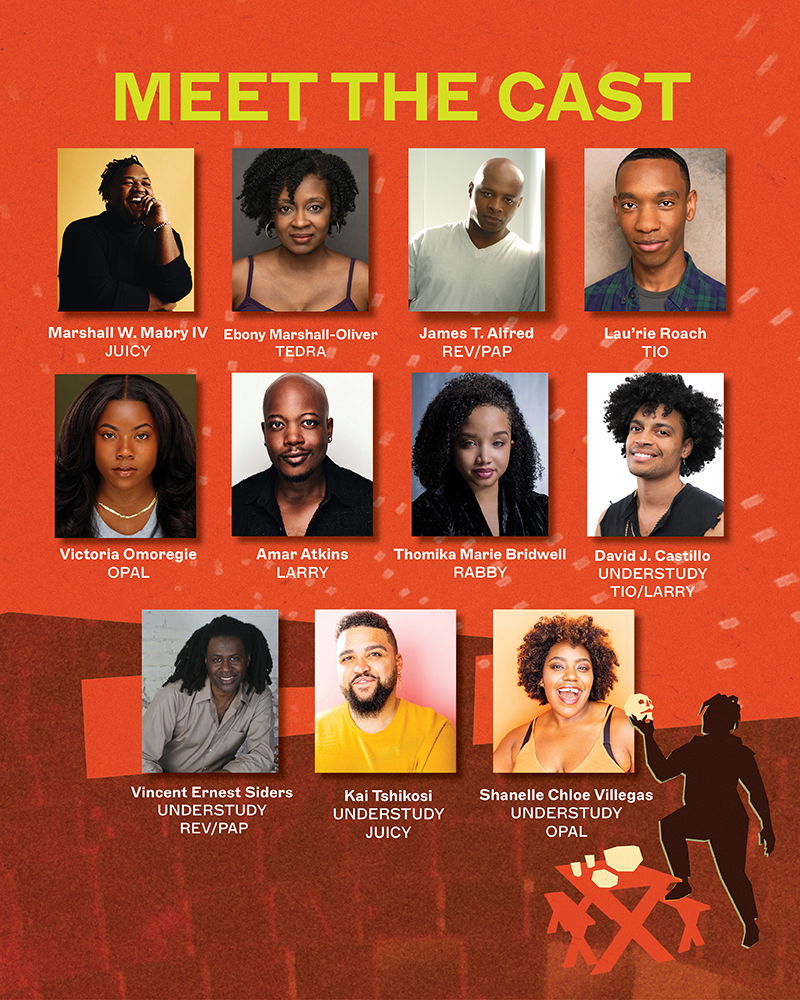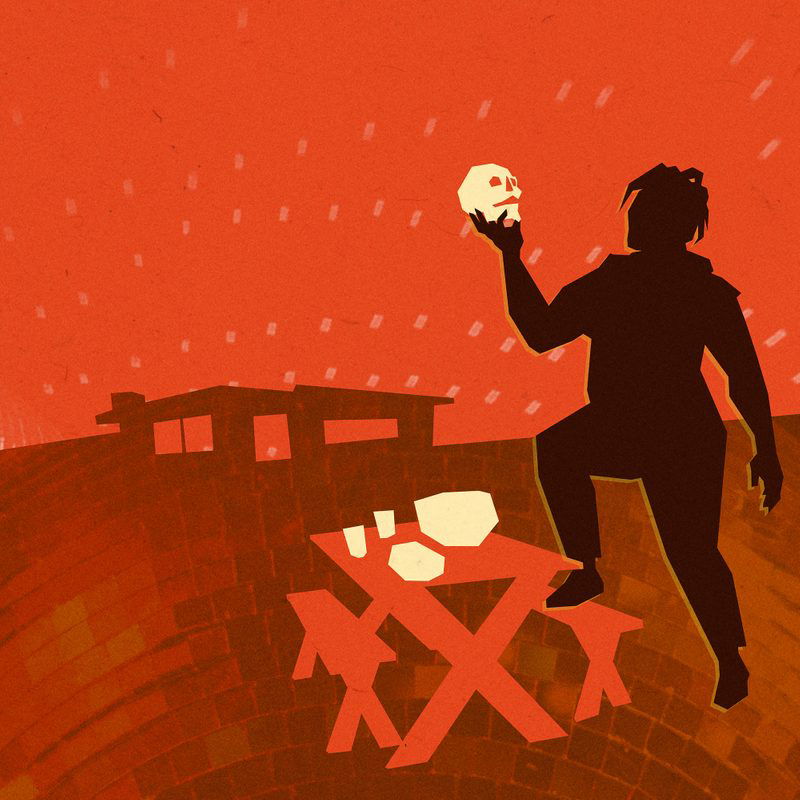 ABOUT THE SHOW
Winner! 2022 Pulitzer Prize for Drama
In this deliciously funny, Pulitzer Prize-winning new play, sweet and sensitive Juicy wants to make his own way as a queer Black man growing up in a Southern family, until his father's ghost turns up at a backyard barbecue and insists that Juicy avenge his murder.
Ay, there's the rub! This smart and sharp reinvention of Shakespeare's masterpiece takes Broadway by storm this spring before coming to The Huntington this fall!
From Artistic Director Loretta Greco: "James Ijames' brilliant, hilarious play is Hamlet and is not Hamlet. This is the beginning of our rigorous exploration of the classics – powerful stories that continue to speak to us – as re-dreamt for our time. In Ijames' deft hands this exploration of masculinity, queerness, and familial acceptance boasts of muscular language, emotional truth, and the wildly entertaining foibles of family."
From playwright James Ijames: "I am very excited for 'FAT HAM' to meet the audiences in Boston. The play has a powerful message of transformation, radical acceptance, and joy! This show is for anyone looking for a space of liberation and beauty."
Critical acclaim: "A hilarious yet profound tragedy smothered in comedy. For all that Ijames dismantles in Shakespeare's original text, he builds it back up into something that's more — more tragic but also more joyous, more comedic, more political, more contemporary." – The New York Times
"To revive us, we need plays like the Pulitzer-winning 'FAT HAM.' Unabashedly entertaining! Turns Hamlet giddily upside down!" – The Washington Post

ABOUT THE HUNTINGTON THEATRE COMPANY:
The Huntington Theatre Company is Boston's leading professional theatre and one of the region's premier cultural assets since its founding in 1982. Recipient of the 2013 Regional Theatre Tony Award, The Huntington brings together superb local and national talent and produces a mix of groundbreaking new works and classics made current to create award-winning productions. The Huntington runs nationally renowned programs in education and new play development and serves the local theatre community through its operation of the Calderwood Pavilion at the BCA. The Huntington has long been an anchor cultural institution of Huntington Avenue, the Avenue of the Arts, and will remain so on a permanent basis with plans to convert the Huntington Avenue Theatre into a first-rate, modern venue with expanded services to audiences, artists, and the community. The Huntington cultivates, celebrates, and champions theatre as an art form.
For more information, visit huntingtontheatre.org.