(Cover Photo: The CAST of "FAIRVIEW" by Jackie Sibblies Drury presented by the SpeakEasy Stage Company in Boston, MA. through March 11, 2023. Photo credit Nile Scott Studios)



By Kevin T. Baldwin
METRMAG Reviewer
# 774-242-6724

"She wrings the most from this little life she has." - Jackie Sibblies Drury

SpeakEasy Stage Company
Presents
"FAIRVIEW"
WINNER! 2019 Pulitzer Prize for Drama!
Written By Jackie Sibblies Drury
Directed By Pascale Florestal
Cast Includes: Dom Carter* (Dayton); Lyndsay Allyn Cox* (Jasmine); Yewande Odetoyinbo* (Beverly); Victoria Omoregie (Keisha); Russell Garrett*; Maureen Keiller*; Jon Vellante; Gigi Watson*
Additional Creative Team: Scenic - Erik D. Diaz; Costumes - Becca Jewett; Lighting - Aja M. Jackson; Sound - James Cannon; Production Stage Manager - Maegan A. Conroy; Assistant Director – Alex Leondedis; Equity, Diversity & Inclusion Consultant – Kira Troilo; Dramaturg – Afrikah Selah; Props Designer – Emma Shaw; Lead Electrician – Reed Simiele; Wardrobe Supervisor – Rebecca Glick; Sound Board Operator/Run Crew – Coty Lennon Markee; Audio Describers – Cori Couture, Andrea Doane; COVID Safety Manager – Dominique D. Burford; Scenery Constructed by – Wooden Kiwi Productions (Waltham, MA.); Show Photographer – Nile Scott Studios; Additional Photography – Anabel Rios Photography.
* MEMBER OF ACTORS' EQUITY ASSOCIATION, THE UNION OF PROFESSIONAL ACTORS AND STAGE MANAGERS IN THE UNITED STATES
Performances:
February 17, 2023 through March 11, 2023
(Contact Box Office for Exact Times)
Calderwood / BCA, 527 Tremont Street, Boston MA 02116
For Tickets Contact the Box Office # 617-933-8600
(Warning: The following review may contain spoilers)
SpeakEasy Stage Company's latest production of "FAIRVIEW" is an engaging visceral phenomenon and a challenging show to review.
Before the show even begins, it seems to defy critics to even attempt a comment - questioning our "qualifications" to comment.
Wondering if any "non-qualified critic" would be so stupid and have the unmitigated gall, the absolute effrontery, to even try to provide an opinion of the show....
Well, for better or worse, here I go.
The play (constructed as three acts but run as one) has achieved much acclaim, including a well deserved 2019 Pulitzer Prize.
Without giving too much of the plot away, the "Frasier" family (played by actors Dom Carter, Lyndsay Allyn Cox, Yewande Odetoyinbo and Victoria Omoregie) has gathered for the unseen grandmother's birthday, awaiting the arrival of an unseen brother named "Tyrone."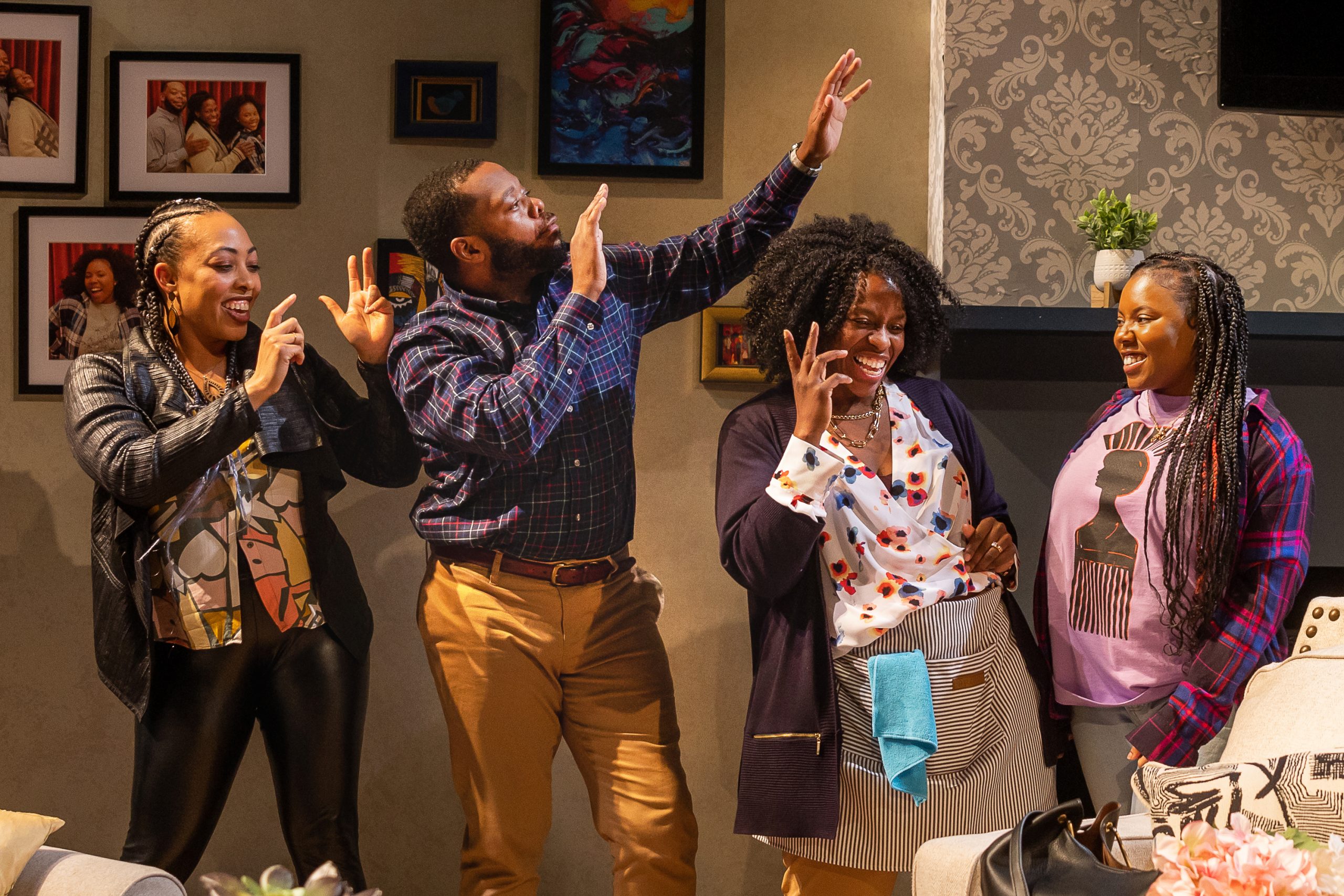 (Photo: The CAST of "FAIRVIEW" by Jackie Sibblies Drury presented by the SpeakEasy Stage Company in Boston, MA. through March 11, 2023. Photo credit Nile Scott Studios)
The first half hour or so unfolds like a rather "mainstream" television sitcom episode then, abruptly, shifts gears and becomes something unique and unpleasant.
We watch as "FAIRVIEW" disintegrates from routine comedy featuring an African American family into full volcanic meltdown, soon bringing us along with it into the lava.
To reveal much more would probably do a disservice to the multitude of surprises contained within "FAIRVIEW."
Suffice to say, at its best, Jackie Sibblies Drury's play holds a mirror up to its audience, as the most effective of plays do.
In this case, though, it holds a mirror up to a particular kind of audience or, rather, "viewership" - a "viewership" that has become far too dangerously voyeuristic.
However, the play then forces the "viewership" through that same mirror and lands everyone in a bizarre wonderland where reality and fantasy become both synonymous and antagonistic.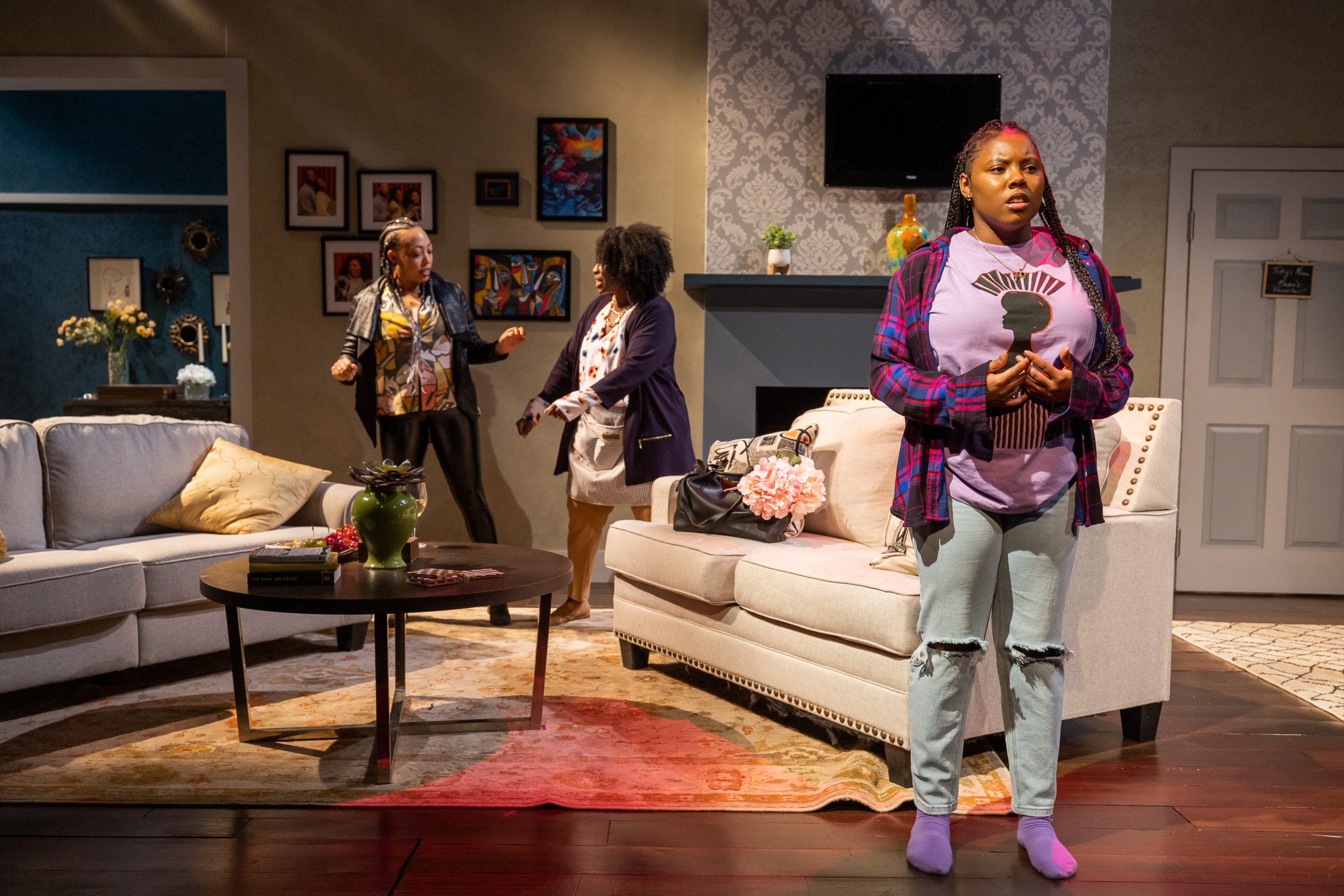 (Photo: Lyndsay Allyn Cox, Yewande Odetoyinbo and Victoria Omoregie in a scene from "FAIRVIEW" by Jackie Sibblies Drury presented by the SpeakEasy Stage Company in Boston, MA. through March 11, 2023. Photo credit Nile Scott Studios)
There are moments of great hilarity but, soon, this all becomes a single, twisted, sharp-edged discus to be hurled back at the audience with a vengeance.
Yet, just who is it, really, seeking this vengeance?
The play not only explores experience (specifically, in the case of the Frasier family, the African American experience), it also explores twisted perceptions by others...primarily white audiences...of that experience.
The play expertly calls attention to the line separating truth and fallacy when it comes to those perceptions.
Thanks to proficient direction by Pascale Florestal, in many respects, the play compares to the best of "O Henry" stories (or, in television terms, which seems appropriate, to one of the best "Twilight Zone" episodes).
The collective performances by the entire ensemble are irreproachable.
The show's conclusion contains a bravura monologue by actress Victoria Omoregie which is wrought with so much intensity and emotion it might very well leave some in the audience practically inconsolable.
Given the extreme complexity of the play's structure, especially in the show's second and third acts, the cast should be highly praised for this savage, relentless, and much needed trip through the "looking glass."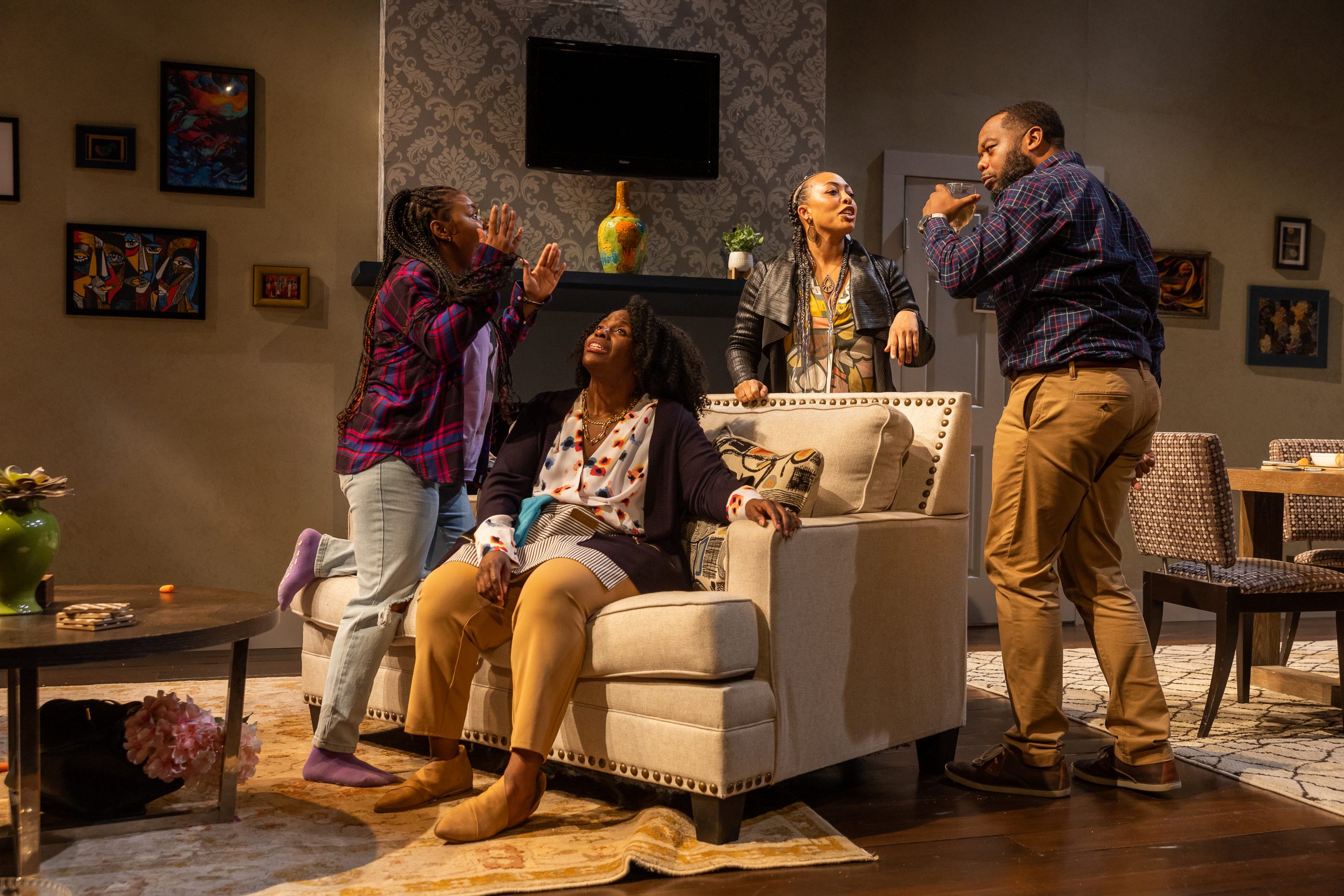 (Photo: The CAST of "FAIRVIEW" by Jackie Sibblies Drury presented by the SpeakEasy Stage Company in Boston, MA. through March 11, 2023. Photo credit Nile Scott Studios)
More praise comes at the technical level as the single set design for the show by Erik D. Diaz was simply gorgeous using succinctly positioned pieces of art that serve the show well.
The design appears to represent what white sitcom writers might have perceived to be the living space for a moderate income black family.
It is clear, though, that "FAIRVIEW" moreso targets those watching as it seeks to change the applicable "supply and demand."
Again, this is "FAIRVIEW" at its award-winning best.
At its worst, though, the play feels literally about half hour too long and its "conclusion" will undoubtedly create a dichotomy of reactions.
The ending might be perceived as one of the most moving experiences by some. Scattered sobbing was heard throughout the theatre after the show.
However, to others, the end might seem more like one of the most perplexing, head-scratching conclusions to any show ever written.
Literally, one could hear people, white and non-white, elicit questions such as "Was that it?" or "Are they coming back?" or "Are we supposed to leave now?"
Yet there will also, most likely, be other more existential questions many will ponder as they exit the theatre.
Subjects like: creating space, embracing new concepts with a willingness to really listen, to be accepting of new ideas...and a willingness to just know when to back the hell up (all the way away) when needed and, more importantly, until needed.
As long as some consider the play's prevalent theme of examining "what life is supposed to be like," then these vital discussions, most likely, will be ongoing...and should be ongoing...for a long, long time.
"FAIRVIEW" continues at the Calderwood / BCA through March 11th.
Approximately one hour, 40 minutes with no intermission.
Kevin T. Baldwin is a member of the American Theatre Critics Association (ATCA)
@MetrmagReviews
@Theatre_Critics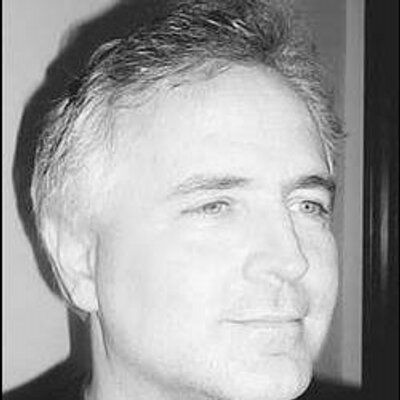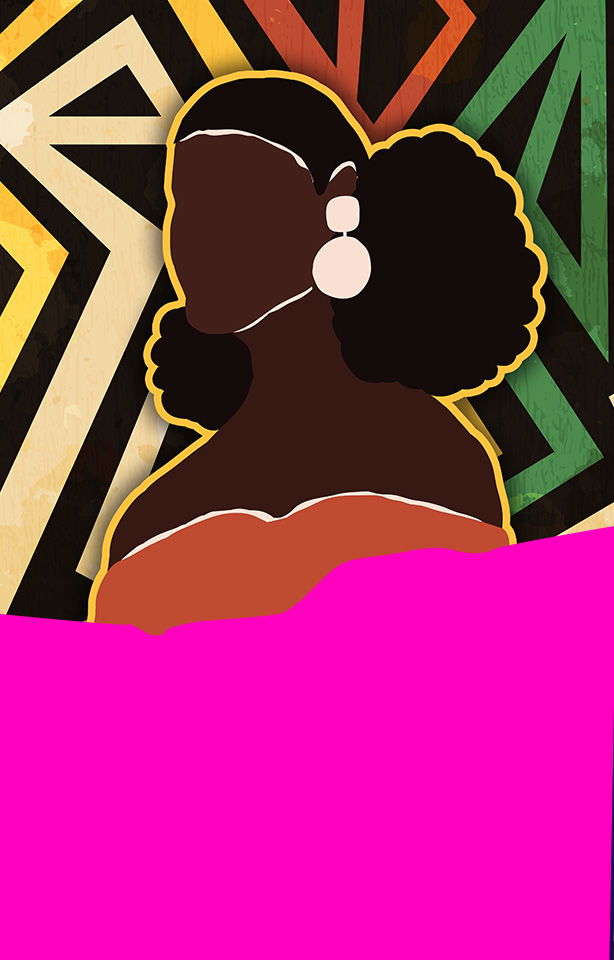 ABOUT THE SHOW
Grandma's birthday at the Frasier household has all the makings of your standard family comedy: drinking, squabbles, hijinks with the silverware; and that's before Tyrone has even arrived!
But in

"FAIRVIEW
,

"

there's nothing that playwright Jackie Sibblies Drury leaves unchallenged – character, genre, even the audience experience.
Expect the unexpected from this bold new drama that will leave you thinking about race, power, and maybe theatre itself, in a whole new light.

ABOUT SPEAKEASY STAGE COMPANY
SpeakEasy Stage Company is a non-profit theatre company located in the South End of Boston and is led by award-winning Producing Artistic Director Paul Daigneault. SpeakEasy was named the Pavilion Resident Theater for the Boston Center for the Arts in 2007 and produces 28 weeks of new plays and musicals each season at the Nancy and Ed Roberts Studio Theater in the Calderwood Pavilion at the Boston Center for the Arts.
Subscription Information: Subscriptions for SpeakEasy Stage Company's 2022-23 Season are now on sale. To purchase or for more information, call 617-933-8600 or go online to https://www.bostontheatrescene.com/season/speakeasy-subs.aspx.
Patrons with subscription questions may also call Jim Torres at 617-482-3279 or write Jim at JimTorres@SpeakEasyStage.com.
Administrative Office
539 Tremont Street
Boston, MA 02116
617-482-3279 phone
617-482-3280 fax
info@speakeasystage.com