(COVER PHOTO: The CAST of the Jimmy Buffett musical "ESCAPE TO MARGARITAVILLE," presented by Theatre at the Mount in Gardner, MA. through August 21, 2022. Photo: Paige Fowler Photography)

By Amanda Baldwin
Special METRMAG Correspondent Reviewer
# 774-242-6724
"If life gives you limes, make Margaritas"

Theatre at the Mount
Presents
Jimmy Buffett's
"ESCAPE TO MARGARITAVILLE"
Book by Greg Garcia and Mike O'Malley
Music and Lyrics by Jimmy Buffett
Director: David Allen Prescott
Music Director: Deb Moylan
Choreographer: Kimberly Soel
Assistant Director: Michael Koloski
Producing Director: Gail Steele
Additional Creative Team: Jeff Boisseau - Technical Director (Lighting/Sound); Jeff Boisseau and David Allen Prescott - Set Design; Mary Ann Allen, Gail Steele - Costumers; Michelle Caissey - Stage Manager; Paul Caouette - Box Office Manager; Lori Adams - Lobby/Set Design; Haley Caisse - Program Design; Aloura Smith and David Moffat - Technical Assistants; Ashley LaBarre, Rachel Twiss, Mike Ross & Shane Brown - Stage Crew.
Cast Includes: Taylor Lawton, Kristen Licht, Jackie Wyatt, Jonathan Simmons, Jeremiah Riordon, Fatima Elmi, Aloura Smith, Zachary Horn, Kimberly Abel, Callia Arum, Hayley Blackmer, Joe Carpenter, Elijah Corbin , Chris Crockett-Sears, Eliora Despres, PJ Doherty, Joshua Frechette, Michael Babineau, Abby Harris, Amanda Lawton, Adriana Padilla Salgado, Dawn Ross, Kaden Scopelliti, Isaac Stratford, Katherine Taylor, Jillian Whitney.
Performances:
August 12, 13, 19 & 20, 2022 at 7:30pm
August 21, 2022 at 2:00pm
All seats $24
If you're looking for a low tide level plot and a menagerie of refreshing tunes to carry you away for a couple hours, look no further than Jimmy Buffett's "ESCAPE TO MARGARITAVILLE."
This jukebox musical opens on a colorful island resort, and introduces us to our go-with-the-flow guitar playing protagonist Tully (Taylor Lawton) and his bartender best friend Brick (Jonathan Simmons).
Their carefree lifestyle is set askew with the arrival of two new script-breaking tourists: career-driven scientist Rachel (Kristen Licht) and her best friend Tammy (Jackie Wyatt) who have come to the island for a bachelorette trip.
Wyatt is hilarious and brings vivacious energy to every scene she's in, and has incredible chemistry with both Simmons and Licht.
The connection between Tammy and Brick is immediate, and it's largely thanks to the chemistry between Wyatt and Simmons. The two also have great chemistry with their respective best friends, who don't quite hit it off as well in the beginning.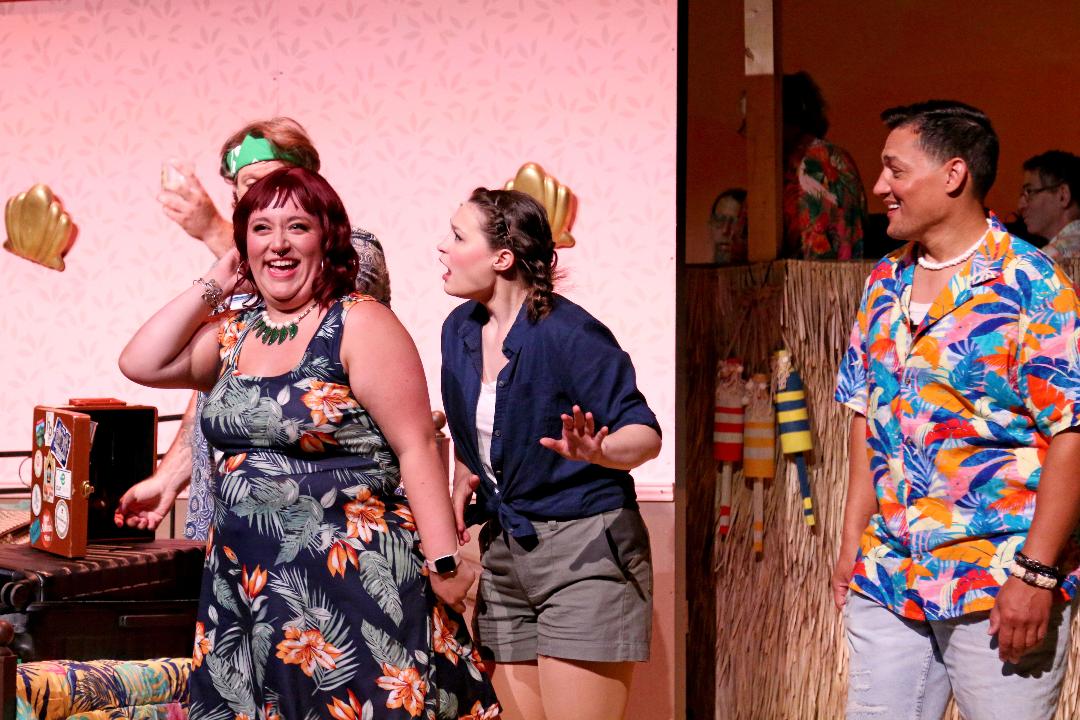 (PHOTO: The CAST of the Jimmy Buffett musical "Escape to Margaritaville," presented by Theatre at the Mount in Gardner, MA. through August 21, 2022. Photo: Paige Fowler Photography)
Licht shines in her number "It's My Job," which provides a moment of vulnerability for her character, as we get an insight into who Rachel is and why she's so set on prioritizing her work.
It helps the already intrigued Tully understand her better as well, and he decides he needs to help her find a way to relax and enjoy life more.
It doesn't take long after that for the pair to bond further between their two first act duets, "Three Chords" and "Son of a Son of a Sailor," where Lawton and Licht harmonize beautifully.
While being able to see the phenomenal band onstage is a wonderful aspect of the performance, the structure they were set upon for the duration of the performance contributed to a number of technical issues that were difficult to ignore.
Not only did this piece make all other set transitions lengthy and challenging, actors often visibly rushing to get everything in place even as the lights go up, but it hinders the choreography in large ensemble numbers as well.
However, when given space and through the use of some creative blocking, numbers such as the Act Two opener of the Jimmy Buffett classic "Volcano" are able to showcase what the lively ensemble is capable of.
Overall, the production is a fun bit of escapism, despite some 'clunkiness' and technical issues.
The leads all had their moment to shine and each individually impressive in their own way.
With the plot of a rom-com and soundtrack that's impossible to not sing along with, it's a nice vacation, especially for all the Rachels of the world.
Review Contributed by Amanda Baldwin - Special METRMAG Correspondent
Approximately two hours with one intermission
Kevin T. Baldwin is a member of the American Theatre Critics Association (ATCA)
@MetrmagReviews
@Theatre_Critics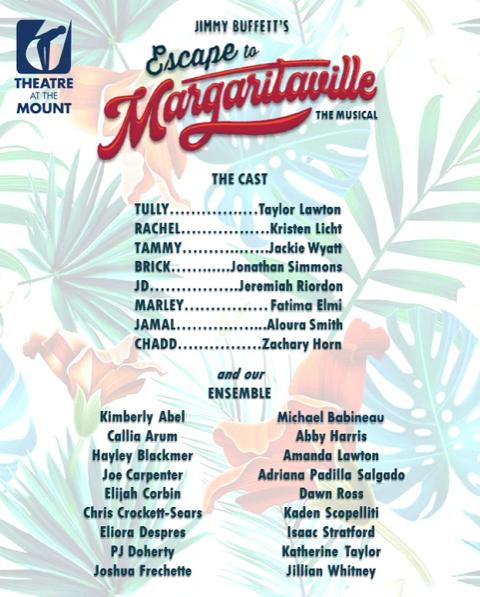 ABOUT THE SHOW
ESCAPE TO MARGARITAVILLE is a musical comedy featuring the most-loved Jimmy Buffett classics, including "Cheeseburger in Paradise", "Margaritaville," "It's Five O'Clock Somewhere," "Fins," "Volcano," and many more.
With a book by Emmy Award winner Greg Garcia ("My Name is Earl," "Raising Hope") and Emmy nominee Mike O'Malley ("Survivor's Remorse," "Shameless"), this hilarious, heartwarming musical is the party you've been waiting for!

Save 20% – Buy our "Rest of Season 3-Pack" and see all three remaining
2022 shows for just $60 – DON'T MISS THE REST OF THE SEASON!
Mount Wachusett Community College
444 Green Street
Gardner, MA 01440