(Cover Photo: The CAST of "ENGLISH" by Sanaz Toossi playing at the SpeakEasy Stage Company in Boston, MA. through November 19, 2022. Photo by Nile Scott Studios)

By Kevin T. Baldwin
METRMAG Reviewer
# 774-242-6724

"When I speak English, I know I will always be stranger."

SpeakEasy Stage Company
Presents
"ENGLISH"
WINNER! 2022 Lucille Lortel Award for Outstanding Play!
Written By Sanaz Toossi
Directed By Melory Mirashrafi
Cast Includes: Josephine Moshiri Elwood, Lily Gilan James, Deniz Khateri, Leyla Modirzadeh, Zaven Ovian
Additional Creative Team:
Janie E. Howland - Scenic Designer; Nina Vartanian - Costume Designer; Amanda E. Fallon - Lighting Designer; Ash - Sound Designer; Deirdre Benson - Production Stage Manager; Ross Gray - Assistant Stage Manager; Vahdat Yeganeh - Dramaturg/Cultural Consultant; Donya Poole Yeganeh - Design Cultural Consultant/Dialect Coach; Emme Shaw - Props Designer; Ryan Lemay - Lead Electrician; Justin Lahue - Assistant Scenic Designer; E. Rosser - Wardrobe Supervisor; Dominique D. Burford & Jolie Frazer - Covid Safety Managers; Coty Lennon Markee - Run Crew/Board Op; Cori Couture & Andrea Doane - Audio Describers.
Performances:
October 21, 2022 through November 19, 2022
(Contact Box Office for Exact Times)
SpeakEasy Stage Company presents "ENGLISH" by Sanaz Toossi which, in classroom terminology, is a fine essay on where, for some, simple conversation ends and complex conformity begins.
To preface this review, I first need to go into "Sophia Petrillo mode" for a brief story. Don't worry - I'll tie this all together later.
Picture it: The year is 1984 at a little bar located at the base of the famed White Cliffs of Dover, England.
A little bar where this college graduate is spending a brief respite as he awaits a ferry to take him from Dover over to Calais, France.
Inside the tenebrous tavern, the smoke is thicker than London fog and the mostly seafaring "clientele" - many hovering over clearly "intense" pool table and dartboard games - would make the worst biker bar denizens look like members of the Westminster Kennel Club.*
(* with due deference to any badass biker members of the Westminster Kennel Club, of course.)
What becomes utterly fascinating for the young graduate to witness is that hardly any of the people in that bar are conversing in the same language.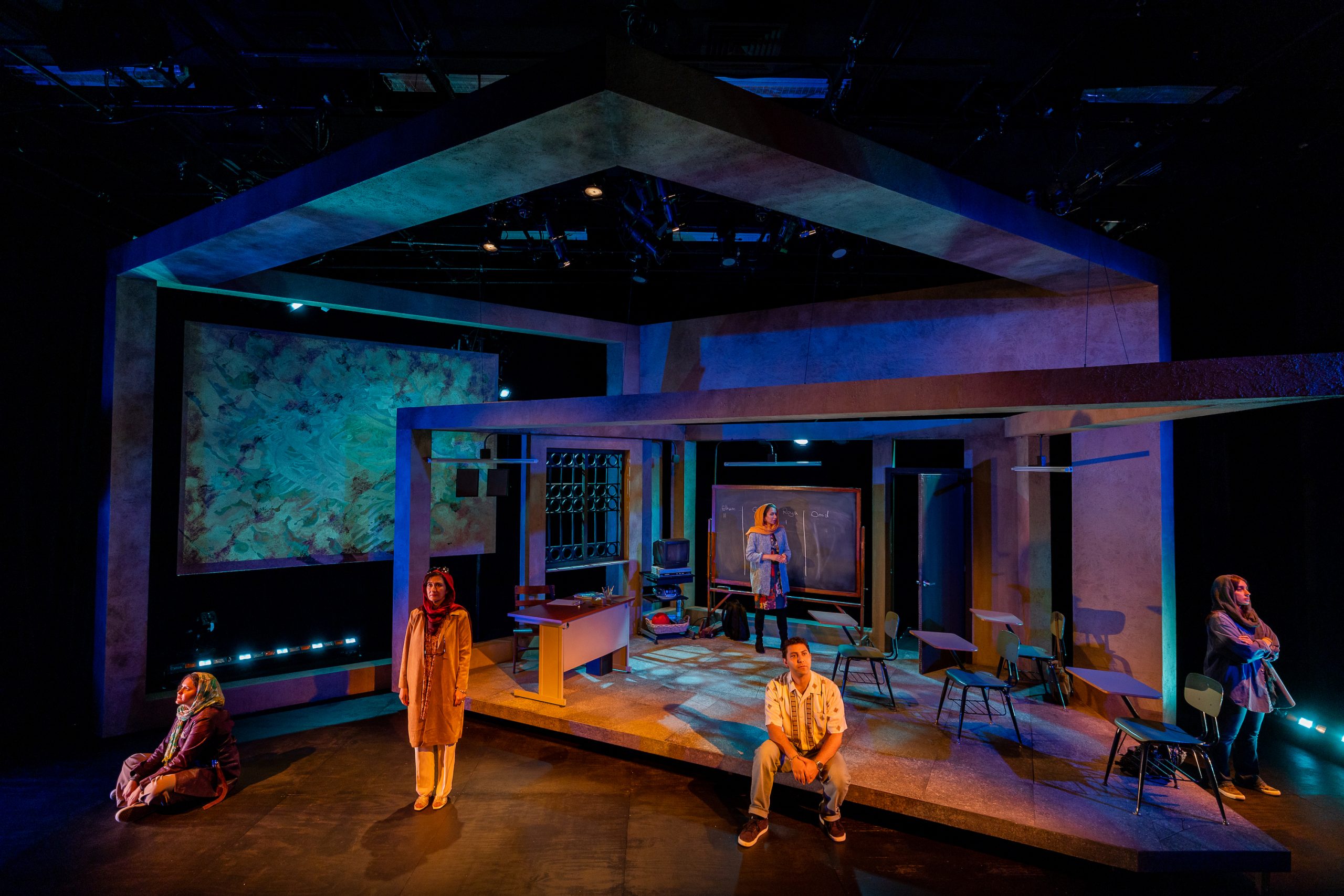 (Photo: The CAST of "ENGLISH" by Sanaz Toossi playing at the SpeakEasy Stage Company in Boston, MA. through November 19, 2022. Photo by Nile Scott Studios)
They came to this little seaside tavern on leave from ports all over coastline - so a variety of distinctly different languages (English, French, Dutch, German, etc.) are overheard.
Now, it is possible that some of these barflies might be multi-lingual but for that much linguistic talent to be at this one spot - well, it would be hard to believe, for sure.
In retrospect now, what wasn't hard to believe was that, even though verbal communication seemed impossible, communication was not only possible, it was happening.
In other words, to paraphrase "ENGLISH," the "inside was brought outside" and these gathered souls all communicated in a language all their own.
The entire place was filled with a heavy dose of laughter intertwined with the games of pool and darts, the smoke and gallons and gallons of beer that was flowing quite freely.
They did not need to speak the same language to "communicate" and just have a helluva good time together.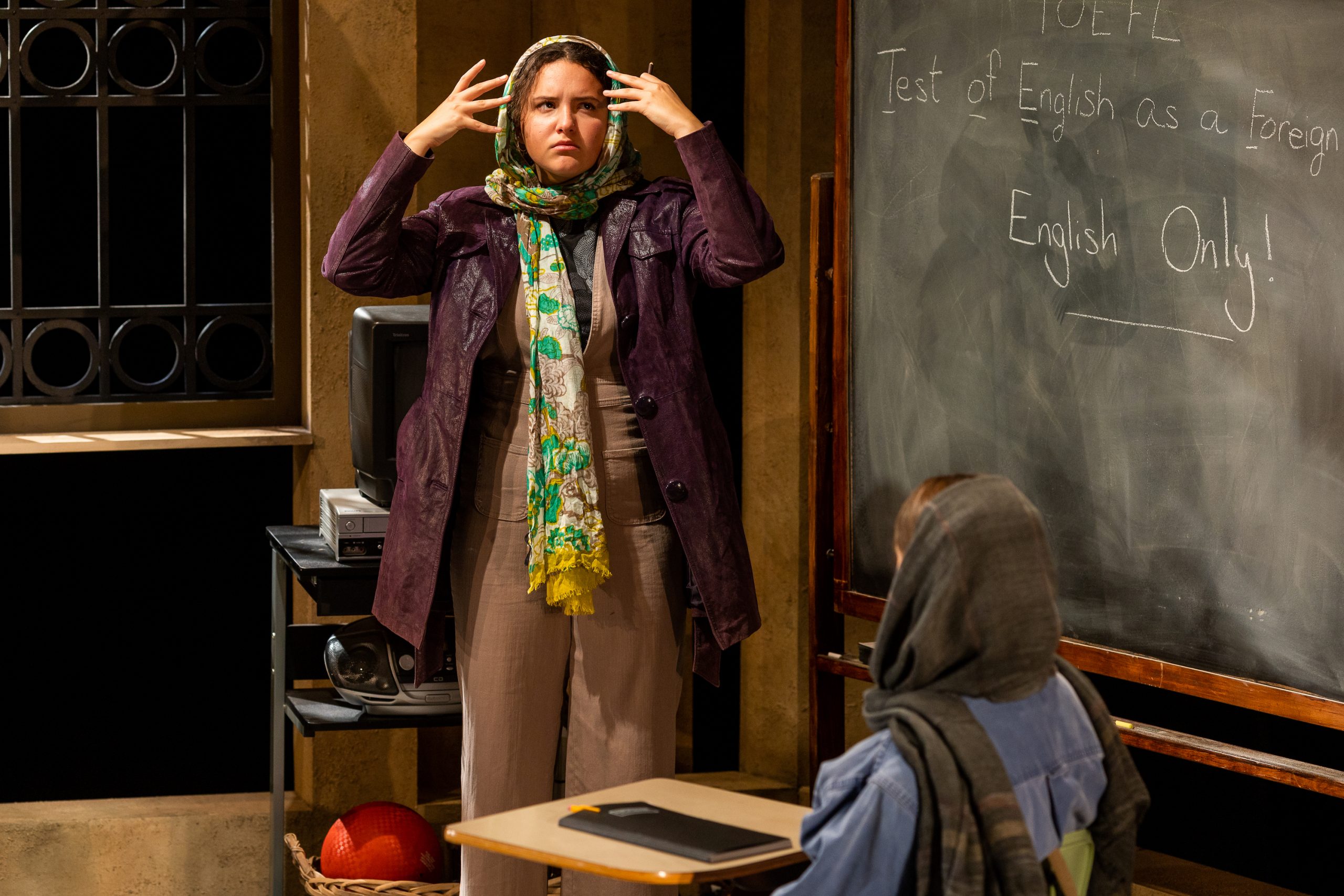 (Photo: Lily Gilan James (standing) and Josephine Moshiri Elwood in a scene from "ENGLISH" by Sanaz Toossi playing at the SpeakEasy Stage Company in Boston, MA. through November 19, 2022. Photo by Nile Scott Studios)
Flash forward to Karaj, near Tehran, in 2008 to the time and place for Sanaz Toossi's "ENGLISH."
Here, too, similarly, there are moments of levity which result in us, the audience, having a helluva good time.
Then, there are moments where, to quote the group 10cc, we see that "communication is the problem to the answer."
Under the shrewd direction of Melory Mirashrafi, the one-act play may seem to be simply about one teacher's efforts to instruct four fluent Farsi-speaking students to speak "ENGLISH ONLY!" (as the teacher writes on the chalkboard at the start of the show) - but it soon evolves into much, much more.
The resistance she encounters from some in her class might feel perplexing but when communication feels like more of an effort to remove a vital component of one's culture, then it becomes something quite different.
It elevates the discussion to focus on assimilation, on conformity, on the reduction of one's own identity for the sake of acquiescence.
Marjan (Deniz Khateri) is an Iranian instructor of basic conversational English for a program designed for Iranian students to pass the important "Test of English as a Foreign Language (TOEFL)" exam.
She has four students: the combative young Elham (Josephine Moshiri Elwood) who needs to pass the TOEFL to be able to attend med school in Australia; the more seasoned Roya (Leyla Modirzadeh) who plans on moving in with family in Canada; Omid (Zaven Ovian), the only male in the class, prepping for a green card interview; and Goli (Lily Gilan James) who is the youngest in class but also appears to be enjoying it the most (with the exception of Omid but for very different reasons).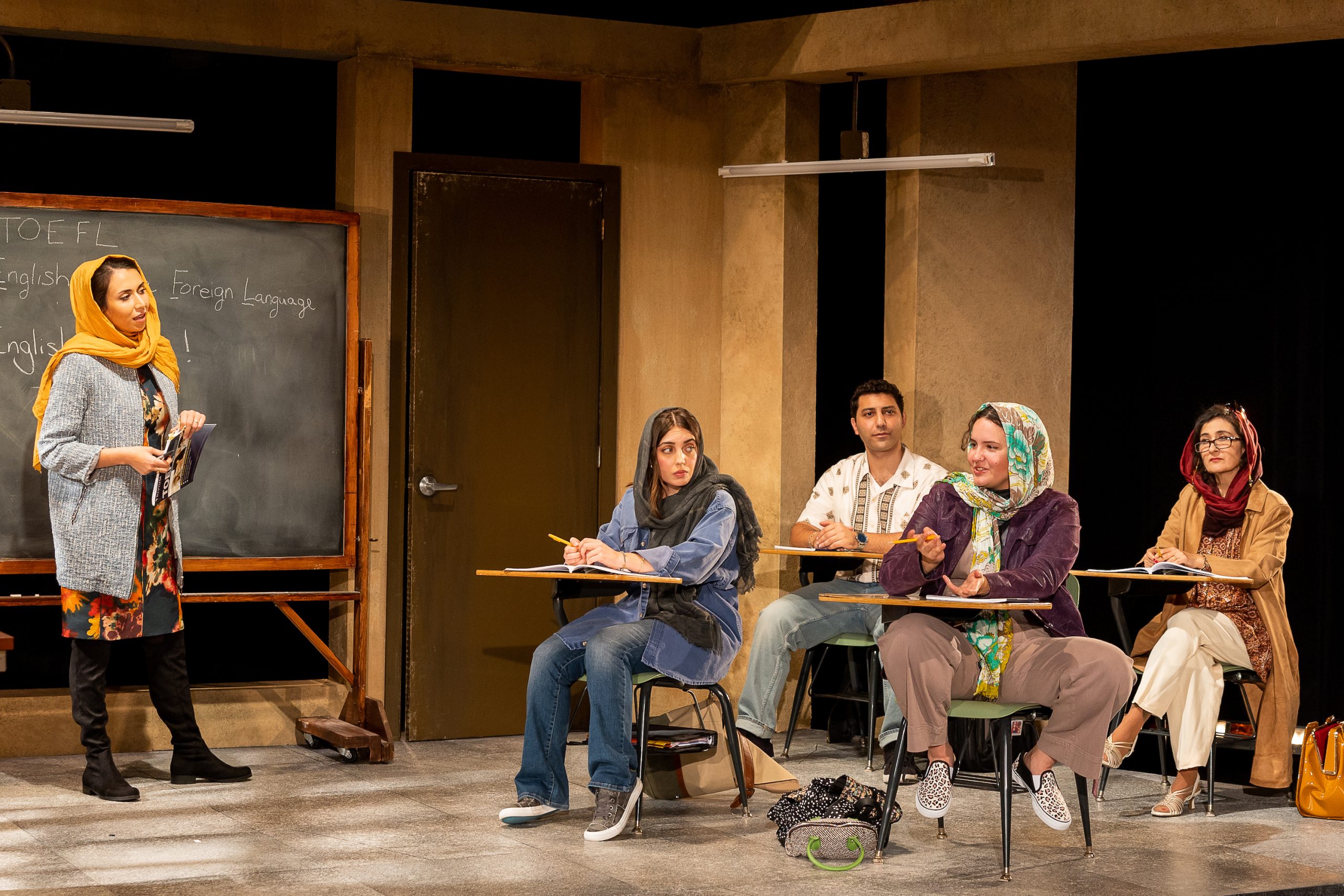 (Photo: The CAST of "ENGLISH" by Sanaz Toossi playing at the SpeakEasy Stage Company in Boston, MA. through November 19, 2022. Photo by Nile Scott Studios)
Goli is enthusiastic of her progress in the class while Elham is the most frustrated at her lack of progress.
Marjan is confused about what might be holding Elham back.
The class is instructed to speak "ENGLISH ONLY!" as part of the course curriculum but Elham resists at every opportunity, becoming increasingly disruptive in class.
The "Farsi" that these characters would speak is actually spoken in the play as a more conversational English (and sometimes even in a more guttural, colloquial "American" English) but the learned classroom English is spoken far more rudimentary, almost childlike - an intriguing device choice.
The ensemble performances are all equally strong with the internal dynamic and chemistry absolutely solid.
The single set design by Janie E. Howland is quite impressive in its simplicity.
There are noticeable cracks in the floor and the only door to the classroom has visible weathering and wear. These signs of noticeable deterioration might also symbolize the cracks and wear from global pressure to learn English at the sacrificial loss of one's own language and heritage.
As revelations abound for everyone in the classroom, Marjan included, each person's motivations become clear.
In other words, once again, the "inside is brought outside" and these souls begin to speak to us in a language all their own.
"ENGLISH" continues at SpeakEasy until November 19th and is well worth the time spent to "audit" this particular class.
Approximately one hours 45 minutes with no intermission.
Kevin T. Baldwin is a member of the American Theatre Critics Association (ATCA)
@MetrmagReviews
@Theatre_Critics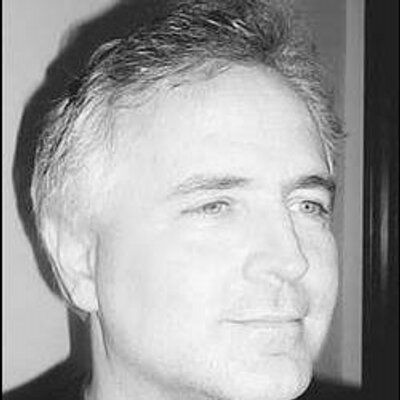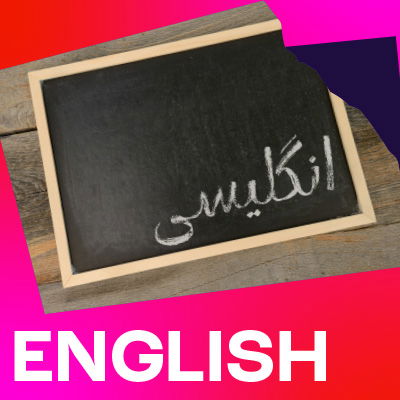 ABOUT THE SHOW
"English Only."
That's the mantra of Marjan, an English teacher in Karaj, Iran struggling to prepare her four students to take the Test of English as a Foreign Language.
The exam has life-changing implications for each classmate, but between the word games and show-and-tell sessions, one student seems set on derailing the lesson plan.
With wit, wisdom, and compassion, award-winning playwright Sanaz Toossi's new comedy uses language as a lens to explore identity, heritage, and community.

ABOUT SPEAKEASY STAGE COMPANY
SpeakEasy Stage Company is a non-profit theatre company located in the South End of Boston and is led by award-winning Producing Artistic Director Paul Daigneault. SpeakEasy was named the Pavilion Resident Theater for the Boston Center for the Arts in 2007 and produces 28 weeks of new plays and musicals each season at the Nancy and Ed Roberts Studio Theater in the Calderwood Pavilion at the Boston Center for the Arts.
Subscription Information: Subscriptions for SpeakEasy Stage Company's 2022-23 Season are now on sale. To purchase or for more information, call 617-933-8600 or go online to https://www.bostontheatrescene.com/season/speakeasy-subs.aspx.
Patrons with subscription questions may also call Jim Torres at 617-482-3279 or write Jim at JimTorres@SpeakEasyStage.com.
Administrative Office
539 Tremont Street
Boston, MA 02116
617-482-3279 phone
617-482-3280 fax
info@speakeasystage.com