(COVER PHOTO: Caitlin Sausville, center, surrounded by the "Drowsy Chaperone" ensemble at Theatre at the Mount. Photo Credit: Laura Cavanaugh)
"Drowsy Chaperone" Pleases and Plumbles at Theatre at the Mount
By Kevin T. Baldwin
METRMag Reviewer
Contact: 774-242-6724

GARDNER: "The Drowsy Chaperone" a musical by Lisa Lambert, Greg Morrison, Bob Martin and Don McKellar. Presented by Theatre at the Mount. Mount Wachusett Community College, 444 Green Street, Gardner, MA 01440. Performances: Performances: Feb. 29, March 6, 7 at 8:00pm; March 8 at 2:00pm. Ticket Prices: Evening $24, Matinee $20, Student (available by phone only) $18 (age 16 and younger, or MWCC student). For tickets go to www.mwcc.edu/tam or call 978-630-9388 for more information.
Book by Bob Martin and Don McKellar. Music and lyrics by Lisa Lambert and Greg Morrison. Directed by Gail Steele. Music Director Bob Healey. Choreographer Amanda Lawton.
Cast Includes: David Allen Prescott, Caitlin Sausville, Trish Aponte, Paul Caouette, Mike Ross, Wes Young, Kristen Licht, Michael Celularo, Timmy Chase, Michael Kozloski, Autumn DeSisto, Ken Golner, Katherine Taylor, Max Charbonneau, Lynne Dumais, Brooklyn McDonald, Dawn Ross, Austin Stacy, Jack Tiernan, Sean Doyle.
Not only a pleasant journey back to when the fun, multi Tony Award-winning musical "Drowsy Chaperone" was staged in Gardner in 2011, Theatre at the Mount takes us back even further in time - to an era when musicals had an innocence, enthusiasm and charm hard to reproduce in today's far more jaded world.
As it was, when initially staged at the Mount back in 2011, the show begins with the stage and theatre both dark. No overture…not yet.
The first thing we hear is a voice in the dark coming from the mysterious "Man in the Chair" (David Allen Prescott), host for Theatre at the Mount's "Drowsy Chaperone."
Lights up far stage right we see an anemic, almost myopic looking man (slightly older) wearing a weathered cardigan-style sweater and glasses.
Prescott also played the role back in 2011 and is as exemplary now as he was then.
The Man in the Chair's demeanor aids in his telling the audience of his agoraphobic lifestyle which he proudly proclaims is lightened solely by listening to his vast record collection of Broadway shows.
By "records" he does not refer to today's high tech, digitally remastered "vinyl." No, he refers to scratchy, skipping, OLD records found in his collection of early musicals.
He pulls out the fictitious long lost gem of a musical entitled "The Drowsy Chaperone," written by the equally fictitious Julie Gable and Sidney Stein.
For "Chaperone," in actuality, the lighthearted Tony award winning musical (for script and score) was written by Bob Martin and Don McKellar with music and lyrics by Lisa Lambert and Greg Morrison.
Suddenly, we get transported from his kitchen to the "Tottendale Estate," or rather the estate is transported through spots in the Man's kitchen, with characters making entrances and exits via his hideaway bed or through his refrigerator.
The sets and various drops utilized in the show are quite laudable.
We are first introduced to musical's famous leading lady, beautiful bride Janet Van De Graaff (Caitlin Sausville).
Sausville is as comfortable playing Janet as Prescott is as the Man in Chair, as she easily belts out the multi-faceted first act musical number, "Show Off."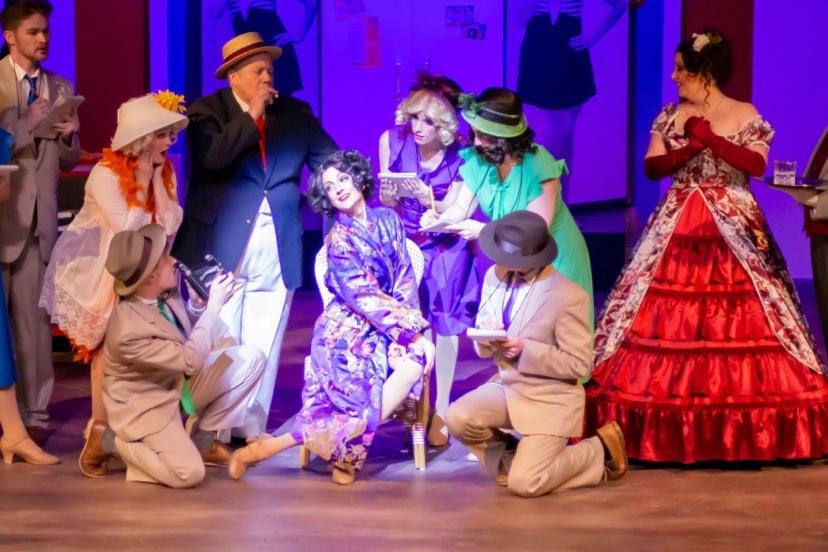 Caitlin Sausville, center, surrounded by the "Drowsy Chaperone" ensemble at Theatre at the Mount. Photo Credit: Laura Cavanaugh.
Janet is intent on abandoning her career in order to marry oil tycoon Robert (Mike Ross).
Ross seemed less comfortable as the charismatic Robert and struggled with the high octane two-man tap number "Cold Feets." Less uncomfortable was Robert's Best Man, George (Wes Young) who is an exceptional dancer.
Ross was far more adept at the roller skating required in the later number "Accident Waiting to Happen" (which required a tremendous amount of trust by both he and Prescott at one point).
Janet is the star attraction for "Feldzieg's Follies" with harried producer, Mr. Feldzieg (Paul Caouette, who also was in the 2011 production as a different character).
Kristin Licht was hilarious as "Kitty," the ditzy platinum blonde girlfriend of Feldzieg.
Feldzieg is threatened by two gangsters disguised as pastry chefs, played equally comical by Michael Kozloski and Timmy Chase.
The two actors, along with Michael Celularo as Latin Lothario Adolpho (an intentional nod to the negative ethnic stereotyping prevalent of the time period) provide for some of the nights biggest laughs and scene stealing moments, especially in the over-the-top nod to poor taste, "Message from a Nightingale."
In an intentionally upstaging bravura role is the "Drowsy Chaperone" herself, played by Trish Aponte. Her rousing number "As We Stumble Along" certainly did not stupefy as alluded to by the Man in Chair. She milked it for all it was worth and the audience appreciated it in kind, as ludicrous as it was.
Autumn DeSisto played the absentminded "Mrs. Tottendale" who both amuses and aggravates her long suffering man servant, Underling (Ken Golner).
Whether by actor's choice or director's decision (or both), DeSisto did not try to emulate the character as defined by late actress Georgia Engel in the original Broadway cast. While both performers give adept portrayals, this choice took away some of that amusing charm between the characters. They still provided a humorous take on their duet, "Love is Always Lovely."
With perhaps the notable exception of the Man in Chair's sweater, the costumes for the show by Doreen Croteau were thoroughly resplendent at times and perfectly in tune with the heightened jubilant spirit of the show.
While a competently staged production, under the direction of Gail Steele with choreography by Amanda Lawton, there seemed to be a lack of enthusiasm behind the more elaborate production numbers.
This was evidenced by some of the songs appearing lethargic or under-rehearsed. The best choreographed number didn't occur until the second act's "Brides Lament" which was exceptionally well executed by the ensemble.
A few of the performers "stumbled along" (or "plumbled along") musically, as well, either rushing into the recorded instrumentation or trying to catch up with it at points. This was noticeable in several numbers including "Cold Feets" and "Toledo Surprise."
Speaking of surprises, a word of caution: As it was back in 2011, while there are two acts listed in the program, there is NO intermission during this presentation. This could be a nod back to the original Broadway production but, at an hour and 45 minutes, seemed a bit excessive.
But for those with adequate bladder control, Prescott will keep you thoroughly engaged during the break in between the action that you'll be amazed at how quickly the time where the intermission should be passes (pun intended).
Even nine years later, with the impressive sets, costumes, and the combined performances, "Drowsy Chaperone" is still a show well worth seeing. Looking forward to seeing the Mount's next staging in 2029 (hopefully with an intermission next time).
The show runs approximately one hour 45 minutes with no intermission.
Kevin T. Baldwin is a member of the American Theatre Critics Association (ATCA)

Individual Ticket Prices (2020):
Adult Evening
$24
Adult Matinee
$20
Student – available by phone only
$18 (age 16 and younger, or MWCC student)
Children's Spring Show
All seats $8
Children's Fall Show
All seats $6
Any extra fee applied to your ticket price is for handling and/or postage.
Group Rate:
A group rate of $18.00 per ticket is available for any group of 20 or more. To book a group, contact Gail Steele, Director of Theatre at g_steele@mwcc.mass.edu or by phone at 978-630-9162.