Theatre at the Mount cooks up a hilarious affair with "Don't Dress for Dinner"
By Kevin T. Baldwin
METRMag Reviewer
Contact: 774-242-6724

GARDNER: "Don't Dress for Dinner" A Robin Hawdon adaptation of the two-act play "Pyjama Pour Six" by French playwright Marc Camoletti. Presented by Theatre at the Mount. Mount Wachusett Community College, 444 Green Street, Gardner, MA 01440. Performances Oct. 11, 12 at 8:00pm, Oct. 13 at 2:00pm. Ticket Prices: Evening $22, Matinee $17, Student (available by phone only) $15 (age 16 and younger, or MWCC student). For tickets go to www.mwcc.edu/tam or call 978-630-9388 for more information.
A Robin Hawdon adaptation of the two-act play "Pyjama Pour Six" by French playwright Marc Camoletti. Directed by Lorien Corbelletti.
CAST INCLUDES: Autumn Desisto, Matt Muller,Faith Brodi, David Allen Prescott, Lynne Dumais, Francis Freel.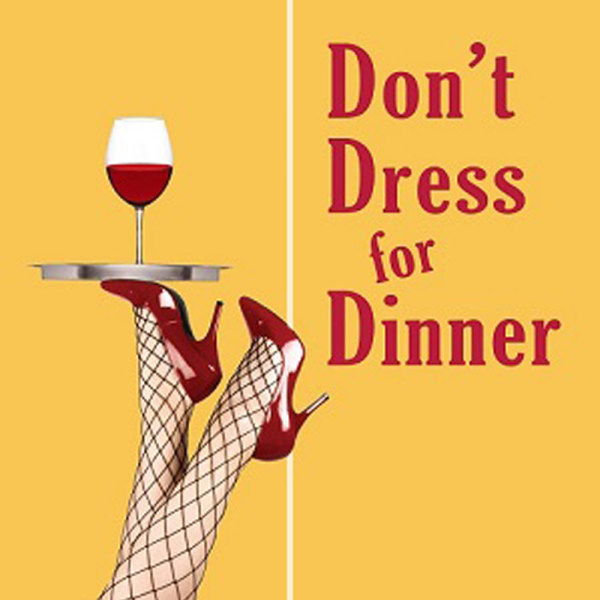 Theatre at the Mount is easily serving up one of the funniest shows of the season with the bedroom farce "Don't Dress for Dinner."
Saturday night's show got off to a bit of a shaky start with a few moments of unsure lighting and a totally missed sound effect of a ringing telephone. However, those minor incidents were quickly forgotten within moments as the ingenious dialogue by Robin Hawdon commenced.
In this adaptation of the two-act play "Pyjama Pour Six" by French playwright Marc Camoletti, the Tony Award-nominated comedy begins as socialite Bernard (Francis Freel) schemes to have a weekend alone with his sultry and seductive Parisian mistress, Suzanne (Faith Brodi), in his quaint converted French farmhouse near Paris.
Bernard has convinced his lovely wife, Jacqueline (Autumn Desisto), to go see her mother for a visit. He has persuaded his friend, Robert (David Allen Prescott), to come over to have a fabulous dinner, thereby providing Bernard with the perfect alibi and opportunity for his affair.
With his wife gone, Bernard has hired a clever Cordon Bleu chef, Suzette (Lynne Dumais), to come in and cook. He confides with Robert that, with Jacqueline gone, he plans to bed his mistress in one of the spare rooms in the house.
What Bernard, Suzanne and Suzette do not know is that Robert and Jacqueline are ALSO secret lovers.
Realizing Robert will be there, Jacqueline seizes the opportunity and decides to remain at home, throwing all of Bernard's plans into turmoil.
What ensues is a series of lies, deceptions, mistaken identities and misunderstandings…followed by more lies to cover up the original lies, deceptions, mistaken identities and misunderstandings, most of the time done at a relentless breakneck speed.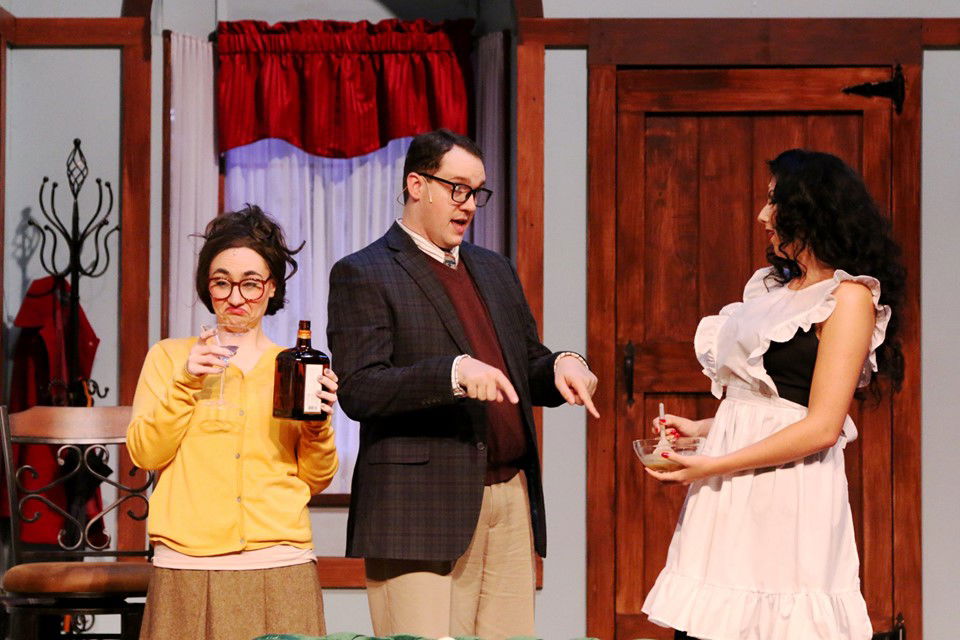 From left to right: Lynn Dumais, David Allen Prescott and Faith Brodi.
Photo courtesy of Paige Crane.

Autumn Desisto and Francis Freel have terrific chemistry as the adulterous Jacqueline and Bernard, playing the characters as more mischievous than mean spirited. Neither is intentionally trying to hurt the other as they pursue their extramarital activities.
Prescott, as Robert, carries out a lot of physical humor while simultaneously engages in wild banter and, at every turn, his line delivery is surgically precise.
Equally impressive is Dumais as the witty Suzette, who not only goes toe to toe with Bernard and Robert's crazy deceptions, she also engages in some absolutely dazzling physical comedy.
Later, in Act Two, she is joined by both Desisto and Brodi who also provide some hilarious yet empowering moments as events unfold.
Under the direction of Lorien Corbelletti, "Don't Dress for Dinner" moves like a well-oiled machine. However, there were some questionable decisions made - mostly as to why the show was kept set in Europe yet the cast does not speak using any denoted European accents.
To preserve the original dialogue yet not adjust the dialect made much of the European references and verbiage seemed far out of place.
But, ultimately, it did not matter as the cast executed the material so fiercely the laughs came in big waves from beginning to end.
The set design by Corbelletti and Jeff Boisseau was elaborately detailed, perfectly conducive to the overall ambience of the show.
"Don't Dress for Dinner" is definitely a major high point of the local theatre season and should not be missed.
The show runs approximately two hours with one intermission.
Kevin T. Baldwin is a member of the American Theatre Critics Association (ATCA)