(Cover Photo: The CAST of "DIE FLEDERMAUS" from Valley Light Opera in Northampton, MA. through November 13, 2022. Photo Credit Marc Bussiere)


By Kevin T. Baldwin
METRMAG Reviewer
# 774-242-6724

"In a rousing way, in a merry circle, put a crown on these festivities!"

Valley Light Opera
Presents
"DIE FLEDERMAUS"
Come for the farce, stay for the costumes and music.
Johann Strauss II
Thom Griffin as Stage Director
Aldo Fabrizi as Music Director
Libretto in English by Elaine Crane
Cast Includes:
Rosalinde - Elaine Crane; Adele - Nicole Newell; Orlofsky - Heather Williams; Ida - Rory Mason; Eisenstein - Matthew Taylor; Alfred - Tom Gruenthal; Falke - Ramsey Kurdi; Frank - Michael Budnick; Blind - Matt Roehrig; Ivan - Ted Blaisdell; Frosch - Tim McNeirny
Chorus:
Elysse Link, Claire Kenney, Amanda Seymour, Phoebe Knapp, Becca Bly, Helena Donovan, Kathy Blaisdell, Nina Pollard, Jill Franks, Nina Fischer, Deborah Jacobson, Roy Williams, Steven Williams, David Mix Barrington, Ted Fijal, Paul Peelle, Thomas Klansek, Kevin Cox, Gordon Freed, Mark McMenamin, Parker Black, & Fedya Michael
Performances:
November 5, 11 & 12, 2022 at 7:30pm
November 6 & 13, 2022 at 2:00pm
Tickets will be available from the Academy of Music box office on-line, by telephone, by e-mail, in person, or even by mail.
THE ACADEMY OF MUSIC BOX OFFIC

E
boxoffice@academyofmusictheatre.com
413-584-9032 x 105
Tickets: www.aomtheatre.com
Box office hours: Tuesday-Friday 3pm-6pm, and one hour before each performance.
To be held at the Academy of Music, 274 Main Street, Northampton, MA 01060
"DIE FLEDERMAUS" by Johann Strauss II is an operetta full of contemporary humor and is the latest offering by Valley Light Opera in Northampton, MA.
Under the direction of Thom Griffin, the wonderfully staged production features a full orchestra under the expert direction of Music Director and Conductor, Aldo Fabrizi.
The story of "DIE FLEDERMAUS" is based on a German play, Das Gefängnis (The Prison) and on the French vaudeville play, Le Réveillon, by Henri Meilhac and Ludovic Halévy.
The uproarious opera comique is sung in English with translation by Elaine Crane, adapted by Griffin.
We are in Vienna on New Year's Eve, 1899. A century coming to an end with a new millennium about to begin.
The perfect time for the ultimate revenge.
At least, that is what our host for "DIE FLEDERMAUS," the devious Dr. Falke (Ramsey Kurdi) - aka "The Bat" - is intending.
Years ago, Dr. Falke went to a masked ball wearing a bat costume.
Someone got Falke drunk, leaving him passed out in the woods.
As Falke regained consciousness and walked home, everyone who saw him mocked his ridiculous "bat" costume - referring to him as either "The Bat" or "Doctor Bat."
Kurdi does an admirable job imbuing the doctor with a marvelously mischievous quality that, in another actor's capacity, might easily be overplayed as more demonic than devilish.
Here, "The Bat"'s plot for revenge simply comes across closer to a fraternity prank response gone too far than the intentional and utter destruction of a foe.
Yet, as Falke plots his vengeance against the man who got him drunk and left him humiliated - thus begins the tale of "DIE FLEDERMAUS."
We are in the beautiful home of the Eisensteins - where a handsome, lovesick tenor suitor, Alfredo (Charlie Berrios), serenades his old flame, Rosalinde (Elaine Crane), who is now married to Gabriel von Eisenstein (Matthew Taylor).
It was Gabriel von Eisenstein who caused Dr. Faulke's humiliation and now Eisenstein is about to be humiliated by Faulke in response - but on a far grander scale.
Eisenstein was just found guilty of hitting a police officer and must begin serving his sentence that very night. A jailer is coming for him within moments.
The above trio of voices is exemplary, and the execution of the Strauss score impeccable.
Strauss was once quoted as saying, "If an operetta is to become popular, everyone must find something in it that appeals to his taste."
In "DIE FLEDERMAUS," there is definitely something in it for everyone.
Rosalinde's chambermaid, Adele (Nicole Newell/Becca Bly-Cover), schemes into getting the night off from Rosalinde to attend a swank New Year's Eve ball being thrown by renowned Prince Orlofsky (Heather Williams) to which Adele's sister, Ida (Rory Mason), has been invited.
Rosalinde gets Alfredo to hide outside the home as Eisenstein and his lawyer, Dr. Blind (Matt Roehrig), arrive from court.
Knowing Eisenstein to be a serial philanderer, the scheming Dr. Falke also arrives and convinces Eisenstein to attend Orlovsky's ball and to bring along his infamous pocket watch to help him woo the ladies at the event before serving his sentence.
Why a pocket watch is used as an aphrodisiac or means to sexual conquest is not immediately clear....but it is a really shiny bauble and it does ring a lot. So...there's that.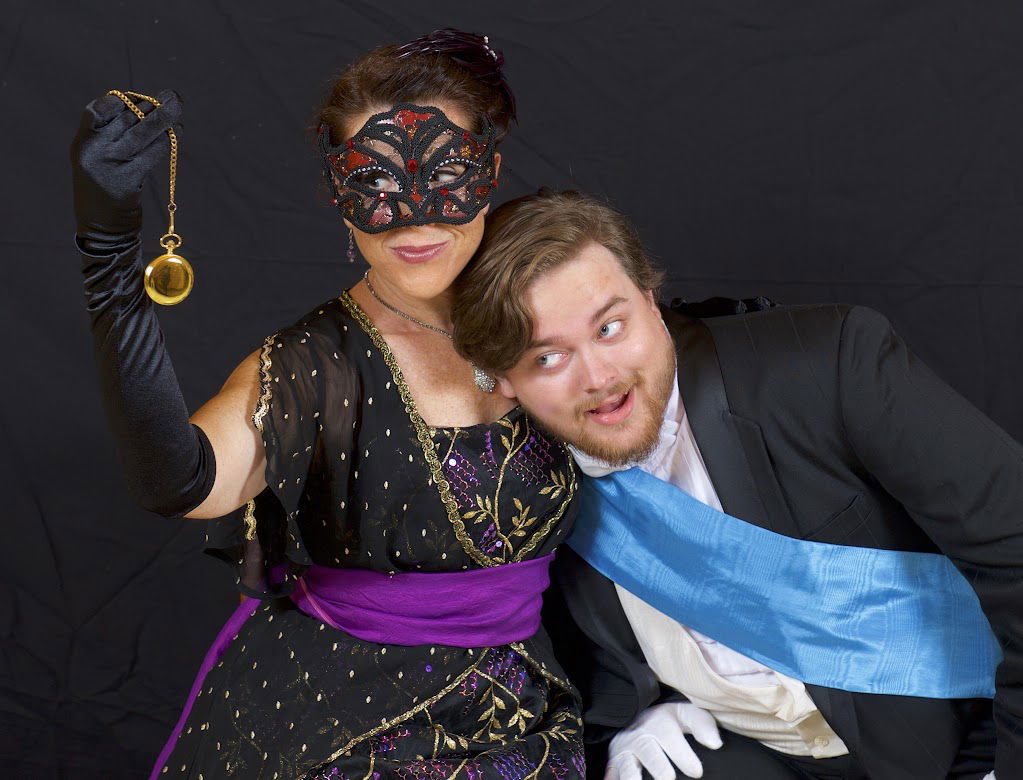 (Photo: Matthew Taylor and Elaine Crane in a scene from "DIE FLEDERMAUS" from Valley Light Opera in Northampton, MA. through November 13, 2022. Photo Credit Marc Bussiere)
The scheming doctor also convinces Rosalinde to the ball, as well, advising if she comes in disguise, she'll better be able to catch her husband in the act.
She agrees in the hopes she will be free of her unfaithful husband and free to be with Alfredo, who arrives moments later putting on Eisenstein's robe hoping to finally bed Rosalinde.
However, the impending rendezvous between Alfredo and Rosalinde gets interrupted by prison warden Frank (Michael Budnick), who has come to jail Eisenstein.
Alfredo poses as Eisenstein, in order to protect Rosalinde's reputation, and is imprisoned.
Moving into Act Two, in the ballroom of Prince Orlofsky's villa, much of the evening's events as plotted by Dr. Falke being to unfold with hilarious results.
Orlofsky has been promised by Falke that he will be witness to an evening of great surprises and, on that, the doctor delivers thanks to a multitude of manipulations on his part.
Adele arrives and is passed off as a Russian actress as Eisenstein arrives posing as a noble Frenchman.
Frank comes in disguised as a Frenchman, not recognizing Eisenstein (since he just arrested Alfredo thinking Alfredo WAS Eisenstein).
Frank sees Adele and Ida and passes himself off as a theatrical producer to impress them.

(Photo: The CAST of "DIE FLEDERMAUS" from Valley Light Opera in Northampton, MA. through November 13, 2022. Photo Credit Marc Bussiere)
Rosalinde arrives masquerading as a Hungarian countess and sees Eisenstein flirting with Adele.
In addition to multiple hilarious cases of deceit and mistaken identity, Acts One and Two are rife with beautiful music thanks both to the entire ensemble on stage and the exquisite accompanying orchestra.
The choreography by Nicole Newall in Act Two was aptly executed but the performers seemed far better suited to the waltz moreso than the preceding polka.
The exceptional sets and costumes are courtesy of the fine creative production crews led by Jackie Walsh (Stage Manager), Steve Morgan (Technical Director), Chris Riddle (Set Designer), Tim Plankey (Lighting Designer), Dave Stowell (Master Carpenter) and costumes and props crews led by Laura Green, Phyllis Jordan, Kevin Cox and Deborah Jacobson.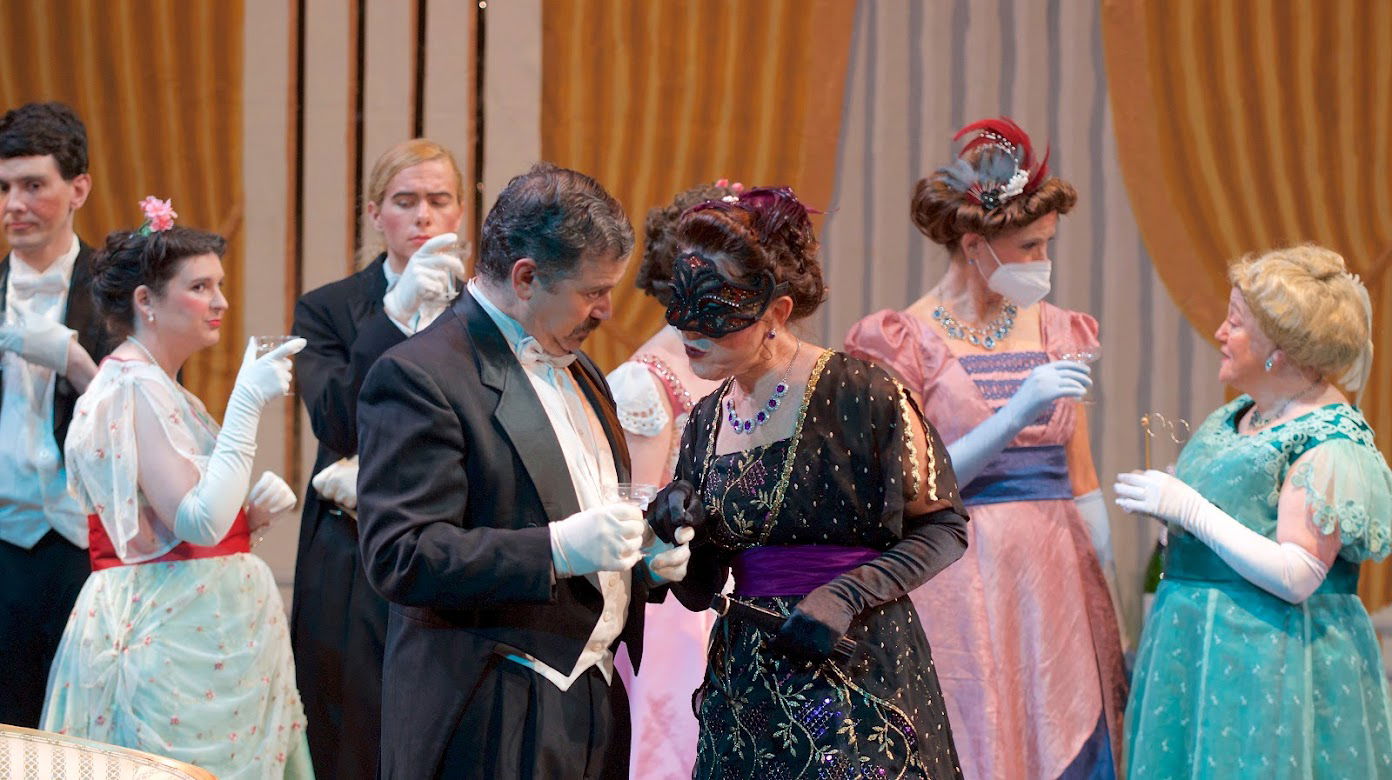 (Photo: Ramsey Kurdi and Elaine Crane in a scene from "DIE FLEDERMAUS" from Valley Light Opera in Northampton, MA. through November 13, 2022. Photo Credit Marc Bussiere)
For whatever reason, the staging for Act Three, set in a jail, lost the overall sense of opulence that had come with the preceding acts.
Mostly a bare stage with a desk stage right, an "unstable" archway stage left, an easy chair center and a scrim curtain along the back.
To end the show with such a lack of attention, considering the amount of fine detailed sets that had come before, felt a tad disappointing.
There was also a brief incident at the November 6th performance in Act Three involving the uncooperative archway which fell, nearly taking out the Jailer, Frosch (Thom Griffin).
The actor, to his great credit, took it all in stride and kept going. The curtain closed, the set was redressed and the act continued.
All in all, the two and a half hour "DIE FLEDERMAUS" provides an accomplished night of entertainment and is definitely enjoyable.
Approximately two hours, 30 minutes with two intermissions.
Kevin T. Baldwin is a member of the American Theatre Critics Association (ATCA)
@MetrmagReviews
@Theatre_Critics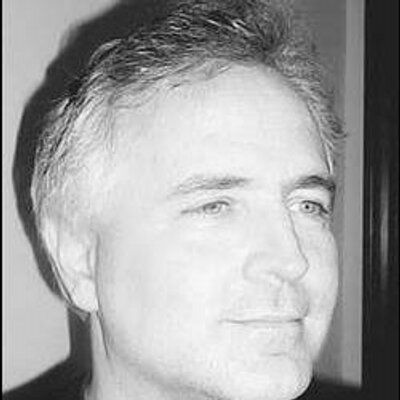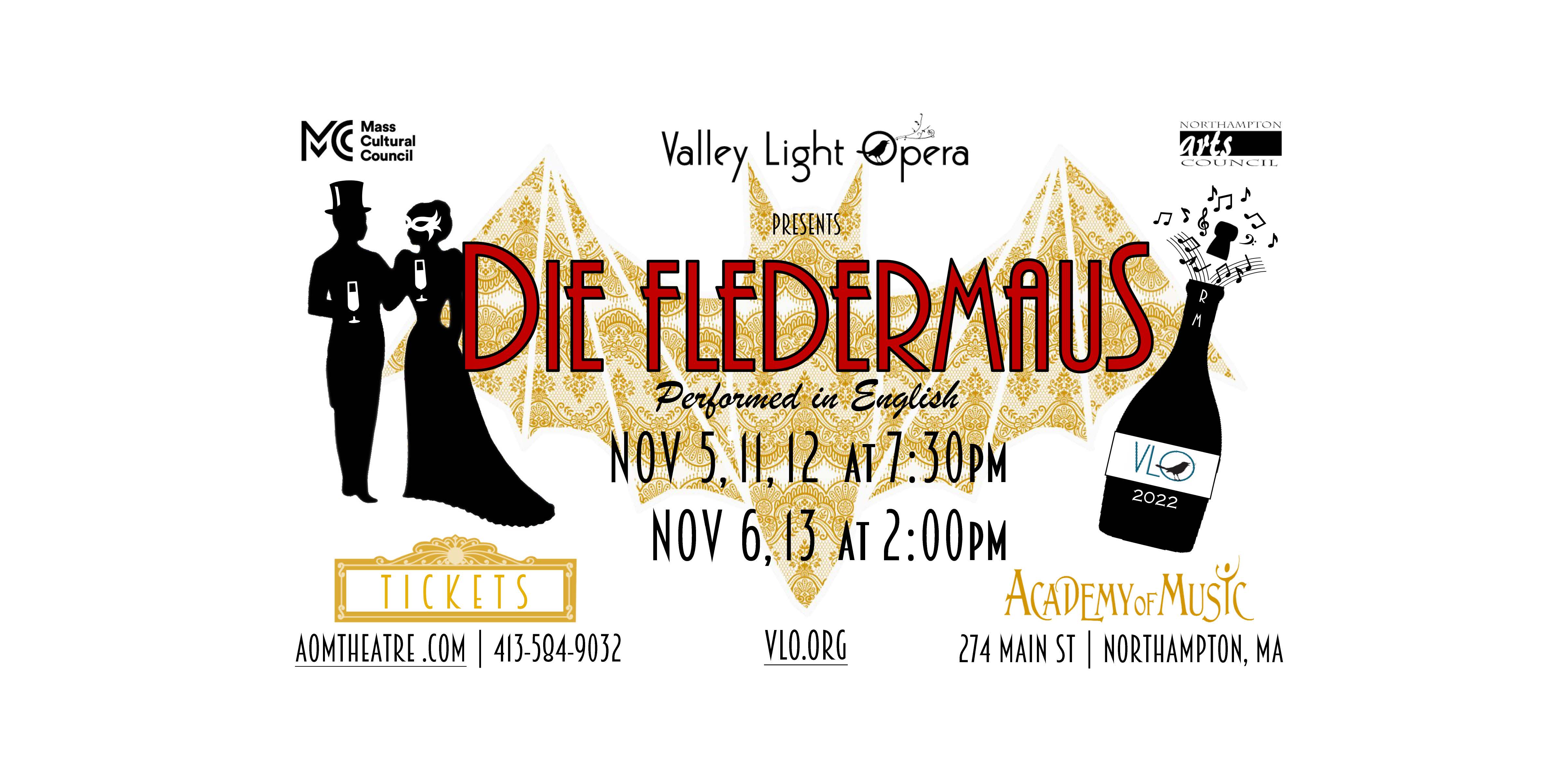 ABOUT THE SHOW
"DIE FLEDERMAUS" was Johann Strauss's third operetta for Vienna's Theatre an der Wien.
The piece was based on a popular French vaudeville comedy, its action tidied up for the supposedly more-elevated tastes of Viennese audiences.
At its premiere, critics still found it scandalous, in part because its story of a practical joke spinning out of control seemed ill-suited for performance on what happened to be Easter Sunday.
Audiences, however, immediately loved it.
Musically, "DIE FLEDERMAUS" is thoroughly high-spirited, with numerous waltz and polka themes.
Leading lady Rosalinde is given a faux-Hungarian aria; the maid Adele has her own aria aptly called the "Laughing Song."
The entire work has only one really quiet scene: a chorus in praise of brotherhood and love.
Young Prince Orlofsky is played by a mezzo-soprano in masculine garb, as would have been the case in the time of Mozart.
In all, "DIE FLEDERMAUS" continued to be an audience pleaser into even into the 21st century. (britannica.com)

ABOUT VALLEY LIGHT OPERA
The Valley Light Opera Inc., is a volunteer-run nonprofit organization based in Amherst, Massachusetts. Founded in 1975 by a group of Gilbert and Sullivan devotees, the VLO presents a fully-staged opera every fall at the Academy of Music in Northampton, with less formal productions each spring.
Valley Light Opera
PO Box 2143
Amherst MA. 01004-2143