(Photos courtesy of Kait Rankins and the Majestic Theater)
The Majestic Theater 'executes' a clever, witty and suspenseful "Deathtrap""
Kevin T. Baldwin
METRMag Reviewer
# 774-242-6724

"Deathtrap" by Ira Levin. Presented by the Majestic Theater, 131 Elm St, West Springfield, MA 01089 from Jan. 9 through Feb. 16, 2020. Ticket prices range from $24 to $31. For tickets and more information: http://www.majestictheater.comby or contact the box office at (413) 747-7797. You may also visit the box office when it is open (Monday through Friday 10:00am to 5:00pm, Saturdays 10:00am through 1:00pm).
Written by Ira Levin. Director Robbie Simpson. Producing Director Danny Eaton.
Cast includes: Ron Komora, Krista Lucas, Jack Grigoli, Lisa Abend and Walter Mantani.
WEST SPRINGFIELD, MA: The Majestic Theater presents an thoroughly detailed and precision executed adaptation of Ira Levin's "Deathtrap," the Tony Award-nominated comedy thriller.
Anyone familiar with the show knows that it is clever, especially with Ira Levin's brilliantly "self-incriminating" dialogue. Characters literally point out what happens (or is about to happen) in a fictional thriller play ("Deathtrap").
The play's two writers (Ron Komora and Jack Grigoli) discuss the play's events as they, in fact, live out those same events. Not only that, the two collaborators debate all the elements associated with those events, as good collaborators should…Only, in this case, a real life murder is involved.
Set in Westport, Connecticut, famed mystery thriller playwright Sidney Bruhl (Komora) works in a study that is described, by Levin's script, as a "handsomely converted stable grafted onto an authentically Colonial house." "Handsome" is not strong enough a word as it does not do this set justice.
The exquisite attention to detail on this set cannot be understated. Set designer Greg Trochlil did a simply superb job as did the entire creative team. There is a gorgeous, realistic looking "field stone fireplace" which is used during critical moments in the show. There are notes, not only in Levin's stage directions in the script but also in the dialogue itself which points out, to the audience, exactly where everything is. Kudos to the team for keeping all such details consistent.
Also impressive are the dozens of antique weapons adorning the walls: swords, knives, handcuffs, more knives, more swords (large and small), a functional crossbow, an entire row of guns, rifles, a mace…and still more swords and knives. They are not just there for decoration. Sidney displays them as antiques and as souvenirs of his more successful plays, along with many old lobby cards ("not posters") of productions of plays.
Yet, these items may also serve to remind and further aggravate Sidney's crippling case of writer's block.
He sees an opportunity for breakthrough when gets a script from one of his students that could be a potential hit.
Sidney 'invites' the young writer, Clifford (Grigoli), over to his place where they can "collaborate" on the needed "improvements" of the story's "rough draft". However, Sidney's motives are not as altruistic as they seem.
That being said, Clifford, an admirer of Sidney, ostensibly welcomes the chance to partner with the "great Sidney Bruhl."
At the Bruhl home, Clifford meets Myra (Krista Lucas), Sidney's wife and, perhaps, unenthusiastic accomplice. Lucas gives a wonderfully calculated performance as the distraught Myra.
The plot twists in Levin's story happen frequently throughout and there is some great suspense. However, even during moments of great shock and surprised revelation, in this thriller, come huge laughs as perfectly played out by the cast.
Many of the shows biggest laughs come from "celebrity psychic" Helga (Lisa Abend), a meddlesome neighbor to the Bruhls. It is a perfect mix of Levin's writing and Abend's execution of Levin's dialogue.
Porter (Walter Mantani), Sidney's attorney, also provides some comic relief in scenes with both Sidney and Helga.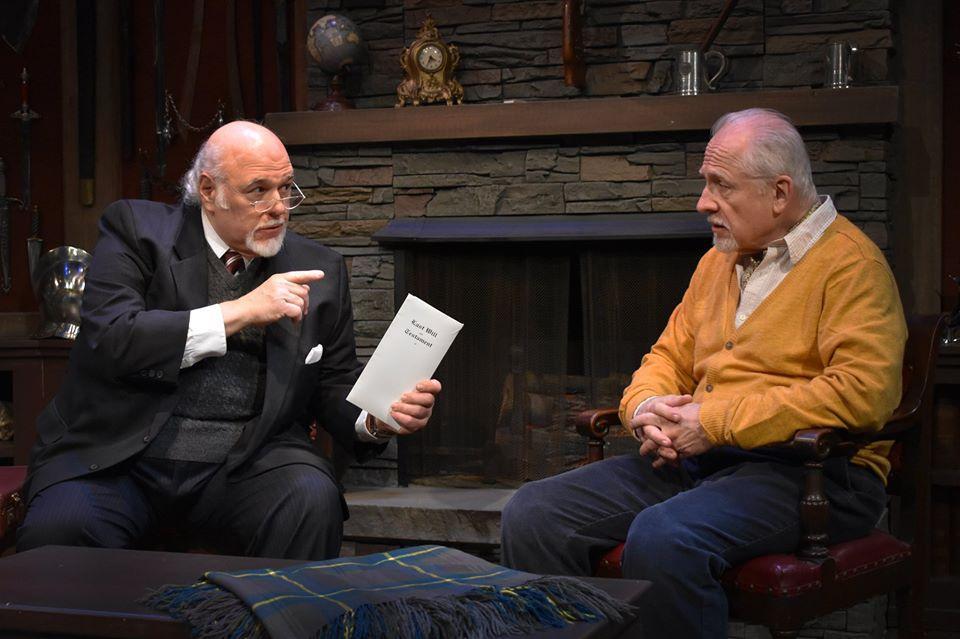 (Walter Mantani and Ron Komoro in a scene from Ira Levin's "Deathtrap"
at the Majestic Theater in West Springfield.
Photo courtesy of Kait Rankins and the Majestic Theater)
In the end, it is the chemistry between Komora and Grigoli which makes "Deathtrap" work. There is equity in the engaging performances by the two actors, but Komora is given a slight edge on Grigoli only because he appears to have a more solid sense of the overall material while Grigoli tends to play his character more for the comedy "beats" given Clifford's more humorous moments.
There were a few line stumbles at the outset of the show but nothing that detracted from the overall ambiance. A professional production from beginning to end and highly recommended.
The show runs approximately two hours 30 minutes with one intermission.
Kevin T. Baldwin is a member of the American Theatre Critics Association (ATCA)