(Cover Photo: Aerialists perform in "CORTEO" by Cirque Du Soleil, now playing at the DCU Center in Worcester, MA. Photo Credit MajaPrgomet)

By Kevin T. Baldwin
METRMAG Reviewer
# 774-242-6724

"...a timeless celebration in which illusion teases reality ."


Cirque Du Soleil
at the
DCU Center Arena Worcester
Present
"CORTEO"
Performances:
January 12, 2023 through January 15, 2023
(Contact Box Office for Exact Times)
50 Foster Street, Worcester, MA 01608
Phone # 508-755-6800
TICKETS:
PRICING $134.00, $119.00 $103.00, $92.00, $78.00, $64.00, AND $53.00. PRICES INCLUDE $4.00 FACILITY FEE.
Premium Seating
For premium seating, please contact info@dcucenter.com
Group Purchasing
For group sales, please contact info@dcucenter.com
Cirque Du Soleil returns to Worcester with an exciting new production of "CORTEO" now playing at the DCU Center Arena until January 15th.
"CORTEO," which means "cortege" (a solemn procession, especially for a funeral) in Italian, a clown's death is transformed into a vibrant, joyous event.
As with most Cirque Du Soleil shows, "CORTEO" merges performance art with acrobatics.
However, this show feels less like we are watching a story unfold and more like we are residing in someone else's dream. In this case, dead clown Mauro.
Outside of incomparable onstage performances, there is also a high degree of technical wizardry which comes with a Cirque Du Soleil production and "CORTEO" continues in this tradition. It is truly a visceral feast.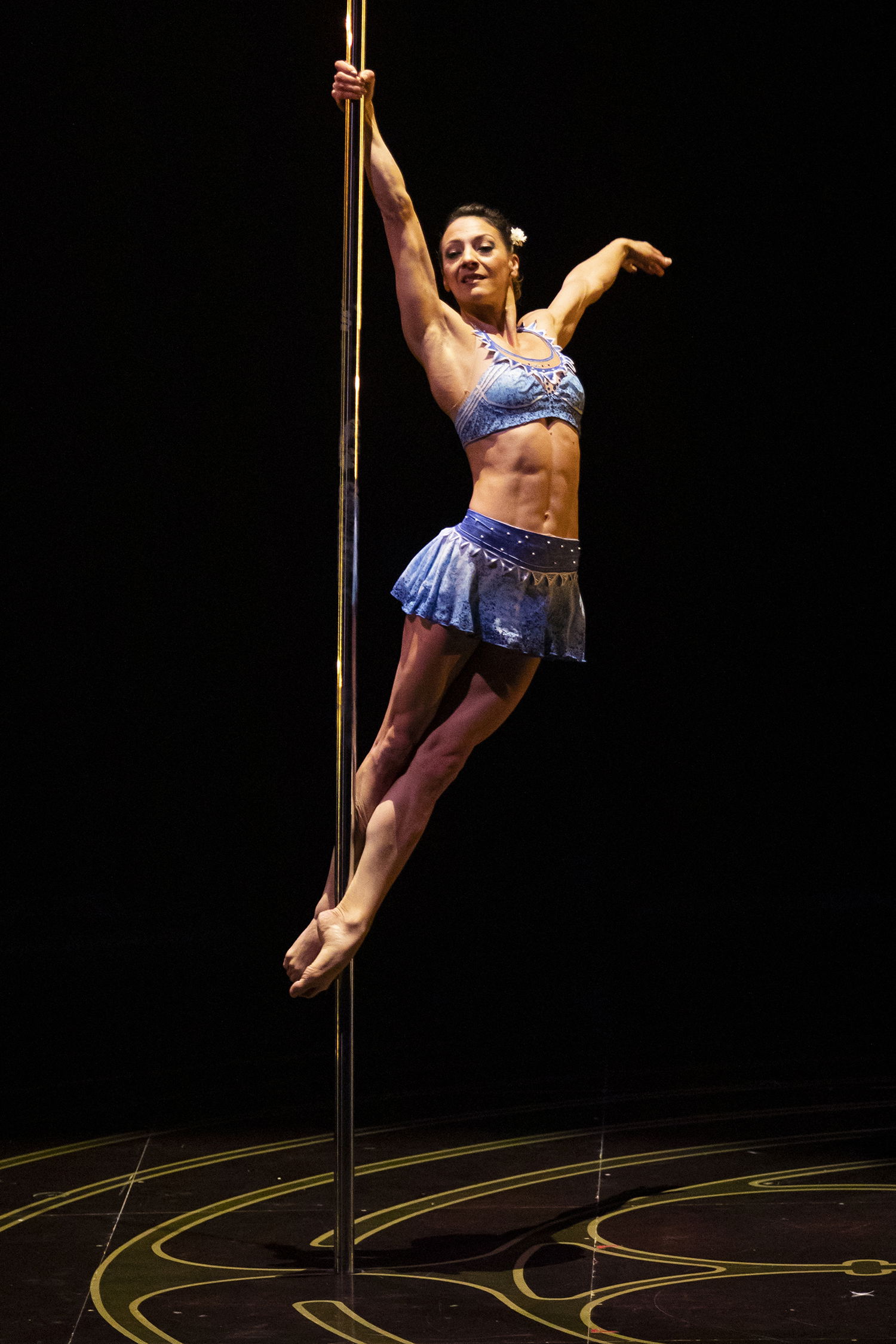 (Photo: A "Suspended Pole" routine magnificently performed in "CORTEO" by Cirque Du Soleil, now playing at the DCU Center in Worcester, MA. through January 15, 2023. Photo Credit MajaPrgomet)
There must come a great trust between all the performers associated with Cirque Du Soleil as the interdependency is evident from start to finish in any production.
There are accomplished aerialists, high wire acts, acrobats who use poles and ladders, jugglers, trampolinists and more.
Yet, there is also a highly authentic "feel" of a more simplistic, classical or Renaissance carnival atmosphere that not only invites us to enjoy these captivatingly funny and creative performances, it dares us to try and not smile...and we always lose.
One of the most daring events of "CORTEO" literally brings the audience into the show.
We are told to "look to the skies" and "laugh from the bottom of our souls" as a "Clowness descends from the heavens."
The "Clowness" is supported by several large balloons and literally is floated above the audience which is instructed to "send her on her way again with a delicate touch of love."
Truly the gutsiest flights of fancy in the entire show and one for which the "Clowness" shows tremendous courage in trusting her fellow man.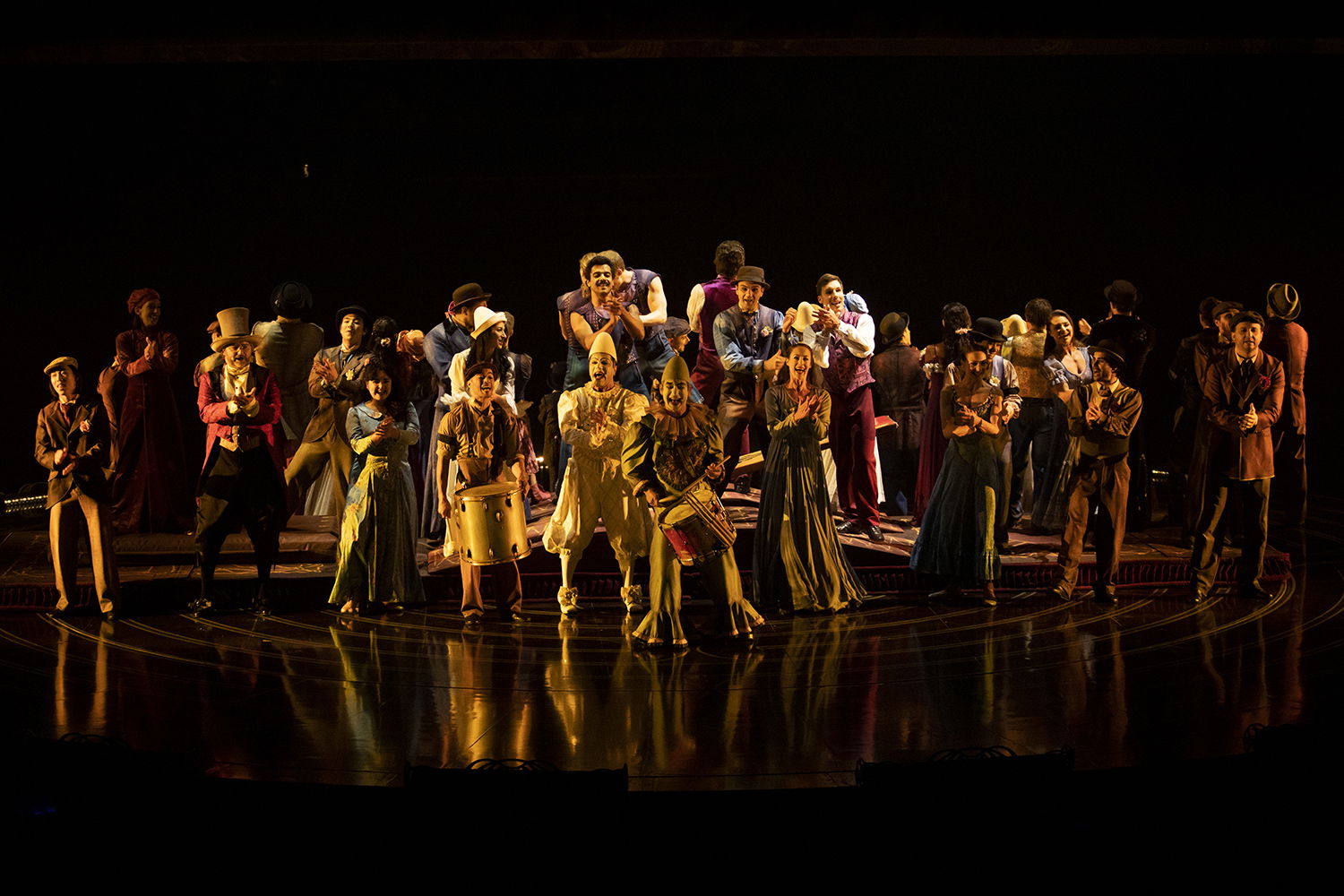 (Photo: The CAST of "CORTEO" by Cirque Du Soleil, now playing at the DCU Center in Worcester, MA. through January 15, 2023. Photo Credit MajaPrgomet)
All the professionals involved in the production, together and separately, must show polish in both their designated skill set(s) and in an unrelenting conviction to character in order to immerse us into the world created by the Cirque Du Soleil creatives.
There are incomparable musicians which are equally deserving of attention, even though they are occasionally forced to the sides by the staging required for the performers.
This is not just acrobatics set to music - there is a charming story arc presented here. Yet, instead of unfolding in scenes, the arc unfolds in events.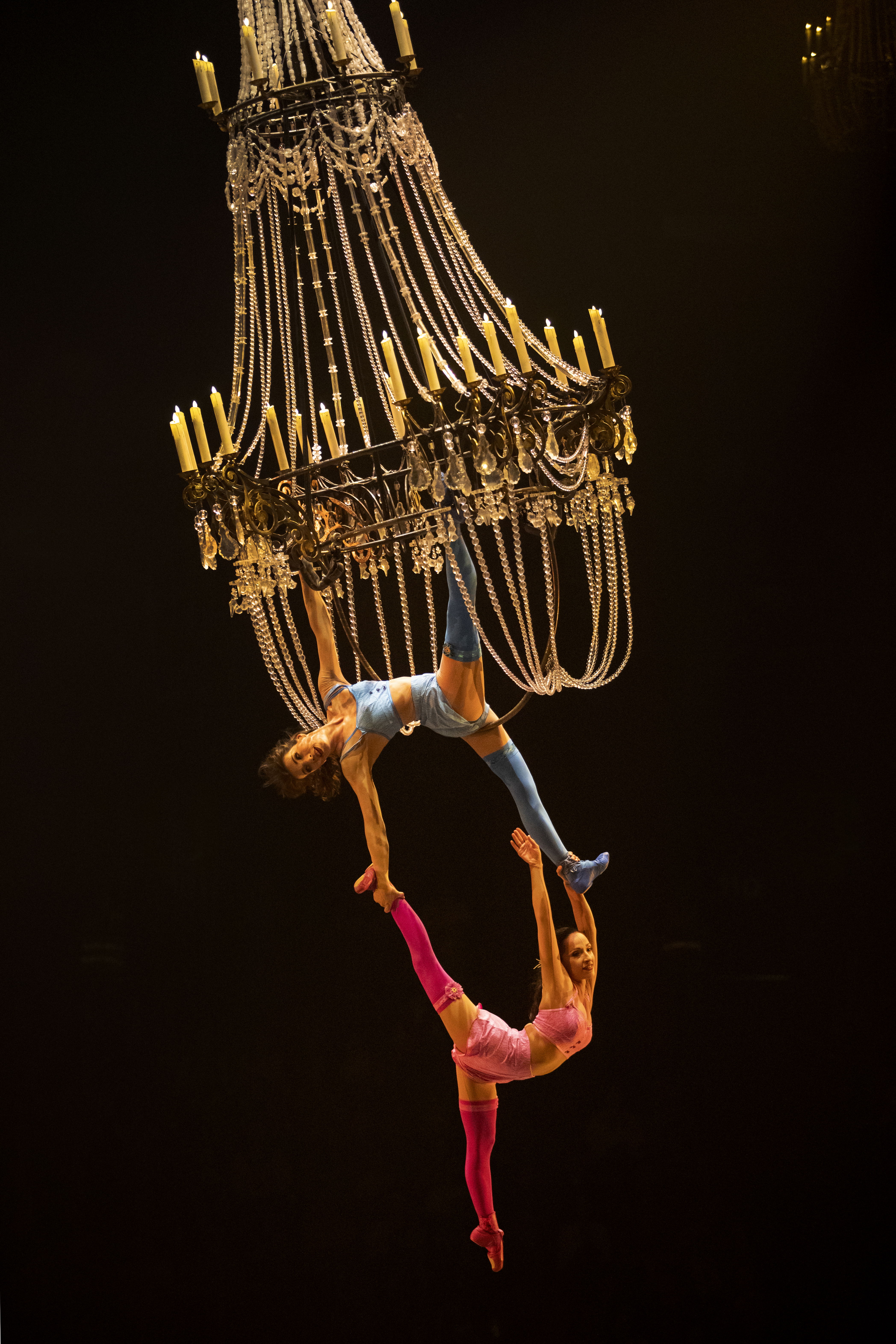 (Photo: Aerialists perform in "CORTEO" by Cirque Du Soleil, now playing at the DCU Center in Worcester, MA. Photo Credit MajaPrgomet)
Somewhere between reality and fantasy, or between Heaven and Earth, "CORTEO" immerses us into a carnival fantasy ambience replete with stunts, surprises, laughs, and excitement all set on an unusual divided stage playing to two halves of the DCU Arena.
The frail but exuberant clown is heralded by silent angels but is reluctant to depart until this celebration has run its course. He is having far to much fun...and so are we.
Definitely a show not to be missed.
Approximately 125 minutes with one intermission.
Kevin T. Baldwin is a member of the American Theatre Critics Association (ATCA)
@MetrmagReviews
@Theatre_Critics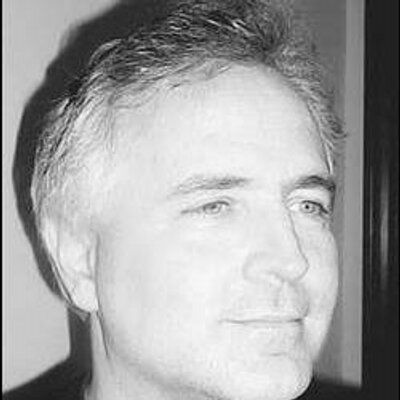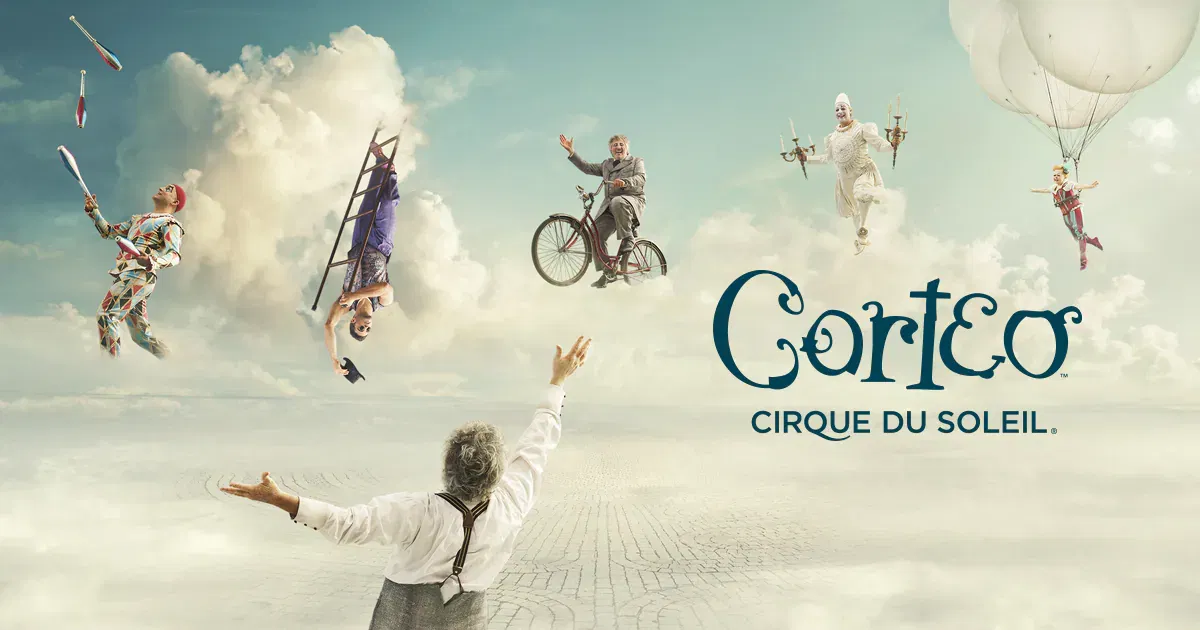 ABOUT THE SHOW
Come upon a place where a nostalgic clown somewhere dreams about his funeral, and looks back on his personal experiences.
"CORTEO"
"CORTEO," the most enchanting arena production from Cirque du Soleil is back in North America and heading to Worcester, MA. set to charm audiences.
This unique production, directed by Daniele Finzi Pasca, first premiered in Montreal under the Big Top in April 2005.
Since its creation, the show has amazed over 10 million spectators, in 20 countries, on 4 continents.
"CORTEO" will be presented at the DCU Center Arena for 5 shows only from January 12 to 15, 2023.
"CORTEO," which means cortege in Italian, is a joyous procession, a festive parade imagined by a clown.
The show brings together the passion of the actor with the grace and power of the acrobat to plunge the audience into a theatrical world of fun, comedy and spontaneity situated in a mysterious space between heaven and earth.
The clown pictures his own funeral taking place in a carnival atmosphere, watched over by quietly caring angels.
Juxtaposing the large with the small, the ridiculous with the tragic and the magic of perfection with the charm of imperfection, the show highlights the strength and fragility of the clown, as well as his wisdom and kindness, to illustrate the portion of humanity that is within each of us.
The music turns lyrical and playful carrying "CORTEO" through a timeless celebration in which illusion teases reality.
In a Cirque du Soleil first, the stage is central in the arena and divides the venue, with each half of the audience facing the other half, giving a unique perspective not only of the show, but also a performer's eye view of the audience.
An atmosphere like never seen before in Cirque du Soleil arena shows.
The set curtains, inspired by the Eiffel Tower, and the central curtains, which were hand painted, give a grandiose feel to the stage.
This sets the tone for the poetry of "CORTEO."

ABOUT THE DCU CENTER
For four decades, the DCU Center in Worcester, Massachusetts has been recognized as the gathering place for people to experience the finest in entertainment, sporting events and public functions.
THE DCU CENTER
50 Foster Street, Worcester, MA 01608
Phone # 508-755-6800