(Cover Photo: Genevieve Simon in a scene from William Shakespeare's "CORIOLANUS" presented by the Actors' Shakespeare Project in partnership with Play On Shakespeare in Boston, MA. until April 23, 2023. Photo credit Nile Scott Studios)




By Kevin T. Baldwin
METRMAG Reviewer
# 774-242-6724
"Beat your drum in a mournful rhythm. March with your weapons down."
- William Shakespeare

Actors' Shakespeare Project
In Partnership with Play On Shakespeare
Presents
"CORIOLANUS"
Written By William Shakespeare
Translated by Sean San José
Directed by A. Nora Long
Cast Includes: Genevieve Simon – Coriolanus; Jennie Israel - Volumnia (Messenger, Page, Volscian Guard, Servant, Roman Soldier, Roman Citizen); Patrice Jean-Baptiste - Aufidius (Cominius, Roman Citizen); Donna Sorbello - Menenius (Roman Citizen, Volscian Senator, Volscian Citizen, Roman Soldier); Jules Talbot - Virgilia (Adrian, Lartius, Volscian Soldier, Roman Citizen); Ahtziri Ulloa - Sicinius (Volscian Senator, Roman Soldier, Roman Citizen, Servant, Volscian Watchman); Shanelle Chloe Villegas – Brutus (Volscian Senator, Roman Soldier, Roman Citizen, Servent, Volscian Watchman)
Additional Creative Team:
Allyson R. Forrester - Assistant Director; Jake Mariño - Production Stage Manager; Paige D'Ambrosio - Assistant Stage Manager; Cristina Todesco - Scenic Designer; Emily Woods Hogue - Costume Designer; Matthew Breton - Lighting Designer; Mackenzie Adamick - Sound Designer; Christopher V. Edwards - Fight Choreographer.
Performances:
March 29, 2023 through April 23, 2023
(Contact Box Office for Exact Times)
Plaza Theatre, Boston Center for the Arts, 539 Tremont Street, Boston, MA. 02119
COVID-19 PROTOCOLS
Please consult directly with venue for latest COVID-19 and any other healthand safety protocols.
Phone # 617-241-2200
Tickets:
All advance single tickets are $52.50. Additionally, at the start of each show week, 10% of the house will be made available for "Pay-What-You-Can" ticketing, ranging from $0-$45.
May not be available for the final week of the run.
For "Pay-What-You-Can" - select any seat in blue from the map, and then select your desired price from the drop-down list.
Shakespeare's final and darkest of political tragedies, "CORIOLANUS," plays in Boston courtesy of Actors' Shakespeare Project in partnership with Play On Shakespeare.
The show, originally structured as five acts, has been paired down to just two, and explores the lure and impact of reigning power upon the lives of those who want it, get it, abuse it and, more often than not, ultimately lose it.
Written about 1608 (and published in the First Folio of 1623), as with other entries in Shakespeare's "Roman" plays ("Julius Caesar" and "Anthony and Cleopatra"), the story of "CORIOLANUS" evolved from Sir Thomas North's 1579 translation of "Plutarch's Lives of Noble Grecians and Romanes" regarding Caius Marcius Coriolanus.
Since there are many similarities, it is assumed Shakespeare was inspired to write the play, basing both the character "CORIOLANUS" and the play's events on a real-life scandal involving a failed coup attempt by Robert Devereux, the Second Earl of Essex.
In this latest modernized adaptation by Sean San José, ably directed by A. Nora Long, the cast of seven explore "CORIOLANUS" as a leader destined for greatness yet who does not see himself as such...nor should he.
In this interpretation, there is also the exploration of issues ranging from identity to corruption that comes with power.
The immersive single set design by Cristina Todesco is an interpretation of Ancient Rome - but this is not a Rome of strength.
This is a "fractured" Rome - a Rome deep in chaos - a perfect setting for the tale of our similarly fractured protagonist.
Minimal props and costumes are used, with mere "fragments" utilized by the cast to depict various places and persons.
"CORIOLANUS" (Genevieve Simon) is a prideful sort - a flaw which leads (spoiler alert!) to his ultimate downfall.
Being a Shakespearean tragedy, it should come as no surprise that things do NOT end well for "CORIOLANUS."
As the performance begins, we hear the sound of "drums" - actually it is the sound of the supporting cast stomping their feet in rhythm.
The opening is intended to set the mood, yet lingers on far too long and may actually serve to incite a few people to want to find the nearest exit of the theatre.
It is a device oozing of many of the things which turn people off to the Bard feeling that his material is far too pompous and pretentious.
Then, as Marcius (aka "CORIOLANUS") starts speaking, those seeking the exit may soon find themselves spellbound...or, more accurately, "seat bound"...thoroughly engrossed by Simon's absolutely riveting performance.
Unflinching in combat, this warrior serves with every fibre of his being to protect his beloved Rome and does so at great risk and peril to his own safety, leading him to be wounded in battle.
Like a common misconception among some voters (even today), since Marcius is an astute military strategist and warrior, it is logical to assume he'd also be the perfect choice to govern.
Wrong.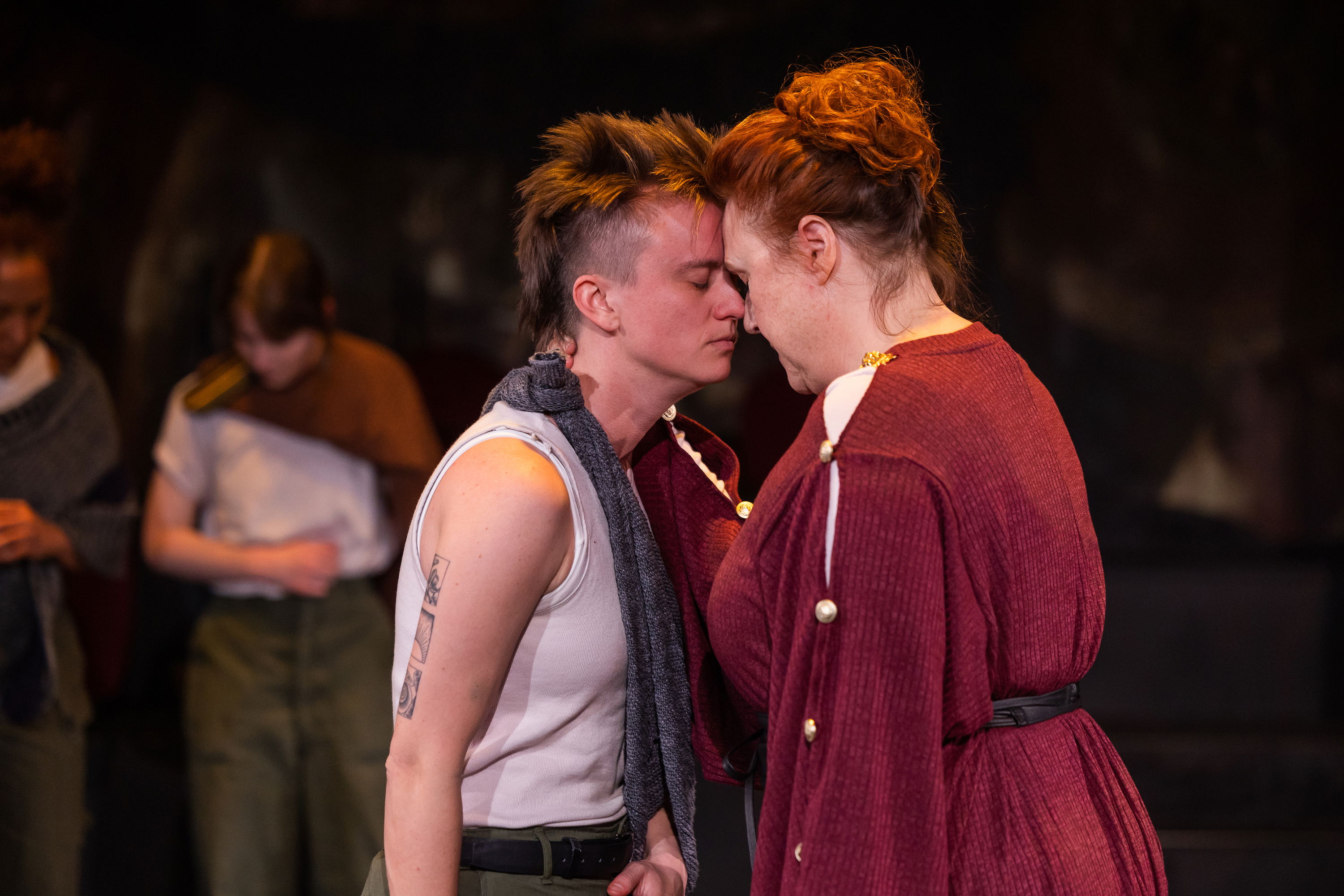 (Photo: Genevieve Simon and Jennie Israel in a scene from William Shakespeare's "CORIOLANUS" presented by the Actors' Shakespeare Project in partnership with Play On Shakespeare in Boston, MA. until April 23, 2023. Photo credit Nile Scott Studios)
Volumnia (Jennie Israel), mother to Marcius, is an emotionally bankrupt person and a parent totally devoid of maternal instinct.
She sees her son as a means to achieving overwhelming influence and power in Rome.
She has a predilection more toward dynasty and descendants than kith and kin.
Marcius is keenly aware of his mother's ambitions for him but is too weak to assert his own independence from her and those ambitions.
He erroneously believes, as does Volumnia (perhaps moreso), that his tyrannical rule will be seen as acceptable by the people because of his popularity.
However, Marcius is a descendant of ancient kings and the people resent the fact that one class of Roman society revels in luxury (their version of the "wealthy one percent") as the other starves.
Marcius, while a fierce warrior, to be sure, only serves the rich, ignoring the plight of the poor.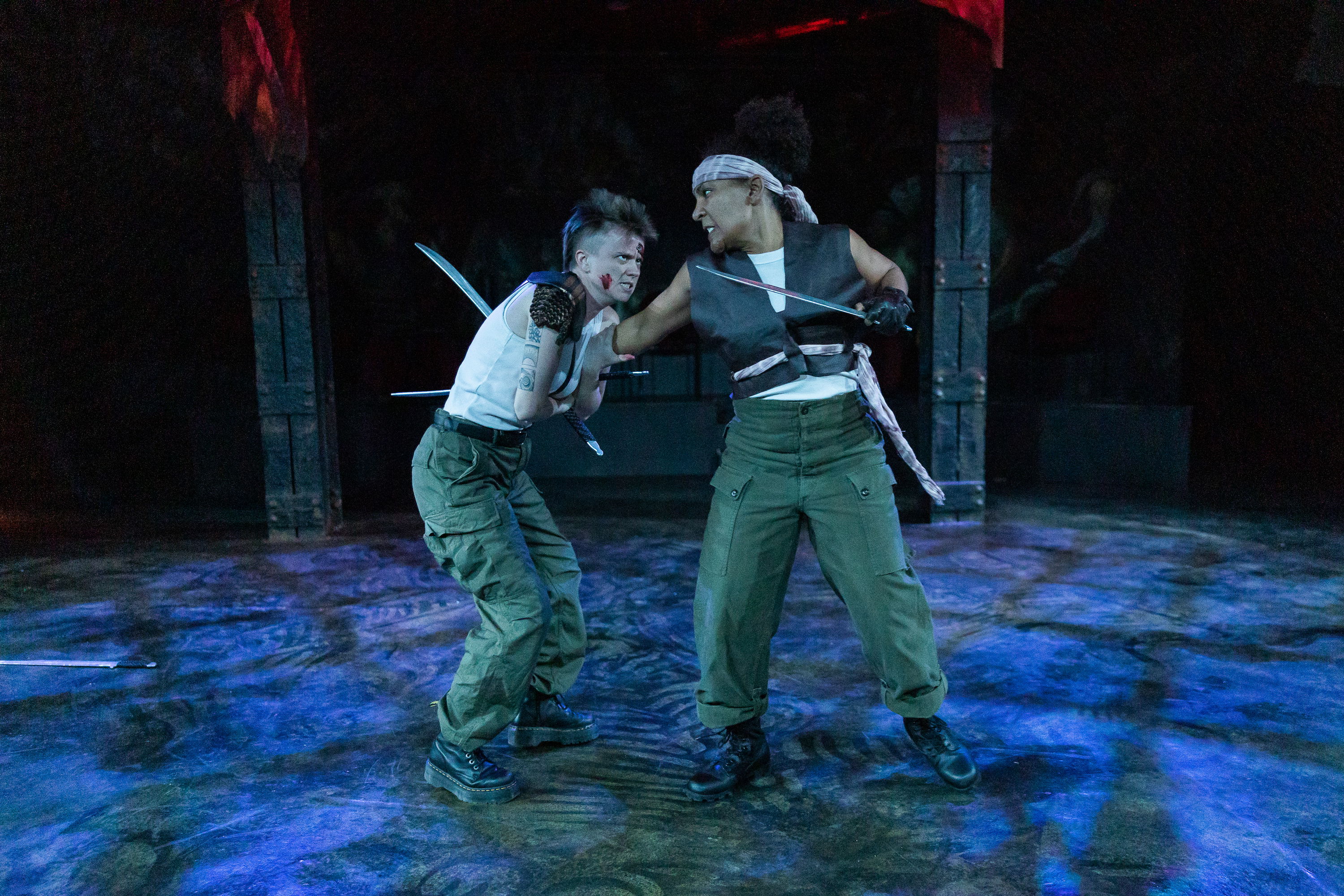 (Photo: Genevieve Simon and Patrice Jean-Baptiste in a scene from William Shakespeare's "CORIOLANUS" presented by the Actors' Shakespeare Project in partnership with Play On Shakespeare in Boston, MA. until April 23, 2023. Photo credit Nile Scott Studios)
Legend recalls the actual Gnaeus Marcius Coriolanus, a Roman hero of patrician descent who was said to have lived in the late Sixth and early Fifth Centuries, B.C.
According to the legend, it was Marcius' bravery in battle, particularly at the siege of Corioli in the war against the Volsci, that he achieved status of "CORIOLANUS."
To paraphrase the Bard - feeling this is a "purposed thing, and grows by plot," Marcius is pronounced "CORIOLANUS" and subsequently elected to serve the needs of all the people.
Yet, soon (really soon, in fact), the boy who would be king winds up serving only that "wealthy one percent."
They resent "CORIOLANUS" and he resents everybody, including himself.
As ruler, "CORIOLANUS" soon (really soon, in fact) finds himself lacking in the required "diplomatic" skills.
In other words, as a politician, he is ill-advised, ill-mannered, ill-equipped and, above all, mentally ill.
His own manifesting resentment of the power he has assumed has put him at odds with others (and himself) as he struggles to fulfill any kind of social order among the people.
He seems to be mentally crumbling from the absolute, overwhelming pressure in his Freudian attempt to please his mother and fulfill his own "destiny."
Genevieve Simon gives a bravura performance, showing many layers to this tortured soul, "CORIOLANUS."
With a single glance, Simon can convey to us so much of what goes on behind the eyes of this psychologically splintered character.
The rule by the now emotionally and cognitively corrupt "CORIOLANUS" soon collapses and he is ousted from Rome, forced to turn to his former enemies to retaliate against Rome.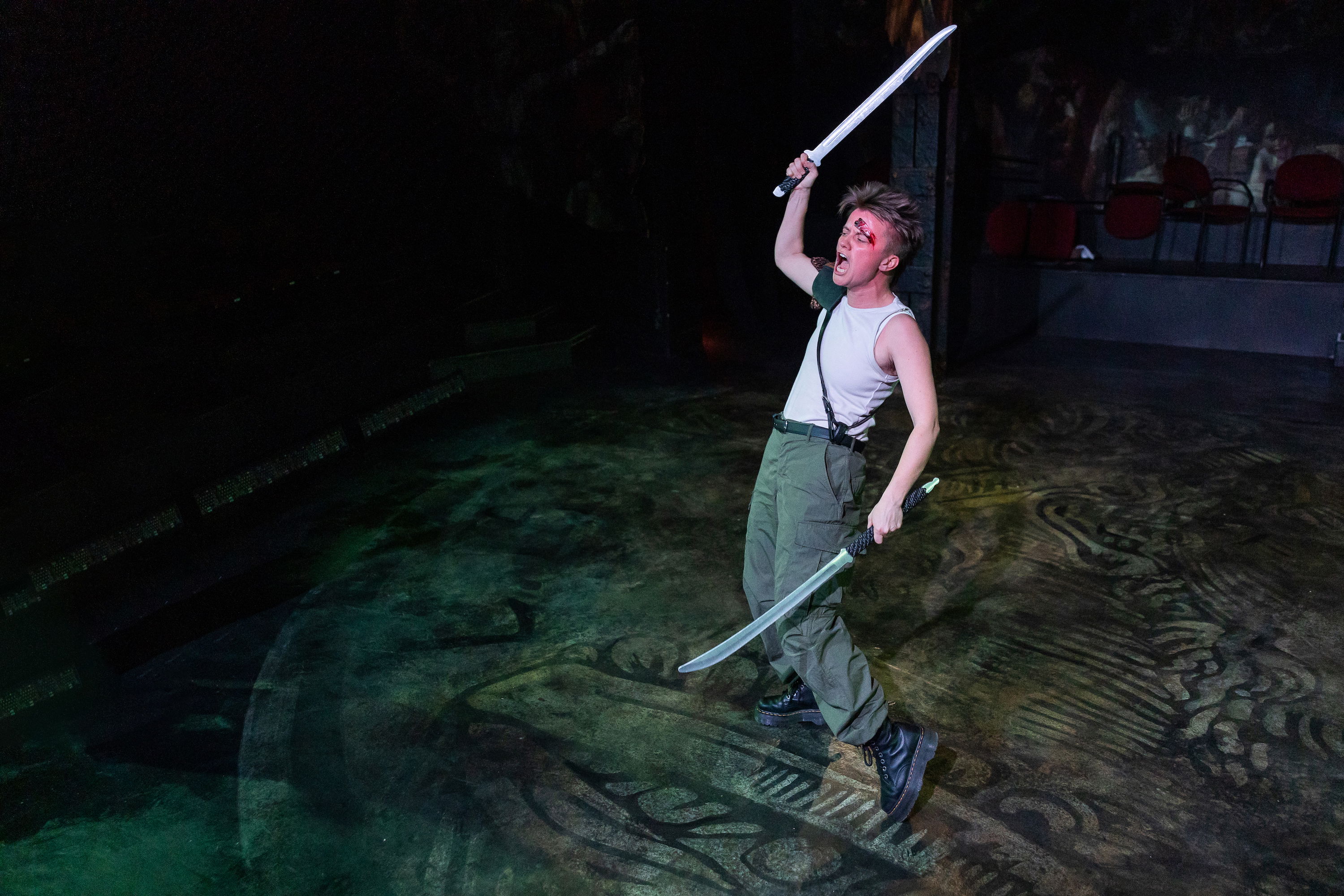 (Photo: Genevieve Simon in a scene from William Shakespeare's "CORIOLANUS" presented by the Actors' Shakespeare Project in partnership with Play On Shakespeare in Boston, MA. until April 23, 2023. Photo credit Nile Scott Studios)
During the show's second act, "CORIOLANUS" aligns with Aufidius (Patrice Jean-Baptiste) who is at first pleased with their arrangement but soon sees a fatal weakness in "CORIOLANUS" - a scared, little boy who never matured beyond the control of his mother. Aufidius uses this weakness to try and rid himself of his rival...but is not jubilant over the attempt.
As Aufidius denounces "CORIOLANUS" as a traitor and a betrayer of his people, it still remains to be seen just how the people respond.
Will the time serve to tell?
Israel as Volumnia and Jean-Baptiste as Aufidius, along with the entire supporting ensemble (Donna Sorbello, Jules Talbot, Ahtziri Ulloa and Shanelle Chloe Villegas), keep the pacing brisk and absorbing while portraying a variety of personalities throughout the drama.
"CORIOLANUS" continues through April 23rd and these collective voices, both most sweet and worthy, should not be missed.
Approximately two hours, 30 minutes with one intermission.
Kevin T. Baldwin is a member of the American Theatre Critics Association (ATCA)
@MetrmagReviews
@Theatre_Critics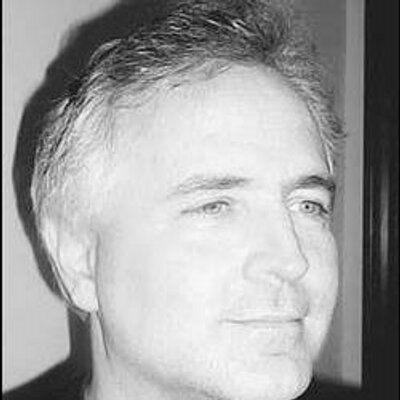 ABOUT THE SHOW
A Play On modern verse translation of Shakespeare's political thriller, performed with a cast of women, non-binary and BIPOC actors.
This lens offers insight into the impact of violence and political power on marginalized populations, as well as the reach and nuances of advocacy.
Who is able to speak for whom?
Please be aware that this production is intended for mature audiences and has depictions and language of death, physical violence, gender disparity, and misogyny.
Appropriate for ages 10 and over.

ABOUT THE ACTORS' SHAKESPEARE PROJECT
Actors' Shakespeare Project, founded in 2004, is an award­-winning professional theater company with a Resident Acting Company and extensive education, youth, and community programs. ASP performs and works in found spaces, schools, theaters and neighborhoods to present and explore the robust language, resonant stories, and deeply human characters in Shakespeare's plays and in works by other great playwrights. Our work is ensemble-­based and focused on intimacy, storytelling, language, relationships, voice, risk and artistry within and throughout the Boston area.
MISSON
Actors' Shakespeare Project believes Shakespeare's words are urgently relevant to our times. Working as an ensemble of resident company members, we bring these words into the voices, bodies, and imaginations of our actors, audiences, and neighborhoods. We do this through creative projects, including intimate productions and outreach programs that are informed by the spaces in which they happen. These projects inspire civic dialogue, build relationships between people, strengthen communities, and reveal something about what it means to be human here and now.
ACTORS' SHAKESPEARE PROJECT
442 Bunker Hill Street
Charlestown, MA 02129
Phone # 617-241-2200