(Cover Photo: Kaitlyn Ekstrom-Doig and James Lamoureux in a scene from Kander and Ebb's "CHICAGO" presented by the Gilbert Players in Hardwick, MA. until April 8, 2023. Photo credit Linda Tomasi)



By Kevin T. Baldwin
METRMAG Reviewer
# 774-242-6724
"When it all comes true just the way you planned, it's funny but the bells don't ring - It's a quiet thing."
- Fred Ebb

Gilbert Players
Presents the Broadway Musical
"CHICAGO"
Music by John Kander
Lyrics by Fred Ebb
Book by Fred Ebb and Bob Fosse
Performances:
Directed by Linda Klem Tomasi
Music Direction by Eric Von Bleiken and John Tomasi
Cast Includes: Julie Bouchard, Kaitlyn Ekstrom-Doig, James Lamoureux, Rebecca Gleason, S, McCoy, Larry Johnson, Archer Meier, Eric Von Bleiken, Nick Doig, Carl Erickson, Nicholas Gleason, Anna Hautala, Cindy Newsham, Foley Hermann, Sarah Priestley, Kira Hakanson, Elisha Musgraves, Caitlin Cunningham, Sarah Nydam, Olivia Pascale, Alice Rainka, Gloria St. George.
Additional Creative Team:
Producers - Linda and John Tomasi; Artistic Director - Linda Tomasi; Choreographers - Julie Bouchard, Kaitlyn Ekstrom-Doig, Elisha Musgraves; Orchestration Director - Kurt Staven; Production Pianist - Stephanie Parker; Stage Manager - Karen Gaudey; Assistant Stage Manager - Karl Erickson; Stage Crew - Jarod Erickson, Wendy Bolognesi; Lighting - Carl Mercier, Ashton Crump (EHS '23); Sound - Brian Jyringi; Set Design and Construction - Carl Mercier, EHS Students; Costumes and Props - Linda and John Tomasi; Publicity - Molly Romaker; Concessions - Tabitha Johnson and EHS Kitchen Crew
Production Dates:
March 31, 2023 through April 8, 2023
(Contact Box Office for Exact Times)
The Center at Eagle Hill, 242 Old Petersham Road, Hardwick, MA 01037
Tickets:
https://ci.green.prod.ovationtix.com/35541/production/1132471
The Gilbert Players of Hardwick presents the jazz hot Tony Award-winning classic musical "CHICAGO" in all its grimy, glitzy glory.
The 1975 musical is the result of the collaborative genius of John Kander, Fred Ebb and Bob Fosse.
Set during the 1920s Chicago and the jazz age, "CHICAGO" had its origins in a 1926 play by reporter Maurine Dallas Watkins, about actual criminals and the crimes on which she reported.
The musical is mostly seen as satire on the depths of corruption in the American criminal justice system and the concept of the original "reality" star - the media-made criminal celebrity.
The original Broadway production ran from 1975 until 1977 with a total of 936 performances. The original production was nominated for 10 Tony Awards winning none of them. However, the 1996 Revival was nominated in 8 categories and won a total of 6 Tony Awards.
Entirely placed inside a woman's prison, the stage is decorated mostly in black…as are most of the amazingly talented featured ensemble performers in the show.
The set design consists of a bridge set elevated along the back wall with a staircase on either side. The expert use of the overwhelming black is not by accident.
This absence of color signifies the abundance of restrictions. The abundance of darkness signifies the absence of hope. Ingeniously utilized lighting signifies the blurred line between infamy and celebrity.
In combination with the show's director, Linda Klem Tomasi and her musical team that included music direction by Eric Von Bleiken and John Tomasi, the entire stage crew also deserves much credit for all the expertly handled transitions.
As Vaudevillian murderess Velma Kelly (Julie Bouchard) emerges, she is surrounded by a chorus of dancers who also perform double duty portraying various characters throughout the production.
Fosse-based choreography is always difficult to execute properly since every single movement is designed to be (and required to be) precise.
When the term "Fosse" is used, it refers to a more mature, elevated style. It is a technique both developed and utilized by immortal choreographer, Bob Fosse.
Fosse not only intentionally heightened the more evocative of physical moments on stage, he also demanded it, right down to the final positioned finger and toe. He incorporated elements of ballet, jazz, tap and contemporary movement.
The dance ensemble for Gilbert Players' "CHICAGO" was exemplary at executing the difficult but visually stunning choreography - supporting one another throughout every single staged movement, especially in the musical's iconic number, "Cell Block Tango."
Right out of the gate, Bouchard's vocal prowess blows the roof off the place and the actress continues to vocally amaze throughout the musical.
Next, during the number "Funny Honey," we are introduced to Roxie Hart (Kaitlyn Ekstrom-Doig) latest infamous inductee into the woman's prison, sentenced for killing her lover.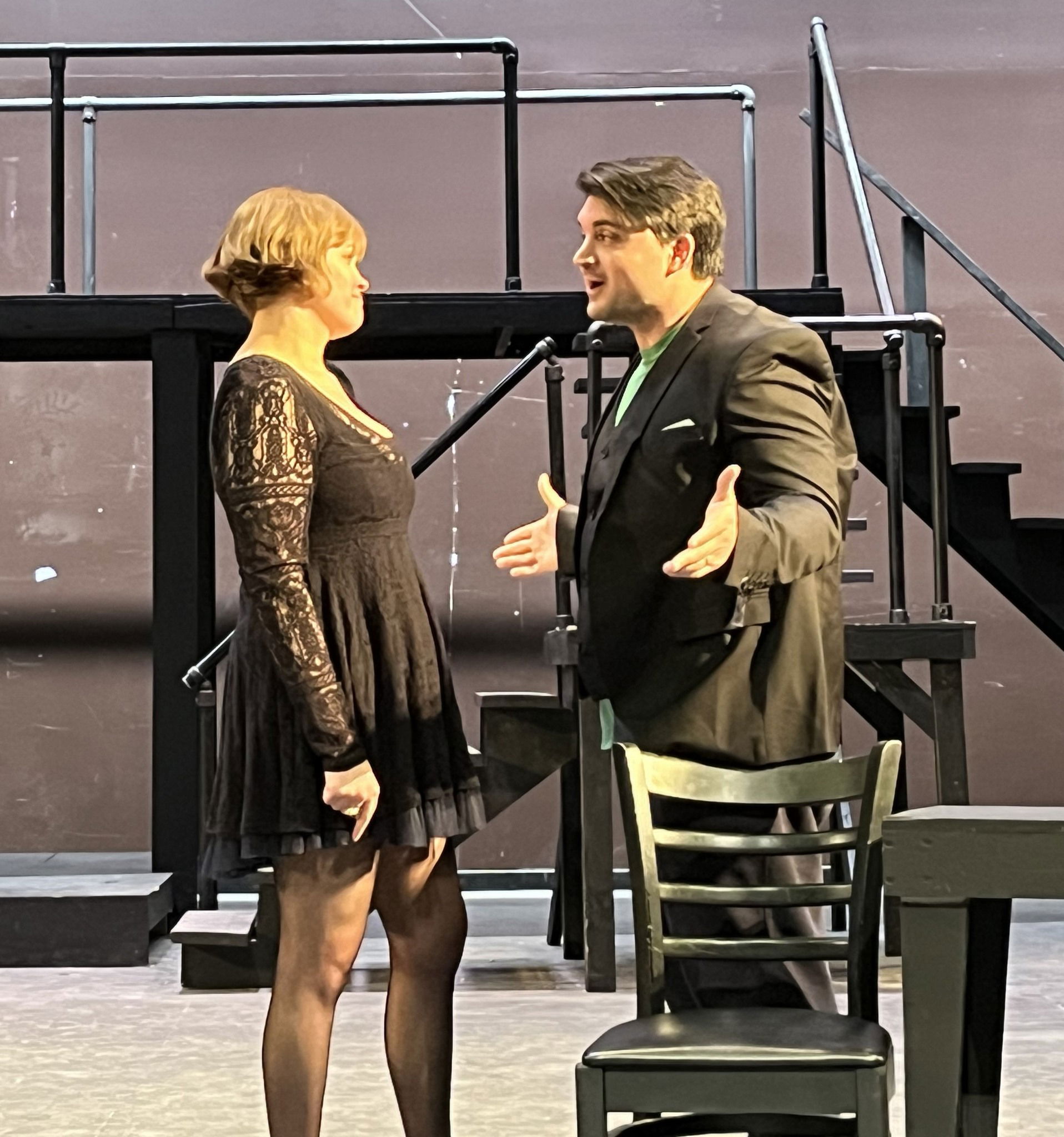 (Photo: Kaitlyn Ekstrom-Doig and James Lamoureux in a scene from Kander and Ebb's "CHICAGO" presented by the Gilbert Players in Hardwick, MA. until April 8, 2023. Photo credit Linda Tomasi)
The production's team of choreographers Julie Bouchard, Kaitlyn Ekstrom-Doig and Elisha Musgraves kept the show true to form using the obligatory Bob Fosse style of choreography and were able to add a few creative moments for the excellent dance ensemble, as well.
We meet the villainous vixens' attorney, Billy Flynn (James Lamoureux) in the number "All I Care About Is You" which shows an example of the creative application of the Fosse technique while also showcasing Lamoureux's incredible vocal range in one of his best performances to date.
Billy doesn't care about guilt or innocence. As with most of the characters in "CHICAGO," his motives are completely self-serving.
All the characters are deliciously devoid of any moral compass save for the lone, well-meaning Amos Hart (Larry Johnson) a naïve milquetoast mensch - a total sucker when it comes to his two-timing (at minimum), double-dealing wife, Roxie.
Johnson gives a sympathetic portrayal of Amos while not losing any of the comedy that comes with the overwhelming "non-recognition" of his character, perfectly exemplified in his song, "Mr. Cellophane."
Other hilarious moments came courtesy of the criminally clever Matron Mama Morton (Rebecca Gleason) and falsetto-infused sensationalist reporter Mary Sunshine (S. McCoy).
As to costuming and props, things are kept to a "minimum," which is always a preferred choice for "CHICAGO."
Additional musical highlights included "We Both Reached for the Gun," "My Own Best Friend," and the second act crowd-pleaser, "Razzle Dazzle." This cast had the audience cheering long before the show's "Finale."
"CHICAGO" continues through April 8th and it still delivers a verdict of guilty against those bringing us its tawdry fun and delightfully decadent score. To miss this production would be simply "criminal."
Approximately three hours with one intermission.
Kevin T. Baldwin is a member of the American Theatre Critics Association (ATCA)
@MetrmagReviews
@Theatre_Critics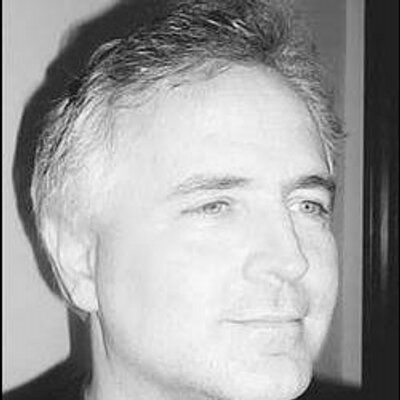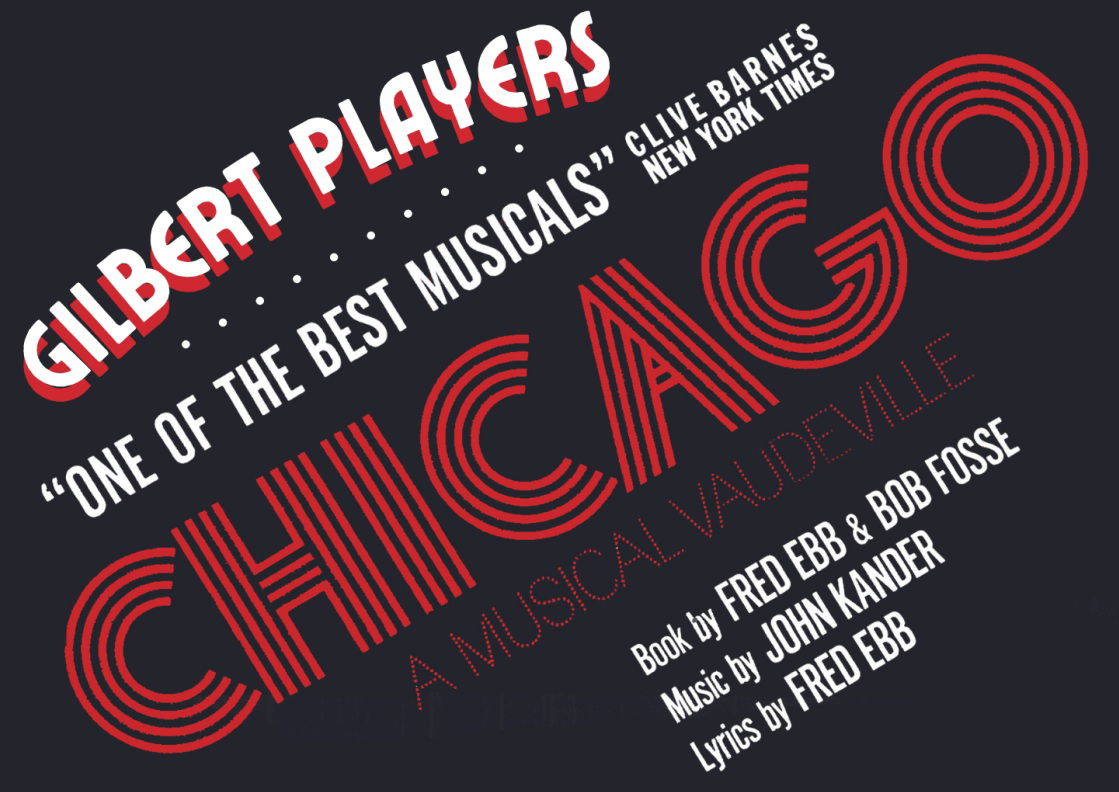 ABOUT THE SHOW
Set in "CHICAGO" in the jazz age, the musical is based on a 1926 play of the same title by reporter Maurine Dallas Watkins, about actual criminals and the crimes on which she reported.
in the roaring twenties "CHICAGO," chorus girl Roxie Hart murders a faithless lover and convinces her hapless husband, Amos, to take the rap...until he finds out he's been duped and turns on Roxie.
Convicted and sent to death row, Roxie and another "Merry Murderess," Velma Kelly, vie for the spotlight and the headlines, ultimately joining forces in search of the "American Dream": fame, fortune, and acquittal.
This sharp-edged satire features a dazzling score that sparked immortal staging by Bob Fosse.
The story is a satire on corruption in the administration of criminal justice and the concept of the "celebrity criminal".

ABOUT THE GILBERT PLAYERS
The Gilbert Players was formed in 2003 when Linda and John Tomasi, two very passionate theater lovers, leased an old school building in Gilbertville, Massachusetts. They recruited talent from area towns which developed into a strong and entertaining core of actors and singers. Since 2008, the partnership and support from Eagle Hill has allowed them to present top-notch productions, including The Little Mermaid, Shrek, Annie, The Producers, Into the Woods, Peter Pan, The Wizard of Oz, Beauty and the Beast...and more! The Gilbert Players' 100% commitment to each theatrical detail is noted in rave reviews from the Worcester Telegram, The Republican, Ware River News, the Barre Gazette, and Athol Daily News. Some cast members have been with the group for 15 years and all new cast members are welcomed with open arms. Every person, cast or crew, is in it for the same reason...to put on the best show possible. .
The Gilbert Players
at The Center at Eagle Hill
242 Old Petersham Road
Hardwick, MA 01037