(Cover Photo: The CAST and Crew of Neil Simon's "CHAPTER TWO" presented by New Players Theatre Guild in Fitchburg, MA. now playing through June 11, 2023. Photo Credit William McGrath)

By Kevin T. Baldwin
METRMAG Reviewer
# 774-242-6724

"I'm wonderful! I'm nuts about me! And if you're stupid enough to throw someone sensational like me aside, then you don't deserve as good as you've got!"
- ("Jennie Malone") Neil Simon

New Players Theatre Guild
Presents Neil Simon's
"CHAPTER TWO"
Written by Neil Simon
Directed by Missy Cote
Cast Includes: Carolyn Salter - Jennie Malone; John Williams - George Schneider; Michael Talarico - Leo Schneider; Heather Hilton - Faye Medwick.
Additional Creative Team:
Bill McGrath and Nancy King - Producers; Taliah Cote - Stage Manager; Elizabeth Waite - Lights; Bill McGrath and Taliah Cote - Sound Effects; Nancy King - Poster and Program; Set Construction - Missy Cote and Hal Smith.
New Players Theatre Guild Center for the Performing Arts, 15 Rollstone Street, Fitchburg, MA.
Performances:
June 2, 3, 9 & 10, 2023 at 7:30pm
June 4 & 11, 2023 at 2:00pm
MORE INFO AND TICKETS:
Phone # 978-345-6570
COVID 19 PROTOCOLS
Contact Venue for Most Updated COVID-19 Safety Protocols and Information.
New Players Theatre Guild in Fitchburg presents a wonderful staging of the Neil Simon play, "CHAPTER TWO" which is one of the celebrated playwright's most personal, revelatory and completely absorbing stories.
The semi-autobiographical "CHAPTER TWO" is proficiently directed by Missy Cote with a fine attention to detail and features a stellar cast of four.
Watchers of the hysterical comedy, "The Marvelous Mrs. Maisel" (or its predecessor, "Bunheads" with Sutton Foster), instantly will note the "rapid fire" (almost "machine gun-like") delivery of the humor. Without question among the the funniest writing found on television today.
The writers and producers of these shows would probably be the first to acknowledge the unmistakable influence coming from the legacy works of Neil Simon in practically inventing that style of comedy writing (with due deference to his "training ground" that was Sid Caesar's "Your Show of Shows" which spawned an unequaled treasure trove of brilliant, influential comedy writers).
While "CHAPTER TWO" does contain those "rapid fire" moments, inherent in any Simon play, this one also has a more melancholy overtone which sneaks up on you.
The original 1977 premiere of "CHAPTER TWO" took place in Los Angeles, running for a month and subsequently winning several L.A. Drama Critics Circle Awards.
Once the play hit Broadway (also in 1977), it ran for 857 performances and received four Tony Award nominations, including nods for Best Play, Best Actress, Best Featured Actor and Best Featured Actress in a Play (won by "Three's Company" actress Ann Wedgeworth).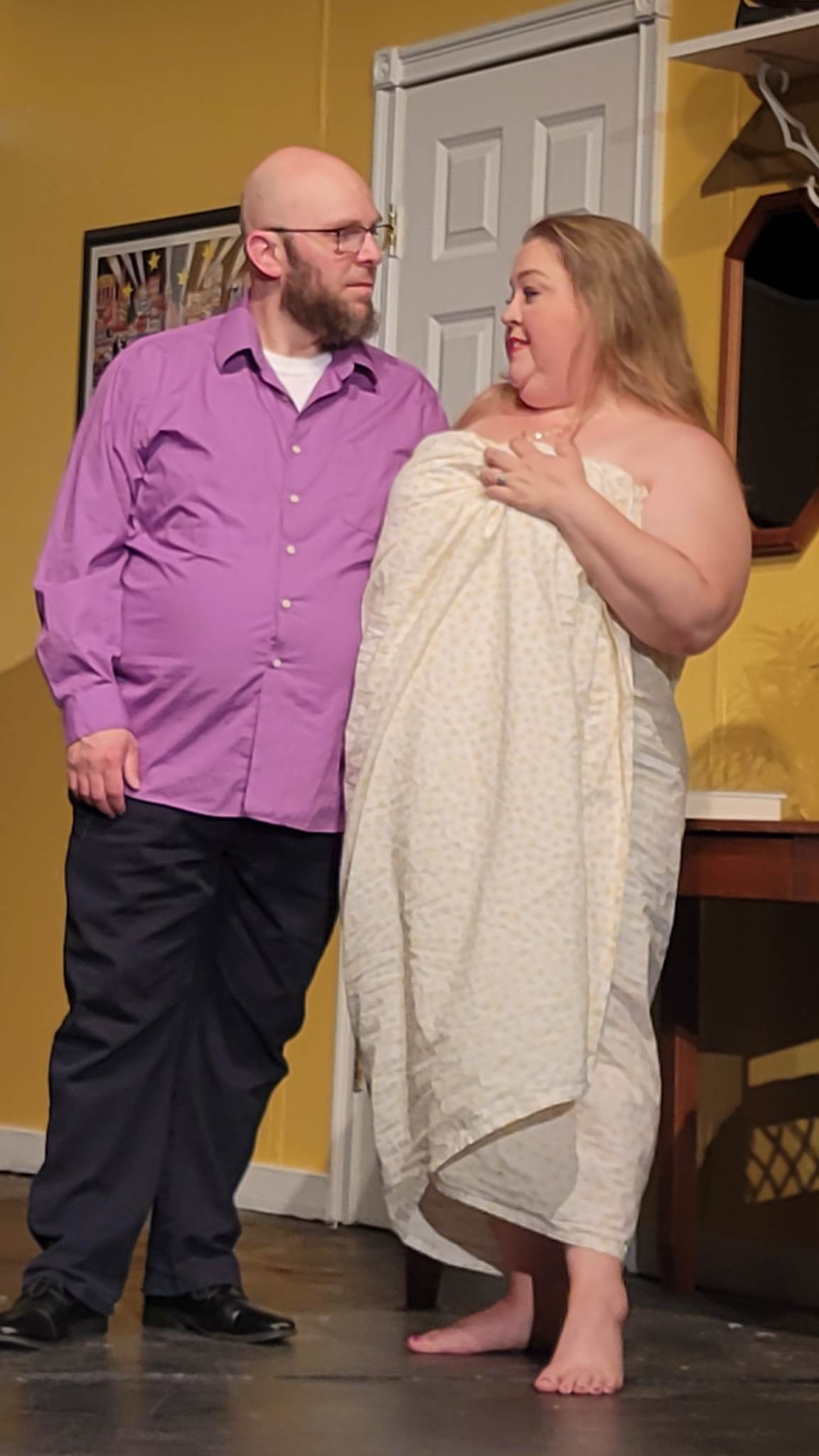 (Photo: Michael Talarico and Heather Hilton in a scene from Neil Simon's "CHAPTER TWO" presented by New Players Theatre Guild in Fitchburg, MA. now playing through June 11, 2023. Photo Credit Missy Cote)
The late Simon was a genius wordsmith – a master craftsman of language when it came to the comedic construction of his plays. "CHAPTER TWO," as proven by the New Players' cast, is no different.
It is not as simple as a "setup->punchline" formula but, in almost every Neil Simon story, the rhythm and pacing in the execution of dialogue has to be done to perfection or much of the intended impact by Simon is lost.
The above literary tightrope walk fails frequently when directors or actors sacrifice pacing for "nuance."
The search for nuance in dialogue might be appropriate for Shakespeare but tends to completely "de-rail" Simon.
It becomes an ongoing exercise in knowing the distinction between "how to say a line" and "how to say a line."
This production successfully balances that difficult tightrope walk.
Yet, in this case, it is the playwright himself, Simon, who throws us off a little bit more than usual, because he has obviously dug deep within himself to use a tragic moment from his own life to create the situation found in "CHAPTER TWO."
Simon wrote the piece as a kind of emotional "catharsis" after the death of his first wife and the subsequent breakdown of his second marriage to actress Marsha Mason.
In "CHAPTER TWO" widowed writer, George (John Williams), is introduced by his brother, Leo (Michael Talarico), to actress Jennie (Carolyn Salter).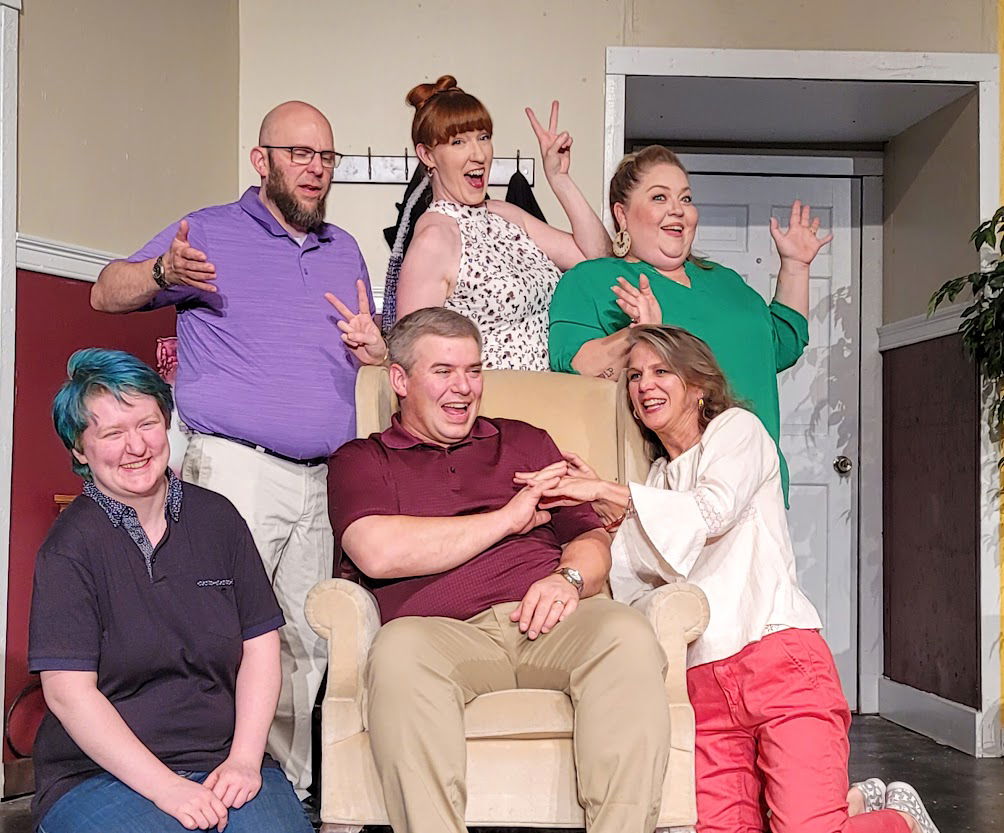 (Photo: The CAST and Crew of Neil Simon's "CHAPTER TWO" presented by New Players Theatre Guild in Fitchburg, MA. now playing through June 11, 2023. Photo Credit William McGrath)
Immediately, it is interesting to note the scripted spelling of "Jennie" (as opposed to the more common spelling "Jenny") – somehow indicating a subtle, personal nod to Mason, who not only gave Simon permission to write "CHAPTER TWO" (as Simon once wrote he felt he needed her blessing), she would later star in a 1977 film adaptation.
Jennie is divorced from a former football player, Gus (who is never seen).
Thanks to Leo, George and Jennie "accidentally" speak on the phone. They agree to meet and possibly arrange for a date.
The playful dialogue between Williams and Salter during George and Jennie's first exchange is pure Simon at his "witty repartee" best.
Both are uneasy at the prospect of dating again, especially as George is still reeling from the death of his wife.
Williams also brings a fine, authentic and sensitive portrayal of George as George's situation parallels Simon's own relationship with Mason (as the author struggled to get over the loss of first wife, Joan Baim, who passed away from cancer in 1973).
However, in "CHAPTER TWO," George and Jennie do connect more than either expect and advise Leo, who has a surprising reaction.
Leo, in turn, must also contend with his own crumbling marriage due to his chronic infidelities, including his latest with Jennie's friend, Faye (Heather Hilton).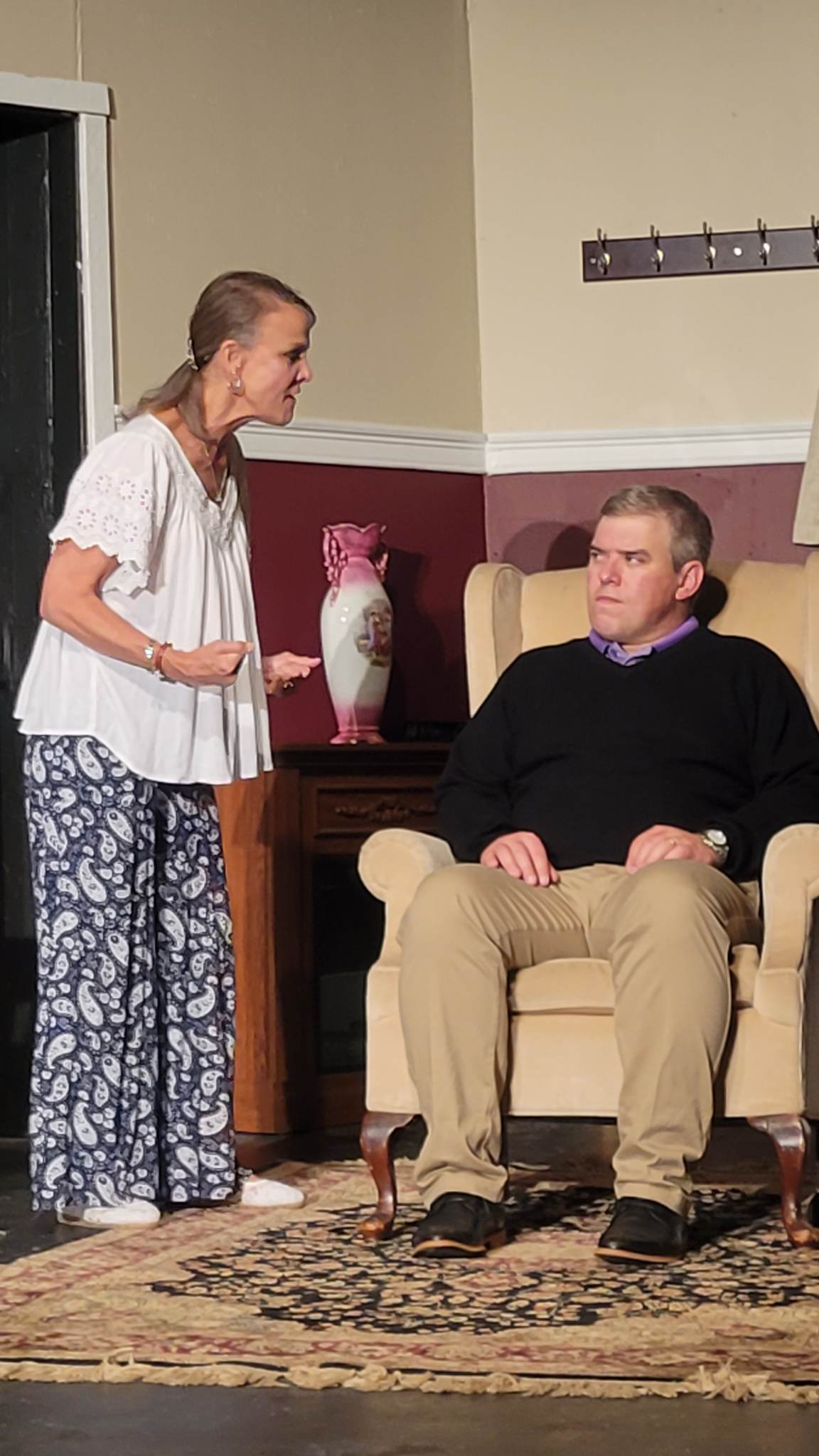 (Photo: Carolyn Salter and John Williams in a scene from Neil Simon's "CHAPTER TWO" presented by New Players Theatre Guild in Fitchburg, MA. now playing through June 11, 2023. Photo Credit Missy Cote)
As mentioned at the start of this review, all the performances are executed quite well. Pacing does seem a little lethargic at times but, overall, proves steady.
What stands out most are the monologues, all expertly delivered.
Most of Simon's plays offer us beautifully woven monologues, rich with introspective moments.
However, a few of the ones offered in "CHAPTER TWO" are unlike the lighter, reflective monologues found in Simon plays, such as his quasi-autobiographical "Eugene Trilogy" ("Brighton Beach Memoirs," "Biloxi Blues" and "Broadway Bound").
The ones offered here are surprisingly more somber in tone - with various revelations seeming to be coming from a far deeper, more personal place.
As George and Jennie, the chemistry and performances between Williams and Salter is solid and Talarico as Leo gives a multi-faceted performance and delivers probably one of the best examples of the above-mentioned monologues.
Salter is particularly convincing during a moment where Jennie angrily confronts George, conveying an image of the playwright stopping himself (and his own penchant for humorous exchanges) to instead say, "No - We are NOT going to be funny here. We are not going to hide behind humor. We're going to be real and discuss this like adults."
The above is a unique high point in a show that, overall, thanks to director Cote, the NPTG creative team and cast, contains many high points.
Hilton's character of Faye seems a little less structured by Simon than the other three but compensates for this by serving up many of the biggest laughs in the show, especially in her scenes with Talarico.
While it is a two-act play, at almost three hours, it feels more like a three-act performed as two.
This is not a slight against the staging, which is exceptional - merely an observation made on the extensive dialogue coming forth from this highly personal Simon play.
The split, single set design of "two apartments" is not only aesthetically pleasing. It is also a clever construct, with each side successfully staged and well lit throughout the production. Scene changes with set redress also moved along really well.
"CHAPTER TWO" continues at New Players Theatre Guild until June 11th and is one story well worth checking out.
Approximately two hours, 45 minutes with one intermission.
Kevin T. Baldwin is a member of the American Theatre Critics Association (ATCA)
@MetrmagReviews
@Theatre_Critics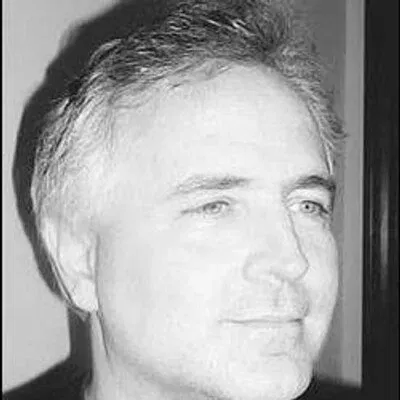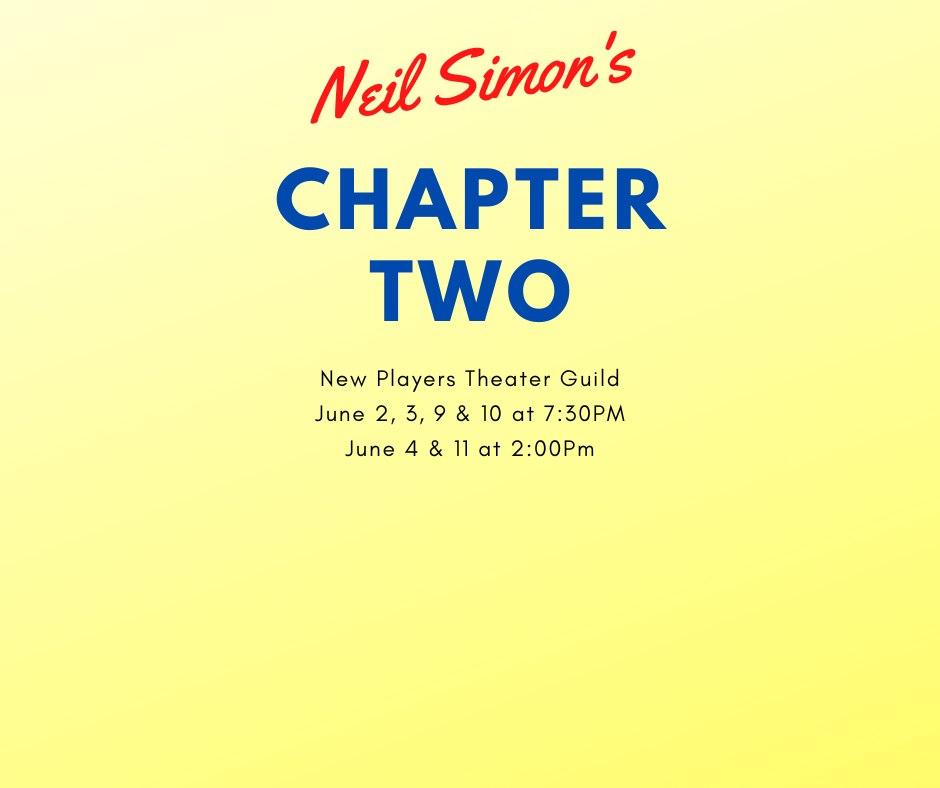 ABOUT THE SHOW
George and Jennie are in love, utterly perfect for each other, and are getting married.
There are just a few problems:
1) They've only been dating for two weeks.
2) George's beloved wife of twelve years just passed away.
3) Jennie has just gone through five years of counseling which culminated in a messy divorce. George's brother, Leo, and Jennie's friend, Faye, don't have it any easier.
Both of their marriages are in trouble, they're worried about George and Jennie getting married too quickly, and the two of them are thinking about having an affair with each other.
Neil Simon's semi-autobiographical "CHAPTER TWO" examines what it means to truly love someone else, and asks whether finding a soulmate can happen more than once in a lifetime.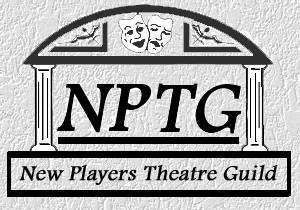 ABOUT NEW PLAYERS THEATRE GUILD
New Players Theatre Guild's goal is to foster and promote an active interest in community theater. It is a not-for-profit organization dedicated to encouraging people of all ages to participate in the joy of creating quality theater for the Montachusett area audiences. NPTG presents small to medium-scale musical productions and musical reviews for the public as well as straight plays. New Players Theatre Guild was founded in 1975 and varies in membership size, but has, at times grown to a membership of over 120 people. The group is managed by a Board of Directors, elected yearly by the membership, as well as several committees that carry out the various activities of the organization.
New Players Theatre Guild
15 Rollstone Street
Fitchburg, MA.
978-345-6570