(Cover Photo: "Cat on a Hot Tin Roof" a new audio drama presented by the Psych Drama Company)
"Cat on a Hot Tin Roof" – an effective streaming audio drama - Psych Drama Company
By Kevin T. Baldwin
METRMAG Reviewer
# 774-242-6724

"Cat on a Hot Tin Roof"
Written by Tennessee Williams.
Directed by Larry Segal
Creative and Production Team Includes: Doug Greene - Recording Engineer, sound effects ; Adam Elliott Rush - Audio Designer, sound effects, original music, Director of Digital Communications ; Zachary McConnell - Director of Audiovisual Marketing; Michael Mazzone - Director of Social Media; Romani Berlekov, Peter Perrino & Susan Spangenberg - ArtLifting artists for exhibition during Cat on a Hot Tin Roof intermission.
Cast Includes: Eric McGowan, Wendy Lippe, David Lee Vincent, Linda Monchik, Lindsay McAuliffe, Mark Prokes, Adam Elliott Rush, Larry Segel.
Tickets are now on sale via OnTheStage.com, and profits from these ticket sales will go directly into the pockets of all artists involved in these productions. Any questions, call 617-275-9167.
"Cat on a Hot Tin Roof" Tickets:
https://www.onthestage.tickets/the-psych-drama-company
The Psych Drama Company unveils an admirable but ultimately lackluster production of Tennessee Williams classic "Cat on a Hot Tin Roof" in another (otherwise) well executed streaming audio drama presentation. As one listens to the drama unfold, the first noticeable issue is with the narration.
The drama, which was adapted into a play by Williams from the 1952 short story, "Three Players of a Summer Game", is narrated by the show's director, Larry Segel.
While the intent was probably to be consistent with where the story takes place (a plantation home in the Mississippi Delta), the choice to have the narration be spoken in a mild southern drawl proves to be more of a distraction from the remainder of the content than an enhancement of, or contribution to, the overall audible ambience.
Also, the stage directions as read were occasionally a bit too descriptive and, while required at some points, didn't seem to be needed at others.
Unlike their previous efforts with "Lion in Winter" and, most recently, "Macbeth", here Psych Drama, by losing the visual, we do really lose considerable impact part and parcel of the Williams drama.
The narration aside, the remaining characters in the audio drama are exemplary as they explore the Williams apposition of the decline of basic human morality, greed, unbridled versus suppressed sexual desires and even mortality.
The story of "Cat on a Hot Tin Roof" is set in the multi-acre plantation home of Big Daddy Pollit (David Lee Vincent), who is a dictatorial cotton tycoon and patriarch of a malignant family denying (or ignoring) the existence of his affliction with an equally malignant cancer.
Brick (Eric McGowan) is a 'has-been' ex-football player who swims in alcohol just to avoid having to share the same space, sleep in the same bed or breathe the same air as his wife Margaret (Wendy Lippe).
Big Mama (Linda Monchik) stops by, praising her little baby boy, Brick, and blatantly alludes that Maggie is childless due to her not being attentive to Brick's "needs" in the bedroom. The Oedipal tension and, thus, the tension between the two women is fierce and well played by Lippe and Monchik.
Brick, repulsed at the thought of intimacy with Margaret, decides to speak with Big Daddy and, after an ocean of drinks, their conversations run the gamut of life, "mendacity" (untruthfulness) and death.
Through the dialogue secrets mundane, intimidating and outright hurtful are revealed.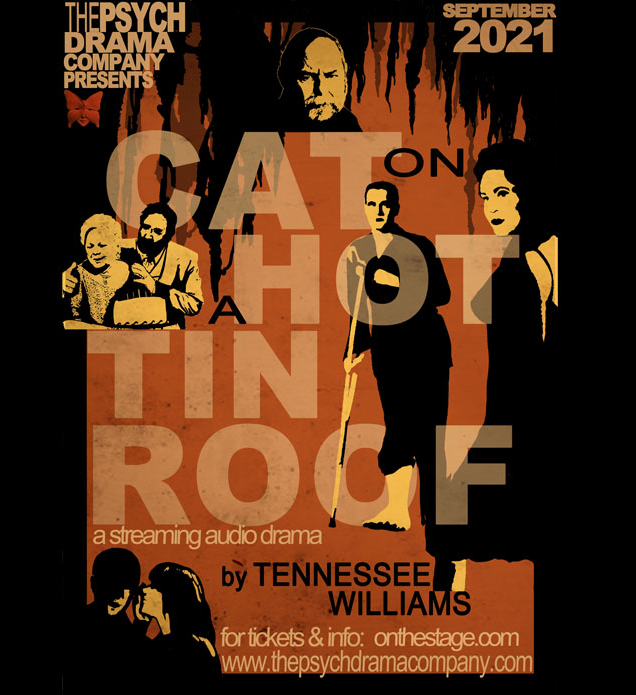 While a bit protracted, the production is still quite impressive and well worth checking out. The convenience of the audio drama also allows for either listening act by act or spending the entire time lost in the world of one of the most corrupt and dysfunctional southern families ever scrutinized.
Other standout performances include Lindsay McAuliffe and Mark Prokes as the scheming and avaricious couple Mae and Gooper.
Like Psych's sister show, "Macbeth", the audio drama for "Cat on a Hot Tin Roof" is impeccably designed and ideal for any classroom use where Tennessee Williams is being explored or for one's simple own enjoyment and personal use.
Individual tickets are $30.00 and Family tickets are $40.00. For additional information, please contact, Wendy Lippe Ph.D. at +1 617-275-9167 or by email at pr@psychdramaco.com or psychdramacompany@gmail.com.
The show is approximately three hours with two intermissions.
Kevin T. Baldwin is a member of the American Theatre Critics Association (ATCA)
@MetrmagReviews
@Theatre_Critics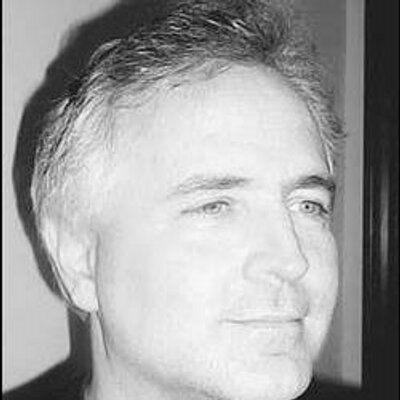 "Cat on a Hot Tin Roof" is a 3 hour, immersive audio drama adaptation. Presented by special arrangement with Tennessee Williams and Dramatists Play Service. In addition to the feature presentation, there will be a streaming art exhibit during the intermissions (Peter Perrino, Romani Berlekov, Susan Spangenberg & ArtLifting).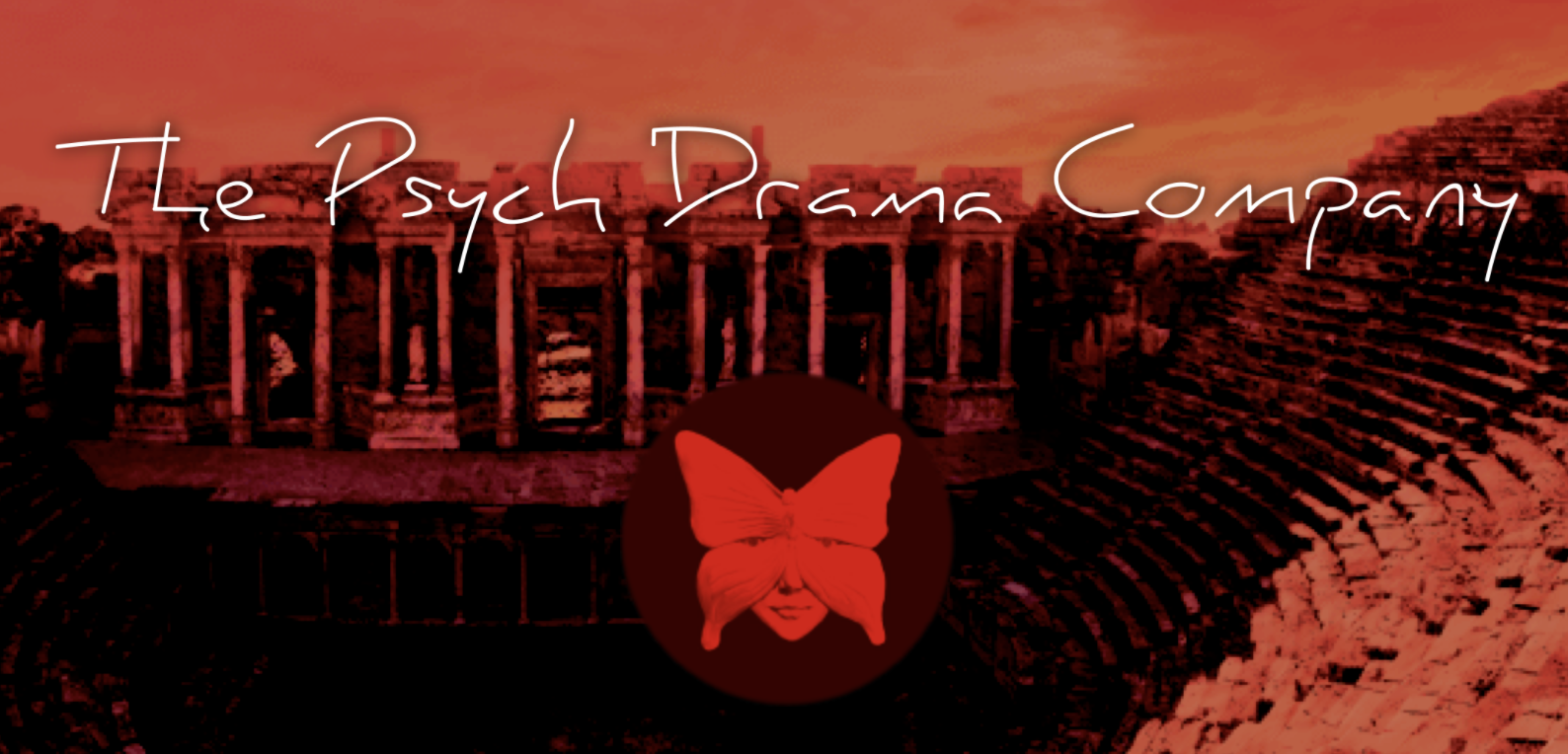 ABOUT PSYCH DRAMA COMPANY
The Psych Drama Company, Inc. is a registered 501(c)(3) non-profit organization dedicated to stimulating and fostering reflection and psychological mindedness through the performing arts. The Psych Drama Company provides education on a wide range of topics in psychology by combining immersive, experiential performances with post-show discussions led by mental health professionals. Copyright © 2021 Pandoras Box Productions Inc, All rights reserved.