(Cover Photo: Dan Whelton as "Buddy Holly" backed by Josh Karam, Jacob Nichols and Doug Wallace as Holly's band "The Crickets" in "BUDDY: THE BUDDY HOLLY STORY" now playing at the Majestic Theater in West Springfield, MA. through June 4, 2023. Photo Credit Kait Rankins)


By Kevin T. Baldwin
METRMAG Reviewer
# 774-242-6724

"I'm not trying to stump anybody... it's the beauty of the language that I'm interested in."
- Buddy Holly


The Majestic Theater
Presents the Musical
"BUDDY: THE BUDDY HOLLY STORY"
Written by Alan Janes
Producing Director Danny Eaton
Music Director Mitch Chakour
Music and lyrics by Robert Blackwell, John Marascalco, Buddy Holly, Norman Petty, Jerry Allison, Chuck Berry, Charles Hardin, Kelly Isley, Ronald Isley, Rudolph Isley, Paul Jury, Frankie Lymon, Morris Levy, J. P. Richardson, Bob Montgomery, Ritchie Valens, Felice Bryant, Boudleaux Bryant, Paul Anka and Bill Tilghman.
Cast includes: Dan Whelton* (Buddy Holly), Josh Karam (Joe B. Mauldin), Jacob Nichols (Jerry Allison, Crickets drummer), Steve Henderson (Hipockets Duncan), Tina Sparkle (Maria Elena Santiago), Shaun O'Keefe (Big Bopper), Caleb Koval (Richie Valens), Doug Wallace (Tommy Allsup, 4th Cricket), Joshua Aaron Mason (Norman Petty), Chelsie Nectow* (Vi Petty), Ray Zorin (Decca Producer), Greg Mitchell Alexander* (Denzel Jefferson), Shannon Lamb* (Marlena Madison), Richard Parris Scott (Tyrone Jones), Natasha Ellis (Mabel Williams, Snowbird), Autumn Marchetto (Mary Lou Sokoloff, Buddy Fan), Lauren Bailey (Shirley), Brad Shepard (Surf Ballroom MC), Max Weinberg (Murray Deutch, KDAV Engineer, Apollo Reporter).
The Hayriders: Ray Dandurand, Autumn Marchetto, Chelsie Nectow*, Shaun O'Keefe, Don Rovero, Ray Zorin The Snowbirds: Natasha Ellis, Shannon Lamb*, Chelsie Nectow*, Tina Sparkle
Decca Records, Apollo Theater, Surf Ballroom Musicians: Ray Dandurand, Don Rovero, Cliff Schofer, Richard Parris Scott, Ray Zorin
Additional Creative Team:
Associate Producing Director - Sue Dziura; Stephen Petit* - Production Stage Manager; Associate Production Manager - Aurora Ferraro; Costume Design - Dawn McKay; Wardrobe Mistresses - Patty Wright; Technical Director and Set Designer - Josiah Durham; Scenic Artist - Braith P. Dicker; Master Carpenter - Greg Trochlil; Lighting Design - Daniel D. Rist; Sound Designer - Doug Wallace; Assistant Stage Manager - Alexandra O'Halloran;
* MEMBER OF ACTORS' EQUITY ASSOCIATION, THE UNION OF PROFESSIONAL ACTORS AND STAGE MANAGERS IN THE UNITED STATES
Majestic Theater, 131 Elm Street, West Springfield, MA 01089
Performances:
April 13, 2023 through June 4, 2023
(Contact Box Office for Exact Times)
Tickets range from $31-37 and can be purchased at the box office or by phone at # 413-747-7797.
COVID-19 UPDATE
Mask-wearing is no longer mandatory at the Majestic, but it is encouraged.
Quite simply put, "BUDDY: THE BUDDY HOLLY STORY" at the Majestic Theater in West Springfield is joyous, toe-tapping, finger-snapping, electrifying musical fun....with a weak, mediocre plot.
Yet, throughout most of the story, many in the audience will most likely say "who cares?" just as soon as the music begins.
Ultimately, the weakness of the story is as quickly forgiven as are the few minor era-related mistakes on stage (such as a time-traveling circa 1970s-style "pushbutton" telephone seen on stage in 1959 in two separate scenes).
It truly does not matter how weak the story structure is. The primary reason most people would want to see "THE BUDDY HOLLY STORY" is there...the music.
And there is a TON of great music to be enjoyed here.
From the moment you hear the actors portraying Buddy Holly, the Crickets, the Big Bopper, Richie Valens and others sing AND, in many cases, play their own instruments, you won't care a whit about the various plot holes or all-out flights of fancy impossibilities that occur throughout Alan Janes' tossed salad of a "jukebox musical."
The musical opened in England in 1989 and ran in London's West End for over 12 years.
It didn't fare as well during its brief Broadway run. After 15 previews, the Broadway production premiered in 1990 at the Shubert Theatre but only ran for 225 performances.
However, the show has toured extensively and has also been staged countless times at the regional and community theatre levels ever since.
The rundown of familiar hits and other songs in the show's score feature a majority of tunes written during a single 18 month period and many written by Holly alone.
The action takes us from Buddy Holly's musical career beginnings in Lubbock, Texas to his meteoric rise to his (spoiler alert!) untimely death in Clear Lake, Iowa in 1959.
Holly (Dan Whelton), in the script by Janes, is presented as both electric and eclectic and shows Holly's ongoing, frustrating creative struggles.
Whelton excels not only at his portrayal of Buddy Holly but also excels playing Holly's songs on guitar.
Holly's climb to fame alongside his bandmates, the "Crickets" - aka Jerry Allison (Jacob Nichols), Joe B. Mauldin (Josh Karam) and Tommy Allsup (Doug Wallace) - is chronicled.
With Whelton, the above trio of actor-musicians never fails to provide some of the most incredible musical moments of the entire production. They make it entertaining to listen to and, above all, just plain fun to watch.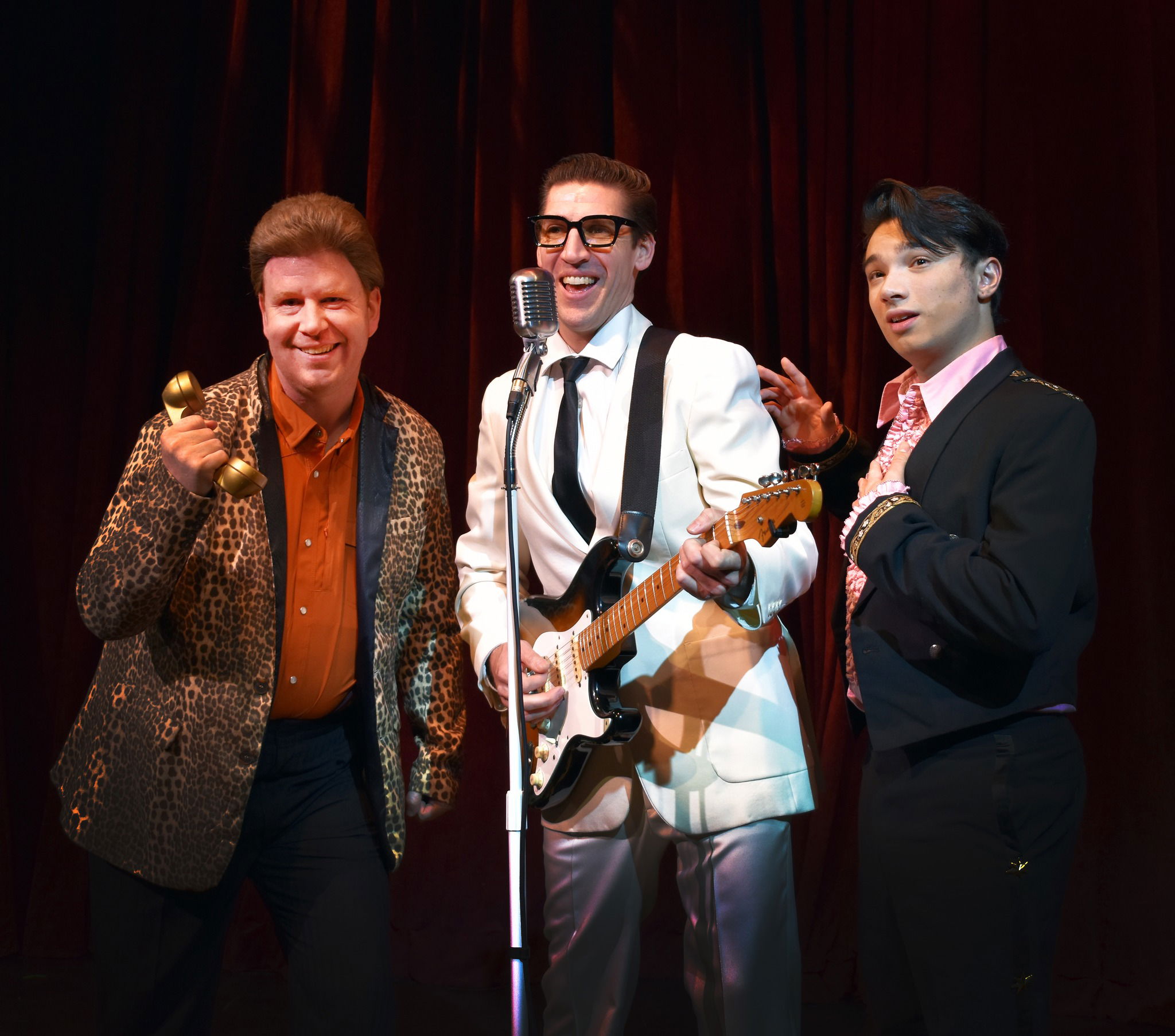 (Photo: "Rock and Roll Will Never Die" - From left to right are Shaun O'Keefe as "The Big Bopper," Dan Whelton as "Buddy Holly" and Caleb Koval as "Ritchie Valens" as they share the spotlight in "BUDDY: THE BUDDY HOLLY STORY" now playing at the Majestic Theater in West Springfield, MA. through June 4, 2023. Photo Credit Kait Rankins)
All the actors playing the Crickets and in the ensemble deserve tremendous credit for performing "double duty," serving as both actors and musicians carrying the show through musically. This elevates the rather routine biographical story structure provided by Janes.
The aspect of the show audiences will most likely care about is when the next big Buddy Holly hit song would be played. Janes would have better served the material if he structured the show to be closer to what "Beatlemania" (the musical) did for the Beatles story.
After recording for Decca Records in Nashville, Holly signs with producer Norman Petty (Joshua Aaron Mason) and from the moment they meet, they crank out hit after hit, including Holly's famous hits "Peggy Sue," "That'll Be the Day," "Everyday," "Not Fade Away" and more.
Holly becomes an instant smash star, skyrocketing up the music charts, and the band starts touring the country.
By the end of the first act, the band winds up performing at the famous Apollo Theatre in Harlem, playing to an all African American audience, during a time of extreme racial divide in the latter part of the fifties. Here they make history by becoming the first white act to play the Apollo.
To establish the setting, Apollo performers (Greg Mitchell Alexander, Shannon Lamb, Richard Parris Scott and Natasha Ellis) are given moments to shine musically before the extremely Caucasian Crickets emerge to perform.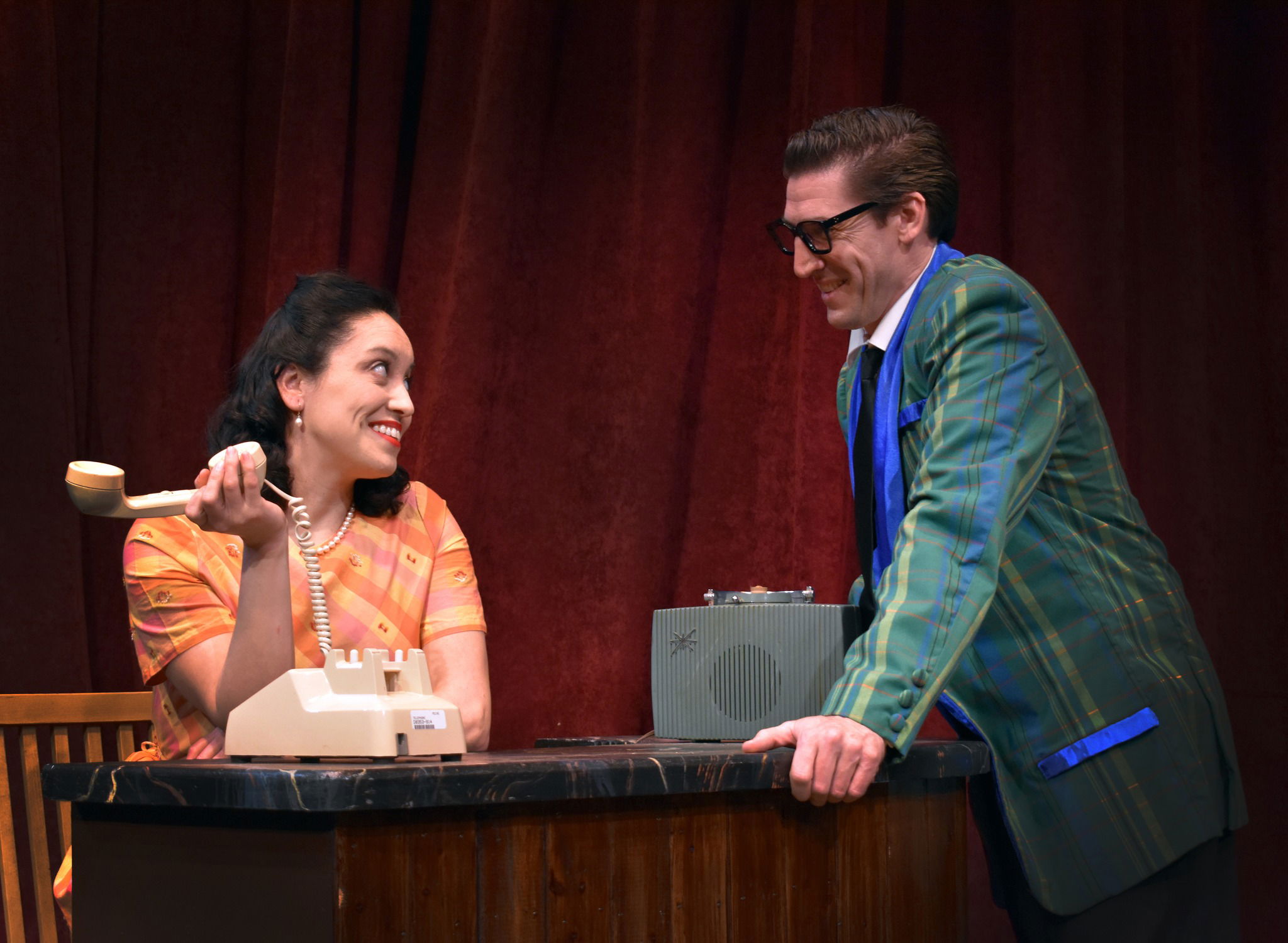 (Photo: Tina Sparkle as "Maria Elena Santiago" and Dan Whelton as "Buddy Holly" in a scene from Alan Janes' "BUDDY: THE BUDDY HOLLY STORY" now playing at the Majestic Theater in West Springfield, MA. through June 4, 2023. Photo Credit Kait Rankins)
Holly later meets and proposes to Maria Elena Santiago (Tina Sparkle), a Puerto Rican receptionist working for his music publisher.
The scenes between the two actors are written in such an abbreviated manner that any developing chemistry between the actors is unable to be attained. However, the duo does have nice chemistry which shines, albeit briefly.
In the musical, one song which Holly presumably wrote for and performs in the show for Maria Elena is the lesser-known tender ballad, "True Love Ways."
Most of Act Two recalls the night prior to Holly's fateful flight into rock and roll destiny.
Holly performs in concert in Clear Lake, Iowa with J.P. Richardson, aka the "Big Bopper" (Shaun O'Keefe) and Ritchie Valens (Caleb Koval) - both of whom shared in Holly's fate.
More classic hits are heard including, "Why Do Fools Fall in Love," Bopper's own "Chantilly Lace," Holly's "Maybe Baby" and Valens' signature song, "La Bamba."
The above songs and more play out the finale like a prolonged fantasy sequence, more like what Janes possibly imagined the actual night might have been like…a party to end all parties the night before "the day the music died" (to borrow the reference from Don McLean's song "American Pie").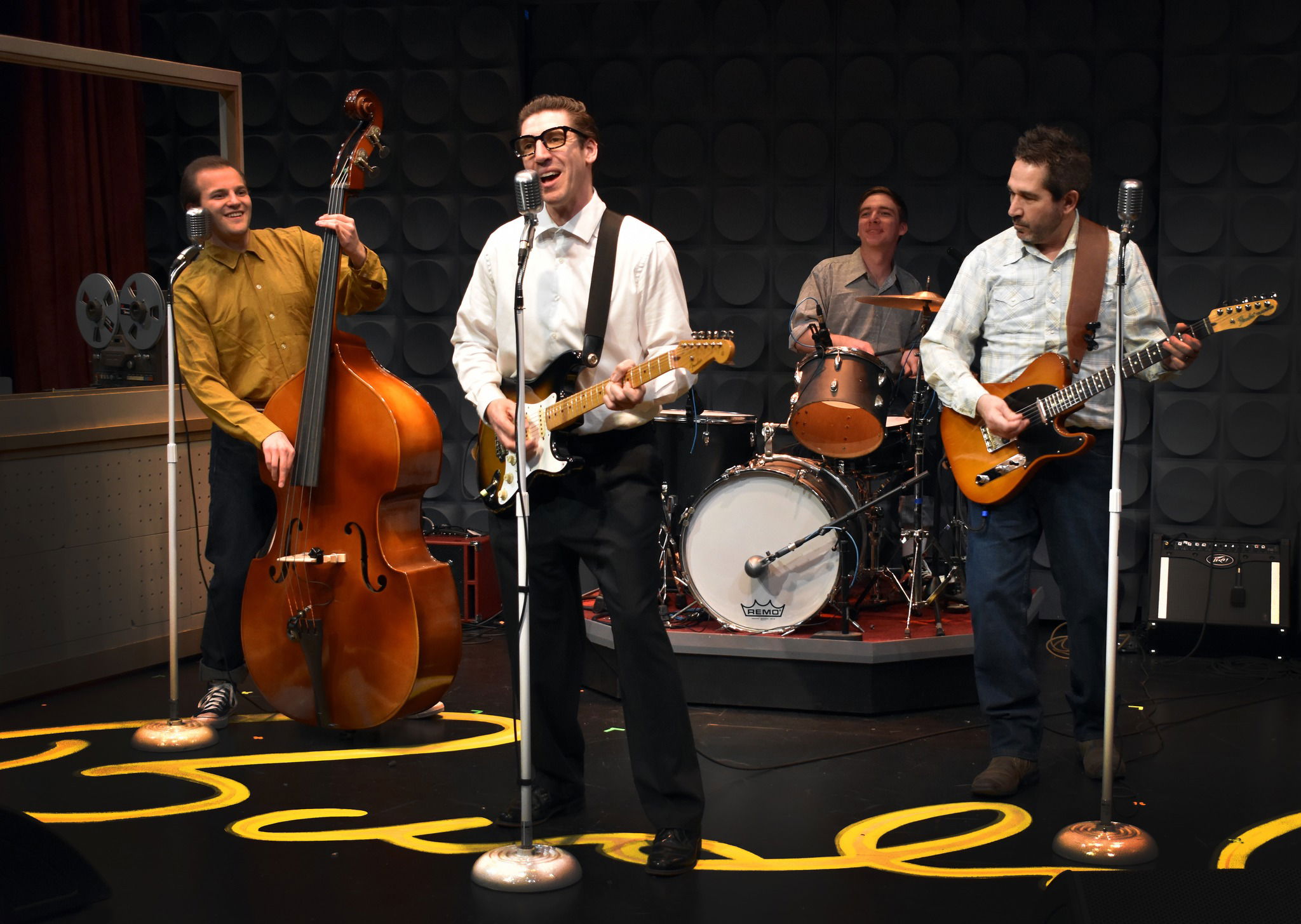 (Cover Photo: Dan Whelton as "Buddy Holly" backed by Josh Karam, Jacob Nichols and Doug Wallace as Holly's band "The Crickets" in "BUDDY: THE BUDDY HOLLY STORY" now playing at the Majestic Theater in West Springfield, MA. through June 4, 2023. Photo Credit Kait Rankins)
"BUDDY: THE BUDDY HOLLY STORY" is all light-hearted fun and merriment.
The musicians and singers, throughout the show but particularly in the finale, are all absolutely exciting and riveting.
Under the musical direction of Mitch Chakour the ensemble is backed up by an equally outstanding house band.
A tough show technically, scene changes were done expeditiously and lighting and sound were kept simple, making the entire production flow efficiently.
For a fun, dynamite musical experience tailor-made to "Rip It Up," "BUDDY: THE BUDDY HOLLY STORY" continues in West Springfield at the Majestic Theater until June 4th.
Approximately three hours with one intermission.
Kevin T. Baldwin is a member of the American Theatre Critics Association (ATCA)
@MetrmagReviews
@Theatre_Critics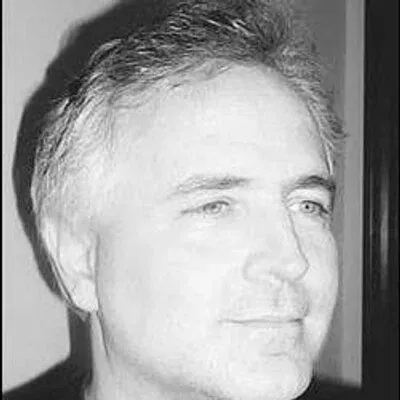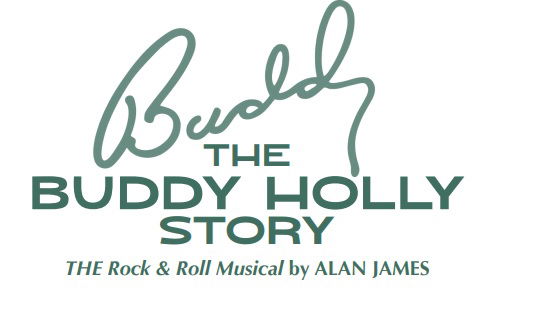 ABOUT THE SHOW
It's back!
We could not think of a better way to close out our 25th season than to remount the show that put us on the map!
Featuring an all-new cast, this timeless story of rock and roll, love and heartbreak will get audiences out of their seats and dancing in the aisles.
The musical tells the story of Buddy Holly's dazzling rise to fame and the lasting legacy his music left on the world.
Featuring over 20 of Buddy Holly's greatest hits including "Peggy Sue", "Everyday", "Oh Boy", "Rave On", and "Raining In My Heart"—plus Richie Valens's "La Bamba" and the Big Bopper's "Chantilly Lace".
Whether you've seen Buddy before, or this is your first time, you'll happily find "That'll Be the Day" that rock & roll does "Not Fade Away"!

ABOUT THE MAJESTIC THEATER
Locally-produced professional live theater since 1997Before it was a live theater, local residents may remember the Majestic Theater as a movie house. It has since been renovated and reimagined to bring live performances to the West Springfield area, giving local performance and technical artists the opportunity to thrive. Every season at the Majestic consists of five productions (including at least one musical) featuring local actors. In addition to the subscription season, the summer includes children's theater, concerts, plays, open mic nights, and improvisational comedy shows. Recently named the best place to see live theater in the Pioneer Valley in the Valley Advocate Readers' Poll, the Majestic continues to offer great theater thanks to the support and generosity of its 4200+ subscribers.
Majestic Theater
131 Elm Street
West Springfield, MA 01089
# 413-747-7797