(Cover Photo: Stuart Gamble, Fleece, Russell Garrett, Christine Voytko and Jeannine Haas in Noel Coward's "Blithe Spirit," at West Springfield's Majestic Theater from February 24 through April 3, 2022. Tickets available at the Majestic's box office or by calling # 413-747-7797. Photo: Lee Chambers)
Kevin T. Baldwin
METRMag Reviewer
# 774-242-6724
"What ghost around comes around..."

Majestic Theater of West Springfield
Presents
"BLITHE SPIRIT"
BLITHE SPIRIT REVIVES MAJESTIC THEATER'S 24th SEASON
Written By Noel Coward
Directed By Sue Dziura
Cast Includes: Fleece, Russell Garrett, Jeannine Haas, Sarah Corbyn Woolf, Stuart Gamble, Christine Voytko and Caelie Flanagan. Understudies include Myka Plunkett, Jack Grigoli, and Alexandra O'Halloran.
Performances:
February 24, March 3, 10, 17, 24, 31, 2022 at 7:30pm
February 25, 26, March 4, 5, 11, 12, 18, 19, 25 & 26, April 1 & 2, 2022 at 8:00pm
February 27, March 6, 16, 20, 26 & 27, April 2 & 3, 2022 at 2:00pm
March 2, 9, 16, 20, 23, 30, 2022 at 7:00pm
Majestic Theater, 131 Elm Street, West Springfield, MA 01089
Tickets range from $31-37 and can be purchased at the box office or by phone at # 413-747-7797.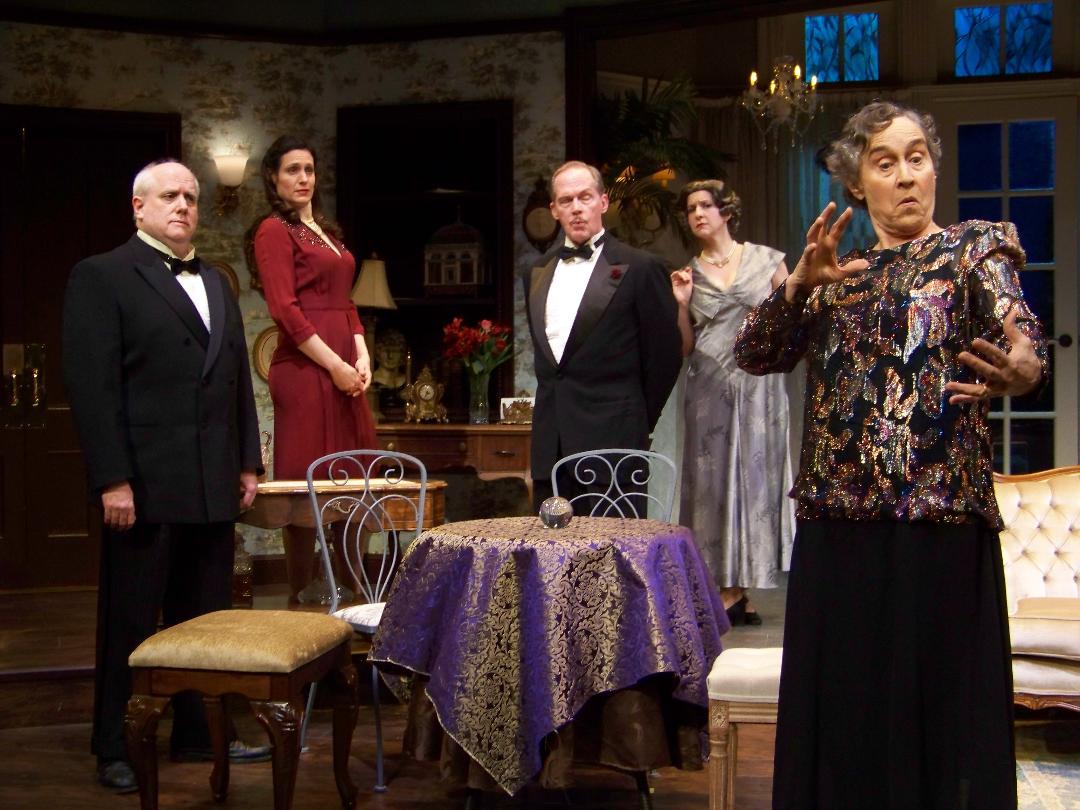 The Majestic returns with an inspired if extended production of Noel Coward's Blithe Spirit.
The opening of the show follows a brief hiatus in the Majestic's 24th season of live theater that was caused by an uptick in reported cases of COVID in the region.
Author Charles Condomine (Russell Garrett) lives in a beautiful home in Kent, England with his second wife, Ruth (Fleece).
The duo have friends Dr. Bradman and his wife (Stuart W. Gamble and Christine Voytko) over for an evening of food and merriment. The entertainment is in the form of a séance conducted by the whimsically eccentric Madame Arcati (Jeannine Haas).
It is not all fun and games for Charles who, unknown to the Madame Arcati, is having her conduct the séance as part of research for a new novel he is writing.
The séance is preceded by conversations between Charles and Ruth about Charles' long-dead first wife, Elvira (pronounced "Elveera" and played by Sarah Corbyn Woolf) who passed on seven years earlier.
However, as a result of the séance, Arcati actually revives the spirit of Elvira and this is where the iconic Coward tale really takes off.
As only Charles sees and interacts with her presence, Elvira wastes no time in causing mischief and mayhem between Charles and Ruth. These are some of the most humorous scenes in the show. The increasingly confrontational relationship between Elvira and Ruth, separated by an astral plane, lifts the humor to a new frenetic level. Kudos to both Woolf and Fleece in their respective portrayals as Charles' dueling spouses.
All the performances were up to the task. Caelie Scott, as overly anxious servant "Edith," is simply splendid any time on stage.
While it can be argued the 80+ year old play's run time could have been reduced, Coward was known more for his wit and storytelling than his brevity. To start hacking away at his text solely for the sake of time does his storytelling a great disservice.
The pacing never staggered. It is just a long show, protracted over seven scenes in two acts, and people need to allow for this with either a good nap or cup of coffee from the Majestic café before the show.
There did seem to be several line stammers or stumbles, particular in scenes with Bradman and Madame Arcati, but given the three solid hours of intricately scribed Noel Coward dialogue, the consummate ensemble never dropped a beat, particularly Russell Garrett who was sheer perfection as Charles.
(Photo: Caelie Scott as "Edith" and Fleece as "Ruth" in Noel Coward's "Blithe Spirit," at West Springfield's Majestic Theater from February 24 through April 3, 2022. Tickets available at the Majestic's box office or by calling # 413-747-7797. Photo: Lee Chambers)
The production was astutely directed by Sue Dziura with an equally impressive Creative Team which included Costume Design by Dawn McKay, Scenic Design by Greg Trochlil and Lighting Design by Daniel David Rist. All these elements combined to produce a wonderfully visceral experience on stage.
The ingenious set design cannot be complimented enough. The thorough attention to both set detail and functional elements, revealing themselves throughout the production, flawlessly executed.
A spirited production, executed with great precision, this is a fine play that is also a welcome resurrection, once again, to "live" theatre at the Majestic.
The show's approximate run time is three hours with one intermission.
Kevin T. Baldwin is a member of the American Theatre Critics Association (ATCA)
@MetrmagReviews
@Theatre_Critics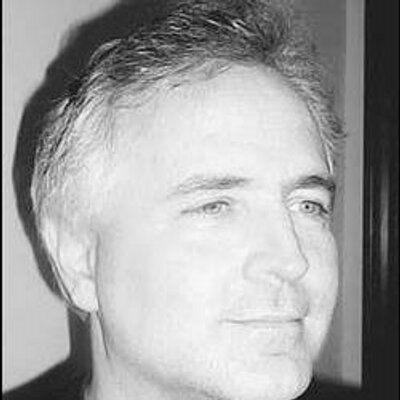 ABOUT THE SHOW
Blithe Spirit, a classic comedy by Noel Coward, will be presented at West Springfield's Majestic Theater February 24 through April 3.
The story focuses on Charles, a socialite and successful writer who is researching the occult for his latest novel.
He arranges for clairvoyant Madame Arcati to hold a séance in his home, during which she inadvertently summons the ghost of Charles' first wife Elvira, who has been dead for seven years.
Only Charles can see or hear Elvira; his current wife Ruth doesn't believe Elvira exists.
The ghostly Elvira makes ongoing efforts to disrupt the marriage, including sabotaging Charles' car in the hopes that he will join her in the spirit world.
Instead, it is Ruth who is killed in the car, and her ghost immediately comes back for revenge on Elvira.
Producing Director Danny Eaton feels certain the play will lift the spirits of its audience.
"We're really glad to be reopening our doors after closing for a few weeks when COVID numbers were climbing in our area," he stated. "We were very dismayed to reschedule our January play, Betty and the Patch, for June of this year, but it really made sense, given the circumstances, and our mission to help keep attendees, performers and staff in good health. We, along with everyone else, feel weary at times due to the pandemic, but Blithe Spirit will provide great laughs and we think audiences will really enjoy this solid comedy."
Eaton reported that the down time was put to good use to upgrade amenities at the venue. "We've installed all new carpeting, stage lighting and sound equipment. New chairs have been ordered, and new HVAC systems are improving air quality throughout the theater and café. We've been very busy during the time we've been closed," he stated.
The cast of Blithe Spirit includes Fleece (Ruth), Russell Garrett (Charles), Jeannine Haas (Madame Arcati), Sara Corbyn Woolf (Elvira), Stuart Gamble (Dr. Bradman), Christine Voytko (Mrs. Bradman) and Caelie Flanagan (Edith). Understudies include Myka Plunkett, Jack Grigoli, and Alexandra O'Halloran.
Sue Dziura, who is the associate producing director, is directing the play, Stephen Petit is production stage manager, and set design is by Greg Trochlil. Costume designer is Dawn McKay, Dan Rist is lighting designer and Aurora Ferraro is the associate production manager.
At this time, no food or drink may be brought into the theater, and needs to be consumed in the Majestic Café.
Following Blithe Spirit, the Season continues with 9 to 5 (April 14 – May 29, 2022; musical comedy) and Betty & the Patch (June 2022 dates to be announced).
All original ticket holders for Betty & the Patch will be able to see the comedy/drama at a rescheduled date.
The box office at the Majestic reopened on February 14, and tickets to Blithe Spirit and 9 to 5, which range from $31 - $37 per show, are available for sale onsite Monday – Friday 10am – 5pm and Saturday 10am – 1pm; or on the phone at (413) 747-7797.
COVID-19 PROTOCOL
On September 1, 2021, the Majestic Theater staff met with the West Springfield Health Department, and the following COVID-related guidelines are now in place at the Majestic:
Face masks are mandatory while attending performances at the Majestic Theater or visiting the box office to buy tickets to provide further health and safety protection to our patrons
Patrons must provide proof of vaccination upon entering the Majestic Theater by either showing their vaccination card or an image of the card on their cell phone
Face masks may be removed when eating or drinking in the Majestic Café
No food or beverages may be brought into the theater
If any patron is unwilling or uncomfortable in adhering to this policy, the Majestic Theater will refund the cost of their tickets. Refunds cannot be transacted at the time of the performance
This standard, Majestic officials noted, is the same as the one put into place by all theaters in Boston, Hartford and Broadway. In addition, all Majestic staff, performers and production crew have been fully vaccinated.

ABOUT THE MAJESTIC THEATER
Locally-produced professional live theater since 1997
Before it was a live theater, local residents may remember the Majestic Theater as a movie house. It has since been renovated and reimagined to bring live performances to the West Springfield area, giving local performance and technical artists the opportunity to thrive. Every season at the Majestic consists of five productions (including at least one musical) featuring local actors. In addition to the subscription season, the summer includes children's theater, concerts, plays, open mic nights, and improvisational comedy shows. Recently named the best place to see live theater in the Pioneer Valley in the Valley Advocate Readers' Poll, the Majestic continues to offer great theater thanks to the support and generosity of its 4200+ subscribers.
Majestic Theater
131 Elm Street
West Springfield, MA 01089
# 413-747-7797