Outstanding material drives WCLOC's "Between Riverside and Crazy"
By Kevin T. Baldwin
METRMag Reviewer

WORCESTER, MA: "Between Riverside and Crazy" written by Stephen Adly Guirgis presented by Worcester County Light Opera Company, 21 Grandview Avenue, Worcester. Performances: Sept. 27 & 28, Oct. 3, 4 & 5 at 7:30pm. Sept. 29 & Oct. 6 at 2:00pm. Ticket prices $25.00 General Admission, $20.00 Seniors (62+) & Students.
Written by Stephen Adly Guirgis. Directed by Janet Tyndall.
CAST INCLUDES: John Garfield, Jason Iannone, Mike Daniel, Robin Shropshire, Ginny Carpenter, John Morello, Elizabeth Hylton.
Kicking off their new season, Worcester County Light Opera Company (WCLOC) presents the gritty, eccentric and compelling piece, "Between Riverside and Crazy," written by Stephen Adly Guirgis.
Five minutes into the two-act play (less, really) one realizes this is definitely NOT a Disney production. The language used in the show, consisting with a multitude of "f- bombs" almost instantly makes one feel as if they are watching a Samuel L. Jackson film festival.
But then it becomes clear that the script by Guirgis does not use profanity gratuitously. It is there for a reason.
The story also takes one off guard as it switches from hysterical comedy to a place quite darker, moodier, and more real.
It also becomes clear why the play nearly swept the 2015 theatrical awards season winning the Pulitzer Prize for Drama, the New York Drama Critics Circle Award, the Lucille Lortel Award, the Outer Critics Circle Award and the Off Broadway Alliance Award.
Under the insightful direction of Janet Tyndall, the story concerns Walter "Pops" Washington (John Garfield), a former cop off the job due to his being shot by a fellow officer.
Pops lives in a rent controlled apartment but, due to his injuries, the death of his wife, and mounting legal and medical debt obligations, he is on the verge of being evicted, making him bitter and unrelenting in his animosity toward the world. This is not only the source of great drama but also some really funny exchanges during the show.
His son, Junior (Mike Daniel), lives with him after a stint in prison. Junior seems to be involved in selling illegally obtained merchandise out of the apartment. Pops is determined to see his son stay out of trouble.
Junior's friend Oswaldo (Jason Iannone), who was also in prison, stays with them in the apartment, but Pops considers Oswaldo a guest and therefore is not concerned about Oswaldo's freeloading ways.
Neither does he seem too concerned over his other "guest," Junior's scatterbrained girlfriend, Lulu (Elizabeth Hylton) who is either a student, a hooker, both or neither (it is never really made 100 percent clear in the story).
From L-R: John Garfield, John Morello & Ginny Carpenter
Photos courtesy of Christopher O'Connor, WCLOC
Pops is visited by his old partner, Detective Audrey O'Connor (Ginny Carpenter), and her fiancé, NYPD Lieutenant Caro (John Morello).
While coming to the apartment under the guise of "catching up" and reminiscing about old times, Caro is eager to work his way up the chain of command in the police force by getting Pops to end his 8-year law suit against the department.
This is where the show's best scenes and performances occur. Not only because of Guirgis' exquisitely written dialogue, but also because Garfield is en pointe in his portrayal of the conflicted, bitter, languished and anguished Pops. His performance compliments well with Carpenter and, especially, against Morello.
Morello could have played his part as a corrupt, narrow, singular dimensional antagonist but, instead, he plays Caro as charismatic, giving the smarmy opportunist the most interesting, layered and vibrant exchanges in his scenes with and against Pops.
In Act Two, we are introduced to the "Church Lady" (Robin Shropshire), a mysterious Brazilian woman who seems to want to help Pops come to terms with his injury and the death of his wife. Not only emotionally, but sexually, as well.
The chemistry between Shropshire and Garfield seems genuine and is electric from their very first lines together.
Another fine performance is Hylton as Lulu who, at first, comes across as cartoonish-ly shallow but, then you realize, her character really is authentically shallow.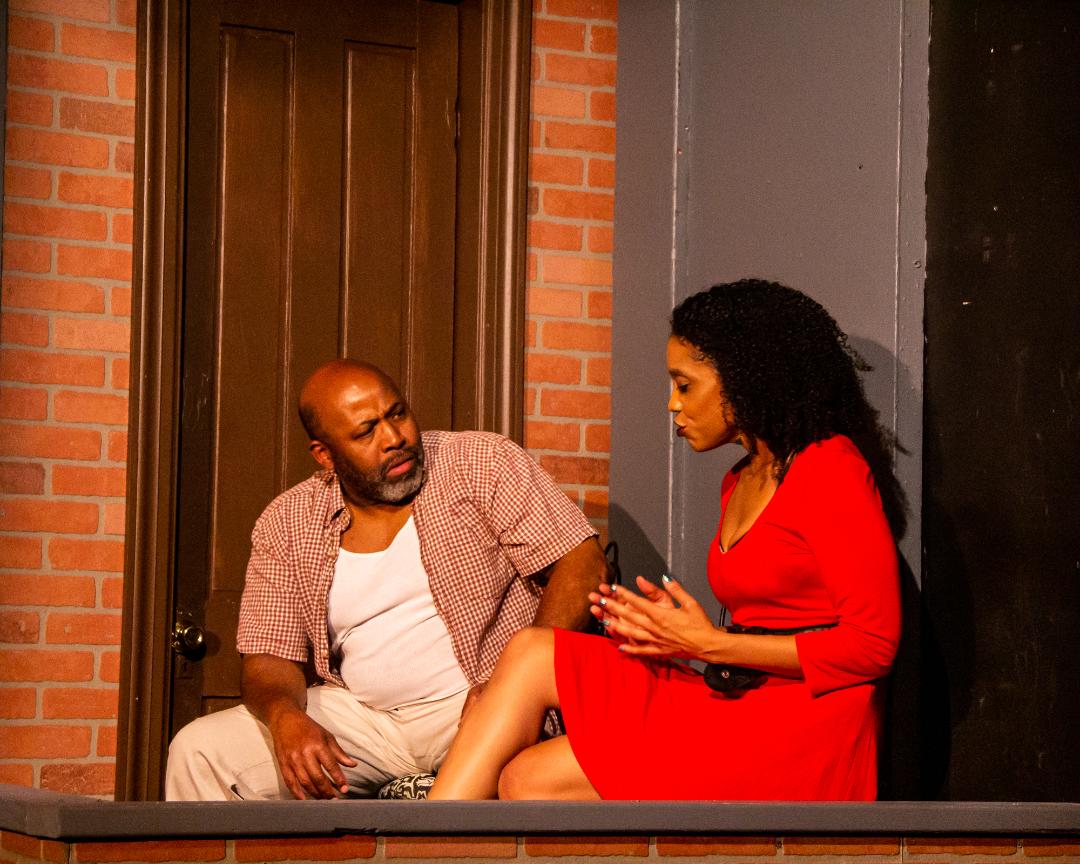 John Garfield and Elizabeth Hylton
Photos courtesy of Christopher O'Connor, WCLOC
Yet, for all her faults, Lulu also has a way of making the other characters feel better about themselves and believe she has a heart of gold….the male characters, anyway.
As to the characters of Junior and Oswaldo, the actors both conveyed their lines well enough but seemed to have issues grasping the full nuance of the material, making some scenes with Pops lose their intended impact.
The single set design for the higher scale urban renovated Riverside apartment by Ed Savage was quite detailed in some imperfections, absolutely appropriate to the surroundings. Tyndall's overall use of space for the show was impeccable.
Some of the scene changes were a bit lethargic at times but mostly the show flowed quite well from scene to scene.
The show runs approximately 2 hours 15 minutes with one intermission.
Kevin T. Baldwin is a member of the American Theatre Critics Association (ATCA)