(Cover Photo: The Cast of Pilgrim Soul Productions' staging of Deborah Zoe Laufer's "Be Here Now" now playing in Whitinsville, MA. through May 15, 2022. Photo by Matthew J. Carr)

By Kevin T. Baldwin
METRMag Reviewer
Contact: 774-242-6724

"Seizing euphoria"

Pilgrim Soul Productions
Presents
"BE HERE NOW"
Written by Deborah Zoe Laufer
Directed by Matthew J. Carr
Cast Includes: Cindy Bell as "Bari", Gary Swanson as "Mike", Carole Allard Vancil as "Patty", Teresa Carr as "Luanne"
Performances:
May 6, 7, 13 & 14, 2022 at 7:30p.m.
May 15, 2022 at 2:00p.m.
Singh Performance Center - at historic Whitin Mill, 60 Douglas Road, Whitinsville, Massachusetts
TICKETS: Regular admission $25.00 / Under 18 or over 64 $22.00 / $20.00 for advanced sale groups of 10 or more Reservations are Recommended Phone 508-296-0797 or Email us at pilgrimsoulproductions@gmail.com
Two years since the COVID-19 pandemic shut all live theatre down, Pilgrim Soul Productions returns for the opening of their 2022 season with the quirky Deborah Zoe Laufer's piece "Be Here Now."
While technically a comedy, the 90 minute one-act play begins with what seems like a fairly unfunny premise: "Nothing matters."
That is how "stalled" professor of nihilism, Bari (Cindy Bell) feels and it has her in a fierce case of writer's block as she works on her thesis...on the subject of nihilism.
This seems like it would set the evening up to be a total downer but it is far from that.
There are actually many upbeat and downright funny moments that lift and keep Laufer's story afloat, making us feel less as if we are swimming in the same 'gloom and doom pool' Bari virtually swims in on a daily basis.
Bell's performance as Bari throughout the show is filled with a great confidence and, as she is on stage for most of the play, she has a solid presence that helps to elevate the material.
Bari conveys her troubles to friends Patty (Carol Allard Vancil) and Luanne (Teresa Carr) with whom Bari works at a fulfillment center of assorted specialized antiquities and bric-a-brac in East Cooperville, New York.
Vancil and Carr successfully balance each other's personalities (with Patty being more aggressive and Luanne more naïve). They provide essential moments of levity whenever Laufer's script does meander into pessimistic territory.
As Patty, Vancil is spot on, providing a wonderfully caustic wit while Carr, as Luanne, yields a pleasant innocence to her character who only seeks to please.
Bari begins experiencing seizures which bring out an immense feeling of euphoria, or intense joy, unlike anything she ever has experienced in her life.
While the duo recommend Bari see a doctor, Bari refuses.
Patty and Luanne set up Bari on a blind date where she meets amiable 'junk artist' Mike (Gary Swanson).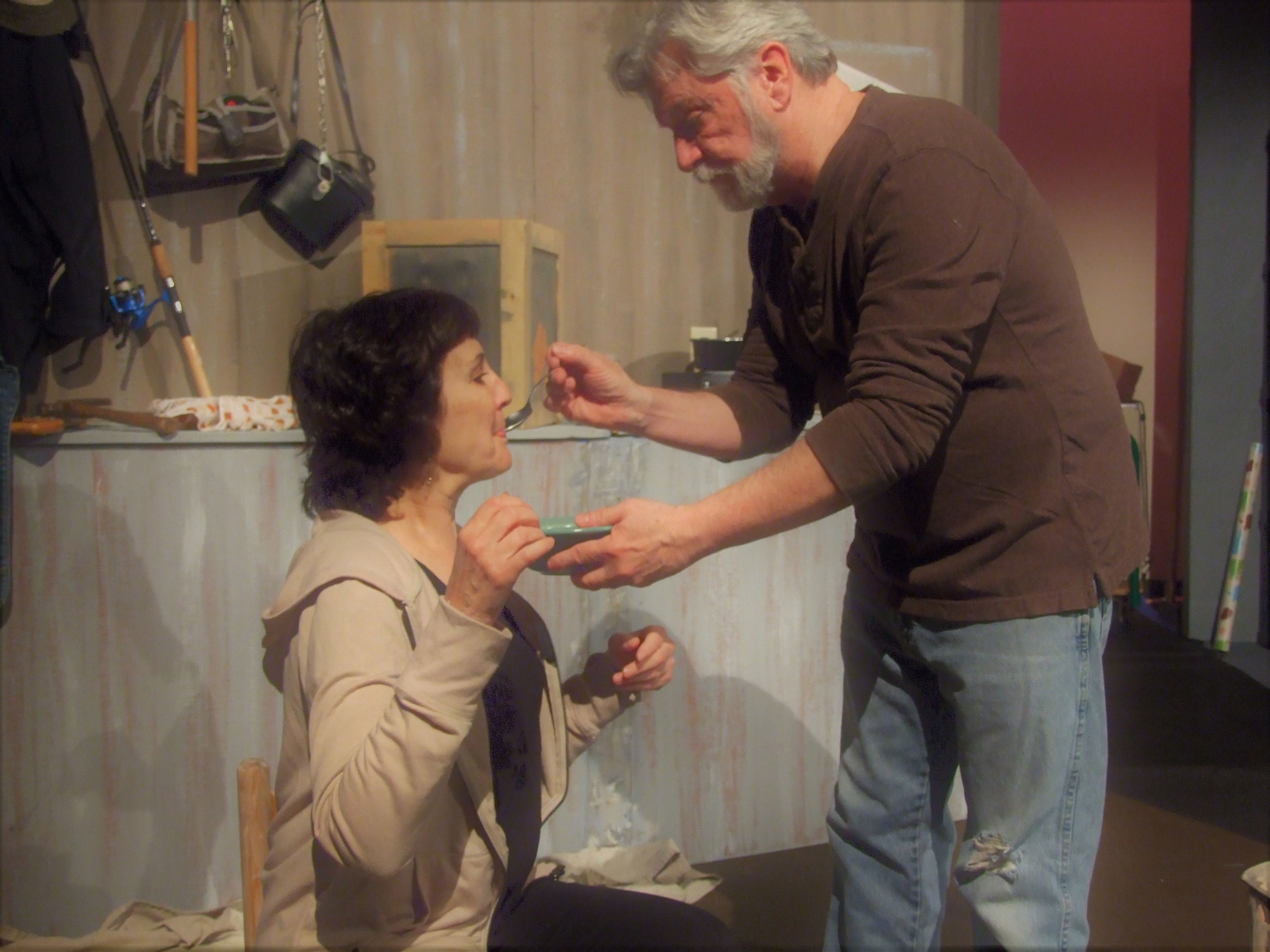 (Photo: Cindy Bell and Gary Swanson in Pilgrim Soul Productions' "Be Here Now" by Deborah Zoe Laufer now playing in Whitinsville, MA. through May 15, 2022. Photo by Matthew J. Carr)
Mike seems friendly enough if just a tad slovenly and eccentric. He is also a bit overly enthusiastic about the junk pieces he finds on the street…literally while on their first date.
While the duo do not seem to be a "fit" at first, suddenly Bari experiences a seizure and the evening reaches a far more pleasantly unexpected conclusion for both.
Swanson's grounded yet sensitive performance allows us to see that there is far more to Mike than initially perceived by Bari.
As we learn more about Mike's backstory, the more we root for his happiness. We're just not sure it will be with Bari and that is EXACTLY the component in Laufer's script that holds our attention, keeping us hooked on the story until the very end.
As the severe bouts of happiness persist, Bari becomes addicted and is a new habit she absolutely does not wish to break.
However, for the sake of her very life, she might be forced into breaking the habit.
What choice would any of us make between a shortened life of perpetual joy or an extended life filled with nothing but colossal internal angst and despair?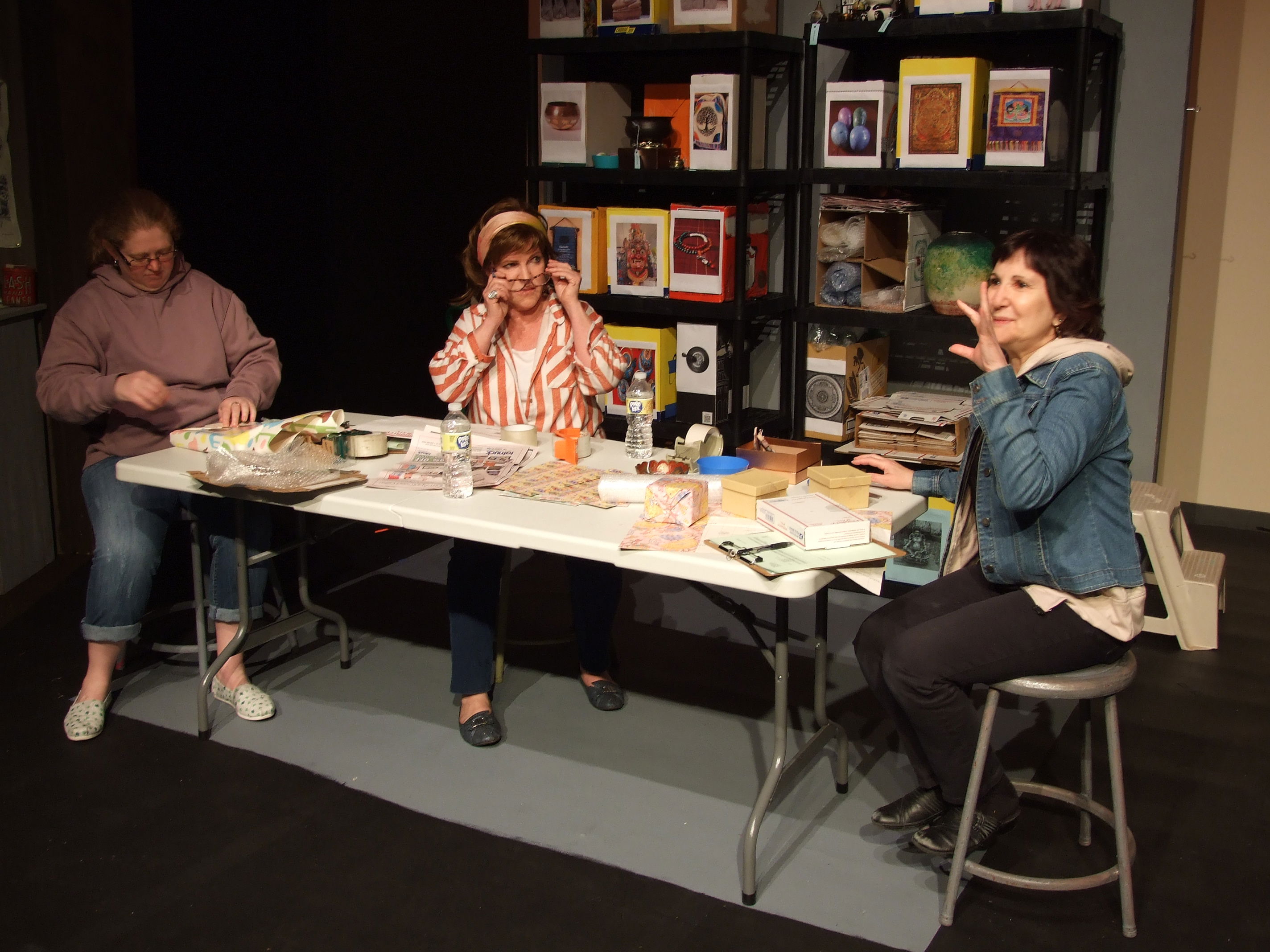 (Photo: Teresa Carr, Carol Allard Vancil and Cindy Bell of Pilgrim Soul's "Be Here Now" by Deborah Zoe Laufer now playing in Whitinsville, MA. through May 15, 2022. Photo by Matthew J. Carr)
The set for Pilgrim Soul's "Be Here Now" is simple and, under the guidance of director Matthew J. Carr, allows for many seamless scene changes.
There were spots where a couple of transitions were delayed - otherwise the downtime in between scenes was quite minimal.
Occasionally, the actors' pacing seemed a little rushed with the dialogue losing some of its 'nuance' in the process. However, the cast never wavered from presenting a pleasingly effective show.
As Bari continues to assess her situation, she dives into the 'deep end' of the aforementioned 'pool' – i.e an existence of more abandon and NOT the abandonment of all hope…but will she be allowed to keep swimming in that pool?
After far too long of an absence, what a wonderful way to kick off Pilgrim Soul's latest theatre season.
Approximately 90 minutes with no intermission.
Kevin T. Baldwin is a member of the American Theatre Critics Association (ATCA)
@MetrmagReviews
@Theatre_Critics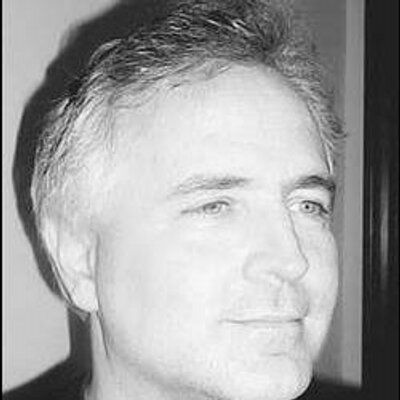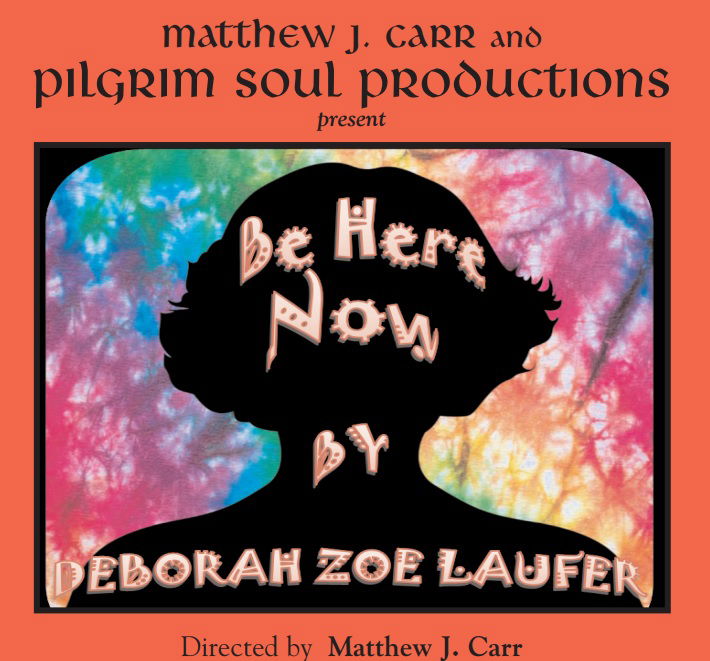 ABOUT THE SHOW
Two lost souls come together under most unusual circumstances in this deeply insightful and charmingly funny play.
Bari is deeply cynical and woefully depressed when she meets Mike, a man who makes art out of garbage.
"Be Here Now" asks what are we willing to do to find love, happiness, and meaning in our lives.
"In a time that often feels like nothing matters "Be Here Now" bursts through the gloom and offers a new and uplifting perspective." - City Beat
Be Here Now is presented by arrangement with Concord Theatricals on behalf of Samuel French, Inc.

Pilgrim Soul Productions
Singh Performance Center
Historic Whitin Mill
60 Douglas Road
Whitinsville, MA.
508-296-0797