(Cover Photo: Robert St. Laurence as "John Wilkes Booth," Dan Prior as "The Balladeer" and the CAST of the Stephen Sondheim musical, "ASSASSINS" with book by John Weidman, playing at the Lyric Stage in Boston, MA. until October 15, 2023. Photo Credit Mark S. Howard)
By Kevin T. Baldwin
METRMAG Reviewer
# 774-242-6724
"But there are no lives of 'quiet desperation' here. 'Desperation,' yes. But 'quiet?' I don't think so. Not today. Today we're going to make a joyful noise."
- ("John Wilkes Booth") - Stephen Sondheim/John Weidman

Lyric Stage Company
Presents the Sondheim Musical
Music and Lyrics by Stephen Sondheim
Book by John Weidman
Based on an idea by Charles Gilbert, Jr. Playwrights Horizons, Inc. - New York City produced ASSASSINS Off-Broadway in 1990 Orchestrations by Michael Starobin.
Directed by Courtney O'Connor°
Music Director Dan Rodriguez‡
Select Choreography by Elise Robbins°
Cast Includes: Christopher Chew* as "Charles J. Guiteau"; Shonna Cirone*as "Sara Jane Moore"; Teddy Edgar as "Giuseppe Zangara"; Kristian Espiritu* as "Emma Goldman/Ensemble"; Daniel Forest Sullivan as "Leon Czolgosz"; Arthur Gomez as "David Herold/Ensemble"; Jackson Jirard as "The Proprietor"; Lisa Kate Joyce as "Lynette 'Squeaky' Fromme"; Jacob Thomas Less as "John Hinckley"; Darren Paul as "Blaine/Ensemble"; Dan Prior* as "The Balladeer/Lee Harvey Oswald"; Kayla Shimizu as as "Billy/Ensemble"; Jeffrey Song* as "Garfield/Ford/Ensemble"; Robert St. Laurence* as "John Wilkes Booth"; Phil Tayler as "Samuel Byck"; Caleb Chew as "Samuel Byck" (10/7 & 10/8); Jackson Jirard - Dance Captain
Additional Creative Team:
Scenic and Lighting Design - Baron E. Pugh**; Costume Design - Rachel Padula-Shufelt; Sound Design - Alex Berg; Production Stage Manager - Nerys Powell*; Assistant Stage Manager - Tom Blushi*; Props Artisan - Lauren Corcuera; Assistant Director - Hazel J. Peters; Assistant Music Director - Jack Cline; Violence Consultant - Ted Hewlett; Dialect Coach - Lee Nishri-Howitt
* Member of Actors' Equity Association, the Union of Professional Actors and Stage Managers in the United States
** Represented by United Scenic Artists, Local USA 829 of the IATSE
° Stage Directors and Choreographers Society
‡ Represented by the American Federation of Musicians local 9-535.
Performances:
September 17, 2023 through October 15, 2023
(Contact Box Office for Exact Times)
LYRIC STAGE OF BOSTON, 140 Clarendon Street, Boston, MA 02116
TICKETS;
Contact the Box Office at # 617-585-5678 or go to lyricstage.com
COVID 19 PROTOCOLS
Contact Venue for Most Updated COVID-19 Safety Protocols and Information.
The folks at Lyric Stage Company in Boston have lit the fuse to a veritable powder keg of a new season with an elite staging of the Stephen Sondheim musical "ASSASSINS" that simply, in a word, slays.
Featuring a book by John Weidman, based on an original concept by Charles Gilbert Jr., the Tony-winning "ASSASSINS" explores the historical darker impulses of nine people to kill or try to kill U.S. Presidents.
Exiting the theatre after the September 22nd performance, it was witnessed that it is also still a musical that obviously "triggers" many rounds of discussion about the content of the show.
Now, to some, this may not be everyone's favorite Sondheim musical (full disclosure, it is not mine) but, this is an exceptional production with a phenomenal cast.
Others may argue it could be some of his finest work, featuring an abstract narrative, an impeccably crafted score and brooding libretto, with a story centering on the high cost of "celebrity" in America. "Celebrity," in this case, is not applied to the victims but rather to those who preyed upon them.
What usually happens in a review such as this is that writers tend to go down a long rabbit hole of topics pertaining to the show's subject matter. I'd like to tell you this review will be vastly different from any of those.
I'd like to...but I can't.
I can't because it is unavoidable and certain things must be addressed.
"ASSASSINS" opened Off-Broadway in 1990 but it was not a "critics' darling" to be sure, although the musical did garner Sondheim a Drama League Award for Distinguished Achievement in Musical Theatre.
Receiving tepid or just plain negative reviews, the show ran for only 73 performances.
Yet, in 2004, the Broadway revival received great praise and won five Tony Awards, including Orchestrations by Michael Starobin, Lighting Design by Peggy Eisenhauer and Jules Fisher and Best Revival of a Musical.
The 2004 production would also receive a Drama Desk Award, Drama League Award and the Outer Critics Circle Award for Best Revival, as well.
With the convergence of these historical villains (and let's be clear that they were - and should never be considered anything else BUT - villains), "ASSASSINS" holds up a mirror to American society as it attempts to reveal a deeper reasoning behind why these troubled…or perhaps, just plain evil…men and women committed these deadly deeds.
In non-linear form, "ASSASSINS" also looks, in no small part, to what actually is "The American Dream" – in the eyes of society's ill, impoverished, languished, rejected or, worst of all, dismissed - posing questions about the purpose of this country and what people…THESE people…expected from it and what they felt drawn to do in order to achieve the "dream."
In John Weidman's book to the show (based on an idea by Charles Gilbert, Jr.), it does not feel like either he, or Sondheim in his score, expects us to pity, praise or pardon any of these persons…only to look at the motivating factors behind their acts to, perhaps, gain a better understanding.
With that in mind, welcome to this carnival game – a game of chance. A game of choice.
In the show's opener, "Everybody's Got the Right," set in an imaginary "carnival" atmosphere, a Proprietor (Jackson Jirard) is on stage and, one by one, each of the "ASSASSINS" steps out of their respective times and approaches him, like flies to manure, moths to a flame, or Republicans to the Second Amendment.
The Proprietor calls out: "No job? Cupboard bare? One room, no one there? Hey, pal, don't despair. You wanna shoot a president? C'mon and shoot a president" then hands each "would be killer" a weapon to go and carry out their assassination agenda.
We then get introduced to the killers, one after another, in songs and scenes, beginning with the "Ballad of Booth" which focuses on one John Wilkes Booth (Robert St. Laurence), the actor who murdered President Abraham Lincoln.
Robert St. Laurence is simply marvelous as the manipulative, malevolent spirit that is this musical's depicted Booth.
During "How I Saved Roosevelt" the deeply disturbed Giuseppe Zangara (Teddy Edgaras) attempts to achieve fame by killing FDR and falls "short" of his goal, ending up in the electric chair.
Teddy Edgar lends his exceptional operatic voice to the troubled man who, in real life was heard rambling in his defense, "I kill kings and presidents first and next all capitalists."
Later, there is another ballad, "The Ballad of Czolgosz," which focuses on Leon Czolgosz (Daniel Forest Sullivan in a absorbing performance) an American laborer and anarchist who slew President William McKinley.
All the varied "ASSASSINS" have biographies in the program of the musical or online and can be viewed by anyone at any time.
What is not readily available are insights as to a "commonality" for their varied motivations for the killings or attempted murders.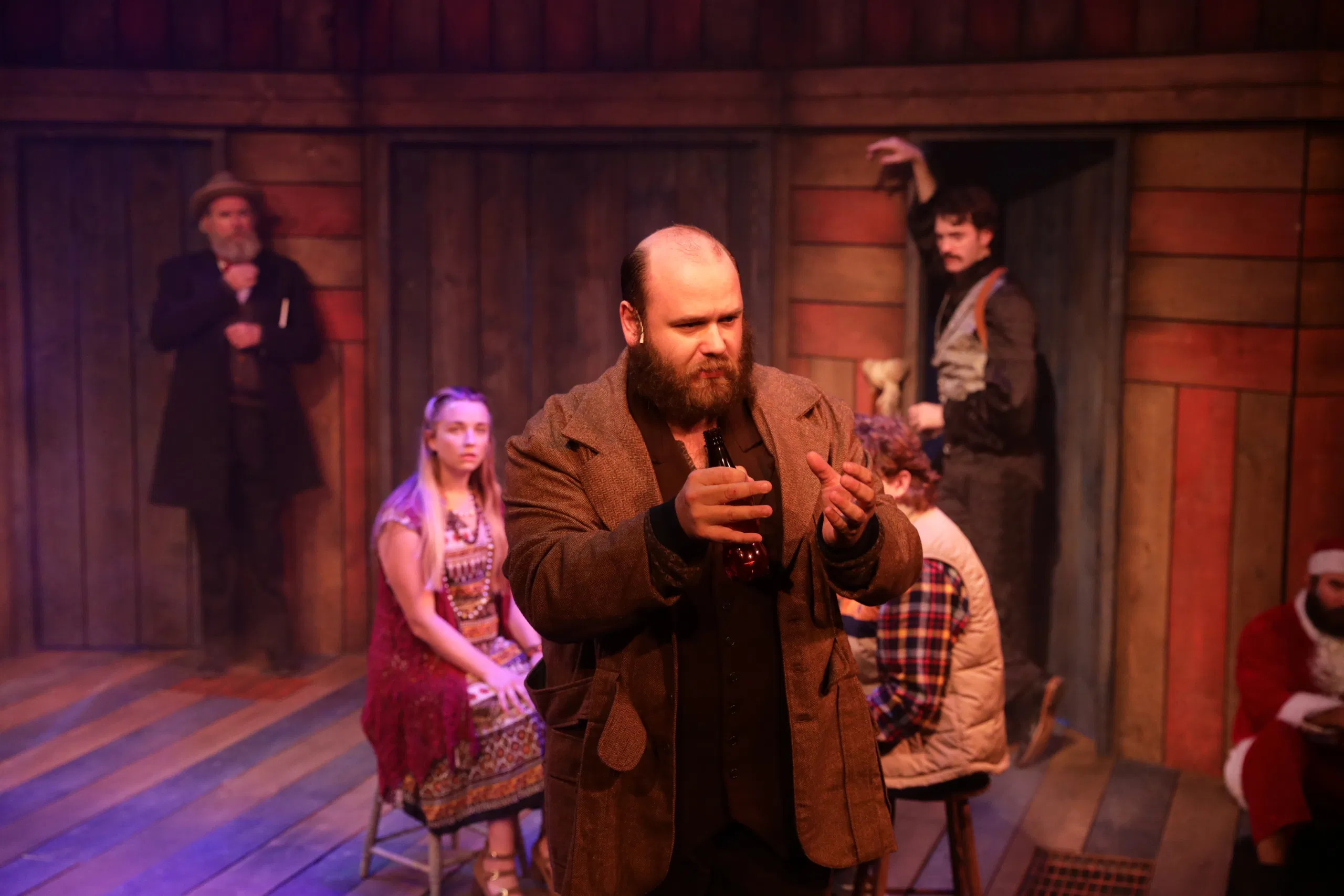 (Photo: Daniel Forest Sullivan as "Leon Czolgosz" and the CAST of the Stephen Sondheim musical, "ASSASSINS" with book by John Weidman, playing at the Lyric Stage in Boston, MA. until October 15, 2023. Photo Credit Mark S. Howard)
No subject is taboo, anymore.
We have many shows that examine villain backstories, fictional or fact-based. "Wicked" looks at "Dorothy Gale's" oppressor. "Maleficent" examines "Sleeping Beauty's" persecutor. "I, Tonya" looks at skater Nancy Kerrigan's tormen…uh…"rival."
It could be argued none of the above would exist without shows like "ASSASSINS" paving the way.
We are not expected to be judge, jury nor executioner here. Each of these predators already received their judgment long, long ago.
We are only expected to allow for this unconventional conceptual approach - and even more so this unconventional musical perspective to help, maybe, enlighten us on their respective actions.
Was it, for each antagonist, deep rooted issues either parental or environmental?
Watching delightfully quirky, bizarre exchanges between Charles Manson-influenced psychopath Lynette 'Squeaky' Fromme (Lisa Kate Joyce) and her rivaling Gerald Ford "assassin-hopeful," Sara Jane Moore (Shonna Cirone), one could argue the above.
Both Joyce and Cirone have great chemistry on stage and provide valuable insight as to the respective motivations of the female would-be "ASSASSINS."
The same parental or environmental theory might even apply to wannabe-Reagan assassin John Hinckley (Jacob Thomas Less) in the haunting tune, In "Unworthy of Your Love" (nailed by Less).
However, could it, instead, be a common mental illness that links these people together? A sense of loneliness, idealism, isolation, or desperation?
We see some of this in "The Ballad of Guiteau" featuring Christopher Chew as the demented idealist who praised his twisted actions and motivations behind them even after he assassinated President Garfield.
Chew is wonderfully adept as the "over-the-top" eccentric killer Guiteau.
Then there's Lee Harvey Oswald (played by Dan Prior who doubles as the "Balladeer") who, as we discover during "November 22, 1963," opts for murder instead of suicide, seemingly "guided" throughout by that malignant spirit of John Wilkes Booth.
Or, another theory proposes there might have been an insatiable need for attention or media notoriety. Could this be valid? Perhaps.
Here we are, in 2023, and "ASSASSINS" could easily be seen as the paradigm for other cautionary tales when looking at the fractured state of affairs in these United States of America.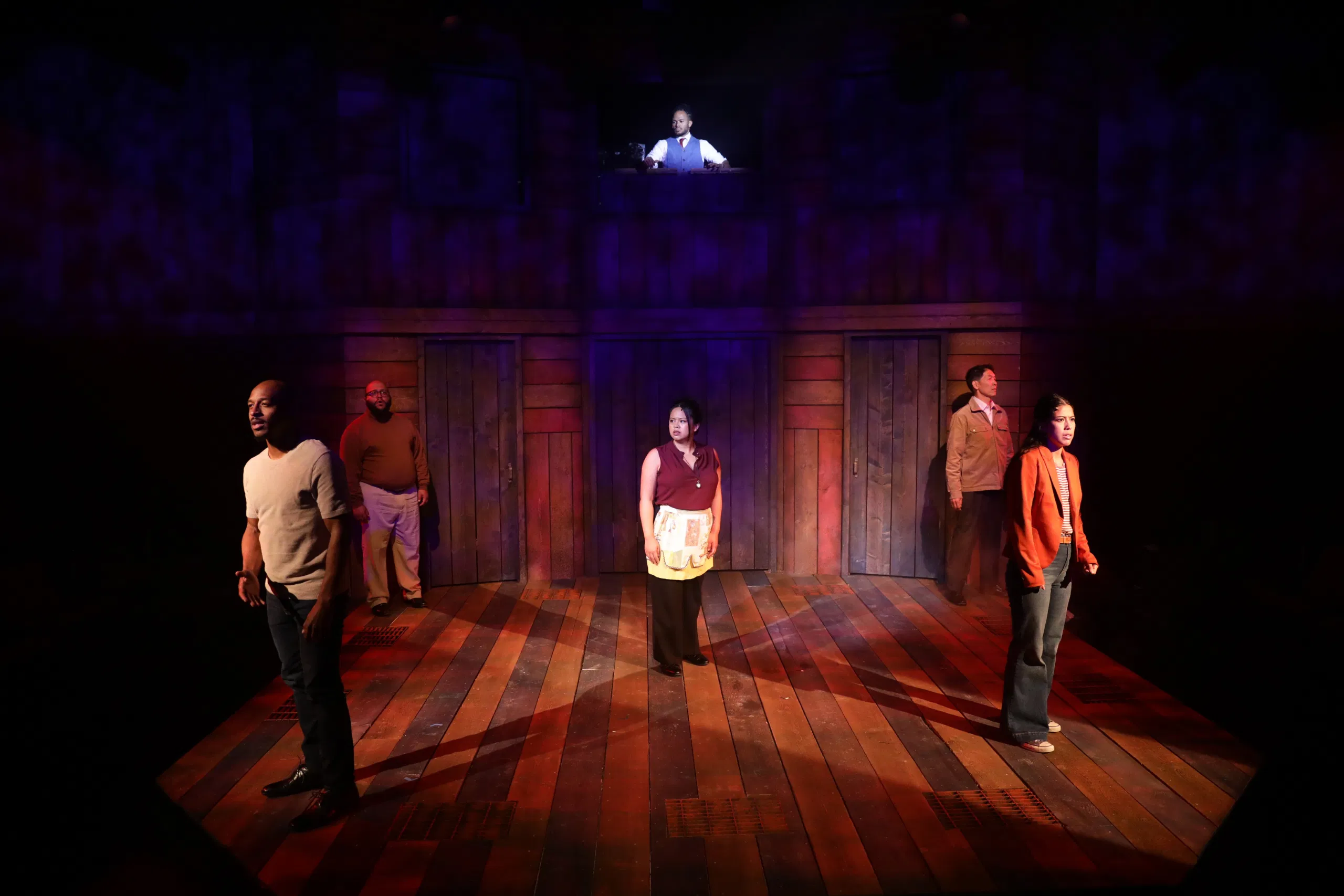 (Photo: Darren Paul, Arthur Gomez, Kristian Espiritu, Jackson Jirard, Jeffrey Song and Kayla Shimizu from the Stephen Sondheim musical, "ASSASSINS" with book by John Weidman, playing at the Lyric Stage in Boston, MA. until October 15, 2023. Photo Credit Mark S. Howard)
Is there one, single shared factor, ANY commonality, to be found anywhere between these killers?
In any of the many conversations after the show, there will be those who might state, emphatically, "I don't give a damn. We should not have musicals celebrating batsh*t crazed killers."
Perhaps they are right - but, with a world so ideologically fractured, so deeply divided in debates over gun violence and the Second Amendment, we need new ways that explore the things that drive people to do the evil they do.
"ASSASSINS" does just that and, in director Courtney O'Connor's captivating staging, it does so in a splendid musical fashion that explores and lifts from more "folk-based," Americana material within the overall Sondheim score.
There is also a lovely moment, during an insane diatribe by Nixon wannabe murderer Samuel Byck (well delivered by Phil Tayler) in which Byck briefly recalls "West Side Story."
Taylor as Byck also delivers many of the show's biggest laughs thanks to his performance.
The massive contribution by the supporting Ensemble (Darren Paul, Arthur Gomez, Kristian Espiritu, Jackson Jirard, Jeffrey Song and Kayla Shimizu) cannot be overstated as each portrays a variety of characters important to the various stories told.
Musically, the entire cast and live orchestra, all under the direction of Dan Rodriguez, is flawless.
Whether we choose to accept it (or not), whether we choose to WANT to acknowledge it (or not), in this musical's vivid storytelling, ultimately, we cannot dismiss those things that drove these "batsh*t crazed killers" to their collective pivotal destructive decision.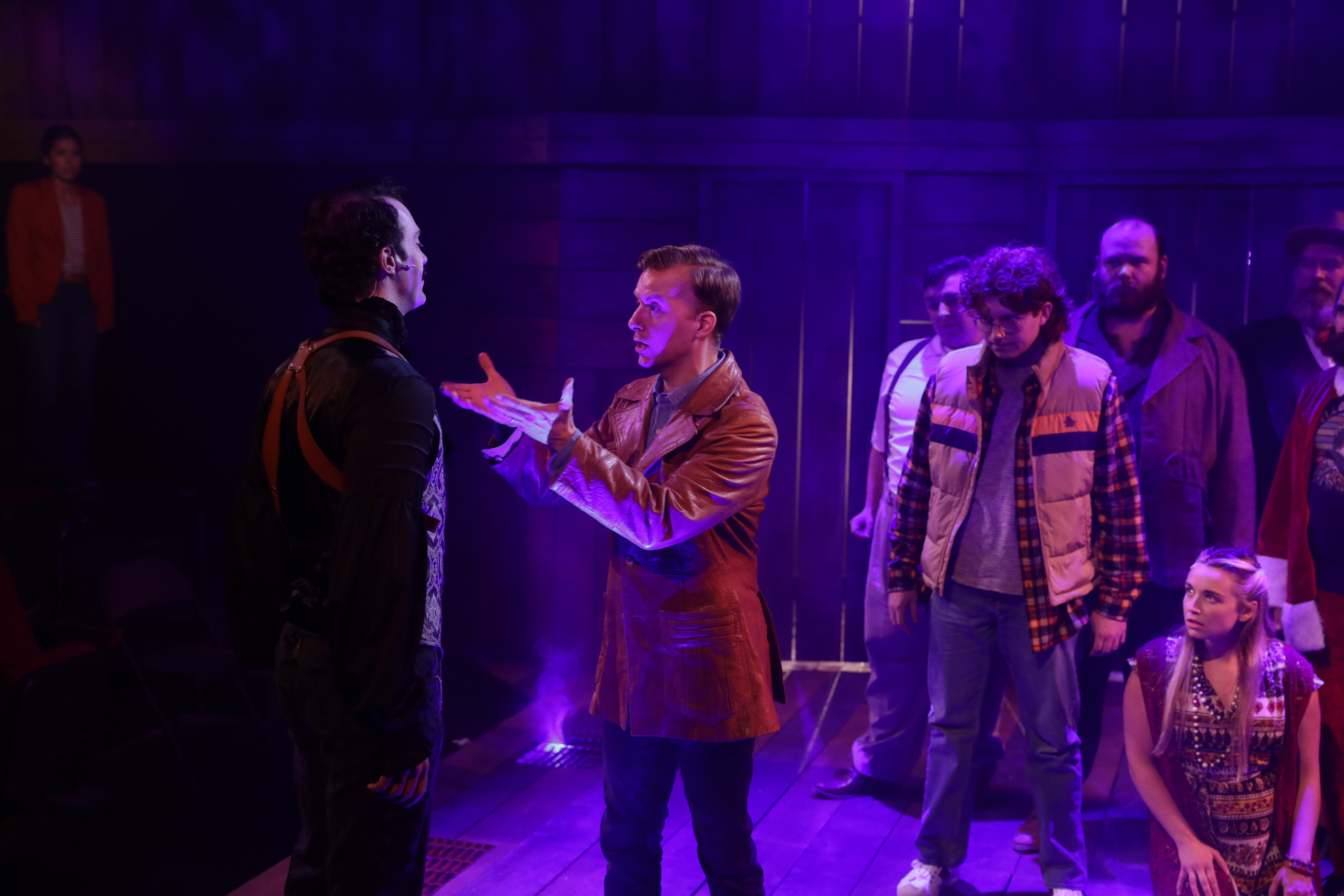 (Photo: Robert St. Laurence as "John Wilkes Booth," Dan Prior as "The Balladeer" and the CAST of the Stephen Sondheim musical, "ASSASSINS" with book by John Weidman, playing at the Lyric Stage in Boston, MA. until October 15, 2023. Photo Credit Mark S. Howard)
The set design perfectly symbolizes the show's bleakness set against a patriotic backdrop.
There is a permeating visual element of "darkness vs. light" in the staging by Lyric's director Courtney O'Connor.
Dan Prior's distinguished performance as the Balladeer, at the beginning, epitomizes the majority who believe in an ideal society where anyone can become a success in America. He is the light on stage cast pitted against an eerie darkness. Prior also performs double duty playing guitar and banjo on stage.
This juxtaposes nicely with Jackson Jirard's intentionally dark and unsettling performance as the Proprietor who, instead, caters to these fateful few who each seek some kind of "radical change" in America…or in their lives, presumably "guided" by Robert St. Laurence as the even more sinister spirit of Booth.
Which of the these options - darkness vs. light, optimism vs. pessimism, duty vs. treachery, or apathy vs. obsession - ultimately wins out, becoming the strongest motivator for each of the "ASSASSINS?"
By the time the house lights come back up, questions remain as disillusionment reigns supreme and we are left with a multitude of questions...and conversations.
"ASSASSINS" continues at the Lyric Stage in Boston until October 15th.
Approximately one hour, 40 minutes with no intermission
Kevin T. Baldwin is a member of the American Theatre Critics Association (ATCA)
@MetrmagReviews
@Theatre_Critics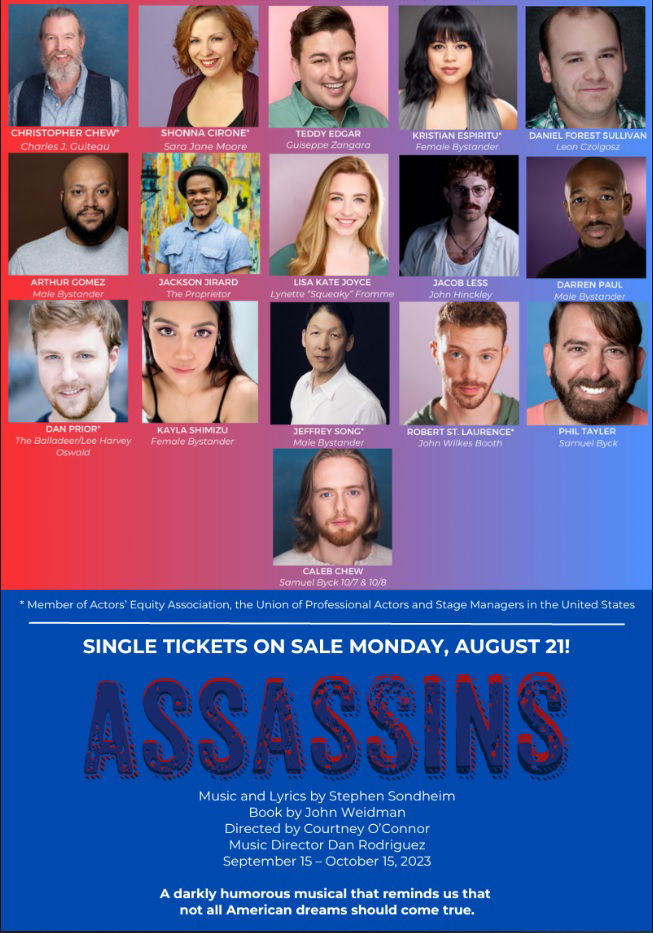 ABOUT THE SHOW
A darkly humorous musical that reminds us that not all American dreams should come true.
With the American dream out of reach, nine of the most notorious figures in our nation's history ignite a chain of monumental nightmares.
The white picket fence is set on fire in Stephen Sondheim and John Weidman's tragically funny and unnerving musical which peers inside the shattered minds of successful and attempted presidential assassins from John Wilkes Booth to John Hinckley, Jr.
This gallery of historical misfits jolts us into their blurry points of view with unapologetic humor, fiery anthems, carefree tunes, and unbridled energy that boldly blurs the lines between ambition and madness.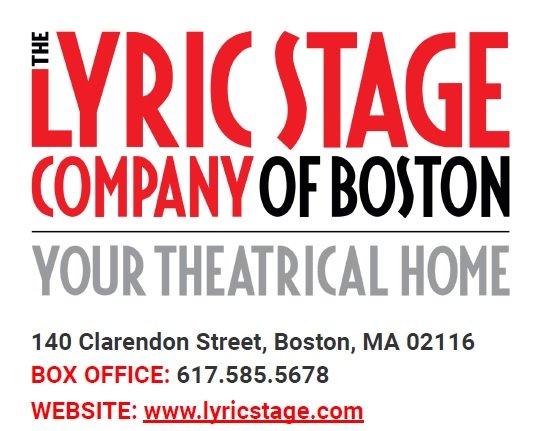 ABOUT THE LYRIC STAGE OF BOSTON
Founded in 1974 and in residence at 140 Clarendon Street since 1991, THE LYRIC STAGE OF BOSTON is Boston's oldest resident theatre company. Our mission is to produce and present live theatre in Greater Boston with an intimate approach that promotes inclusivity and connection. THE LYRIC STAGE leads an effort to integrate live theater and theater education into the lives of all residents of greater Boston.
140 Clarendon Street
Boston, MA. 02116
BOX OFFICE: 617-585-5678
WEBSITE: www.lyricstage.com