(Cover Photo: The CAST of William Shakespeare's "AS YOU LIKE IT" presented by Actor's Shakespeare Project in Medford, MA. now playing through June 25, 2023. Photo Credit Nile Scott Studios)


By Kevin T. Baldwin
METRMAG Reviewer
# 774-242-6724

"The fool doth think he is wise, but the wise man knows himself to be a fool."
- ("Touchstone") William Shakespeare

Actors' Shakespeare Project
In Partnership with Theater Offensive
Presents "AS YOU LIKE IT"
Written By William Shakespeare
Directed by Harold Steward
Associated Directed by Brooke Hardman
Cast Includes: Fady Demian* – Corin/Adam/Lord; Lindsay Eagle – Phoebe/Charles; Gabriel Graetz* - Duke Senior/Duke Frederick; Jaime José Hernández – Oliver; Doug Lockwood* - Touchstone; Nathan Malin - Silvius/Lord; Adrian Peguero* - Amiens/Hymen/Lord; Gavin Rasmussen – Audrey; Genevieve Simon* - Rosalind; Bobbie Steinbach* - Jaques; Regine Vital – Celia; Mishka Yarovoy* - Orlando
Additional Creative Team:
Andrew Rohn - Composer; Pat-rice Rooney* - Production Stage Manager; Jake Mariño * - Assistant Stage Manager; Ben Lieberson - Technical Direction and Scenic Design; Amanda E. Fallon - Lighting Design; Harold Steward - Costume and Sound Design; Saskia Martinez - Props Design; Mackenzie Adamick - Associate Sound Design; Matt Breton - Production Electrician; Kristin Leahey - Dramaturg; Olivia Dumaine - Intimacy Director; Margaret Clark - Fight Director; Yo-El Cassell - Movement Consultant.
* MEMBERS OF ACTORS' EQUITY ASSOCIATION, THE UNION OF PROFESSIONAL ACTORS AND STAGE MANAGERS IN THE UNITED STATES
Performances:
June 5, 2023 through June 25, 2023
(Contact Box Office for Exact Times)
In Partnership with The Theater Offensive
Tufts University's Balch Arena Theater
Tickets:
Phone # 617-241-2200
COVID-19 PROTOCOLS
Please consult directly with venue for latest COVID-19 and any other health and safety protocols.
"AS YOU LIKE IT" is one of the more familiar of comedies written by William Shakespeare. It has been speculated that it may have first been performed in the year 1603.
This latest staging by the Actors' Shakespeare Project (in partnership with Theater Offensive) is both inventive and engaging.
The play has been adapted many ways and in quite possibly every medium known.
One of the most famous movie versions of the play was produced in 1936 and starred the late Laurence Olivier.
The play is most recognized for its iconic speech in the play that begins, "All the world's a stage" but there is so much involved that audiences should definitely give "AS YOU LIKE IT" another look.
While the Actor's Shakespeare Project staging by director Harold Steward has minimal sets, the use of what sets there are is amazing - and there is a fully maximized use of space that is nothing short of skillful.
It has been estimated, by scholars, that the play was most likely written between the years 1599 and 1600 and first published in 1623 in the "First Folio" (a collection of all known Shakespeare plays).
Shakespeare wrote "AS YOU LIKE IT" inspired by the story "Rosalynde, OR Euphues' Golden Legacy" written by Thomas Lodge.
As the play begins, "AS YOU LIKE IT" tells the story of a young woman named Rosalind (Genevieve Simon) who has been banished from her uncle's court.
Rosalind is head over heels in love with handsome Orlando (Mishka Yarovoy), youngest son of Sir Rowland de Bois and younger brother to the sole inheritor of the de Bois estate, Oliver (Jaime José Hernández).
The daughter of rightful ruler, Duke Senior (Gabriel Graetz), Rosalind is as kind as she is stubborn and independent minded. She is also smart and altruistic.
Duke Senior was ousted and banished by his brother, Frederick (also played by Graetz) to the Forest of Arden with a number of loyal men, including Lord Amiens (Adrian Peguero) and faithful lord, Jaques (Bobbie Steinbach).
The beautiful "Arden Forest" that goes from floor to ceiling and an illuminated, squared off center stage design for where most of the action takes place is a true work of art.
The atmosphere of the entire Balch Arena Theater space is filled with a mist and light that definitely puts the audience in the right mood for such an eloquent presentation. The lighting and sound creatives have done a marvelous job in setting the overall tone for the play.
Her uncle does not like Rosalind because she is kind, stubborn, independent minded, smart and altruistic.
Yet, "still she persists," which does not sit well with her uncle who, in the opening moments of the play, turns his back on Rosalind.
This confrontation sets up the series of events that follow in this entertaining comedy.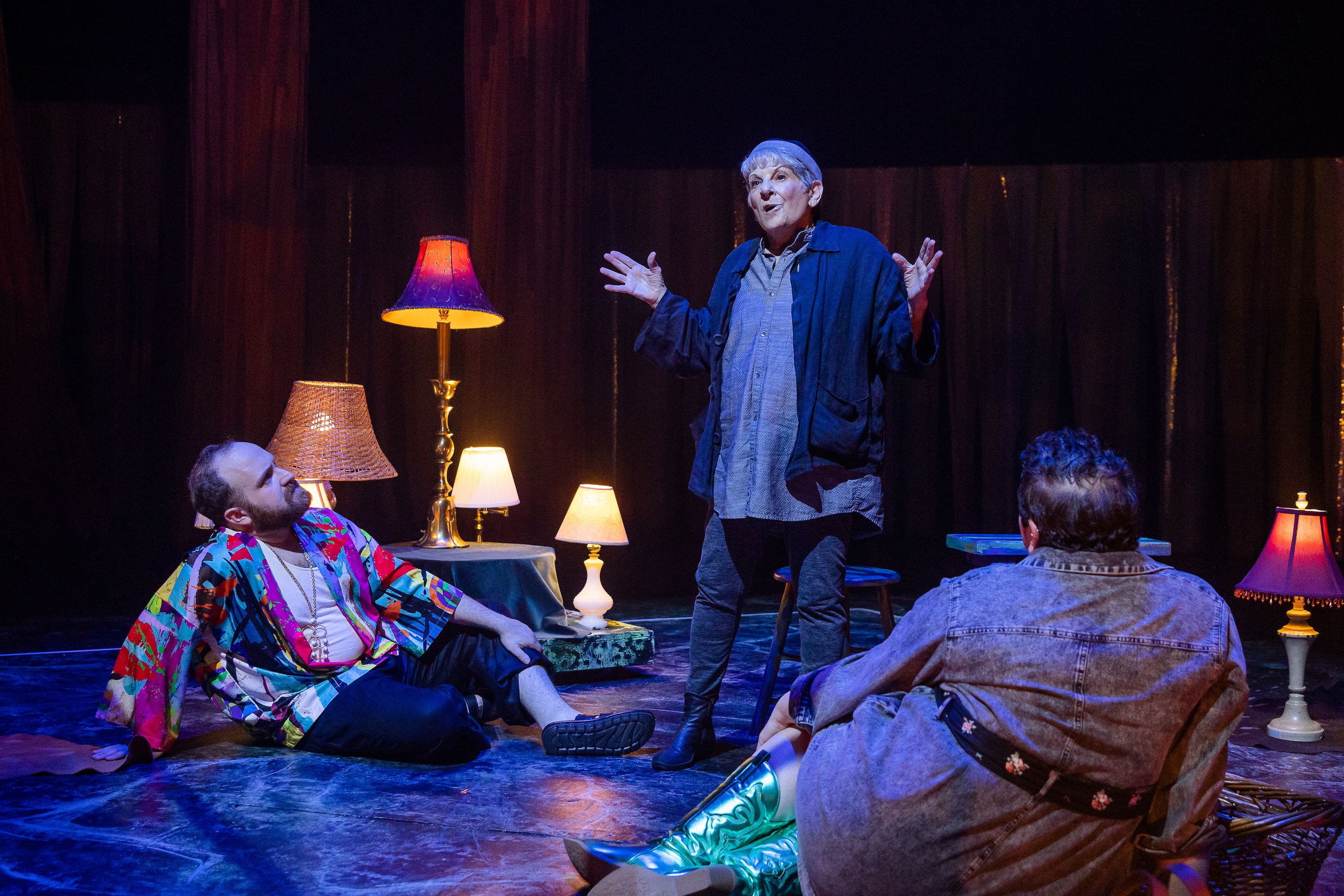 (Photo: "All The World's a Stage" - Gabriel Graetz, Bobbie Steinbach, and Lindsay Eagle in a scene from William Shakespeare's "AS YOU LIKE IT" presented by Actor's Shakespeare Project in Medford, MA. now playing through June 25, 2023. Photo Credit Nile Scott Studios)
Rosalind disguises herself as a dashing male alter ego, "Ganymede" and, with her loyal friend and cousin Celia (Regine Vital) by her side, makes her way to the Forest of Arden, where she encounters Orlando.
Thinking Rosalind a man, Orlando accepts Ganymede's offer to be his tutor in the ways of love.
Other encounters soon follow as Rosalind's journey as Ganymede begins to take on a strange, new and wonderful life of its own.
As Ganymede, Rosalind becomes a teacher in the art of love and relationships - not only to Orlando but to others she encounters in the forest.
A reminder - this play was written over four centuries ago.
Shakespeare might not have had the foresight to understand how certain characters could later be interpreted in 2023, but this just adds to the joy of this latest explorative stage adaptation.
Because, not only do his words still resonate, as interpreted, they might have also been given a brave, bold new perspective.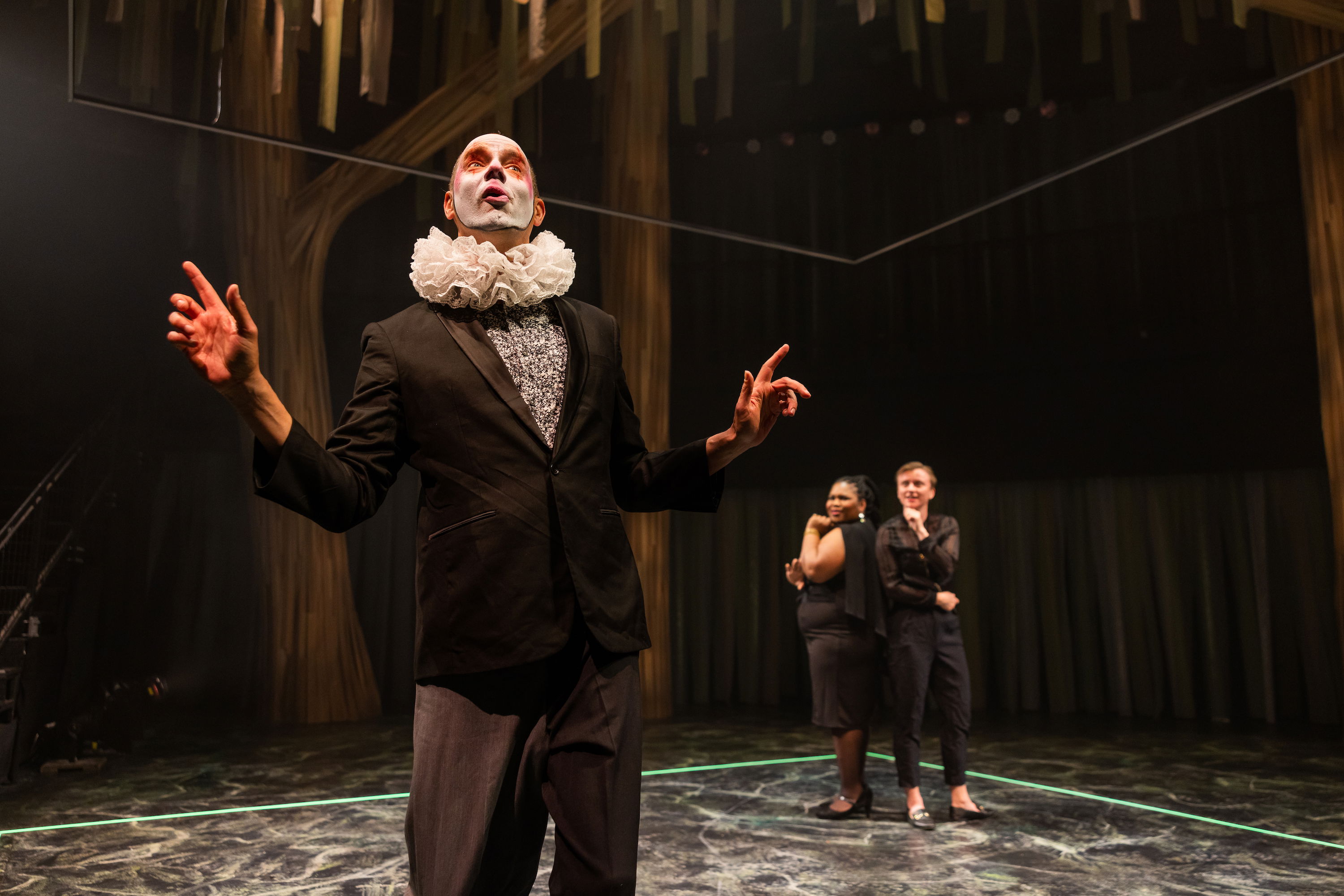 (Photo: "Touchstone Explains" - Doug Lockwood, Regine Vital and Genevieve Simon in a scene from William Shakespeare's "AS YOU LIKE IT" presented by Actor's Shakespeare Project in Medford, MA. now playing through June 25, 2023. Photo Credit Nile Scott Studios)
Simon's character odyssey and metamorphosis from the almost flighty and frivolous Rosalind to the more learned and "Alpha" Ganymede (and to ultimately find a personal "balance" between the two) is a well executed journey of self discovery which requires, and has obviously been given, a thorough re-examination of the Bard's text.
The above "re-examination" is also quite evident for most of the characters in the production, with Steward at the helm, who has obviously allowed, and encouraged, the actors to find themselves in Shakespeare's words.
The actors not only "represent" the characters but make the characters represent them, as well. Just how challenging...yet freeing...an experience this odyssey must have been for the cast, one can only imagine.
An area which supports the direction taken in this adaptation is in costumes, which were expertly assigned.
Some cast were clad in quite basic and drab colors, reflecting moods requiring a more somber tone - while other characters, requiring a far more elegant, flamboyant or (dare I say it) "prideful" tone were provided with more bright colors than one might find on a palette.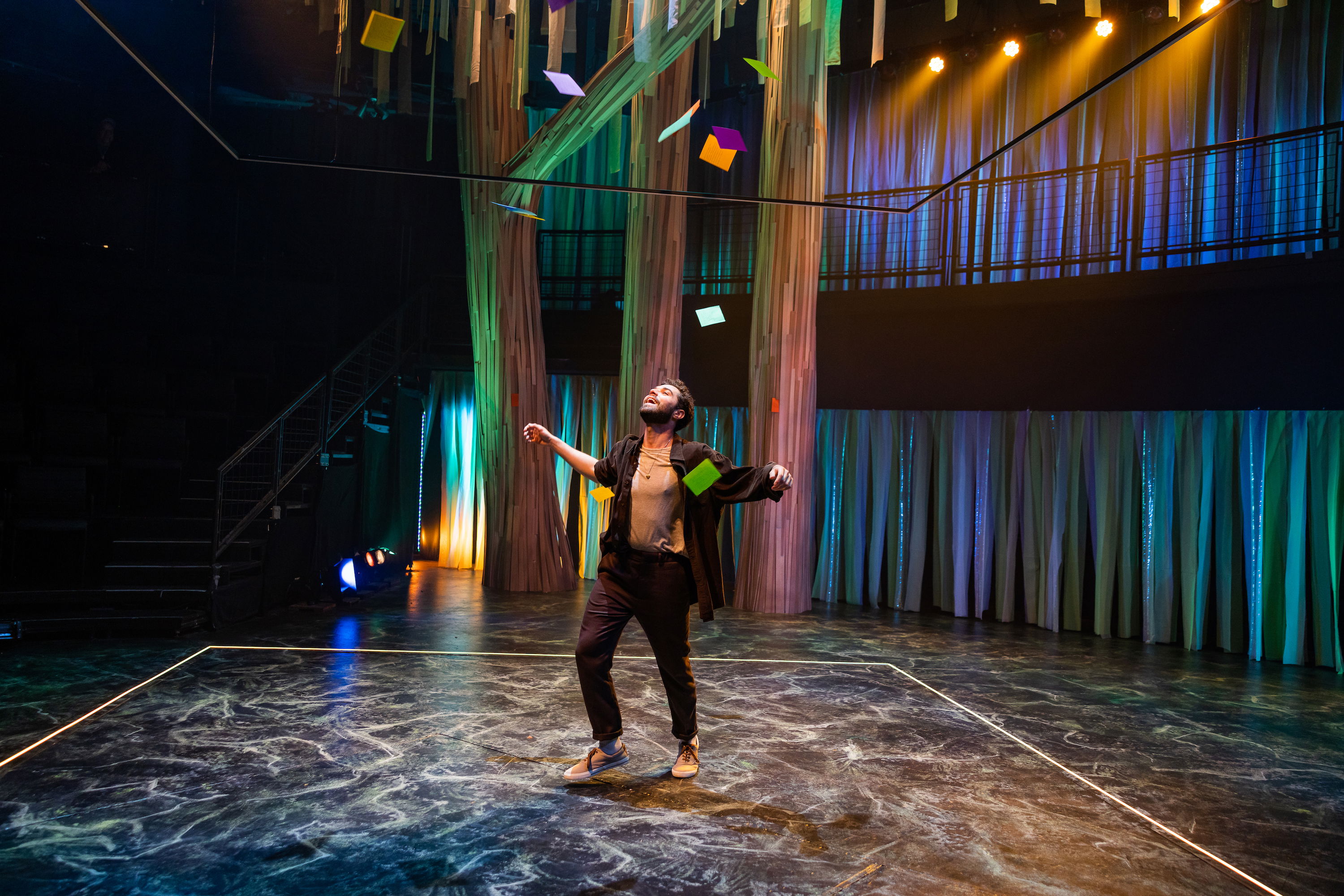 (Photo: Mishka Yarovoy as "Orlando" in William Shakespeare's "AS YOU LIKE IT" presented by Actor's Shakespeare Project in Medford, MA. now playing through June 25, 2023. Photo Credit Nile Scott Studios)
Tawdry and reactionary court jester Touchstone (Doug Lockwood) accompanies Rosalind and Celia to Arden.
Touchstone serves the Shakespeare text as the "fool," mocking the behavior of the primary characters in the story, but Lockwood brings much more of a supportive sagacity to the role..
However, Touchstone becomes even more the fool in his relationship to girlfriend Audrey (Gavin Rasmussen) who...for some reason...agrees to marry insult clown Touchstone.
After 400+ years, the character of Jaques, played with an acerbic and perceptive wit by Steinbach, is still one of Shakespeare's best and most layered, perfectly matched with giving the most famous speech in the play, beginning "All the world's a stage."
Crusty, capricious curmudgeon Jaques judges the actions of everyone in the story. This judgment might easily reflect the thoughts of those in the audience watching the comedy unfold.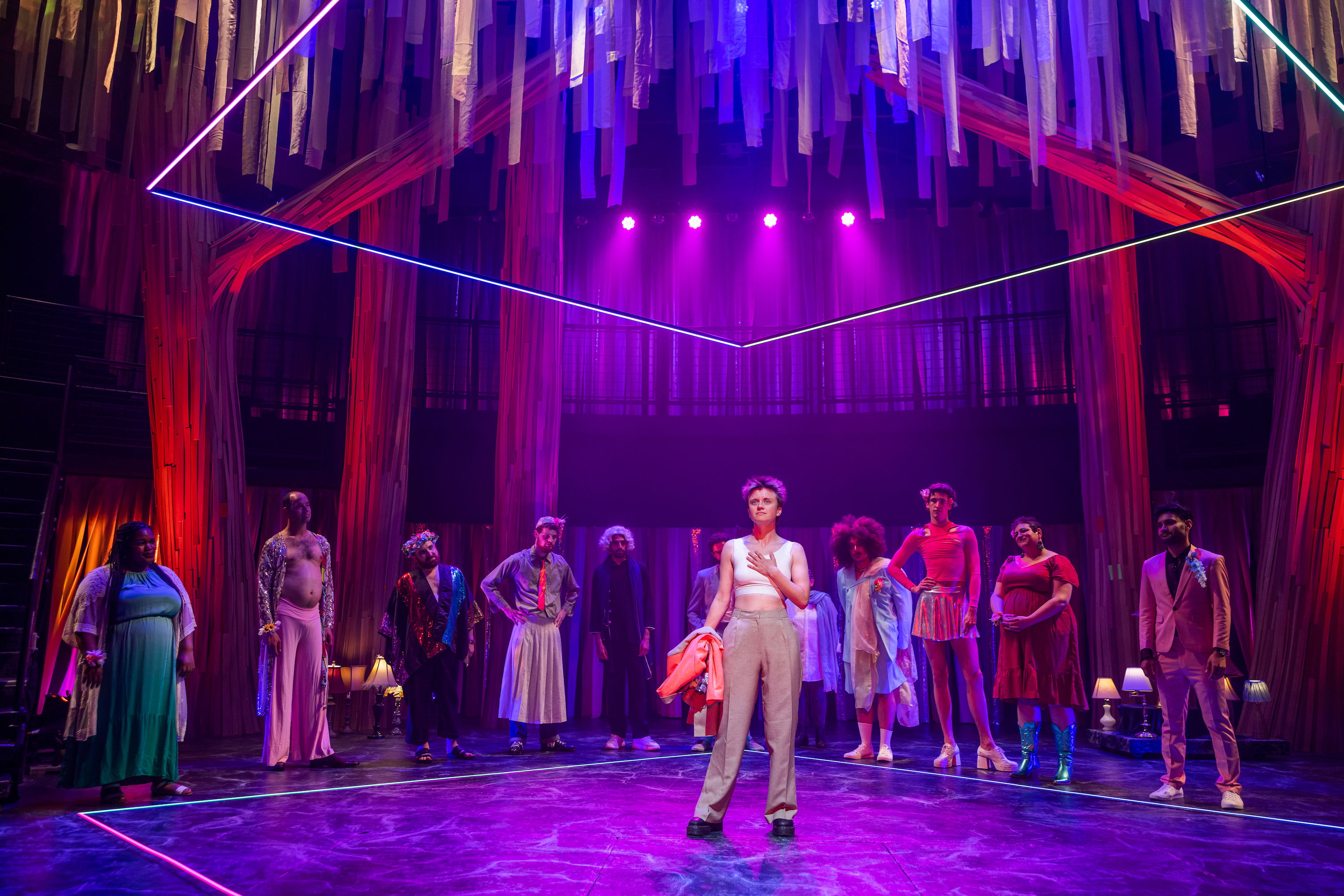 (Photo: Genevieve Simon and the CAST of William Shakespeare's "AS YOU LIKE IT" presented by Actor's Shakespeare Project in Medford, MA. now playing through June 25, 2023. Photo Credit Nile Scott Studios)
Just like with Jaques, while the judgment is there, it is not always correct and that is a wonderful new consideration when re-examining the text of "AS YOU LIKE IT" for a new world that the Bard couldn't possibly have dreamt of in his philosophy.
As the director wisely points out in the show's program,"...the pursuit of love and the impulse to care supersede all forms of opposition and dissent."
If this world is currently experiencing a new "Shakespeare Renaissance," - as some have speculated (and I concur) - whereby those who never saw themselves "represented" in Shakespeare's words can now see themselves reflected, then Massachusetts is surely leading the way in this rebirth thanks to the efforts of companies such as Actor's Shakespeare Project.
For this, the cast and creative team involved in "AS YOU LIKE IT" can certainly take great pride (to paraphrase the Bard) in "boldness being their friend."
Be sure to see "AS YOU LIKE IT" which continues at the Tufts University's Balch Arena Theater in Medford until June 25th.
Approximately two hours, 30 minutes with one intermission.
Kevin T. Baldwin is a member of the American Theatre Critics Association (ATCA)
@MetrmagReviews
@Theatre_Critics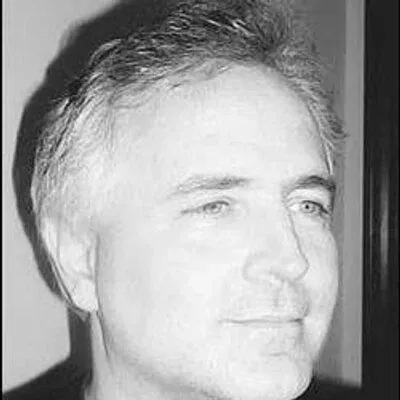 ABOUT THE SHOW
ACTORS' SHAKESPEARE PROJECT is proud to close out our 2022-23 Season with one of Shakespeare's most timeless comedies.
At a time when state legislatures across the US ban drag performances and police LGBTQ+ bodies, "AS YOU LIKE IT" leans into its famed crossdressing mayhem and gender euphoria, celebrating the inherent queerness of mythical Arden.
Join some of the Bard's most beloved characters — Jacques, Touchstone, Silvius, Phoebe, and many more — at Tufts' Balch Arena Theater for a show filled with laughter, music, romance, and plenty of Shakespearean hijinks.
Follow Rosalind's pursuit of Orlando through the forest disguised as a shepherd boy, as the pair discovers themselves, and the true meaning of love (is love is love is love).
With the precise vision of Director Harold Steward and in partnership with The Theatre Offensive, ASP's "AS YOU LIKE IT" seeks to illuminate the common ground between "All the world's a stage" and "We're all born naked and the rest is drag."
Please be aware that this production is intended for mature audiences and has depictions and language of: gender identity, and misogyny and physical violence.
Appropriate for ages 10 and over.

ABOUT THE ACTORS' SHAKESPEARE PROJECT
ACTORS' SHAKESPEARE PROJECT, founded in 2004, is an award­-winning professional theater company with a Resident Acting Company and extensive education, youth, and community programs. ASP performs and works in found spaces, schools, theaters and neighborhoods to present and explore the robust language, resonant stories, and deeply human characters in Shakespeare's plays and in works by other great playwrights. Our work is ensemble-­based and focused on intimacy, storytelling, language, relationships, voice, risk and artistry within and throughout the Boston area.
MISSON
ACTORS' SHAKESPEARE PROJECT believes Shakespeare's words are urgently relevant to our times. Working as an ensemble of resident company members, we bring these words into the voices, bodies, and imaginations of our actors, audiences, and neighborhoods. We do this through creative projects, including intimate productions and outreach programs that are informed by the spaces in which they happen. These projects inspire civic dialogue, build relationships between people, strengthen communities, and reveal something about what it means to be human here and now.
ACTORS' SHAKESPEARE PROJECT
442 Bunker Hill Street
Charlestown, MA 02129
Phone # 617-241-2200