(Cover Photo: Cherry Zinger, Nancy Hilliard and Dexter Anderson in "ARSENIC AND OLD LACE" by Joseph Kesselring playing at the Theatre Group of Millis in Millis, MA. through October 22, 2022. Photo by Theatre Group of Millis)
By Kevin T. Baldwin
METRMAG Reviewer
# 774-242-6724
"Insanity runs in my family... it practically gallops."

Theatre Group of Millis
Presents
"ARSENIC AND OLD LACE"
Written by Joseph Kesselring
Directed by Marty BlackEagle
Cast Includes: Cherry Zinger, Greg Capalbo, Dexter Anderson, M.S. AtKisson, Robin Shaye, Nancy Hilliard, Angie Richter, Stephen Jean, Alan Cohen, Sebastian Johansson, George Smith, Dorothy Carmichael/Alan Cohen, Scott Humphries.
Additional Creative Team: Producer – Karen Motekaitis; Assistant Director – Greg Capalbo; Stage Manager – Barbara Horigan; Set Designer - Dave O'Gara; Set Construction - Joel White, Dave O'Gara, Barbara Horigan, Dexter Anderson, George Smith, Christine Booth, Mike Booth, M.S. AtKisson; Backstage Crew - Barbara Horigan; Costumes and Props - Christine Booth, Elise Molloy and Cast; Lighting - Dave Bush; Box Office and Refreshments - Karen Motekaitis, Alan Cohen; Program - Dave O'Gara; Social Media - Carolyn Hernandez.
Millis High School Auditorium, 245 Plain Street, Millis, MA 02054
Performances:
October 14, 15, 21 and 22, 2022 at 7:30pm
$15 adult advance tickets
$20 adults at door
$10 seniors/students, in advance or at door
For further information and ticket purchase, go to www.millistheatre.org
The Theatre Group of Millis presents a faithful staging of "ARSENIC AND OLD LACE" now through October 22.
The three-act, farcical black comedy by Joseph Kesselring has withstood the test of time even though its many outdated references and portrayals might now appear insensitive by today's standards.
The play debuted on Broadway in 1941 and became a huge success but most are more familiar with the 1944 Frank Capra film adaptation with Cary Grant.
Set entirely in the Brewster family home, the story centers on aging spinsters the Brewster Sisters, Abby (Cherry Zinger) and Martha (Nancy Hilliard).
The ladies live together with their nephew, Teddy (Dexter Anderson), who thinks he is President Theodore Roosevelt.
Anderson gives a sweet and steady performance as the sweet but unsteady Teddy.
As the play begins, Abby and Martha are speaking with the Reverend Dr. Harper (Greg Capalbo), whose daughter, Elaine (Angie Richter), is dating their other Brewster Sisters' nephew, Mortimer (Stephen Jean).
Neighbors complain to the police who arrive to remind the ladies to curtail Teddy's bugle trumpeting at all hours.
They also try to convince the aunts that perhaps it is time to finally commit Teddy to the local sanitarium. They do this while simultaneously accepting the ladies' donated toys (Teddy's toys) for a local toy drive.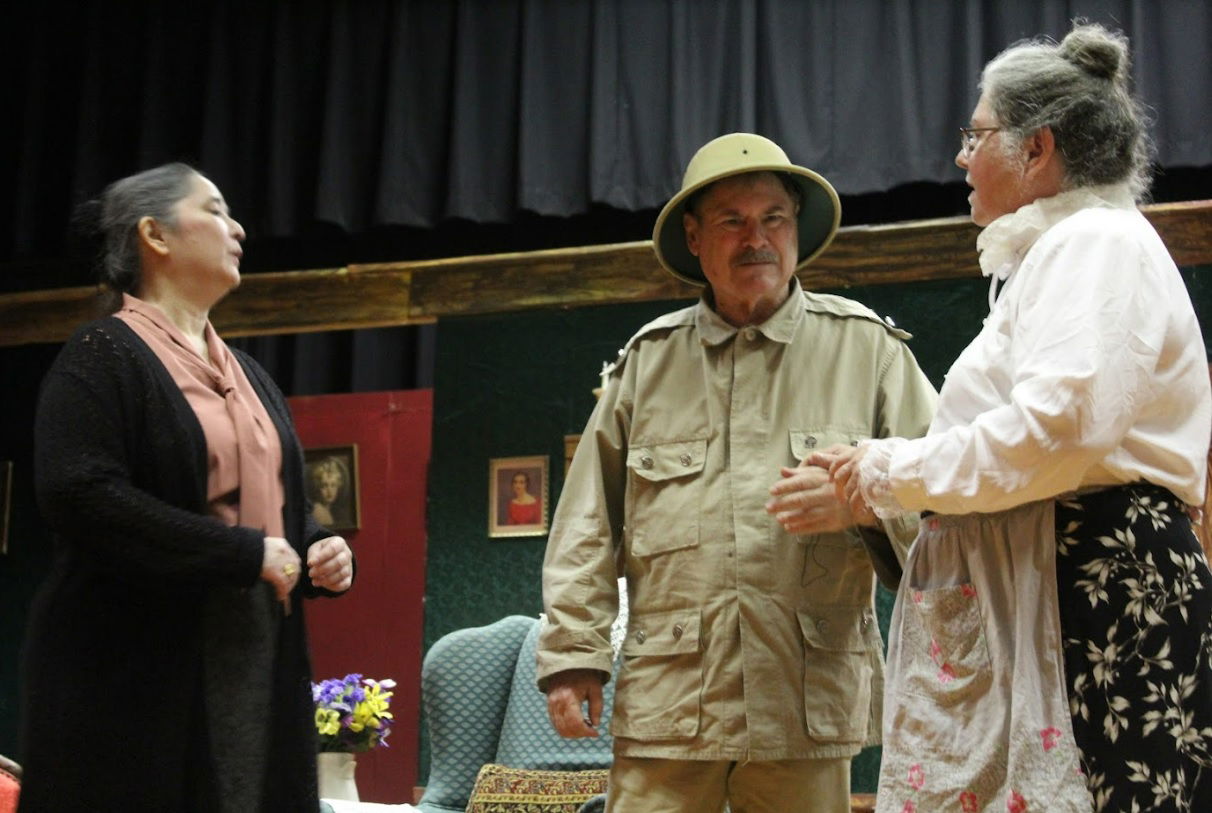 (Photo: Cherry Zinger, Nancy Hilliard and Dexter Anderson in "ARSENIC AND OLD LACE" by Joseph Kesselring playing at the Theatre Group of Millis in Millis, MA. through October 22, 2022. Photo by Theatre Group of Millis)
Into the Brewster house comes Mortimer, a theater critic, who is taking Elaine out to a play he is assigned to review.
As they prepare to leave, Mortimer and Elaine announce to the aunts that they have just become engaged. The aunts are absolutely delighted.
Before Mortimer leaves, he is searching for something and opens up a hutch by a living room bay window to discover the corpse of an older gentleman.
Stunned, Mortimer suspects Teddy has become homicidal and tries to secretly alert Abby and Martha.
Stunned once again (and this continues to happen a lot to Mortimer throughout the play) his aunts confess to the murder. In fact, they confess to multiple murders (12, to be exact).
The ladies do not see themselves as murderers. Instead, they see their unusual hobby as an act of mercy, relieving these elderly men of their sad and lonely lives.
There is fine chemistry between Zinger and Hilliard as the eccentric mercy-killing aunts, politely dismissing anything they have done as anything but an act of compassion.
Not wanting to see Abby and Martha imprisoned for their obvious crimes, Mortimer tries to figure out a way he can push the blame onto Teddy while simultaneously saving the reputation of his beloved, benevolent and multiple-murdering aunts.
So, he hatches a preposterous and cruel plan to have Teddy committed immediately.
Complicating matters for Mortimer is his fugitive brother, Jonathan (Sebastian Johansson), who pushes his way into the Brewster home with his sinister co-hort, Dr. Einstein (George Smith), a plastic surgeon with a proclivity for surgical exploration…if the price is right.
A running gag in the show is that Jonathan resembles famed horror actor Boris Karloff while Einstein's mannerisms are virtually identical to those of actor Peter Lorre (who actually defineed the character by playing the doctor in the 1944 film with Cary Grant).
Mayhem ensues as Jonathan and the doctor have brought their own dead body into the home until they can figure out where and how to dispose of it.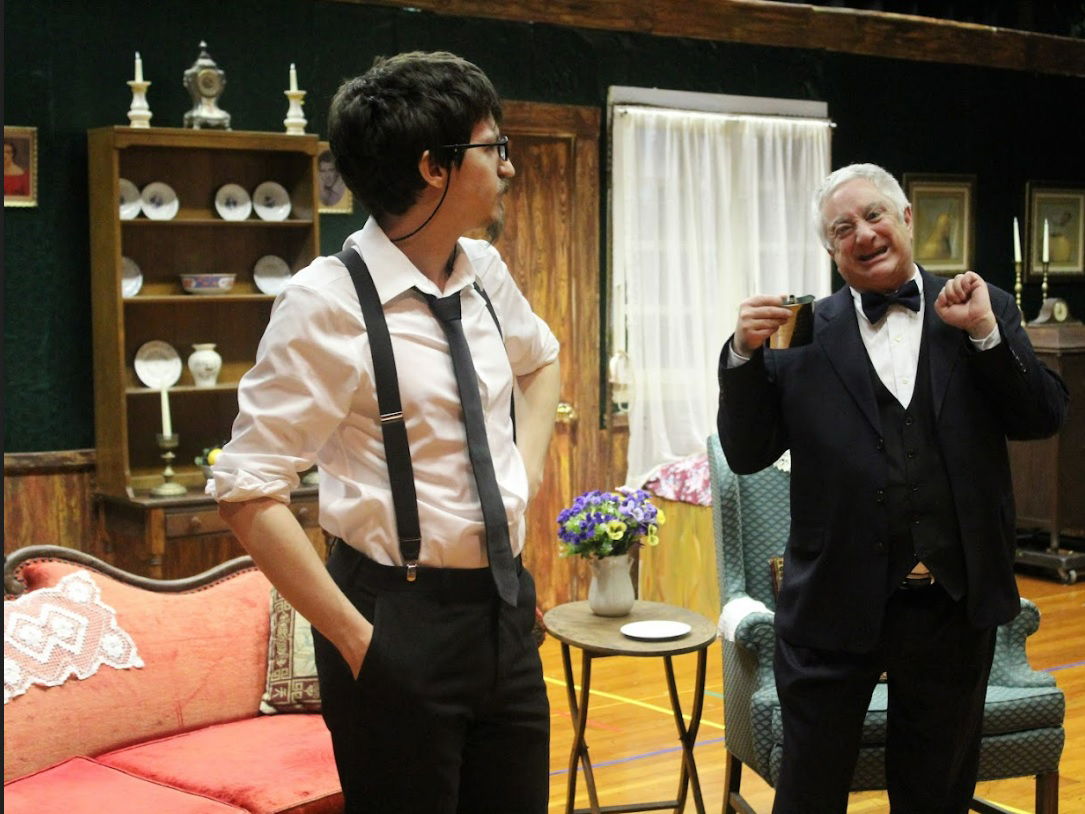 (Photo: Sebastian Johansson and George Smith in a scene from "ARSENIC AND OLD LACE" by Joseph Kesselring playing at the Theatre Group of Millis in Millis, MA. through October 22, 2022. Photo by Theatre Group of Millis)
Yes, there is much dated in Kesselring's script but there are still more than enough humorous moments in the play to still recommend it as long as people accept it as a reflection of a different era.
The single set is adorned with some beautiful set pieces perfectly in keeping with the fine, Brewster home. Lighting and sound cues were accurately timed.
It is noted in the program that one actor is on script for their performance. While noted, it should also be pointed out that the actor (Alan Cohen) delivered a competent, steady performance under difficult and occasionally awkward circumstances.
What appeared to be a curious casting choice by director Marty BlackEagle involved Jean as Mortimer and Johansson as Jonathan.
At first, it might appear that they would have been better suited for each other's part, especially taking into account an apparent age disparity between Mortimer and Elaine.
However, Johansson soon proved that he was the right man for the part of Jonathan, easily delivering the strongest performance of the night.
Tickets are available online: $15 adult advance tickets, $20 adults at door, $10 seniors/students, in advance or at door. For further information and ticket purchase, go to www.millistheatre.org
Approximately 2 hours and 30 minutes, including one intermission.
Kevin T. Baldwin is a member of the American Theatre Critics Association (ATCA)
@MetrmagReviews
@Theatre_Critics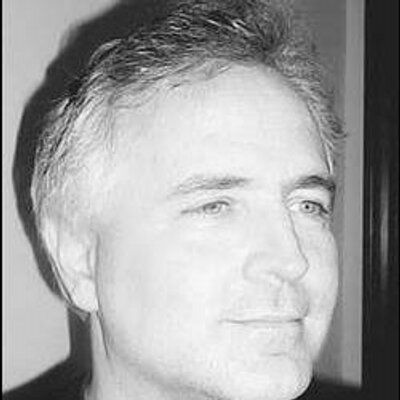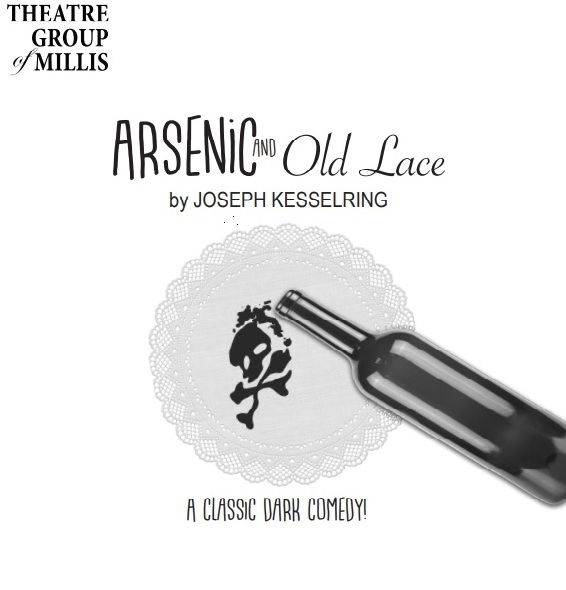 ABOUT THE SHOW
(STAGEAGENT) Mortimer Brewster is living a happy life: he has a steady job at a prominent New York newspaper, he's just become engaged, and he gets to visit his sweet spinster aunts to announce the engagement.
Mortimer always knew that his family had a bit of a mad gene -- his brother believes himself to be Teddy Roosevelt and his great-grandfather used to scalp Indians for pleasure -- but his world is turned upside down when he realizes that his dear aunts have been poisoning lonely old men for years!
When Mortimer's maniacal brother, Jonathan. (who strangely now resembles Boris Karloff) returns on the night that the aunts were planning to bury the newest victim, Mortimer must rally to help his aunts and protect his fiancé -- all while trying to keep his own sanity. as well.
An uproarious farce on plays involving murder, Arsenic and Old Lace has become a favorite amongst regional theatres throughout America.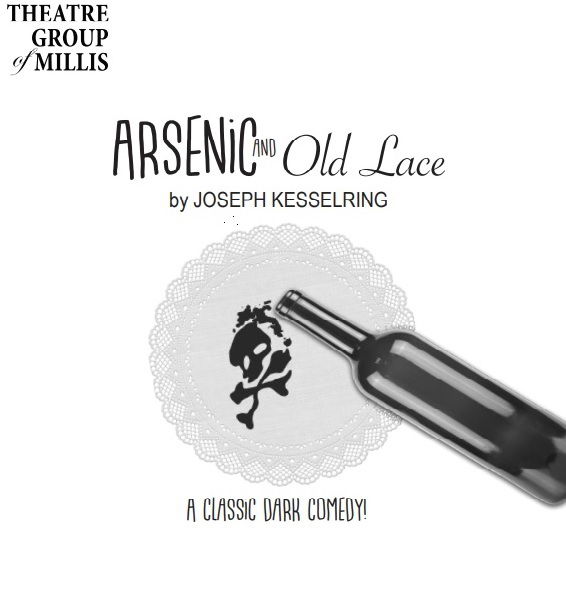 ABOUT THE THEATRE GROUP OF MILLIS
Since 1995, the Millis Theatre Group has become a non-profit community theater membership organization, which produces a fall and spring play each year. In 1992, the theater group formed a partnership with Millis Middle and High School, where the group volunteers production of an annual spring musical with the schools.