(Cover Photo: Bethany Johnson, David Allen Prescott and Debbie Moylan in "AN ACT OF GOD" from City on a Hill Arts in Fitchburg, MA. through January 28, 2023. Photo Credit Jennifer Knight)


By Kevin T. Baldwin
METRMAG Reviewer
# 774-242-6724

"I have grown weary of the Ten Commandments in exactly the same way Don McLean has grown weary of 'American Pie''"
- The "Lord Almighty" (through David Javerbaum)

City on a Hill Arts
Presents
"AN ACT OF GOD"
Written by David Javerbaum
Directed by Rick Woods
Cast Includes: David Allen Prescott, Bethany Johnson, Debbie Moylan
Additional Creative Team:
Stage Manager - Abby Brogan; Choreography - The Girls in the Vineyard; House Manager - Ned Cheeseman; Scenic Design, Costume Design, Set Dressing, Sound Design, Projection Design - David Allen Prescott; Lighting Design - Debbie Moylan; Hair, Make-Up and Props - The Cast; Audio Engineer - Barny Lanman; Photography - Jen Knight; Set Construction - Abby Brogan, Shane Brogan, Joe Carpenter, Wil Darcangelo, Bethany Johnson, Bob Johnson, Debbie Moylan, Hal Smith, Pam Sontag, Rick Woods and David Allen Prescott.
First Parish Church, 923 Main Street, Fitchburg, MA.
Cabaret Style (BYOB) - limited seating - reservations required
Performances:
January 20, 21, 27 & 28, 2023 at 7:30pm
JUST ADDED:
February 4, 2023 at 2:00pm and 7:30pm

TICKETS:
FREE ADMISSION - DONATIONS ACCEPTED

Ticket reservations required: please visit our ticket page to reserve yours today!
City on a Hill Arts presents a simple but heavenly show in the funny irreverent comedy "AN ACT OF GOD."
In the late 60s early 70s, there was a unique faith-based television anthology series known as "Insight" produced and presented every Sunday morning by the Paulist Fathers.
Many episodes had a "Twilight Zone"-ish vibe and featured many well-established actors (including Ed Asner, Martin Sheen, John Ritter, Ron Howard, Harold Gould, Patty Duke, Hector Elizondo, Jack Klugman, Bob Newhart and many, many more).
A number of the episodes were humorous and featured "God" as a major character, presented - not as a wraith-like or mythical visage - but more in recognizable human form and quite relatable.
"AN ACT OF GOD" continues that tradition in fine form.
As the title implies, "AN ACT OF GOD" is a single act show comprised of 90 minutes spent with the whimsical yet occasionally surly Almighty Lord God ("appearing in the form" of actor David Allen Prescott) who is ably assisted by angels Michael (Debbie Moylan) and Gabriel (Bethany Johnson).
Their goal is try and explain to the audience the backstories of the existing Ten Commandments and to announce God's intention to replace/update them (at least for the next 2000 years or so).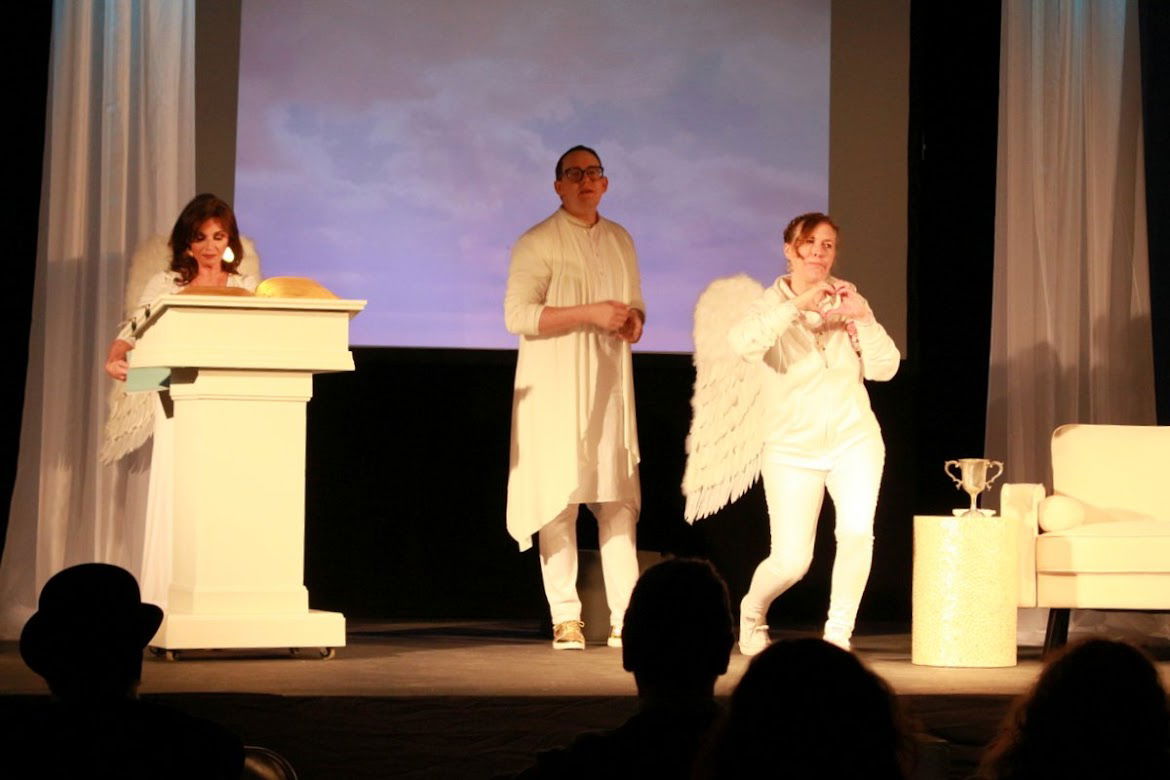 (Photo: Bethany Johnson, David Allen Prescott and Debbie Moylan in "AN ACT OF GOD" from City on a Hill Arts in Fitchburg, MA. through January 28, 2023. Photo Credit Jennifer Knight)
Prescott is an absolute delight as the "Almighty" and the 90 minutes (no intermission) simply flies by as "He" tries to explain, in relatable terms, the various concepts of Biblical "absolute truths" (sometimes used to help explain the concept of faith or beliefs like those found in the Bible, Torah or Quran).
Both Moylan and Johnson are excellent at establishing themselves as God's "corporate staff," one maintaining the agenda (Gabriel) while the other (Michael) confronts, making sure things that need to be discussed are brought to God's attention, regardless of the ramifications as a result of those confrontations.
There were some very minor gaffs and a little hesitation on some lines but, overall, the production flowed quite seamlessly.
God is considered "absolute" by many faiths believing the deity to be eternal, cause, activity and creator.
Michael "takes questions" from the audience then poses those "questions" to God.
The questions, as the show unfolds, continuously call attention to God's lack of historical consistency, especially when taking into account God's proclaimed (albeit conjectured) celestial omniscience , specifically in areas of empathy and fairness.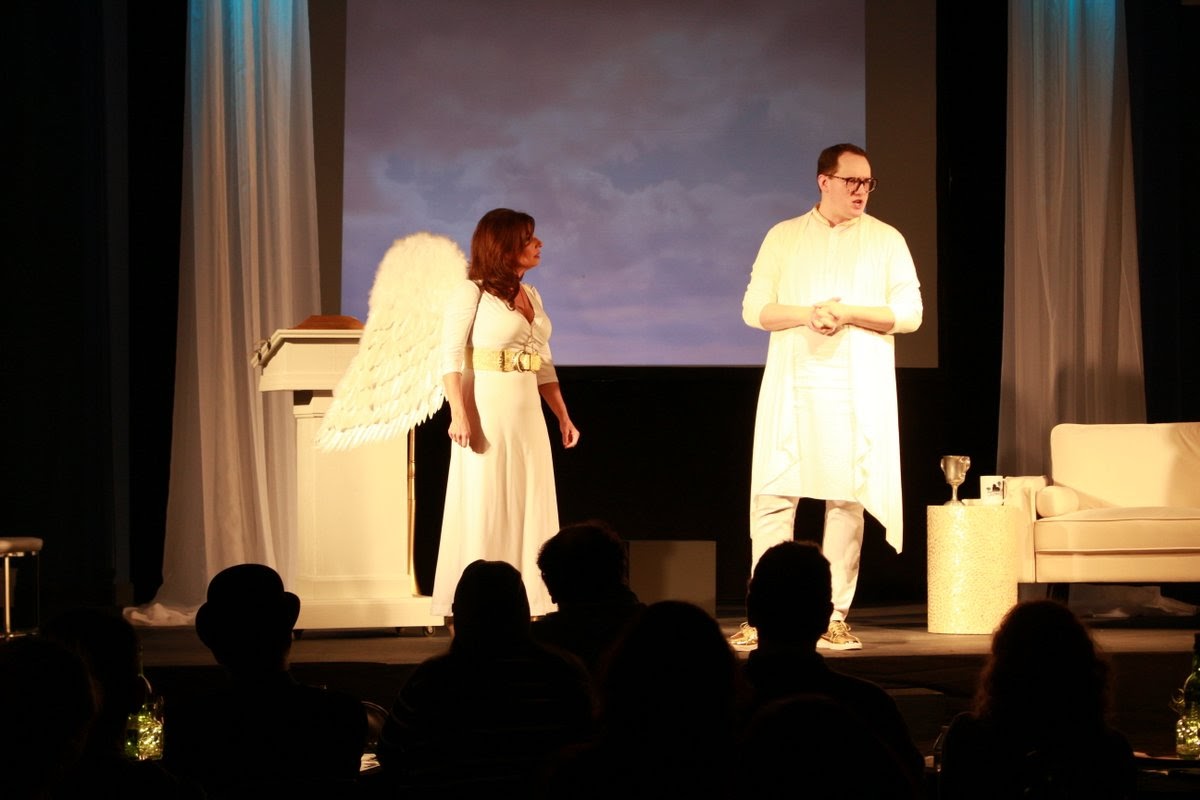 (Photo: Bethany Johnson and David Allen Prescott in "AN ACT OF GOD" from City on a Hill Arts in Fitchburg, MA. through January 28, 2023. Photo Credit Jennifer Knight)
However, in this comedy, written by David Javerbaum, who wrote for the "Daily Show with Jon Stewart," God explains that He is actually a bit more "relative" than some might believe - that He is also occasionally temporal instead of eternal, effect rather than cause and passive when one might expect Him to be active and creator.
Not only does this Javerbaum interpretation of God impact all, God is also impacted by all. The production opened on Broadway in 2015 starring Jim Parsons then in 2016 with Sean Hayes.
Directed by Rick Woods, the riotous satire provides no great revelations (pun not intended) and feels like an elongated comedy sketch.
It is simple comic fair and thank God for that (now that was intended) as the show has laughs coming non-stop and is simply great fun.
The set is quite nice in its "angelically adorned" simplicity with an effectively utilized video screen displaying images centered along the back wall.
We learn about God's "first try" at the Garden of Eden, learning that the FIRST humans were actually the same-sex couple "Adam and Steve."
When this attempt failed spectacularly, God decided to do a re-write of "Steve" to "Eve," which thus begat Cain and Abel…which also did not go quite according to God's plan.
By the time we get to the story of Noah and the biblical flood, we kind of get the sense from Javerbaum's witty text) that God's been kind of winging it for a while.
When Michael attempts to confront God's (more than occasional) questionable actions, inactions, moral ambiguity and/or out and out indifference, that is when God attempts to forcibly steer the conversation back to the Ten Commandments or at least to a direction that best suits God.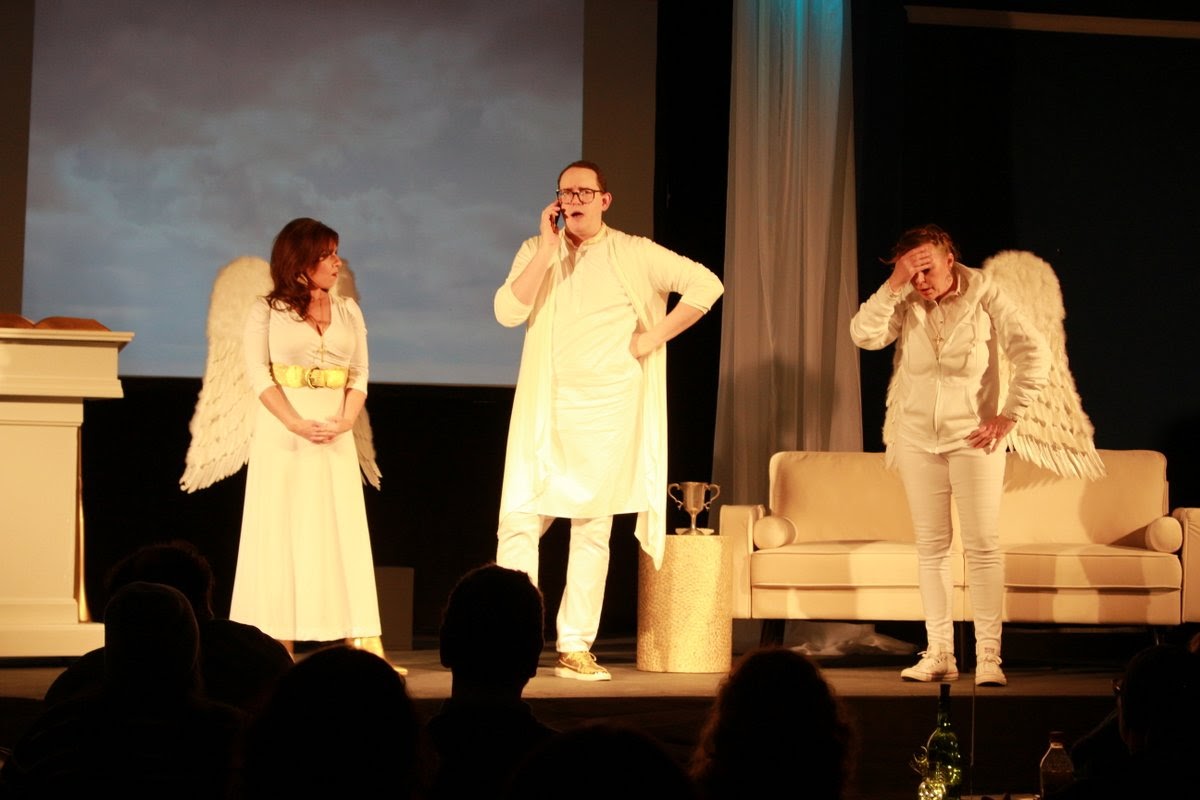 (Photo: Bethany Johnson, David Allen Prescott and Debbie Moylan in "AN ACT OF GOD" from City on a Hill Arts in Fitchburg, MA. through January 28, 2023. Photo Credit Jennifer Knight)
Whatever your religious inclination, be it devout, agnostic or full on atheist, this is an entertaining show which probably won't change anyone's perspective on any of the above.
However, it might actually inspire further discussion on these topics and more after you leave the theatre.
Any work that inspires such further conversations is always worthwhile time spent.
"AN ACT OF GOD" runs until January 28th and will definitely have audiences believing - if not in miracles, at least in the power of laughter.
Approximately 90 minutes with no intermission.
Kevin T. Baldwin is a member of the American Theatre Critics Association (ATCA)
@MetrmagReviews
@Theatre_Critics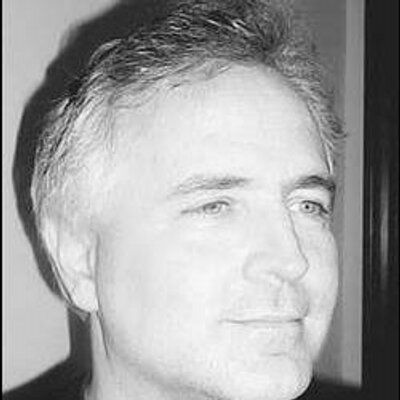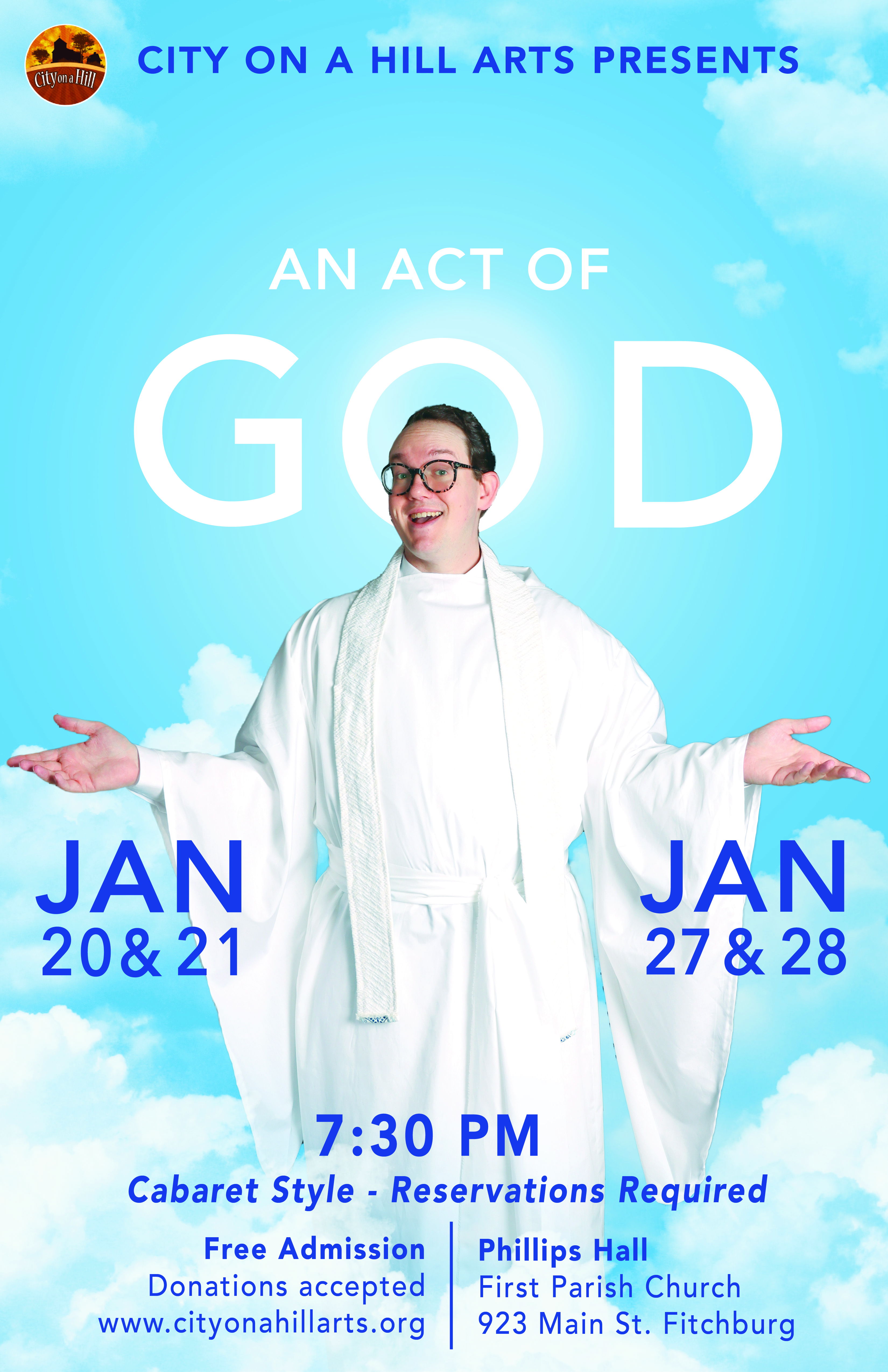 ABOUT THE SHOW
God is in the building - And He's setting the record straight.
Attend an audience with the Heavenly Father himself as he unravels some of the Bible's greatest mysteries and unveils his revised Commandments for a growing and evolving humankind.
This 90 minute conversation with the Almighty is a laugh-a-minute comedy brought to you by David Javerbaum, an acclaimed humorist and long-time writer for "The Daily Show with John Stewart."
This ain't your grandma's Jehovah!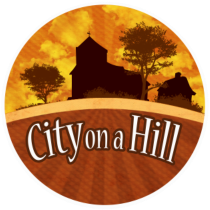 ABOUT CITY ON A HILL ARTS
City on a Hill (COH) is a community-focused, multidisciplinary ministry for the development and production of artistic expressions that foster consideration of and critical engagement with our culture, the arts and matters of faith. COH was established to promote the development of God-given talent, to engage culture through creative means, and to foster deeply spiritual responses, all the while bringing honor to God through artistic perspectives.
CITY ON A HILL (OFFICE)
70 Foster Road
Ashby, MA 01431
# 978-906-5081
director@cityonahillarts.org