(Cover Photo: The CAST of Arthur Miller's "ALL MY SONS" presented by Worcester County Light Opera Company in Worcester, MA. through October 22, 2023. Photo credit: @karaemilyphotography)




By Kevin T. Baldwin
METRMAG Reviewer
# 774-242-6724

"I know you're no worse than most men but I thought you were better. I never saw you as a man. I saw you as my father.

Presents Arthur Miller's
Written by Arthur Miller
Directed by Eric Butler
Cast Includes: Steve Knox as "Joe Keller," Robin Shropshire as "Kate Keller," Adam DeCoste as "Chris Keller," Lauren Casey as "Ann Deever," Liam Houlihan as "George Deever," Kaitlyn Ekstrom-Doig as "Sue Bayliss", Jeffrey Ford as "Jim Bayliss," Marie Kottenstette as "Lydia Lubey," Norman Dubois as "Frank Dubey," Lucas Claydon and Timothy Weir alternating as "Bert."
Additional Creative Team:
Producers - Chuck Grigaitis & Jo Ann Savage; Stage Manager - Maggie Lyerly; Set Designer - Ed Savage; Set Crew - Sally Bowditch, Michael Nosel & Arjun Yadav; Lighting Designer - Matt Wasser; Sound Designer - Vic Kruczynski; Costume Designer - Andrea Davulis; Hair and Make-up - Heather Hannon Rufo
Grandview Ave. Playhouse, 21 Grandview Avenue, Worcester, MA.
Performances:
October 13, 2023 through October 22, 2023
(Contact Box Office for Exact Times)
TICKETS:
508-753-4383 or visit admin@wcloc.org
As their 2023-2024 season commences, Worcester County Light Opera Company (WCLOC) presents a bold look at an American classic with Arthur Miller's timeless and powerful "ALL MY SONS."
At its core, "ALL MY SONS" conveys man's inexhaustible ability to lie to others, lie to themselves, to betray and guilt others into achieving their own sense of what is believed to be the "American Dream."
The three-act "ALL MY SONS" was written over three quarters of century ago (in 1946) by Miller, a titan among American playwrights, and, under the shrewd guidance of WCLOC director Eric Butler, the brilliant Miller tale still holds up as if it were written yesterday.
The WCLOC production comes with successfully executed and insightful performances, and much of that success is due to Miller's impeccable writing.
Not only are the actors given the opportunity to shine as they explore various revelations of their characters - they are also given many moments where listening is crucial to the revelations explored.
Based on a true story (reported between 1941–43) the play's events were inspired by Ohio's Wright Aeronautical Corporation which conspired with army inspection officers to approve defective aircraft engines destined for military use, culminating in a full investigation coordinated by then-Sen. Harry Truman.
To think there was a strong possibility we might never experience this iconic piece of theatre had Miller's previous Broadway effort "The Man Who Had All the Luck" not bombed so overwhelmingly on Broadway (closing after only four disastrous performances).
Miller wrote "ALL MY SONS" as a last ditch effort to make a commercially and critically successful play. If it had not happened, Miller asserted he would "find some other line of work."
Thankfully, he struck pay dirt as "ALL MY SONS" opened a year later on Broadway, in 1947, and ran for a respectable 328 performances.
Miller dedicated the original debut production to its director, the great but controversial Elia Kazan. but the relationship between these two giants would ultimately mirror some of the moralistic elements contained in the drama.
The play would go on to receive the New York Drama Critics' Circle Award and both Miller and Kazan would ultimately receive Tony Awards (respectively for Best Author and Best Direction of a Play).
The Broadway cast of "ALL MY SONS" included (the Sr.) Ed Begley, Beth Merrill, Arthur Kennedy and Karl Malden.
The play focuses on achieving the "American Dream" at all costs and, during the period of 1950s American history recalls as the "Red Scare," the story came across as so volatile, so threatening by some, that Miller himself was called to testify before the House Un-American Activities Committee.
Kazan and Miller both held liberal views but Kazan, also called to testify, gave names of actors suspected of being Communist sympathizers to the Committee which instantly threw prominent actors' names onto an infamous Hollywood "blacklist" - a list which effectively ended careers.
As part of his Hollywood legacy, much like the main character in Miller's "ALL MY SONS" forgiveness or absolution for Kazan's actions never came during his lifetime.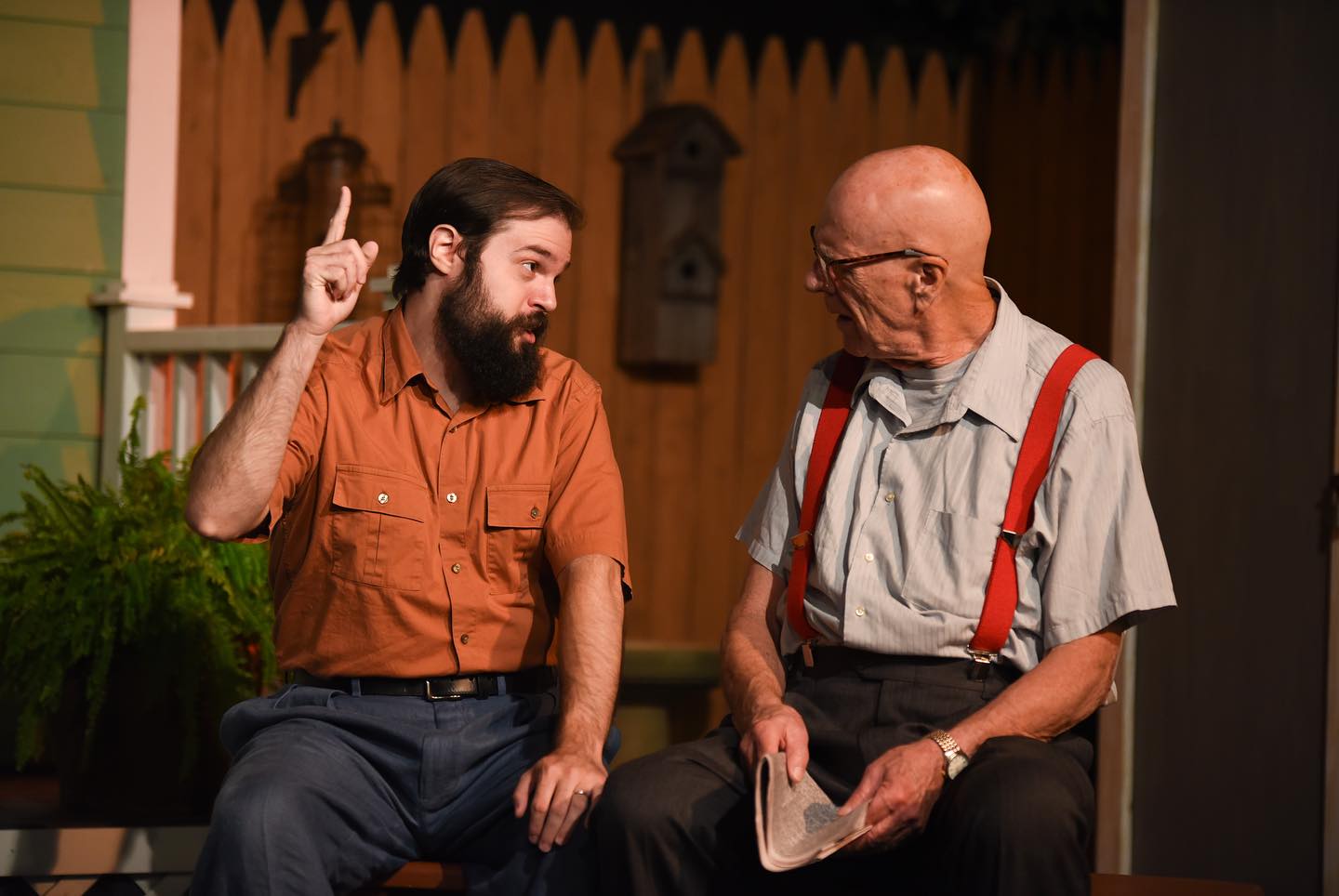 (Photo: Norman Dubois as "Frank" and Steve Knox as "Joe" in a scene from Arthur Miller's "ALL MY SONS" presented by Worcester County Light Opera Company in Worcester, MA. through October 22, 2023. Photo credit: @karaemilyphotography)

In "ALL MY SONS" a father and son, who share running a successful business together, come face to face with their ideological differences as the son is forced to take moral and legal responsibility for the actions of the father.
Events begin innocuously enough in a "Mayberry-esque" or Norman Rockwell style setting of a typical back yard of a home located in a suburban American neighborhood - yet ultimately the quaintness associated with the surrounding descends into utter chaos.
Miller pulls no punches in presenting his condemnation of (and a powerful moral tone for) the betrayal of one's own beliefs and values – to the point where it impacts an entire family (and the families of others), all due to one person's selfish pursuit of wealth, notoriety and material gain.
In this post-World War II world, Joe Keller (Steve Knox) finds himself both wealthy and 60-years-old.
Keller was absolved of criminal charges that he knowingly shipped defective aircraft engine parts for planes during the war, even though some still believe he actually committed the crime which resulted in the deaths of 21 pilots (yes, the rock band "Twenty One Pilots" took their name from the Miller story).
Today, we might see this scenario played out on any "Law and Order" franchise episode as "depraved indifference" whereby a person's actions result in death, even though that person may not have explicitly intended to kill.
However, Miller wrote the concept played out here in such a way that it has since become a defining moment in theatre and this WCLOC cast, led by Knox, plays out the scenario so well.
To achieve his legal absolution, blame was placed squarely on Keller's partner, the unseen character of "Steve Deever."
However, truth ultimately finds its way back to haunt Keller and it impacts his whole family.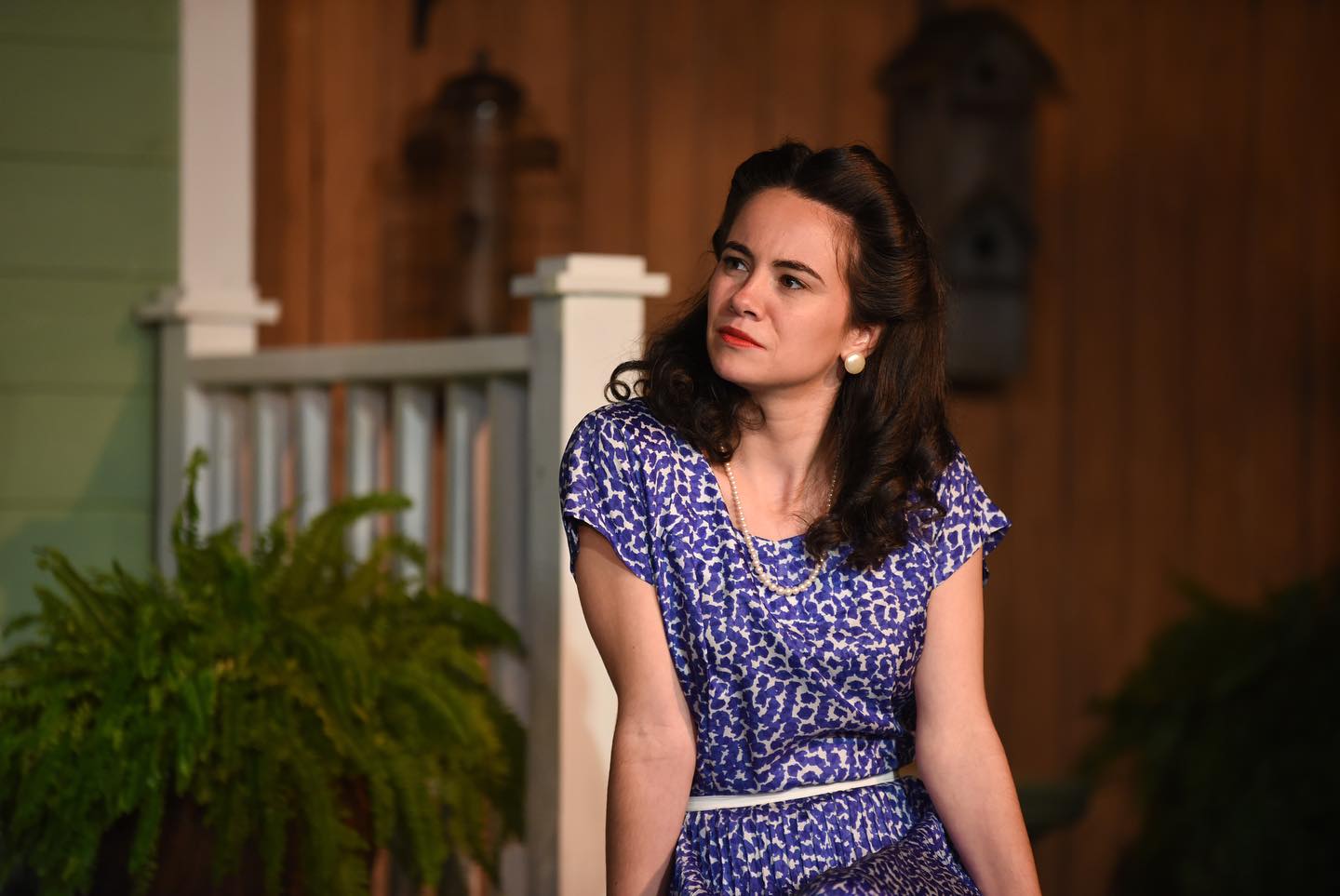 (Photo: Lauren Casey as "Ann" in a scene from Arthur Miller's "ALL MY SONS" presented by Worcester County Light Opera Company in Worcester, MA. through October 22, 2023. Photo credit: @karaemilyphotography)

Knox provides a wonderfully measured, understated performance as Keller, also giving one that is equally compelling from beginning to end.
He is totally convincing as this kind, funny, genial older man who totally loves his family - and they him - but that mutual love is about to be sorely tested...by truth.
Neighborhood kid Bert (played in alternating performances by Lucas Claydon and Timothy Weir) wanders into the Keller back yard from time to time to play a game with Keller.
Unaware is the young man of just how familiar Keller is already with the game called "Jail."
Keller's wife, Kate (Robin Shropshire), is a generous woman who has had to live in emotional distress because of Joe's incarceration and suspected crime. She has done this while still lamenting the loss of their younger son, Larry, who has been three years listed "Missing In Action."
Older son, Chris (Adam DeCoste), a veteran, is home now but is suffering from what we now recognize to be PTSD (although, as a mother whose two sons each served in brutal, catastrophic conflicts and a husband accused of a heinous act, Kate might also easily be diagnosed as having the same condition).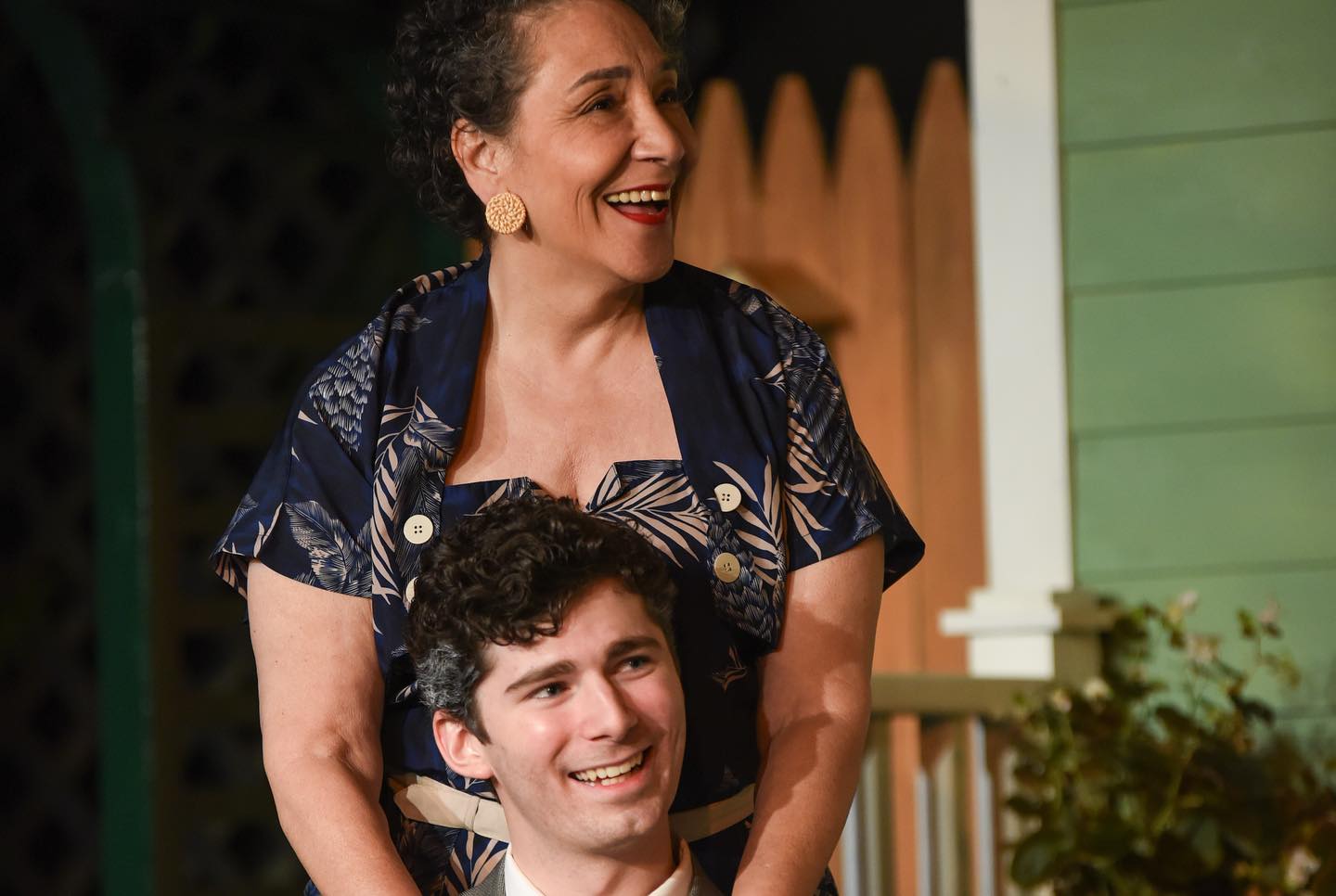 (Photo: Robin Shropshire as "Kate" and Liam Houlihan as "George" in a scene from Arthur Miller's "ALL MY SONS" presented by Worcester County Light Opera Company in Worcester, MA. through October 22, 2023. Photo credit: @karaemilyphotography)
Chris idolizes his father, not knowing the gravity or depth of his suspected crime.
Shropshire and DeCoste both are exemplary navigating a difficult mother and son relationship which becomes further complicated as, despite the above, Chris beckons the imprisoned Deever's daughter, Ann (Lauren Casey), over to his parent's house to propose marriage.
Kate believes Ann to still be "Larry's girl," which causes a family rift as Chris and Ann announce their intention to marry.
Casey is simply splendid as Ann, showcasing her as a strong, thoughtful, empathetic woman who, surprisingly, cannot show any of that empathy for her own imprisoned father, supposedly believing in his guilt.
Yet, Ann knows many truths about many things which do not get revealed until we get closer to the story's end. Why she holds onto such critical pieces of information is a mystery best left to discuss after the show.
Other characters we meet are the dissatisfied Dr. Bayliss (Jeffrey Ford) and his unpleasant wife, Sue (Kaitlyn Ekstrom-Doig), the latter of whom confronts Ann about her resentment of Chris, with Sue claiming she feels Chris is causing dissent in the Bayliss' marriage.
Ford and Ekstrom-Doig are fine on stage (together and separately) but, given how much of the play's focus is on the Keller family with Ann, the Bayliss' troubled marriage becomes little more than a footnote by comparison.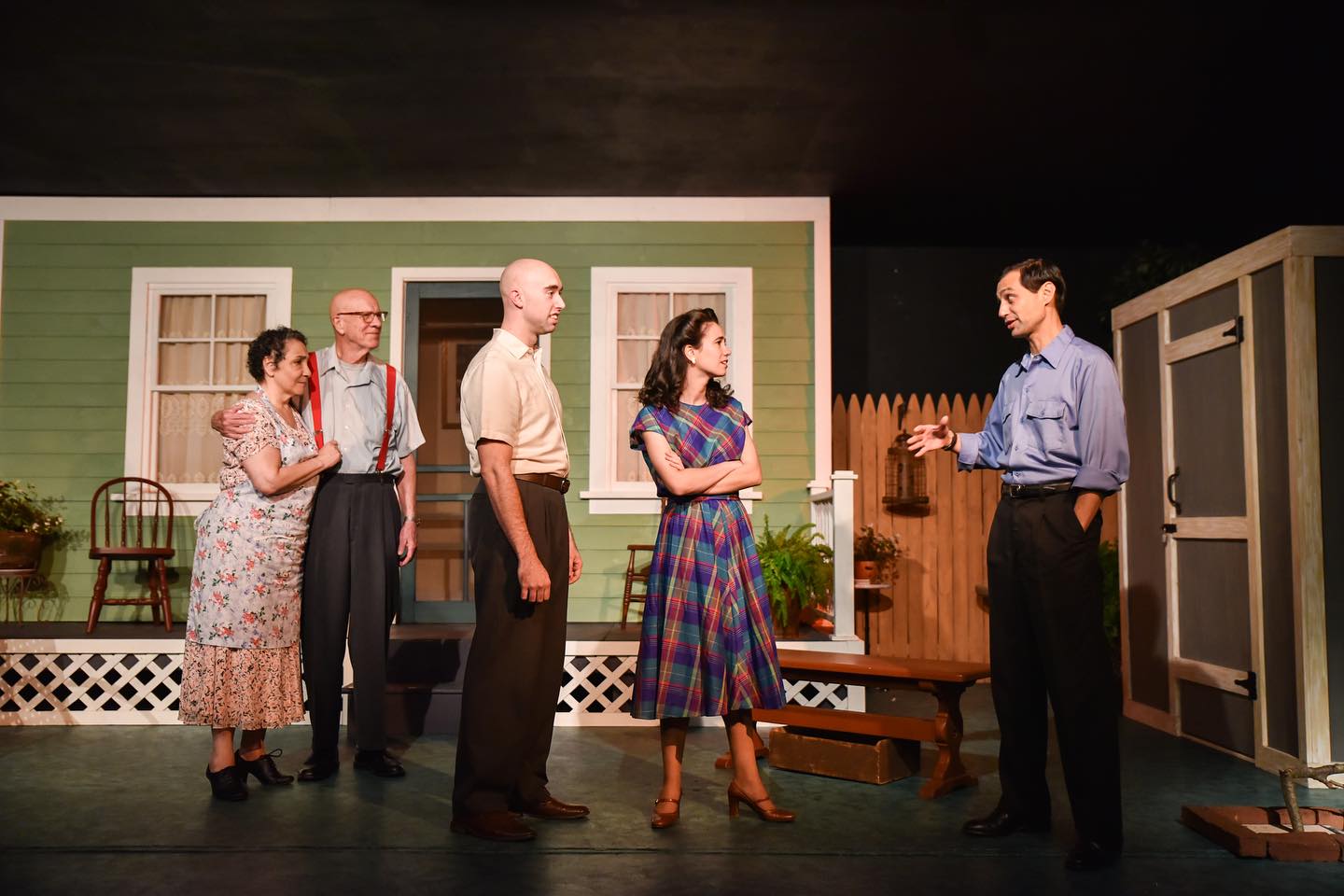 (Photo: The CAST of Arthur Miller's "ALL MY SONS" presented by Worcester County Light Opera Company in Worcester, MA. through October 22, 2023. Photo credit: @karaemilyphotography)

Ann's older brother, George (Liam Houlihan), is a childhood friend of Chris who is also a vet and has become an effective lawyer.
George has learned the truth about his father and of Joe's crimes – and, soon, all hell breaks loose.
Houlihan is only on stage for one scene, not giving his character much of an arc to explore, but his presence does lead to one of the most pivotal moments in the show. Houlihan is adept at navigating a bevy of emotions during his time on stage.
Frank (Norman Dubois) is a bit of an oddball neighbor who successfully avoided the draft and wound up marrying George's former sweetheart, Lydia (Marie Kottenstette).
Dubois and Kottenstette, similar to Ford, Ekstrom-Doig and Dubois, are also effective in their roles but the Miller focus, again, is less on them so we don't see much of an evolution. This is a shame as the two also offer some of the shows lighter and more humorous moments.
The single set design is simple yet effective with perfectly executed lighting and sound effects. Costumes, hair and make-up were all perfectly suited for the timeframe in which the story takes place.
The "American Dream" takes a beating in this play but, oddly enough, we still find ourselves rooting for this family, wanting things to work out for them so they can each live that part of the dream in happiness.
Sadly, that is also exactly what the surviving families of the dead 21 servicemen probably wanted for their sons, as well.
WCLOC's marvelous production of "ALL MY SONS" continues in Worcester until October 22nd and is a great way to kick off their latest season.
Approximately two hours, 30 minutes with one intermission.
Kevin T. Baldwin is a member of the American Theatre Critics Association (ATCA)
@MetrmagReviews
@Theatre_Critics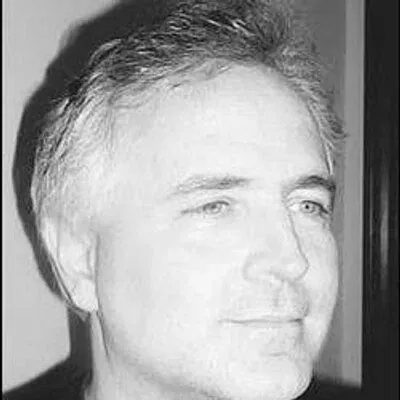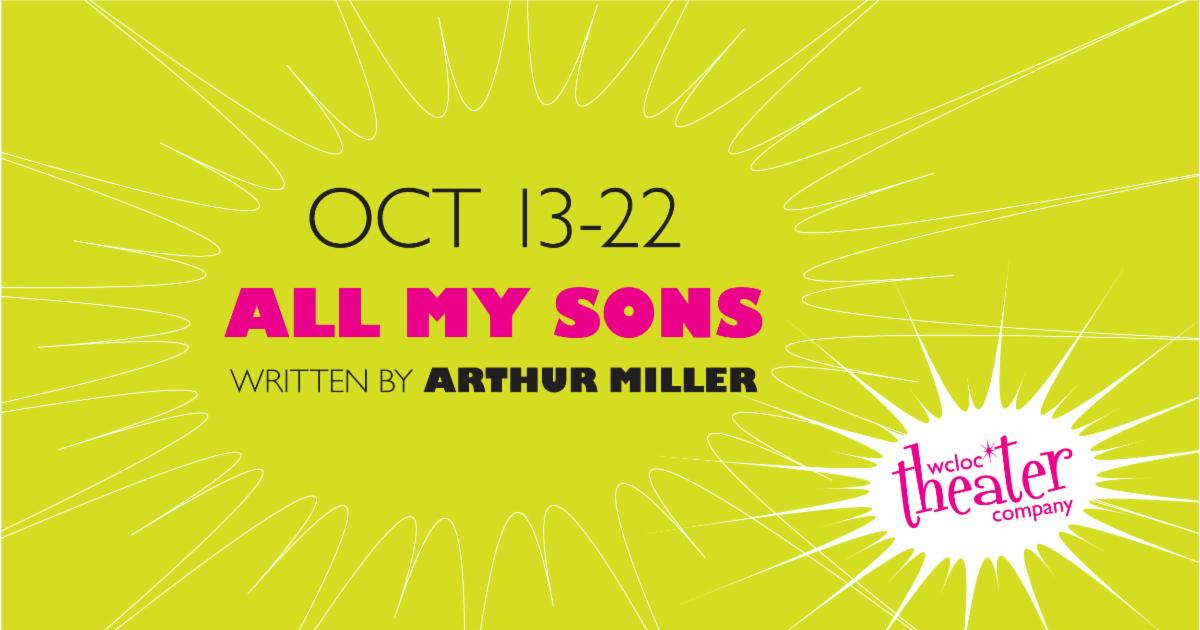 ABOUT THE SHOW
In the aftermath of WWII, the Keller family struggles to stay intact and to fight for their future when a long-hidden secret threatens to emerge—forcing them to reckon with greed, denial, repentance, and post-war disenchantment across generations.
In 1947, Arthur Miller exploded onto Broadway with his first major work,

"ALL MY SONS

,

"

winning both the New York Drama Critics' Circle Award for Best New Play and the Tony for Best Author.
The play introduced themes that would preoccupy Miller throughout his career: the relationships between fathers and sons and the conflict between business and personal ethics.
Joe Keller and Steve Deever, partners in a machine shop during World War II, turned out defective airplane parts, causing the deaths of many men. Deever was sent to prison while Keller escaped punishment and went back to business, making himself very wealthy in the ensuing years.
A love affair between Keller's son, Chris, and Ann Deever, Steve's daughter; the bitterness of George Deever, who returns from the war to find his father in prison and his father's partner free; and the reaction of Chris Keller to his father's guilt escalate toward a climax of electrifying intensity in this classic American tragedy.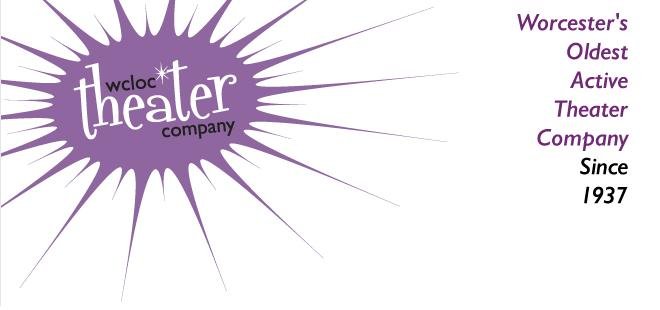 ABOUT WORCESTER COUNTY LIGHT OPERA COMPANY (WCLOC)
Founded in 1937, WCLOC is Worcester's oldest active theater company. As a local, non-profit community theater, we depend on the generosity of our members, patrons, subscribers, and donors to help forward the mission of our organization to entertain, inform, and nurture local artists and audiences through the production of high quality, affordable musicals, plays, and children's educational workshops. A donation to WCLOC allows us to continue to keep tickets affordable for local audiences, helps us maintain and make necessary improvements to our Clubhouse, and supports a full season of memorable theater and educational opportunities.
WORCESTER COUNTY LIGHT OPERA COMPANY
PO Box 51
Worcester, MA 01613
508-753-4383
admin@wcloc.org