(Cover Photo: A scene from Lorraine Hansberry's "A RAISIN IN THE SUN" from New Repertory Theatre in Watertown, MA. now playing through October 1, 2023. Photo Courtesy Ken Yotsukura Photography)

By Kevin T. Baldwin
METRMAG Reviewer
# 774-242-6724

"In my time we was worried about not being lynched and getting to the North if we could and how to stay alive and still have a pinch of dignity too."
- ("Mama") / Lorraine Hansberry


New Repertory Theatre
Presents
"A RAISIN IN THE SUN"
Written by Lorraine Hansberry
Directed by Lois Roach
Cast Includes: Lorraine Kanyike as "Ruth Younger"; Valyn Lyric Turner as "Beneatha Younger"; Jon Vellante* as "Karl Lindner"; Damon Singletary* as "Walter Lee Younger"; Juanita Rodrigues as "Lena Younger"; Joshua Olumide* as "Asagai"; Kadahj Bennett as "George"; Naheem Garcia as "Bobo"; Joshua McKenna as "Travis".
Additional Creative Team:
Elizabeth Yvette Ramirez* - Production Stage Manager; Athéna-Gwendolyn Baptiste - Assistant Stage Manager; Janie Howland° - Scenic Designer; Lauren Stetson - Lighting Designer; Becca Jewett - Costume Designer; James Cannon - Sound Designer; Constance Cifelli - Child Wrangler & Production Assistant; Roisin Daly - Production Assistant; Diego Farrell - Technical Directo; Liv Merryman - Dramaturgy; Katie Cona - Lead Carpenter; Jay Wiltz - Master Electrician & Lighting Assistant; Brenda Dziadzio - Scenic Painter; Kai Thomani Tshikosi - Intimacy & Fight Choreographer; Tim Gregor - Carpenter; Ailey Rivkin & Jack Riter - Scenic Support; Ken Yotsukura - Photography.
* Member of Actors' Equity Association, the Union of Professional Actors and Stage Managers in the United States
** Represented by United Scenic Artists, Local USA 829 of the IATSE
° Stage Directors and Choreographers Society
THE BLACK BOX THEATER AT THE MOSESIAN CENTER FOR THE ARTS
321 Arsenal St, Watertown, MA 02472

Performances:
September 6, 2023 to October 1, 2023
(Contact Box Office for Exact Times)
TICKETS:
https://ci.ovationtix.com/34712/production/1149842
COVID 19 PROTOCOLS
Contact Venue for Most Updated COVID-19 Safety Protocols and Information.
New Repertory Theatre (New Rep) presents the iconic and groundbreaking drama, "A RAISIN IN THE SUN," a play that proves it is still as relevant today as it was when it first hit the Broadway stage over 60 years go.
Written by Lorraine Hansberry, "A RAISIN IN THE SUN" debuted on Broadway in 1959, where it ran for 530 total performances. The play has since been hailed by many as one of the best contemporary plays ever written.
The original Broadway cast included many now legendary actors: Sidney Poitier, Ruby Dee, Ivan Dixon, John Fiedler, Louis Gossett, Jr. The Broadway play was the first play written by a Black woman to be produced on Broadway, and first with a Black director, Lloyd Richards.
The cast of New Rep's staging in Watertown does that original Broadway cast and director justice with its wonderfully affable staging by director Lois Roach.
The title "A RAISIN IN THE SUN" originates from a poem "Harlem" (also known as "A Dream Deferred") written by Langston Hughes.
Focusing on a Black family's experiences in Chicago, the story centers on the working class Younger family, living in live in squalor in a "compressed" two-bedroom apartment on Chicago's "South Side."
Walter Younger (Damon Singletary) struggles as a limousine driver, barely keeping making ends meet, forced to still live, along with his wife and son, at his mother's apartment.
Walter's mother, Lena aka "Mama" (Juanita Rodrigues) has recently lost her husband of many years, repeating throughout the story of how he literally worked himself "to death" to keep food on the table and a roof over his family's heads.
Juanita Rodrigues is both charming and endearing as the aging, no-nonsense, world weary Mama who accepts her lot in this life and, after seeing her beloved husband waste away in effort to keep them alive, feels she has a clear sense of what the world is and does not see it changing anytime soon.
Walter does not want to meet the same ultimate fate as his father.
He is tired of merely existing...no, less than that - "subsisting." Walter wants more for himself, his wife and son. He wants a piece of that "American Dream" that is intentionally denied to so many.
Singletary is completely absorbing in his layered, intense performance of a man struggling to be more than what he is in a world...and a family...that seeks to keep him right where he is.
His wife, Ruth (Lorraine Kanyike), also works cleaning houses, as does Mama, but neither ever complains, which only infuriates Walter more as he makes his plans to become a great success - for himself, for Ruth, Travis and for all of them.
Kanyike is excellent as Ruth who strives to keep the family on an even keel in spite of Walter's continual attempts at grandiose dreams and schemes.
However, Ruth, too, must feel the walls of Mama's claustrophobic apartment closing in on her, especially when news of an imminent yet unexpected new arrival is learned.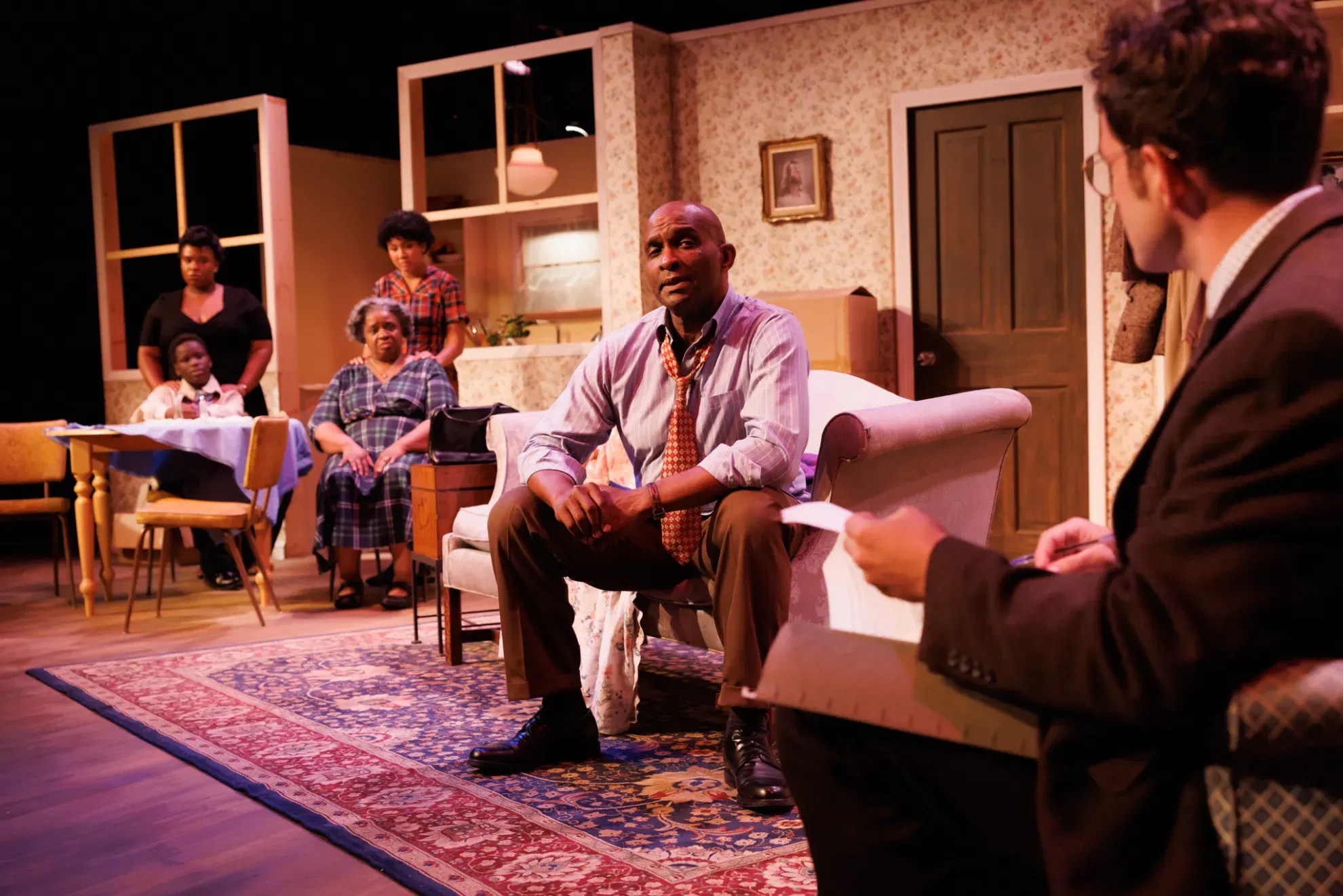 (Photo: A scene from Lorraine Hansberry's "A RAISIN IN THE SUN" from New Repertory Theatre in Watertown, MA. now playing through October 1, 2023. Photo Courtesy Ken Yotsukura Photography)
Also compressed into Mama's apartment is Travis (Joshua McKenna), son of Walter and Ruth, and Walter's sister, Beneatha (Valyn Lyric Turner), who is studying to become a doctor, while simultaneously entertaining two suitors - African exchange student Asagai (Joshua Olumide) and fellow student George (Kadahj Bennett).
Both Olumide and Bennett give exemplary performances, especially Olumide, whose character Asagai is on far too briefly yet provides Beneatha with an outsider's perspective much desperately needed. One of the best executed scenes of the New Rep production.
As a young, Black man going to college with a brighter career path in front of him, Bennett's scenes as George against Singletary's bitter, struggling working class Walter also provide some awkwardly intense exchanges.
Valyn Lyric Turner is equal parts compelling and imposing as the extremely intelligent-yet-combative Beneatha who, not unlike Walter, seeks to be more than what she is.
Beneatha has chosen to be "more than some man's servant-mother-wifetime" (to quote the late Harry Chapin) even as all those around her lend little or no moral support.
as Travis, young Joshua McKenna is quite good, providing less of an "aunt-nephew" relationship with Beneatha and more an antagonistic "brother-sister" type of relationship.
Beneatha is working hard to become a doctor in a time when women were just beginning to make advances in careers which had heretofore been dominated exclusively by men.
Walter and Beneatha's father has recently passed away, leaving Mama $10,000 from a life insurance policy.
Mama is waiting for the check to arrive from the life insurance company but Walter already has plans for the cash and it has religious teetotaler Mama in a frenzy.
Walter, in effort to better their lives, seeks to invest in a neighborhood liquor store along with buddy Bobo (Naheem Garcia) and an unseen character named "Willy."
However, those liquor store dreams will soon lead to a pivotal, far more sobering moment.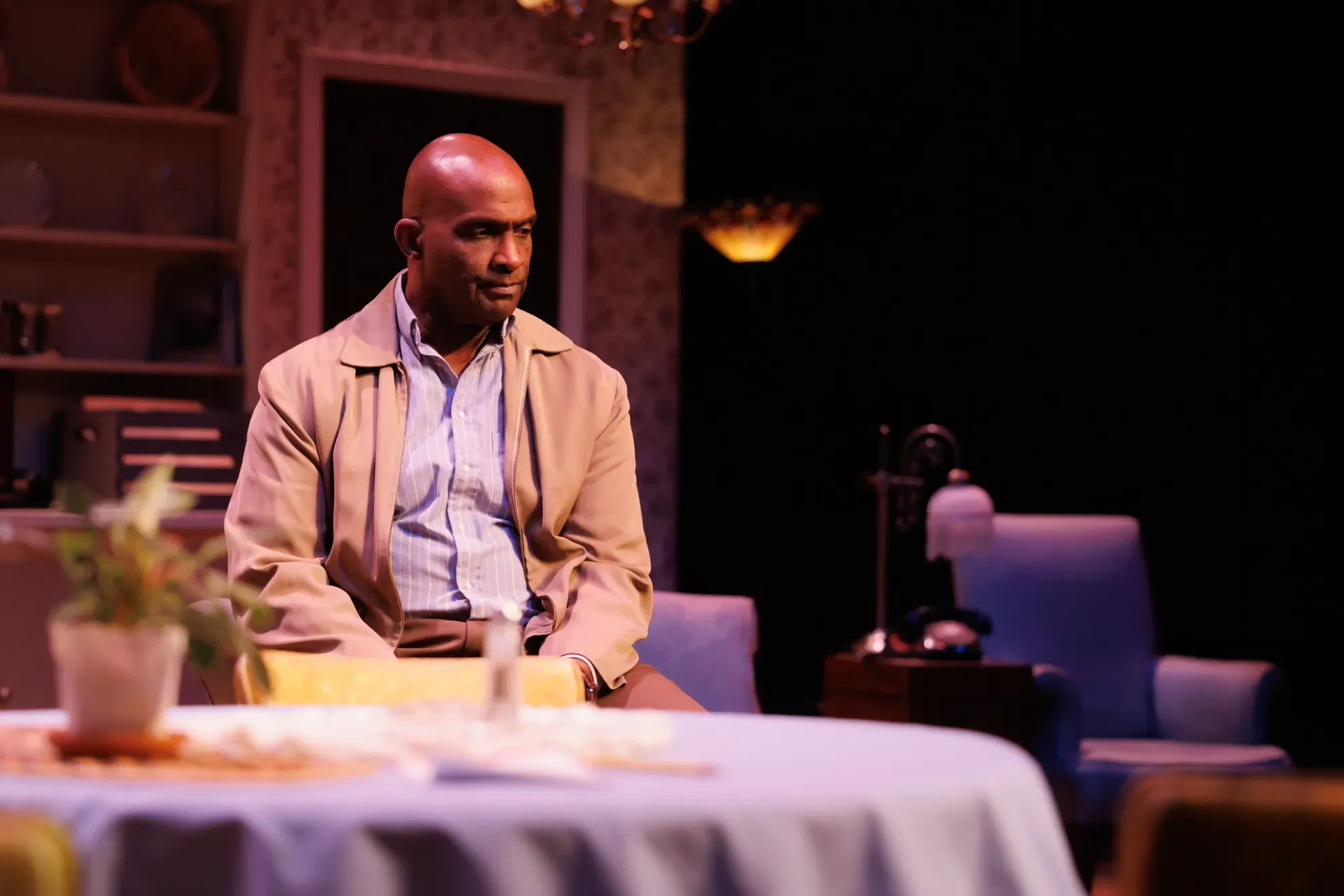 (Photo: Damon Singletary as "Walter" in a scene from "A RAISIN IN THE SUN" by Lorraine Hansberry presented by New Repertory Theatre in Watertown, MA. now playing through October 1, 2023. Photo Courtesy Ken Yotsukura Photography)
Mama seeks to move into what she considers a "better" neighborhood...a white neighborhood.
One of the things pointed out by Mama is, in her search for a new home, she notes how the "better" homes offered to Black families during this time are farther away and more costly than those homes for sale in white neighborhoods.
Mama and all the Youngers have the same dream - one which seems simple enough but is also one far out of reach for many.
They simply seek to live in an actual family home - a place where the wallpaper isn't old, cracking, damaged and peeling.
They seek a place they can call their own - where the one, functioning bathroom is not shared by every other resident in the building, or where the cockroaches thrive equally but never contribute to the rent.
They seek to live in a home where Travis has his own bedroom instead of using the living room couch, scraped and falling apart, which must double as the actual "bed" in which Walter's son must sleep.
The scenic design by Janie Howland perfectly conveys the "bare minimal" living conditions in which the Younger family exis-...no, again, "subsists," making Mama's dream for her family and grandson all the more in line with that so-called "American Dream."
We never see the new place - we only know it has to be better than this.
Enter Karl Lindner (Jon Vellante), a white representative of Clybourne Park, the neighborhood where Mama plans to move.
Lindner makes an offer to buy the Youngers out and this is where Lorraine Hansberry's play reaches its emotional zenith.
Vellante is engaging as the seemingly pleasant Lindner who, while gregarious in demeanor, hardly conceals his disdain for the Youngers as he "politely" offers them a check to buy the house back from them just to keep them from moving into the neighborhood.
Losing count of just how many times Lindner used the condescending words "you people," it was still enough to make anyone watching the play want to toss Lindner out on his ear, as well.
While everyone else is shocked, Walter actually considers the offer due his recent "setback."

(Photo: Jon Vellante, Joshua Olumide, Lorraine Victoria Kanyike and Damon Singletary - from the CAST of Lorraine Hansberry's "A RAISIN IN THE SUN" from New Repertory Theatre in Watertown, MA. now playing through October 1, 2023. Photo Courtesy Ken Yotsukura Photography)
One of the most brilliantly compelling aspects of "A RAISIN IN THE SUN" is the magnificent, natural flow of Hansberry's dialogue. There is this overwhelming feeling that there is a complete backstory behind every sentence uttered by each character.
While not necessarily required, there was an astute choice to use specialized lighting to focus our attention at certain points throughout the play.
This decision resulted in perfectly timed isolation for those more impassioned moments, literally enhancing the emotion being conveyed by Hansberry's dialogue.
The intimate venue also allowed for the actors a chance to internalize a lot of those emotions.
However, there also were moments where some of that internalized dialogue became uttered at a severely low volume if not literally whispered. Yet, while some of the dialogue may have been diminished as a result, none of its intensity nor its impact was ever lost.
The question in the story ultimately becomes: On what hill...or, in this case, in what neighborhood...will one choose to make their stand?
What amount can be offered for a person's integrity...the integrity of his entire family...his entire community...when it is their very essence, their very existence, that has been placed onto the bargaining table?
More importantly, will that person accept the offer and cash the check...with their son watching?
"A RAISIN IN THE SUN" continues in Watertown until October 1st and is an absolute "must see."
Approximately two hours, 30 minutes with one intermission.
Kevin T. Baldwin is a member of the American Theatre Critics Association (ATCA)
@MetrmagReviews
@Theatre_Critics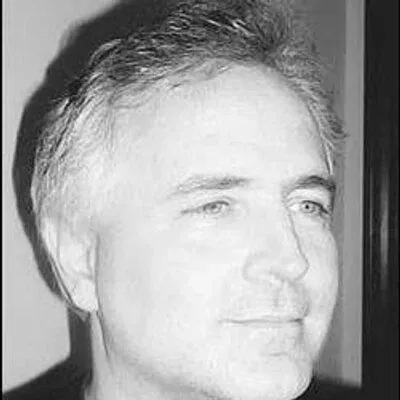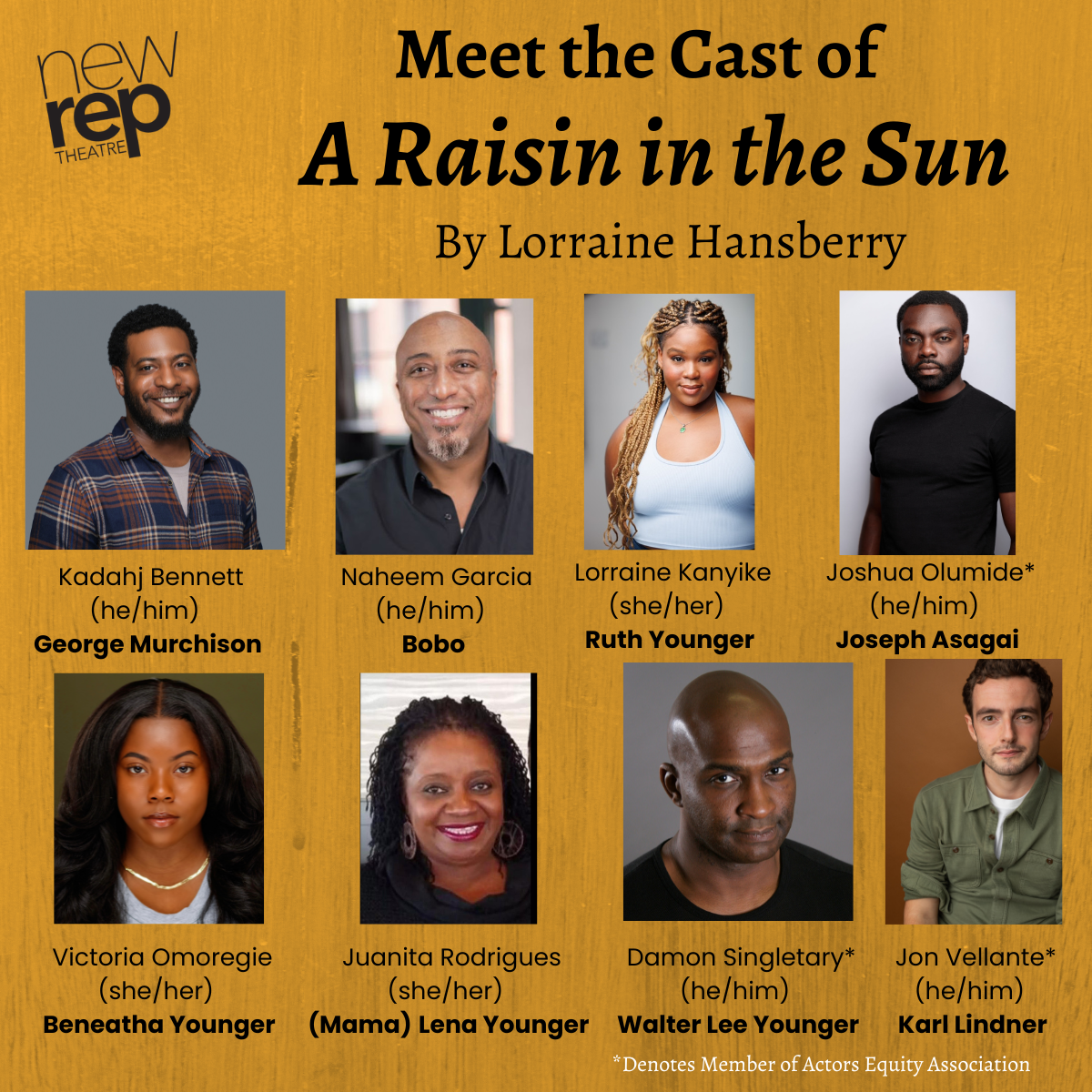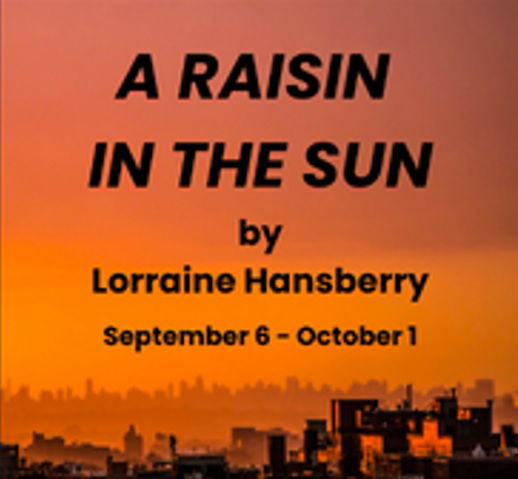 ABOUT THE SHOW
"A RAISIN IN THE SUN" is Lorraine Hansberry's groundbreaking drama, a searing and timeless portrait of a family on Chicago's South Side, and an American classic.
"A RAISIN IN THE SUN" is an answer to the poem from which the title is derived – Langston Hughes' legendary poem, "Harlem."
When the Youngers see an opportunity to move to a new neighborhood, each member of the family must answer: What happens to a dream deferred?

"[A] pivotal play in the history of the American Black theatre." – Newsweek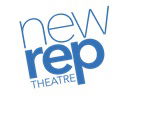 ABOUT NEW REPERTORY THEATRE
New Repertory Theatre (NRT) aims to be regionally focused, driven by diverse interests and stories drawn from the communities surrounding us. We will prioritize a collaborative process centered on new work, new voices, and creative programming in order to produce memorable, evocative performing arts experiences. NRT looks to broaden the theatre scene in greater Boston by giving voice and interpretation to stories and artists whose perspectives are often underrepresented, but whose experiences are relevant for everyone. We want to reimagine how this theatre company can best serve the community that includes both artists and the audience. New Rep remains committed to staging productions and events that speak to the vital ideas of our time. Inclusion, diversity, equity, accessibility, and accountability (IDEAA) will infuse every aspect of our work as we build community collaborations and give voice to the diverse interests of those communities. .
NEW REPERTORY THEATRE
80 Elm Street
Watertown, MA 02472
# 617-923-7060