(Cover Photo: Todd Yard and Elaine Crane in Stephen Sondheim's "A Little Night Music" presented by Greater Worcester Opera at Stageloft Repertory Theater.)
Greater Worcester Opera presents Sondheim's "A Little Night Music"
By Kevin T. Baldwin
METRMAG Reviewer
# 774-242-6724

STURBRIDGE: "A Little Night Music" Music and lyrics by Stephen Sondheim, Book by Hugh Wheeler. Presented by Greater Worcester Opera at Stageloft Repertory Theater, 450A Main Street, Fiskdale, MA 01518 (Fiskdale is a village within the Town of Sturbridge). Performance dates: March 13, 14 (8:00 PM) and March 8, 15 (2:00 PM) Ticket prices: General $20, Senior/Veteran $18, Student grades 12 and under $10
Tickets may be purchased from the Box Office by calling 508-347-9005 or by visiting the Stageloft Repertory Theater's website.
Book by Hugh Wheeler. Music and Lyrics by Stephen Sondheim. Orchestrations by Jonathan Tunick. Inspired by the Ingmar Bergman film "Smiles of a Summer Night." Directed by Richard Monroe. Music Director Aldo Fabrizi.
Cast Includes: Joshua Dixon, Christine Petkus, Lindsey Soboleski, Rachel Abrams, Steve Huff, Isabel Coviello, Audrey Yard, Martha Warren, Paul Spanagel, Theresa Egan, Kyle Collins, Todd Yard, Julia Bartoletti, Elaine Crane, Ramsey Kurdi, Jeanine Went.
Greater Worcester Opera not only offers "A Little Night Music" but also an evening of great comedy at the Stageloft Repertory Theater in Sturbridge.
A dance of the entire ensemble bookends this most recent staging but it is the lurid dance of the characters which highlights the 47 year old musical farce.
Stage Director Richard Monroe has done an admirable job maximizing the stage space at Stageloft with multi-purpose sets allowing for smoother scene transitions.
It is the score by Stephen Sondheim which elevates the otherwise trite farcical book by Hugh Wheeler, concerning several miscreant characters and the people they hurt through their actions.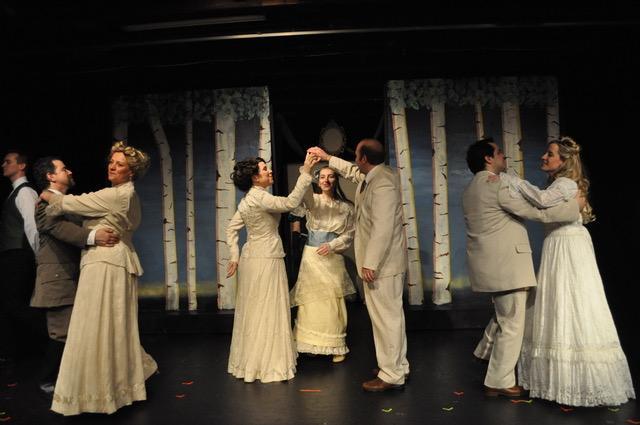 The Cast of Greater Worcester Opera's "A Little Night Music"
at Stageloft Repertory Theater.
Photo Credit: Tatumn Coraccio Photography.


Beginning with elderly and wheelchair bound Madame Armfeldt (Martha Warren) who is annoyed at the scandalous behavior by her famous actress daughter, Desiree (Elaine Crane), whose is unapologetic when flaunting her many affairs with men, married or otherwise.
Crane is unflinching as Desiree and her vocal prowess is equaled by her comedic timing. Yet she still manages to bring the audience close to tears with her heartfelt rendition of the musical's iconic song, "Send in the Clowns."
Madame shares her world-weary ways and cynical views of her daughter with Fredrika (alternating in performances between Isabel Coviello and Audrey Yard), Desiree's daughter left in her care at her estate while Desiree tours.
Warren is absolutely committed to the character of Madame, who recalls her own worldly dalliances in the melancholy, "Liaisons."
One of Desiree's admirers is the recently married lawyer, Fredrik Egerman (Todd Yard) who has been married for less than a year to a woman half his age, Anne (Theresa Egan), who is closer to the age of his troubled seminary student son, Henrik (Kyle Collins), who not-so-secretly yearns for virginal Anne.
Yard gives a thoroughly proficient, sympathetic performance as Fredrik who absolutely should not be sympathized for his mid-life crisis nor his sexual frustration, although both are perfectly illustrated in the song "Now."
As his libido gets the best of him, Fredrik meets with Desiree. As he tries to praise his young wife in the amusing duet "You Must Meet My Wife," some lyrical backhanded compliments creep in, pinpointing certain frustrations as Desiree makes repeated references to her aligned immaturity.
Their tryst is interrupted by another of Desiree's lovers, dragoon and duel enthusiast Count Carl-Magnus Malcolm (Ramsey Kurdi) who is enraged when he discovers Fredrik with his highly prized mistress.
Kurdi gives a convincing portrayal of the loutish Count who derides all women in the ironically titled "In Praise of Women."
Jeanine Went highlights as the acerbic and witty "Countess Charlotte Malcolm" who comes up with the ingenious idea of seducing Fredrik to get back at her loutish husband. It is an absurd scheme in which she fully confides with young Fredrik's young bride, who also thinks it is a simply brilliant plan (being only half right).
Affected by their actions are several innocents, including Fredrika, whose only crime is that she thoroughly adores both her jaded grandmother and her absent mother.
Also impacted are Anne and Henrik, each of whom shares the terrible trait of naiveté, particularly illustrated in the two "companion songs" to Yard's "Now" "Soon" sung well by Egan and "Later" sung exceptionally well by Collins. The duo are subsequently punished for their sins, or rather, their lack of sinning.
Collins, as the Henrik, gives the most layered performance of the evening, struggling between trying to appease his father, trying to learn and align himself to the written "Word' and, mostly, trying to curtail his own physical needs and his "forbidden" love for Anne.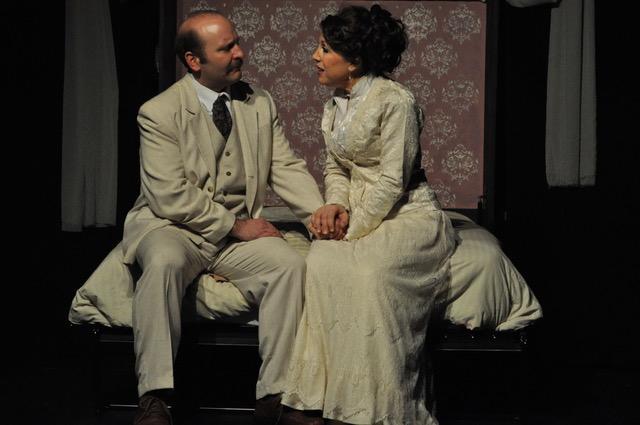 Todd Yard and Elaine Crane in Greater Worcester Opera's staging
of "A Little Night Music" at Stageloft Repertory Theater.
Photo Credit: Tatumn Coraccio Photography.

All of this serves as an elongated Act One prologue to the events of Act Two, culminating to several moral realizations by the sordid cast of characters.
Other supporting performances worthy of note include Paul Spanagel as "Frid" (also alternating at some performances with Kevin Holm), man servant to Madame Armfeldt; and Julia Bartoletti as "Petra," whose character is evenly balanced as a sexy comedic foil for both Henrik and Anne but also delivering a surprisingly poignant take on the song ,"The Miller's Son."
While the above song serves more as a brief diversion to the rest of the story, it provides insight to those who cater to and serve the more affluent yet obscenely outlandish characters.
The acting by the ensemble equals their vocal acuity which is exceptional across the board. Serving as the vocally adept Greek Chorus are Joshua Dixon, Christine Petkus, Lindsey Soboleski, Rachel Abrams, Steve Huff.
The trio of musicians under the direction of Aldo Fabrizi never missed a beat.
Costume choices were interesting, moving from Victorian for the Greek Chorus to more early contemporary for the principal characters. Some wigs were ill-fitting for some members of the ensemble but, overall, the look provided for the show was effective.
With our days constantly filled with our own individual and collective troubles and strife, it is nice to be able to sit back and enjoy some finely executed comedy and "A Little Night Music."
The show runs approximately two hours 45 minutes with one intermission.
Kevin T. Baldwin is a member of the American Theatre Critics Association (ATCA)
@MetrmagReviews
@Theatre_Critics