(COVER PHOTO: The CAST of the Neil Diamond musical "A BEAUTIFUL NOISE," which runs through August 7, 2022 at the Emerson Colonial Theatre in Boston. Photo: Matthew Murphy)
By Kevin T. Baldwin
METRMAG Reviewer
# 774-242-6724
"And I'm not a man who likes to swear but I never cared for the sound of being alone "
Neil Diamond
The Emerson Colonial Theatre
Presents
"A BEAUTIFUL NOISE - THE NEIL DIAMOND MUSICAL"
Book Written By Anthony McCarten
Music and Lyrics By Neil Diamond
Directed By Michael Mayer
Choreography By Steven Hoggett
Music Supervision and Arrangements By Sonny Paladino
Presented By: Ken Davenport and Bob Gaudio with Sandi Moran, Scott Abrams, Rob Kolson, Ron Kastner, Caiola Productions, Paul Dainty AM, Joseph J. Grano, Starlight Theatre, Jonathan and Rae Corr, Roy Putrino, Marguerite Hoffman, Mark E. Jacobs, James L. Nederlander, Marco Santarelli, Universal Music Group, Deborah Green, Patty Baker, Sharon Karmazin, H. Richard Hopper, Theatre Producers of Color, Ryan Conway.
Cast Includes: Will Swenson, Mark Jacoby, Robyn Hurder, Linda Powell, Jessie Fisher, Michael McCormick, Tom Alan Robbins, Bri Sudia, Jessie Austrian, Neal Benari, Nick Fradiani, Jordan Dobson, Ninako Donville, Paige Faure, Kalonjee Gallimore, Samantha Gershman, Alex Hairston, Makai Hernandezz, Jess LeProtto, Tatiana Lofton, Aaron James McKenzie, Mary Page Nance, Robert Pendilla, Max Sangerman, MiMi Scardulla, Phillip Hoffman, Pascal Patrana, Brinie Wallace.
Performances:
June 21 – August 7, 2022

(Contact Box Office for Exact Times)
Emerson Colonial Theatre
106 Boylston Street
Boston, MA 02116
MAP IT
Warning: The following review contains spoilers.
Neil Diamond commands the stage once more thanks to a stirring new musical, "A BEAUTIFUL NOISE," now playing at the Emerson Colonial Theatre in Boston before heading to Broadway.
With little ambiguity, almost everything associated with this show has been designed to make the audience feel "so good, so good, so good, so good."
Does it succeed? On almost every level, absolutely.
What distinguishes the musical from a Vegas-styled Neil Diamond impersonation "tribute" show is the book written by Anthony McCarten, with an intriguing premise and plot structure.
It is also elevated by the usage of not one but two adept actors serving as Neil Diamond "representatives" instead of just the one impersonator who is only required to capture the vocal and image…the "sense"…of Diamond in his prime.
In "A BEAUTIFUL NOISE" we not only "experience" Diamond in his prime, we also witness and learn of the man and of the legendary writer and artist he would ultimately become.
The score features much of the Neil Diamond catalog with music supervision and arrangements by Sonny Paladino.
All the hits are here. So many, in fact, that, perhaps, subtracting a couple for the benefit of elevating the overall story wouldn't be out of the question. More on that later.
As the story begins, Neil Diamond is in therapy. Well, at least, one of this show's TWO "Neil Diamonds" is in therapy. Not sure about the real Neil Diamond.
In "A BEAUTIFUL NOISE," the Diamond character is referred to as "Neil – Now" and is played brilliantly by Mark Jacoby who adds multiple layers to the role of Diamond who faces a personal crisis for which he seeks help from his "Doctor" (Linda Powell).
The relationship between the two is not friendly but hardly contentious. They spend much of the show sitting across from each other in chairs (which, admittedly, distracted at times).
The Doctor seeks to help Diamond deal with his tremendous sense of loss as his decades-long career touring and performing on stage has reached a critical…and ultimate…impasse.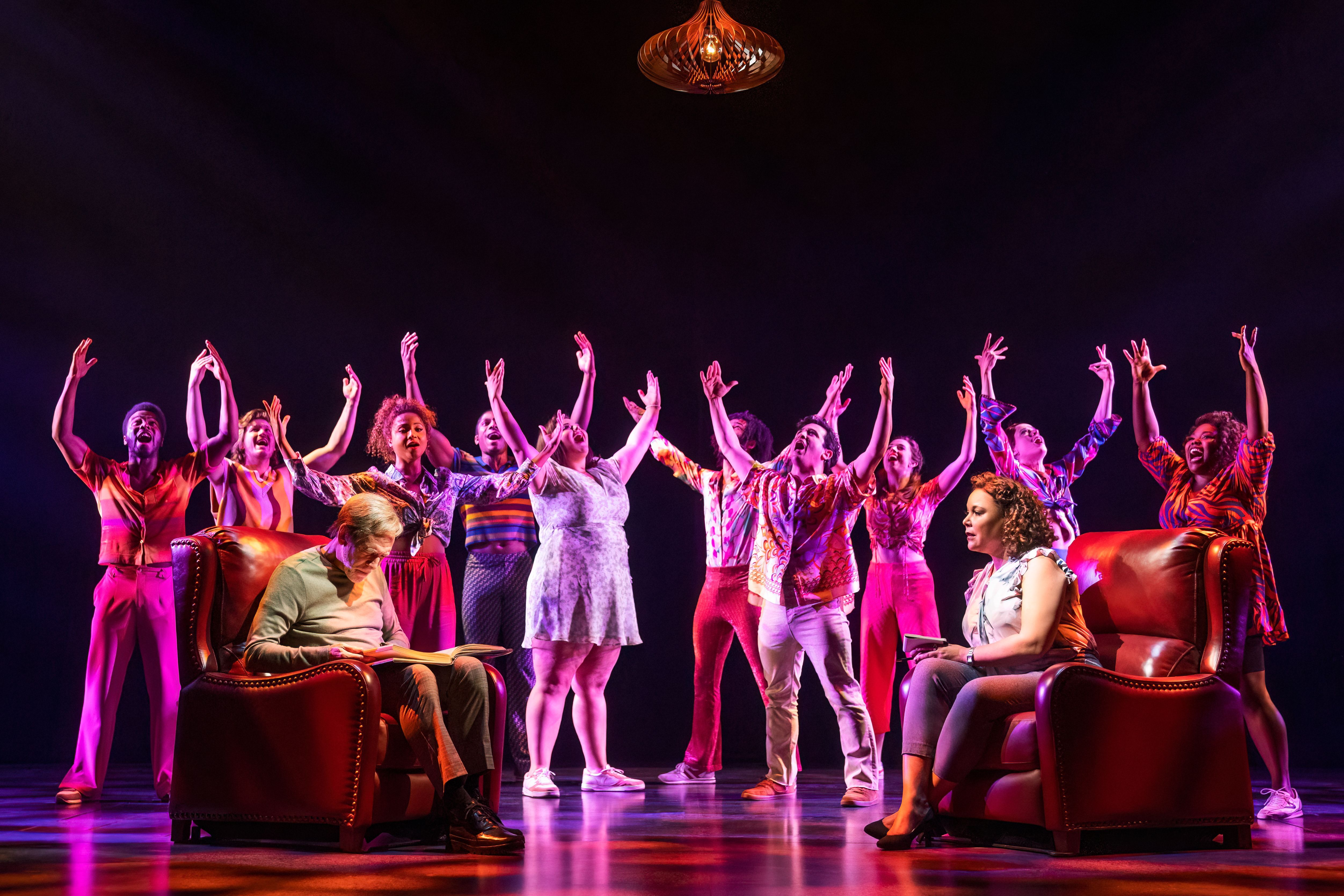 (PHOTO: Mark Jacoby, Linda Powell seated in front of the ENSEMBLE of the Neil Diamond musical "A BEAUTIFUL NOISE," which runs through August 7, 2022 at the Emerson Colonial Theatre in Boston. Photo: Matthew Murphy)
In his relentless performance, Jacoby does not try to impersonate Diamond but rather instead captures the essence of the man Diamond is today in 2022.
Under the capable direction of Michael Mayer, through a series of flashbacks on stage we view Diamond (aka "Neil – Then" played by the electrifying and charismatic Will Swenson) and his rise to fame as a singer-songwriter thanks, in part, to the initial efforts to one of the legendary talents of the Brill Building pop songwriting era, Ellie Greenwich (Bri Sudia).
Greenwich has not only been depicted in her own musical, "Leader of the Pack," but was also featured as a pivotal supporting character in the more recent Broadway blockbuster, "Beautiful – The Carole King Musical." Her contribution to this era of music cannot be understated, which is why her name keeps popping up in many of these shows.
In "A BEAUTIFUL NOISE," Greenwich helps Diamond (Swenson) land his first major writing hits for other artists and then helps him become a performer. He does so, reluctantly but, with prompting, soon becomes a sensational solo artist, signing with a successful upcoming record label run by some unscrupulous characters.
Throughout Act One we are treated to Diamond's numerous early hits such as "Cracklin' Rosie," "Cherry, Cherry," "Shilo," "Song, Sung Blue" and the Act One closer and Boston audience favorite, "Sweet Caroline." Just try and do a Neil Diamond musical, ANY Neil Diamond show, in Boston and NOT include that last song…do the words "General Custer" mean anything to you?
Here it was used as an exciting way to end the first act and left the audience simply begging for more of what would be delivered in spades during the second act.
Swenson does do the aforementioned "impersonation" of Diamond in his prime, which is spot on, but he also adds a strong element of vulnerability which followed the artist behind this music all throughout his esteemed career.
Yet, as the therapist discusses with "Neil - Now," it is the lyrics which reveal his true vulnerability and point to a crucial moment in Diamond's life which he has long suppressed and now must face. What that moment is? Well, you have to see the show in order to discover.
Another most impressive aspect to the production was the intricate choreography by Steven Hoggett which magnificently punctuated the mood of each musical number. The ensemble flawlessly executed the musical numbers. They do more than dance – the propel the story forward and make each number a joy to watch.
As a musical still in development prior to its upcoming Broadway premiere, the second act seemed much more balanced, much more technically "complete" than the first. While the set design and other technical elements for the second act certainly exceeds those used in the first, the overall set design, including an abundance of specialty lighting used, was exceptional.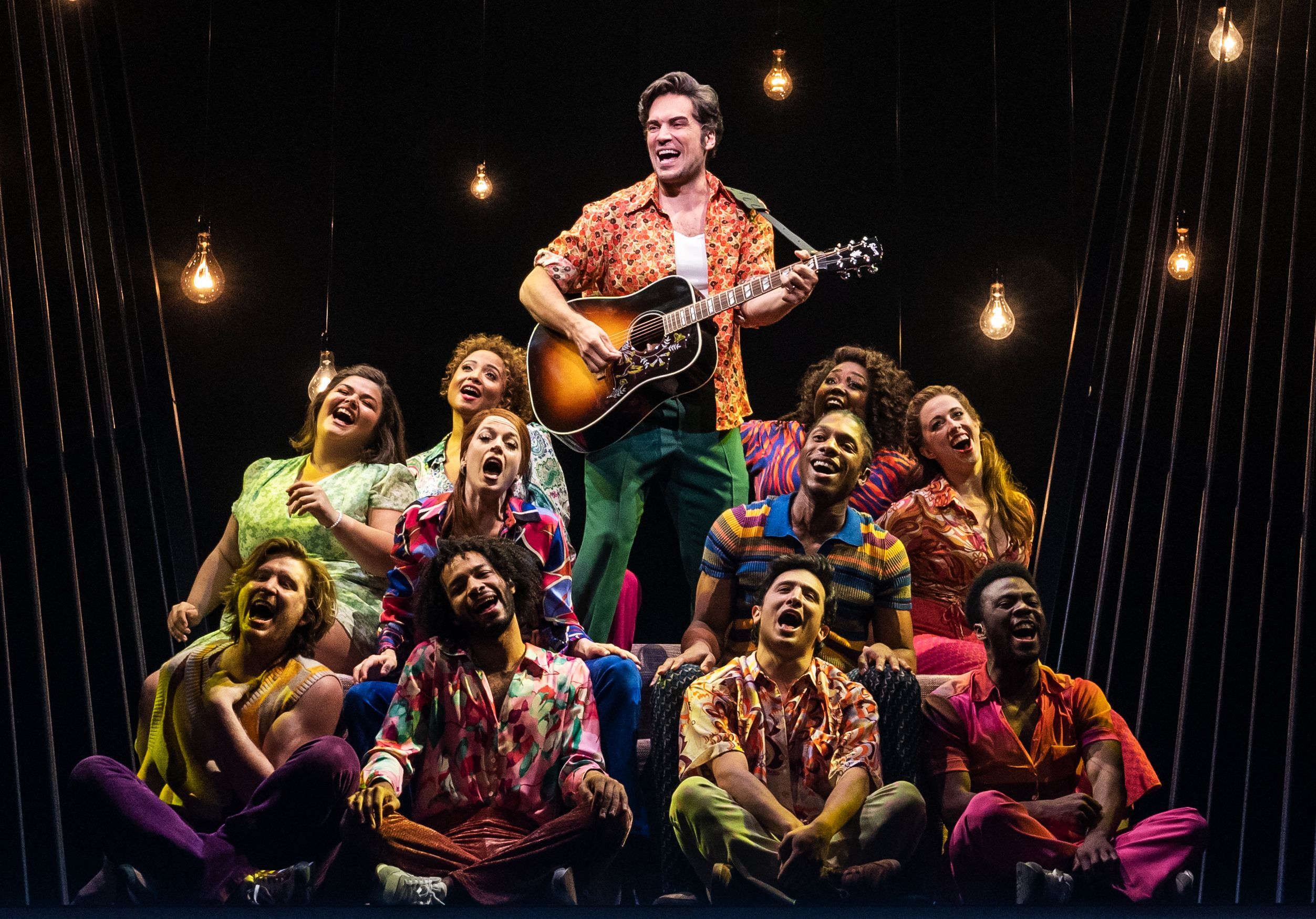 (PHOTO: Will Swenson and the ENSEMBLE of the Neil Diamond musical "A BEAUTIFUL NOISE," now playing through August 7, 2022 at the Emerson Colonial Theatre in Boston. Photo: Matthew Murphy)
The first act contained certain familiar plot points seen in other rock icon musical biographies ("Beautiful," "Summer: The Donna Summer Musical," "Jersey Boys," etc.), especially with the almost obligatory lonely first wife who becomes a "rock widow" as her husband's fame soars and has to tour to maintain that notoriety.
Since the above is a theme all too familiar to most audiences, perhaps, instead of devoting a large chunk of the first act to the doomed relationship of Diamond and his first wife, Jaye (Jessie Fisher), a simple mention to the eventuality would have sufficed.
Cutting the character would also remove two songs, "September Morn" and "Love on the Rocks" which, while great songs independently, seemed absolutely crammed into the show, adding really nothing to the plot, lyrically, and also seeming way out of sequence considering the more chronological unfolding of the Act One playlist of musical numbers.
While Act One begins in a clever yet more subdued fashion, Act Two veritably storms the barricades with the visual spectacle of "Brother Love's Traveling Salvation Show."
The band, mostly obscured from the first act, is now in full view of the audience and delightfully so. They skillfully perform the Diamond catalog of songs used and had the audience captivated from the beginning.
One of the most surprising, jaw-dropping moments of the show came with the Act Two number, "Forever in Blue Jeans" which, amazingly, surpasses the original Neil Diamond song thanks to a vibrant new arrangement, amazing choreography and a powerhouse vocal performance by Robyn Hurder as Diamond's second wife "Marcia."
The only thing missing from the inspired new take on the song was anyone else featured in that number wearing…well…actual "blue jeans."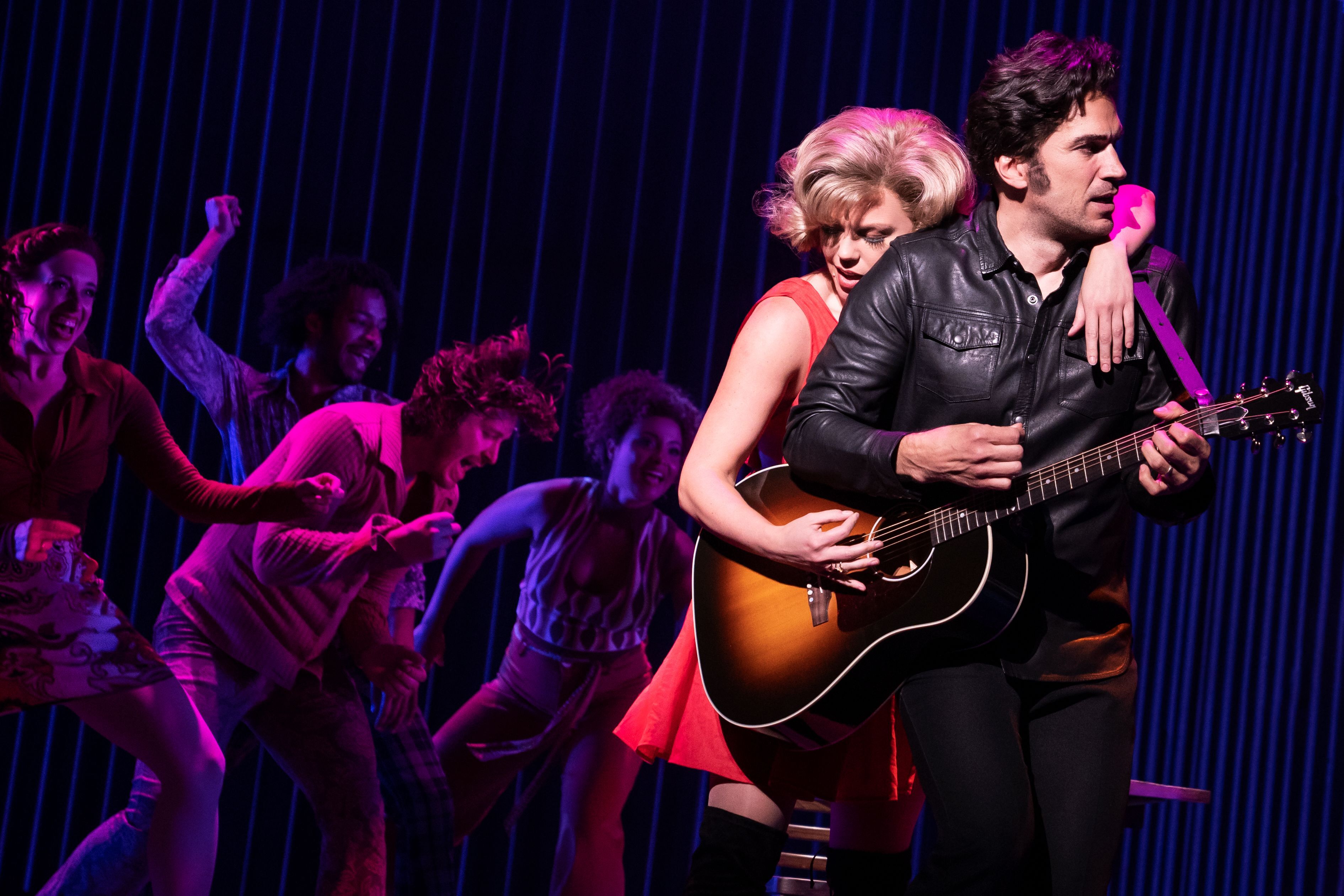 (PHOTO: Will Swenson with Robyn Hurder in the Neil Diamond musical "A BEAUTIFUL NOISE," playing through August 7, 2022 at the Emerson Colonial Theatre in Boston. Photo: Matthew Murphy)
Other musical highlights include the penultimate song, the emotional, introspective piece, "I Am…I Said," sung here as a duet by Jacoby and Swenson in one of the most poignant moments of the show.
That song is so moving that, by the time we get to the show's closing number, "Holly Holy," there is a sense as if the audience is in a near-religious experience. In any event, it is definitely one hell of a way to close out a thoroughly remarkable show.
Catch this musical while you can before it moves to Broadway and "A BEAUTIFUL NOISE" might just have you believing in the incomparable musical legacy of Neil Diamond.
As for this reviewer? Well, "I'm a Believer," for sure.
Approximately two hours with one intermission
Kevin T. Baldwin is a member of the American Theatre Critics Association (ATCA)
@MetrmagReviews
@Theatre_Critics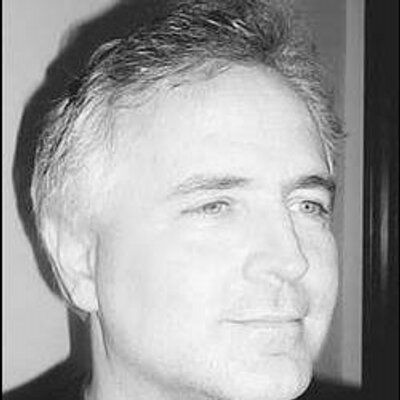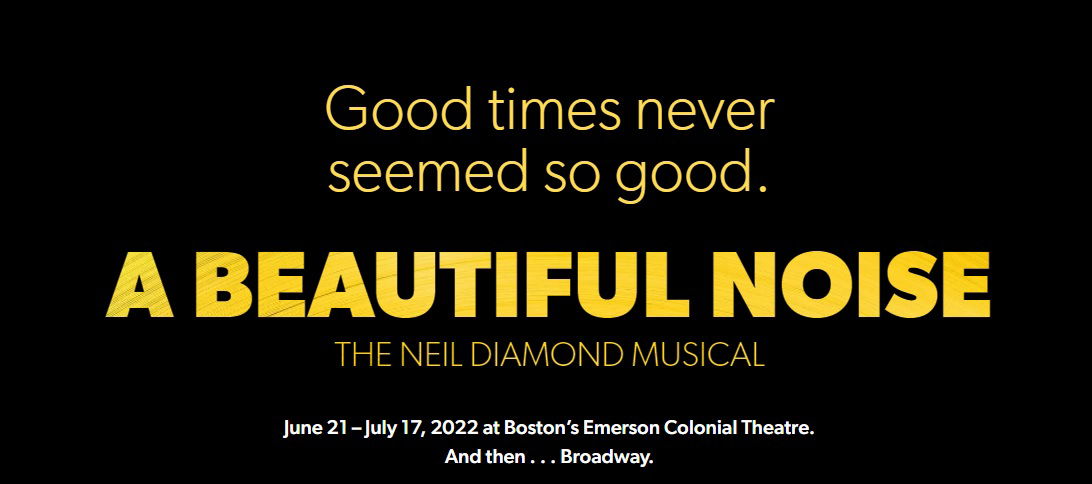 The story of the legendary

Neil Diamond

comes to life on stage in a gripping and uplifting new musical featuring his hit songs

"Sweet Caroline," "America,"

and

"Cracklin' Rosi

e."

Directed by Tony winner Michael Mayer (Spring Awakening, Hedwig and the Angry Inch), choreographed by Olivier Award winner Steven Hoggett (Once, Harry Potter and the Cursed Child), and written by four-time Academy Award nominee Anthony McCarten (Bohemian Rhapsody, The Two Popes),

A BEAUTIFUL NOISE

debuts in Boston before heading to Broadway.

Good times never seemed so good.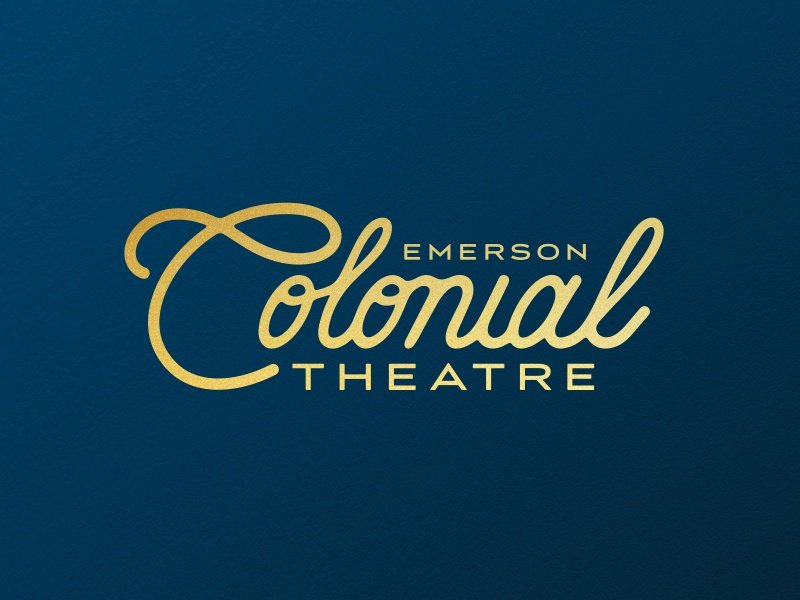 ABOUT THE EMERSON COLONIAL THEATRE
In its storied history, The Emerson Colonial Theatre has debuted such seminal Broadway shows as Anything Goes , Porgy and Bess , Oklahoma! , Born Yesterday , Follies , A Little Night Music , Grand Hotel , and La Cage aux Folles, among others. Reviving a great theatrical tradition, Boston's newly restored Emerson Colonial Theatre officially re-opened its doors in July 2018 with the pre-Broadway World Premiere of Moulin Rouge! The Musical . Emerson Colonial Theatre, which opened in 1900 with a production of Ben-Hur, is the oldest continuously operated theater in Boston; as well as being amongst the most magnificent, having retained most of its original period details. A theatre for the community, Emerson Colonial Theatre will once again contribute to the rich cultural landscape of Boston, with a new and varied program of Broadway shows, live music, comedy and events.

Emerson Colonial Theatre
106 Boylston Street
Boston, MA 02116