"Between Riverside and Crazy" at Worcester County Light Opera Company
By Kevin T. Baldwin
METRMag Editor-in-Chief
# 774-242-6724
WORCESTER, MA: "Between Riverside and Crazy" written by Stephen Adly Guirgis presented by Worcester County Light Opera Company, 21 Grandview Avenue, Worcester. Performances: Sept. 27 & 28, Oct. 3, 4 & 5 at 7:30pm. Sept. 29 & Oct. 6 at 2:00pm. Ticket prices $25.00 General Admission, $20.00 Seniors (62+) & Students.
Written by Stephen Adly Guirgis. Directed by Janet Tyndall.
CAST INCLUDES:
Pops - John Garfield
Oswaldo - Jason Iannone
Junior - Mike Daniel
Church Lady - Robin Shropshire
Det. Audrey O'Connor - Ginny Carpenter
Lt. Caro - John Morello
Lulu - Elizabeth Hylton
In their Fall production, WCLOC presents the gritty, eccentric and compelling piece, "Between Riverside and Crazy" written by Stephen Adly Guirgis.
The play fairly well swept the 2015 awards season winning the Pulitzer Prize for Drama, the New York Drama Critics Circle Award, the Lucille Lortel Award, the Outer Critics Circle Award and the Off Broadway Alliance Award.
Under the insightful direction of Janet Tyndall, the story concerns Walter "Pops" Washington (John Garfield), a former cop off the job due to his being shot by a fellow officer.
"This is a key element of the story and a source of Pops anger," Tyndall said. "He has become trapped, in some ways, by the incident, unable to move on or resolve both with the city and himself, what happened. It is also a wedge between him and his former partner which plays out in key plot twists.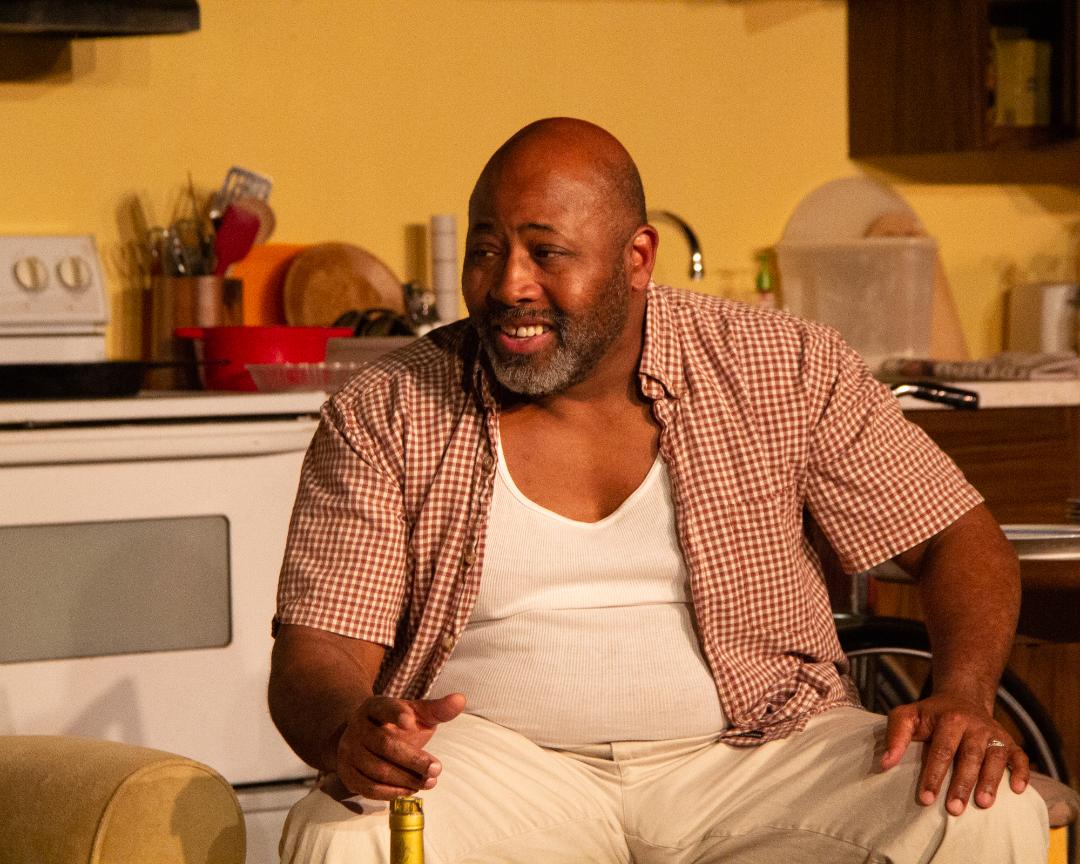 John Garfield as "Pops" in"Between Riverside and Crazy"

Photo Courtesy of Chris O'Connor at WCLOC

According to Tyndall, Pops is a man with a lot of pain and bitterness.
"He's had many losses and struggles to deal with what he's been through and his own involvement," Tyndall said. "Junior wants his father's love and respect but also struggles to develop his own life. Like his father, he has his own pain and frustrations."
Tyndall described the seven distinct characters in the play.
"Every one of them has a journey," according to Tyndall .
In addition to "Pops" there's his son, Junior (Mike Daniel), who is living back at home after being in prison; Oswaldo (Jason Iannone), Junior's friend who has also been in prison; Lulu (Elizabeth Hylton), Junior's girlfriend and a student (or perhaps not); Detective Audrey O'Connor (Ginny Carpenter), Pops former partner; Lieutenant Caro (John Morello), Audrey's fiancé, eager to work his way up the chain of command in the police force; and Church Lady (Robin Shropshire) who is a force of her own, a Brazilian woman who may not be quite what she seems."

"I love working on pieces that matter - that address issues pertinent to people today," Tyndall said. "This piece has that wonderful combination of meatiness and humor which made it hard to resist."
According to WCLOC past President Eric Butler, the Guirgis play has earned all of its high praise and accolades.
"I think part of the play's appeal and the critical reception it has received is because Stephen Adly Guirgis has written a tight character-driven "dramedy," Butler points out. "As outlandish and memorable as some of these characters are, he imbues them with a humanity - a humanity that we can recognize in ourselves, our friends, and our family."
Tyndall sees the conflict and struggles coming from each one of the characters.
"Lulu has had to do many things to survive in the world and yet she is a combination of tough and tender," Tyndall said. "Oswaldo is a needy man who, like Junior, wants to matter to Pops as his own father has not been there for him. Lieutenant Caro is an ambitious man, used to being able to convince people to see his side of things runs into a challenge with Pops. Detective Caro loves Pops 'like a father' but also harbors doubts about him. Church Lady has her own past. She believes she can 'heal' Pops but confronts her own sense of self in the process."
According to the WCLOC web site, Stephen Adly Guirgis' dark urban comedy "explores, with both street-smart wit and disarming tenderness, the slippery nature of justice, and the grit it takes to move on."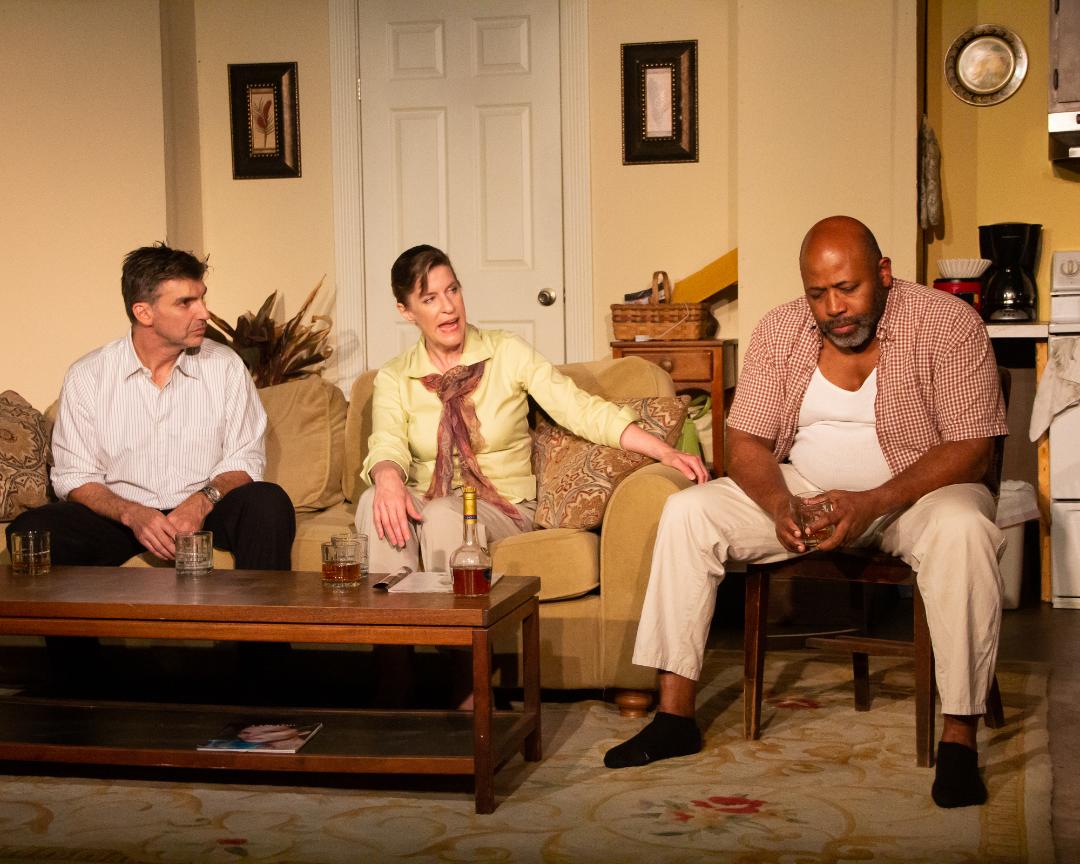 Cast of "Between Riverside and Crazy"
Photo Courtesy of Chris O'Connor at WCLOC
In an effort to hang on to one of Manhattan's last great rent-stabilized apartments, "Pops" contends with an eclectic and eccentric mix of characters and, according to the WCLOC press release, "each one a celebration of the glorious contradictions that make up human nature."
According to Butler, it was WCLOC's play selection committee, comprised of both Board members and general membership, that selected "Between Riverside and Crazy."
"We are always keeping an eye out for new, contemporary, relevant, and critically acclaimed works to premiere in Central Massachusetts," Butler said. "This one was a real page-turner for our committee and knew it would be even more dynamic onstage."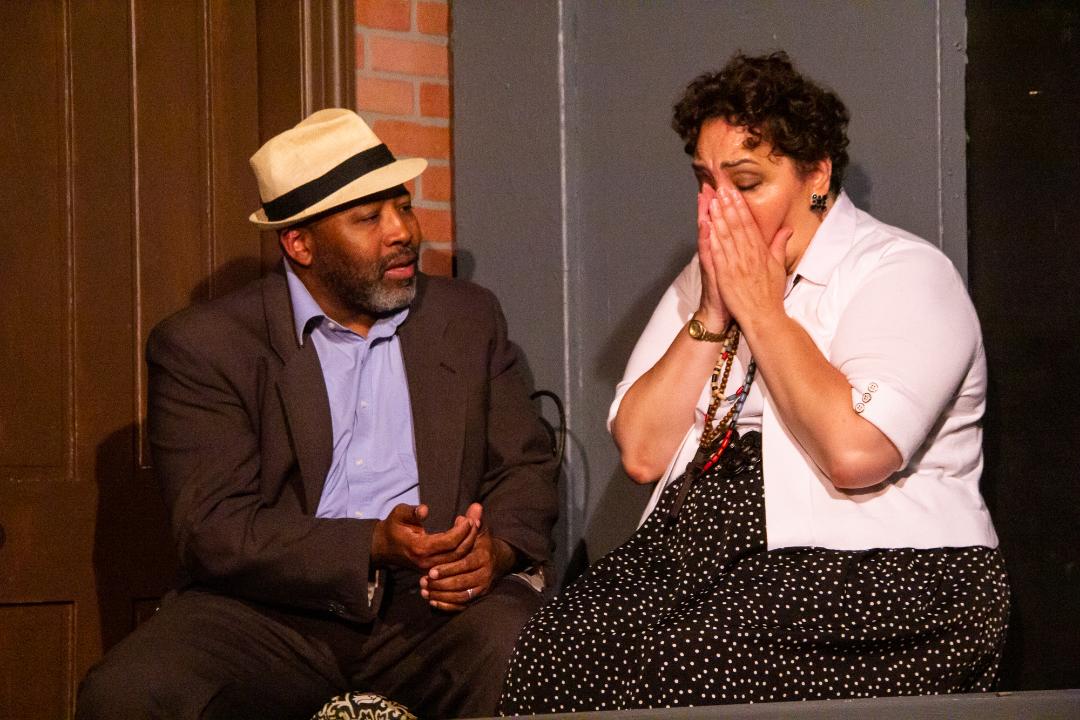 Cast of "Between Riverside and Crazy"
Photo Courtesy of Chris O'Connor at WCLOC
The show runs from September 27 through October 6. The cost is $25 for General Admission and $20 for Students and Seniors.
"I want this to be the type of play that people continue to think about days, weeks, even months later," Tyndall said. "I want them to think about the characters and there perspectives and how each audience member may be able to relate to people who may seem different to them but have so much in common in our humanity."

Butler advises that the playwright, "balances laugh-out-loud scenarios with themes of loss, race, and corruption" and promises that audiences will find the show to be, "urban, edgy, very funny, and carries dramatic intent."
"(This is) the type of play we love to include as part of our season, if we can," he said. "The mastery behind the balancing of comic and dramatic tones and the urgency and relevancy of its themes is what makes "Between Riverside and Crazy" a ride worth taking."
For Tickets: https://www.wcloc.org/ticket-info