(All photos courtesy of Vanilla Box Productions)
By Kevin T. Baldwin
METRMAG Reviewer
Contact: 774-242-6724
Vanilla Box Productions presents "Little Women the Musical". Nov. 15 and 16 at 8:00pm; 17 at 2:00pm at Burke Center for the Performing Arts, Holy Name CCHS, 144 Granite Street, Worcester, MA.; Nov. 22 and 23 at 8:00pm at Cuvilly Auditorium, Cuvilly Arts Center, Notre Dame Academy, 425 Salisbury Street, Worcester, MA. Ticket Pricing: $22 per adult and $20 per senior (65+) and child (12 and under). Tickets will be $2.00 more at the door. Group Rates Available. All sales final. For tickets: https://www.onthestage.com/show/vanilla-box-productions/little-women-the-musical-98636/tickets
Book by Allan Knee. Music and Lyrics by Jason Howland and Mindi Dickstein. Directed by Joel D. Seger. Asst. Director and Choreographer Christine C. Seger. Music Director: Kallin Johnson. Stage Manager Katelynn P. Seger.
Cast Includes: Abigail Bradie, Jess Couture, John Leslie, Linnea Lyerly, Keri McCarthy, Katie Moorman, Danielle Pratt, Daniel Reidy, Peter Russo, Paul Spanagel.
(WORCESTER) Since Louisa May Alcott's "Little Women" was published back in the late 1860s (specifically 1868 & 69) there have been many plays and musicals adapted of her timeless story of the legendary "March Sisters" of Concord, Massachusetts.
Now, Vanilla Box Productions brings one of the most inventive of adaptations to...not just one stage...but two.
In 2005, a delightful musical adaptation hit the Broadway stage, with a ingeniously constructed book by Allan Knee and a solidly entertaining score by Jason Howland and Mindi Dickstein.
Vanilla Box will present the above musical adaptation at both Holy Name CCHS (on Nov. 15, 16 & 17) and Notre Dame Academy (on Nov. 22 & 23).
Vanilla Box Productions artistic directors, Joel & Christine Seger, advise that they, "were lucky to see the original Broadway production."
"We used the soundtrack for years in our dance studio," Christine Seger points out. "While we didn't love all aspects of the show, we fell in love with the score and of course we already loved the classic story."
The couple also knew their music director for their upcoming November production, Kallin Johnson had a "connection" with the show.
According to the show's stage director, Joel Seger, Johnson was music director when it was previously performed at Notre Dame. A former student of his was married, at the time, to Jason Howland, the composer.
"He met Jason at some point as well and has an autographed score, I think," Seger states. "I also believe that Notre Dame Academy was the first (or at least one of the first) nonprofessional productions of the show. We are bringing the show to Notre Dame for that reason. A sort of homecoming. We thought it would be fun for him to be able to revisit it."
There are many local Civil War era landmarks/connections to the material that still exist today. The Segers acknowledge one or two that stand out for them from this production.
"It makes the show more interesting when they discuss Concord. We are only 45 minutes from there," Joel Seger mentions. "In fact, the Louisa May Alcott house is there and operates as a museum."
The Segers reference is to the famous Orchard House, which is on Lexington Road in Concord, and which is still active as a tourist attraction throughout the year. To obtain more information, readers can also visit https://louisamayalcott.org/visit
Vanilla Box has run many children's workshop level shows in Worcester over the years. However, it has also staged quite a number of fine adult community level productions, as well. The Segers note some of their more recent favorites.
"Our last production, 'The Music Man,' was one of our most challenging and rewarding...up till now," as they clarify, "The Music Man had a cast of 40 and multiple large set pieces and so many costumes."
The Segers also advised how that particular "Music Man" cast "worked very hard and it was beautiful in the end."
"Another highlight of our past would be Steel Magnolias," Christine Seger states. "This stunning play was directed by Chuck Grigaitis. He had a very talented cast and he was able to draw fantastic performances out of each actress."
One of the members of that "Steel Magnolias" cast, Linnea Lyerly, will be playing Aunt March in Vanilla Box's "Little Women the Musical."
The original 2005 Broadway production of "Little Women the Musical" featured some musical "heavy hitters" in the multi-talented Sutton Foster and iconic singer Maureen McGovern. The production was nominated for 3 Drama Desk Awards (1 each for Foster and McGovern and 1 for its orchestration) and 1 Tony Award nom (for Foster) in 2005.
The score features powerful songs including the Act One Finale belter, "Astonishing" which Foster has practically made her own theme song; and the more melancholy tearjerkers by McGovern as the March sisters matriarch, 'Marmee,' singing "Here Alone" and "Days of Plenty".
Tough acts to follow, to be sure. However, the directors offer they have a cast worthy of following in those big hoop skirts to fill.
"We are happy to have a very talented cast who come from all over Massachusetts to perform in the musical," Christine Seger says. "It takes a special person to travel over 30 minutes to a rehearsal. Some of our cast travel close to an hour, just to have a chance to perform this material."
The artistic partners point out how "every actor brings their own special sensibility to the characters."
"Our Marmee (Keri McCarthy) and Aunt March (Linnea Lyerly) are mothers," according to the Segers. "They bring that 'maternal instinct' on stage and share that aspect of their lives with us in rehearsal. Our Amy (Danielle Pratt), a newcomer to musicals, brings a natural sense of innocence."
The other actors also bring parts of their own experiences on stage, they advise.
"The audience will be able to feel their authentic performances."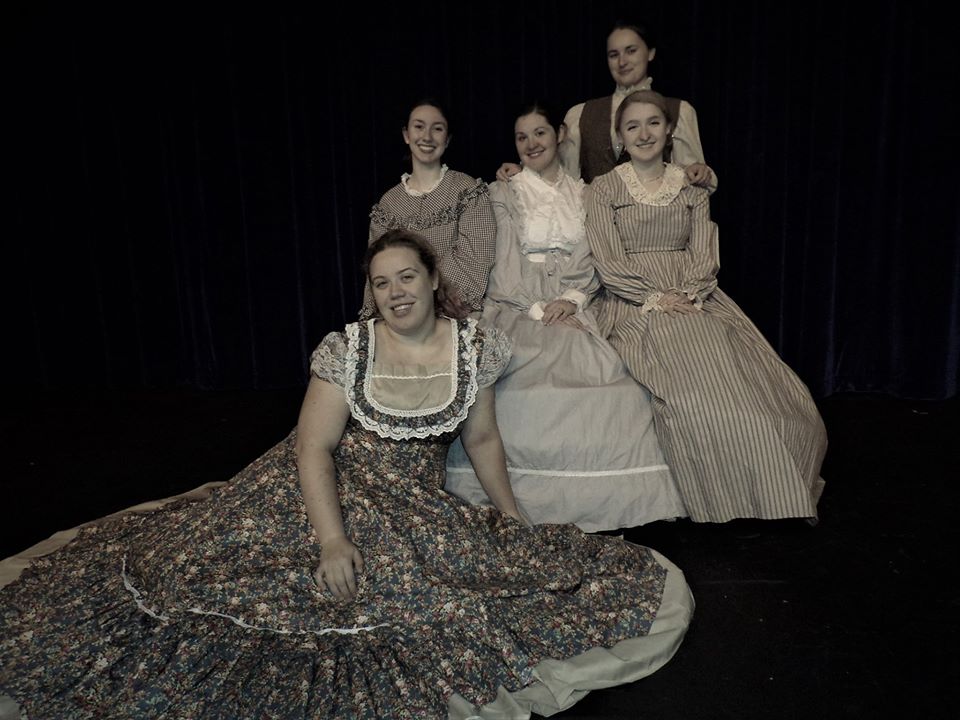 The actresses portraying the March Family in "Little Women the Musical".
Photo courtesy of Vanilla Box Productions"
Among the challenges of staging the musical adaptation is when the main characters "step outside themselves" to also portray the cast of an "Operatic Tragedy" written by aspiring writer Jo March (Katie Moorman).
"The Operatic Tragedy was a challenge," acknowledges Joel Seger. "In our opinion, it was one area of the NY production we didn't enjoy. We tried to make it fun and a lot closer to the audience. (The NY production used scaffolding above the set)"
The couple admits it took great effort to incorporate the "story within a story" into the world of Jo March.
"How can the audience see what Jo is thinking? And then there were the costumes," Christine Seger points out. "In the end, we are excited about these sections. They came together beautifully and the entire cast was involved in creating what the piece looks like. Our Professor (Paul Spanagel) even worked with the actors on the sword play."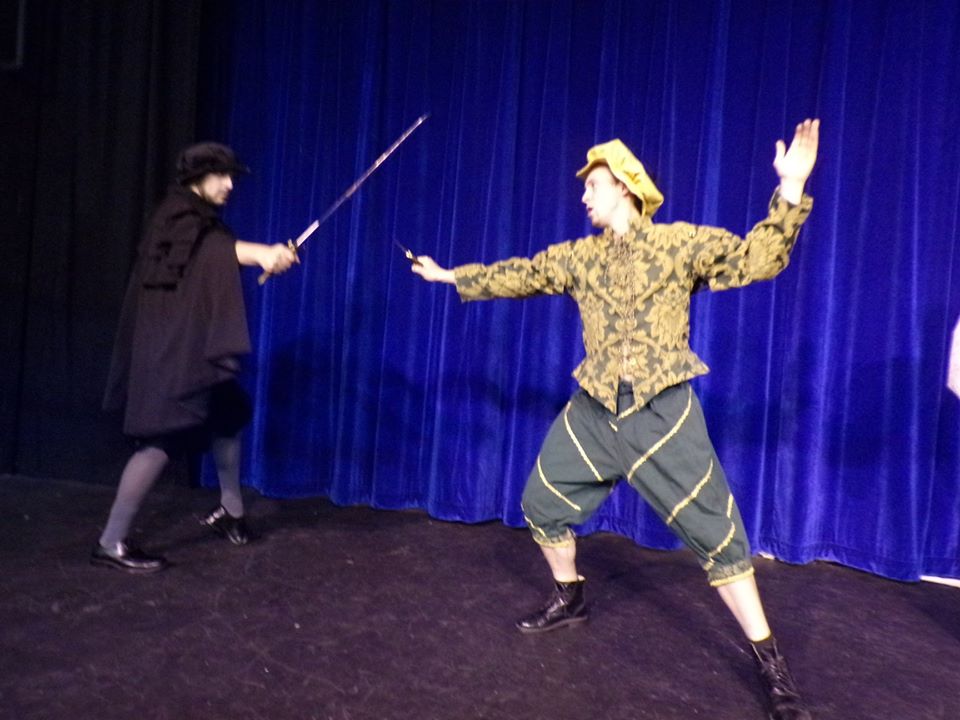 Peter Russo (left) dueling with Dan Reidy (right) in "Little Women the Musical".
Photo courtesy of Vanilla Box Productions.The Segers advise as to how fortunate they feel in that their ultimate casting choices all chose to audition.
"They come to rehearsal prepared and work hard. Not only on their characters, but all aspects of the production," Christine Seger says. "It is wonderful to work with people who truly want to be in a certain show.
In producing a show about a family, the Segers each point out how the cast and crew have also come together to make a family, as well.
"Our experience has been wonderful. We would love to work with them again. We now count them as part of our family."
While there is always adversity in everyone's life, the Segers note how they hope the audience "will realize that life is precious and dreams can come true."
"It's how we overcome that adversity that defines us," the couple affirms. "Also, family is important; and family can be people you choose to have in your life as well as relatives. A favorite lyric is 'Sometimes when you dream, your dreams come true in extraordinary ways.' It sums up the experience of the show perfectly."
Whether it's professional theater or local groups, the Segers both note how, "there is value in getting out there. We hope to see lots of new (and familiar) faces at this show and at our 2020 season."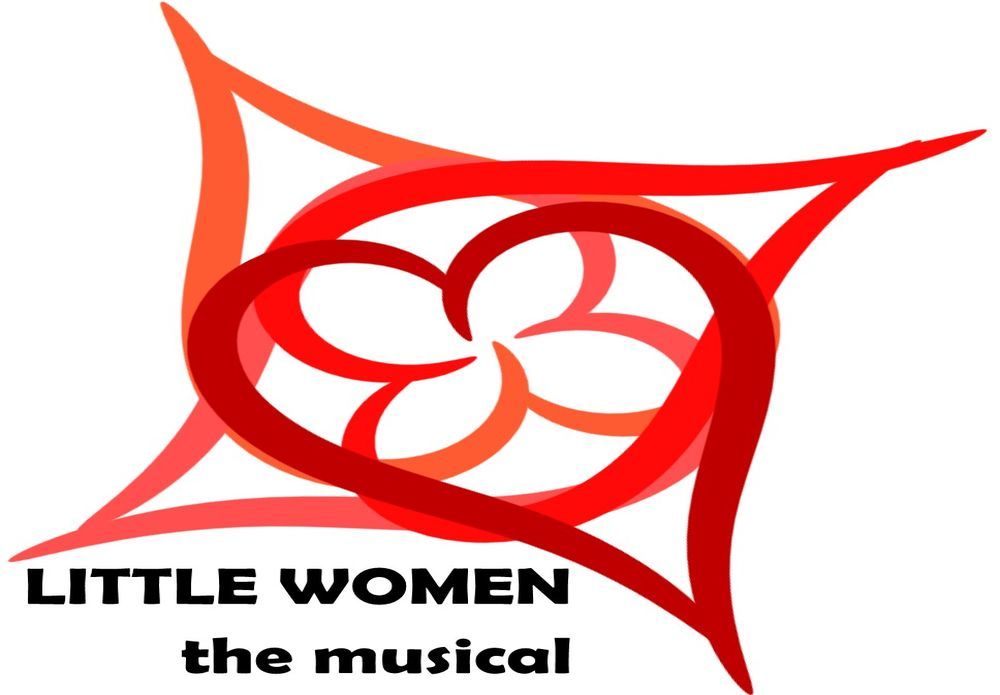 CAST for "Little Women the Musical":
Katie Moorman as Jo March
Keri McCarthy as Marmee March
Abigail Bradie as Meg March
Jess Couture as Beth March
Danielle Pratt as Amy March
Daniel Reidy as Laurie Laurence
John Leslie as Mr. Laurence
Peter Russo as Mr. John Brooke
Paul Spanagel as Professor Bhaer
Linnea Lyerly as Aunt March
Produced nationally and internationally, Little Women has been praised by critics for its ambition in adapting such a well-known story for the stage. This timeless, captivating story is brought to life in this glorious musical filled with personal discovery, heartache, hope and everlasting love. The original production starred the unparalleled Sutton Foster, who received Tony, Outer Critics Circle and Drama Desk nominations for her performance.
Based on Louisa May Alcott's life, Little Women follows the adventures of sisters, Jo, Meg, Beth and Amy March. Jo is trying to sell her stories for publication, but the publishers are not interested – her friend, Professor Bhaer, tells her that she has to do better and write more from herself. Begrudgingly taking this advice, Jo weaves the story of herself and her sisters and their experience growing up in Civil War America.
For tickets: https://www.onthestage.com/show/vanilla-box-productions/little-women-the-musical-98636/tickets