Don't Dress for Dinner serves up completely delicious entertainment when it opens at Theatre at the Mount in Gardner, MA for 5 performances, beginning October 4.
Bernard is planning a romantic weekend with his chic Parisian mistress in his charming converted French farmhouse, whilst his wife, Jacqueline, is away. He has arranged for a cordon bleu cook to prepare gourmet delights, and has invited his best friend, Robert, along too to provide the alibi. It's foolproof; what could possibly go wrong? Well...suppose Robert turn up not realizing quite why he has been invited. Suppose Robert and Jacqueline are secret lovers, and consequently determined that Jacqueline will NOT leave for the weekend. Suppose the cook has to pretend to be the mistress and the mistress in unable to cook. Suppose everyone's alibi gets confused with everyone else's. Hilarious confusion ensues as everyone at the farmhouse is improvising their way through an evening of mistaken identities, lusty hijinks, and inspired lunacy - all at breakneck speed.
Theatre at the Mount's production of Don't Dress for Dinner is directed by Lorien Corbelletti and stars David Allen Prescott as Robert, Francis Freel as Bernard, Autumn DeSisto as Jacqueline; Faith Brodi as Suzanne, Lynne Dumais as Suzette and Mathew Muller as George.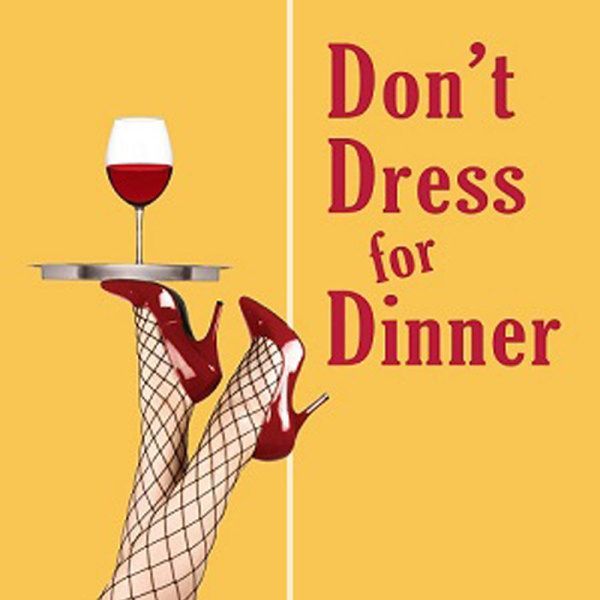 Theatre at the Mount "Don't Dress for Dinner"
Written by Marc Camoletti & Robin Hawdon
Directed by Lorien Corbelletti
PRIOR REVIEWS OF THE PLAY (from Samuel French)
"Hurtling along at the speed of light, this breathtaking farce is a near faultless piece of theatrical invention. Within seconds we are drawn into a delicious web of marital treachery which accelerates with classic symmetry to an all-star denouement." - The Guardian
"The labyrinthine twists and turns are liberally sprinkled with jokes, amiably roared to keep everyone giggling...It gives the whole cast the chance to enjoy themselves going over the top....The performance is a delight." - Daily Telegraph
"I feared it would be boring-boring, but it isn't-isn't. It's a nifty comedy farce about double adultery and gourmet cooking...I can't think of a better way of forgetting the recession." - Sunday Times
"I found myself having two of the most rib-tickling hilarious hours I have spent in the theatre in some time. It's amazing what the right combination of smart writing, polished acting and slick direction can do to energize a tired genre...A text book example of how to create the perfect farce." - Chicago Style Magazine
"The good times are back at the Royal George Theatre....A series of rib-rousing strokes. All night long. Better yet, you don't have to suspend your intelligence...In a comedy of confusion that almost collapses under the weight of duplicity, mistaken identity, and extramarital affairs, but somehow stays in the air like a precarious but well-built souffle." - Chicago Tribune
Performance dates for Don't Dress for Dinner are October 4, 5, 11, 12 at 8PM and October 13 at 2PM.