(Cover Photo courtesy of Pilgrim Soul Productions)
By Kevin T. Baldwin
METRMAG Reviewer
Contact: 774-242-6724
"AMERICAN BUFFALO" by David Mamet. Presented by Pilgrim Soul Productions at GB & Lexi Singh Performance Center at Alternatives, Whitin Mill, 60 Douglas Road, Whitinsville, MA. Performances Nov. 14, 15, and 16 at 7:30pm; Nov. 17 at 2:00pm. Tickets: $20.00; Under 18 and Seniors $18.00; Groups of 10 or more $16.00. To reserve tickets call 508-296-0797, or send email to pilgrimsoulproductions@gmail.com. Tickets also available at the door.
Written by David Mamet. Directed by Bill Sigalis.
Cast Includes: Jim Douglas, Mitchell Kiliulis & Jack Celli .

Pilgrim Soul Productions presents David Mamet's "American Buffalo" about a Chicago junk shop, three small-time crooks and their inept scheme to rob a man of his coin collection,
In 1975, the play won the Obie Award and, in 1977, was nominated for two Tony Awards for Best Director of a Play and Best Scenic Design. It also won the NY Drama Critics' Circle Award for Best American Play and also won a Drama Desk Award for Outstanding Set Design. The 1983 revival was nominated for a Tony and Drama Desk Award (for Outstanding Actor in a Play for Al Pacino).
Audiences should be prepared that this show is very guttural and, as with most Mamet works, contains a high level of profanity with a deep, almost "subterranean" quality. But the language is used with purpose and not just used to offend or for shock value.
Dealing with that level of intensity and foul language, director Bill Sigalis discussed how his actors were able to work with the "Mametspeak" and not be so engrossed in the content that they might bring that aspect of the show home or into their personal lives at the end of rehearsal.
"At home I found myself thinking, of course, about our production needs, parsing Mametspeak, etc.," Sigalis says.
But also, according to Sigalis, it was crucial that he and his actors all maintained focus on Mamet's view of American life and, in doing so, the cast and creative team were able to, "leave the subterranean quality, (foul) language and themes in the theater."
"Our Don (Jim Douglas) and Bobby (Mitchell Kiliulis) said they weren't affected by the play when away from it," Sigalis says.
Douglas plays Don, who owns the junk shop where the entire play takes place. Don has sold a "buffalo nickel" to a customer for $90 but soon suspects it is might be far more valuable.
Don and his young runner, Bob (sometimes called Bobby, played by Kiliulis), plan to steal the coin back. Bob has been keeping watch on the customer's house and reports that he has left for the weekend with a suitcase. Teach, a poker buddy of Don's, arrives and learns of the scheme.

Teach convinces Don that Bob is too 'green' and can't be counted on for the burglary, and offers himself as Bob's replacement. It is from here that things begin to go south for the trio as the play unfolds.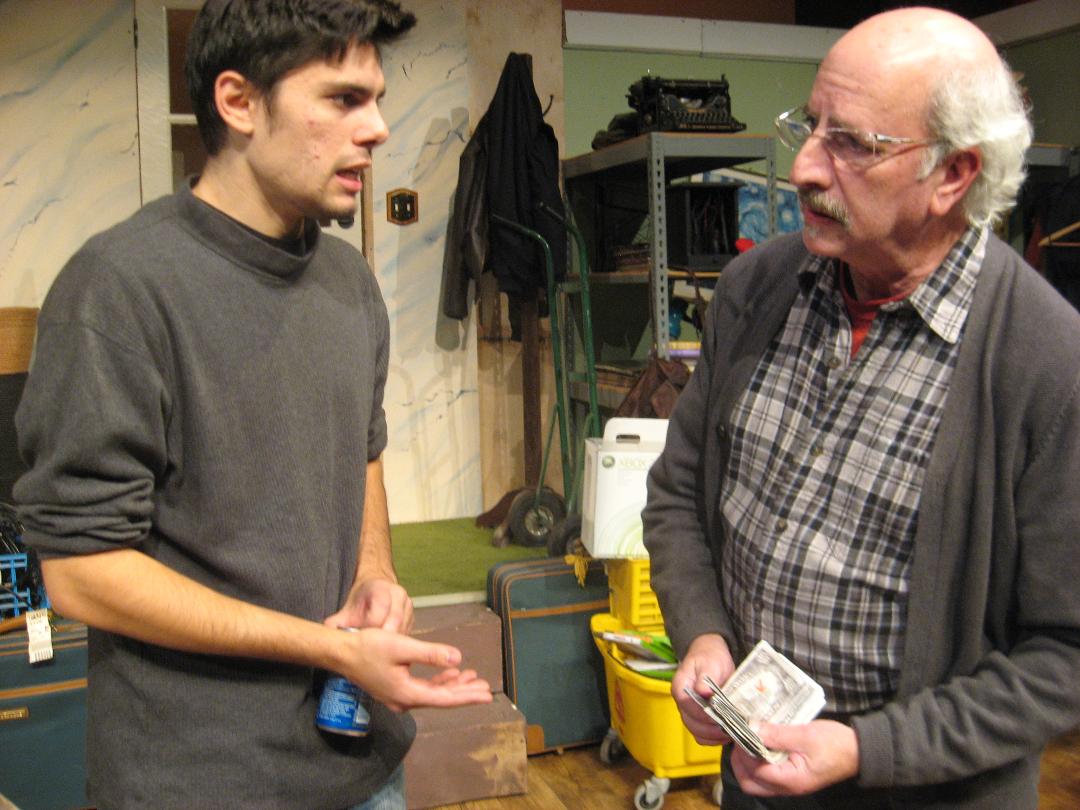 Mitch Kiliulis and Jim Douglas in "American Buffalo".
Photo Courtesy of Pilgrim Soul Productions.

A veritable "Who's Who" of actors have performed this work. Al Pacino, Robert Duvall, Dustin Hoffman, Dennis Franz, William H. Macy among others. But Sigalis says his cast is "terrific" bringing their own spin to the characters of Donny, Walter (aka "Teach") and Bob.
"They bring their intelligence, experience, eagerness to 'give it their all,' and take direction well. (They are) a fine acting ensemble," Sigalis points out.
This is Sigalis' first outing as director for Pilgrim Soul Productions (PSP), although has worked with the company two seasons ago, playing Tobias in "A Delicate Balance."
"PSP is great to work with," Sigalis says. "Cooperative, professional, always helpful, like its leader, Matt Carr, who has blessed me with an outstanding stage manager, Susan Nest."
Since the play premiered in 1975, it has always been critically lauded. The New York Times called it, "one of the best American plays of the last decade." The stage directions in the script are straightforward and do not provide line readings. Sigalis agrees with the time's assessment of the material.
"Don't know all his plays," says Sigalis. "(I) acted in 'Reunion' and 'Glengarry Glen Ross' a few years ago, read 'Duck Variations' and 'Speed-the-Plow.' I'd rate 'American Buffalo' right up there with my favorite, 'Glengarry Glen Ross.'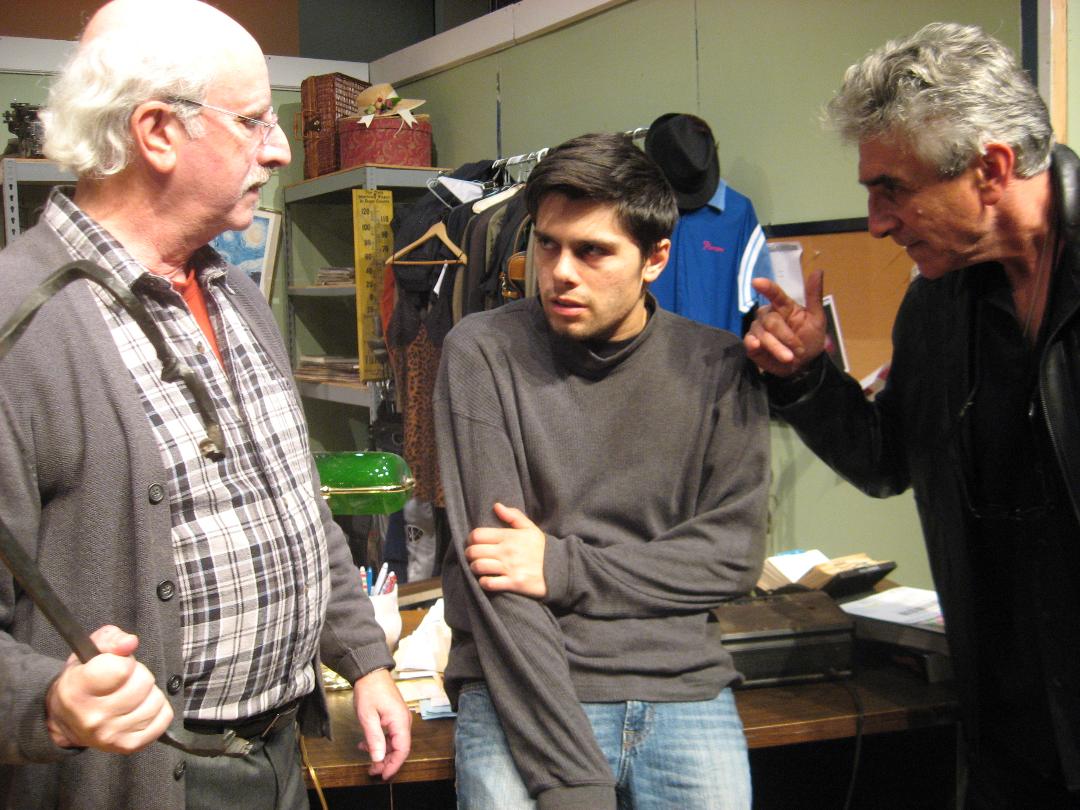 Jim Douglas, Mitch Kiliulis, and Jack Celli.
Photo Courtesy of Pilgrim Soul Productions


The setting of the 1970s junk shop in a rough part of town seems to be well representative of the "world" that this cast of broken down characters exists in. In search of the "American Dream," they see that dream condensed into the size of a coin and, thus, see it bring their world crumbling down around them. Sigalis has his own vision of the junk shop and "American Buffalo."
'(It is) a metaphor about the state of our country, either a warning or a prediction.
Sigalis says he is hopeful audiences appreciate the show's message, saying "Speed-the-Plow" would be his choice for a Mamet follow-up.

More information here: https://pilgrimsoulproductions.com/american-buffalo/