(Cover Photo: The CAST of the Andrew Lippa musical, "THE ADDAMS FAMILY" presented by StageWorks in Fitchburg, MA. through November 19, 2023. Photo Credit Jen Knight)


By Kevin T. Baldwin
METRMAG Reviewer
# 774-242-6724

"It's a dream that's coming true when the moon says 'I Love You.'"
- ("Uncle Fester") / Rick Elice, Marshall Brickman, Andrew Lippa
Presents the Andrew Lippa Musical
Music and Lyrics by Andrew Lippa
Book by Marshall Brickman & Rick Elice
Directed by Paul Conway
Assistant Directed by Allison Nawotny
Music Director Emily Stratton
Choreographer Karen L. Baldwin
Cast Includes: Michael R. Celularo as Gomez Addams"; Autumn DeSisto as "Morticia Addams"; Michael Knight as "Uncle Fester"; Ilana Whittaker as "Wednesday Addams"; Loren Bennington as "Pugsley Addams"; Jennifer MacLean as "Grandma Addams"; Alex Hebert as "Lurch"; Matthew Valeri as "Mal Beineke"; Katharine Taylor as "Alice Beineke"; Vajra Spring as "Lucas Beineke"; Collin Patriss as "Cousin It/Ancestor"; Lily Zapka as "Conquistador Ancestor"; Katrina Hebert as "Saloon Girl Ancestor"; Brittany English as "Flight Attendant Ancestor"; Scarlett DeSisto as "Tassel/Gambler Ancestor"; Michelle Sparrow as "Bride Ancestor"; Jodi Schoolcraft as "1920s Flapper Ancestor"; Chelsey Patriss as "Bernice/Ancestor"; Natalie DeMar as "Cave Ancestor"; Jodi Pinales as "Grim Reaper/Ancestor"; Michelle Fisher as "1900s School Teacher Ancestor"; Mikhail Gelineau as "Bounty Hunter Ancestor"; Lynn Valeri as "Nurse Ancestor"; Jen Knight as "Ancestor"; Yaitza Rodriguez as "Ancestor"
Additional Creative Team:
Production Manager - Sean Kyle; Stage Manager – Allison Nawotny; Set Designer – Sean Kyle; Lighting Designer and Operator – Cassandra Kalley; Costume Designer – Megan McGuire; Prop Master – Greg Baker; Artistic Director – Kate Olson; Spotlight Operator – Andrea Moore; Stage Crew – Leo Pinales, Ted Sparrow, Andrea Moore; Front of House manager – Mary Dean; Dance Captain – Jodi Schoolcraft; Makeup Artists – Megan McGuire, Ann Lyons, Katrina Hebert, Kate Olson.
Based on the comic strip "The Addams Family" by Charles Addams
The Theatre at St. Bernard's High School, 45 Harvard Street, Fitchburg, MA. 01420
Performances:
November 17, 2023 through November 19, 2023
(Contact Box Office for Exact Times)
TICKETS:
Contact StageWorks via email at info@stageworksarts.org
COVID 19 PROTOCOLS
Contact Venue for Most Updated COVID-19 Safety Protocols and Information.
StageWorks in Fitchburg "unearths' the Andrew Lippa musical, "THE ADDAMS FAMILY," featuring a hysterically haunting score that proves that, when you're mounting an ADDAMS musical, you "need to have a sense of humor."
Thankfully, a sense of humor is just what StageWorks has applied to this latest production which begins at the the Theatre at St. Bernard's High School in Fitchburg on November 17th and continues until November 19th.
Stage direction for the StageWorks post-Halloween/pre-Thanksgiving production comes from Paul Conway (assistant directed by Allison Nawotny), with music direction by Emily Stratton and choreography by Karen L. Baldwin.
From the moment you hear the iconic theme song to the original television show begin, fingers will begin snapping or hands will begin clapping, indicating everyone is ready to have some fun.
Then the show moves into new territory with a completely different musical approach.
The show is based upon "THE ADDAMS FAMILY" macabre cartoon characters created by Charles Addams.
"ADDAMS FAMILY" has a pleasing score featuring music and lyrics by Lippa with a book by Marshall Brickman and Rick Elice. To lift from the show, this is a musical that can be enjoyed by "the living, the dead and the undecided."
Lippa would ultimately be nominated for a Tony Award for Best Score.
However, if one examines the Brickman/Elice book closely, it bears a strong resemblance to George S. Kaufman and Moss Hart's "You Can't Take It with You."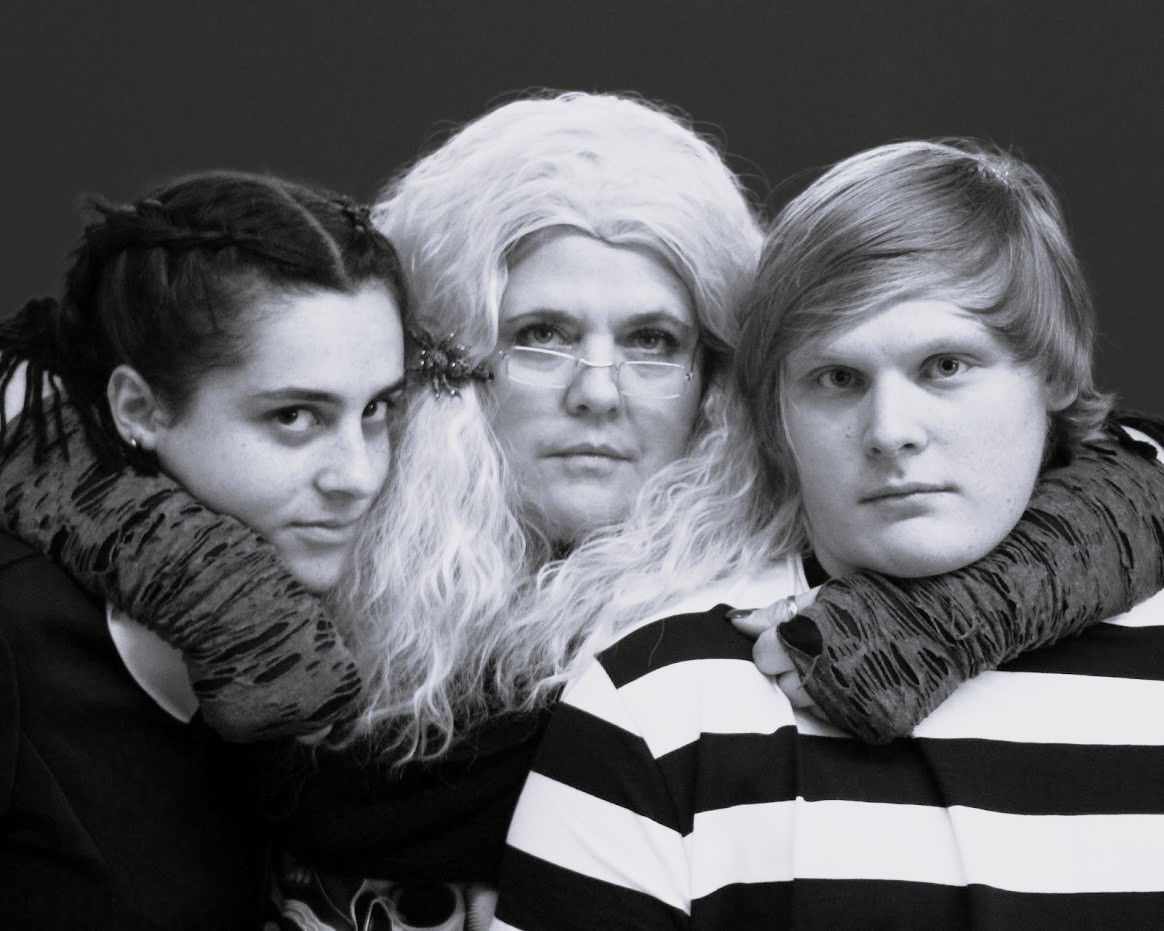 (Photo: Ilana Whittaker as "Wednesday Addams," Jennifer MacLean as "Grandma Addams" and Loren Bennington as "Pugsley Addams" in the Andrew Lippa musical, "THE ADDAMS FAMILY" presented by StageWorks in Fitchburg, MA. through November 19, 2023. Photo Credit Jen Knight)
In "You Can't Take It with You," the story revolves around two lovers whose families meet and they couldn't be more different.
Such is the plot of "ADDAMS FAMILY"...only, in this case, the story begins in front of a mausoleum with one of the most delightful and fun opening numbers ever - "When You're an ADDAMS" - as performed by the entire "ADDAMS FAMILY" and their ancestors.
Wednesday ADDAMS (Ilana Whittaker), now an adult, meets and falls for Lucas (Vajra Spring) and tells her father, Gomez (Michael R. Celularo), that they plan to marry.
Wednesday begs Gomez not to tell his wife and her mother, Morticia (Autumn DeSisto), about the impending nuptials just yet and that is where the fun begins.
Although there have been several television and film adaptations of the "altogether ookie" ADDAMS, with the most recent being the Netflix series "Wednesday," the musical homage was the first stage show to be based on the characters.
"THE ADDAMS FAMILY" musical opened on Broadway in 2010 with a superb cast that included Nathan Lane as "Gomez" and Bebe Neuwirth as "Morticia."
The production ran until the end of 2011 and was nominated for two Tony Awards: one for Andrew Lippa's score and one for the supporting performance of Kevin Chamberlin as "Uncle Fester."
The original Broadway set design for "ADDAMS FAMILY" won a Drama Desk Award and an Outer Critics Circle Award.
Lane would also be honored with the 2010 Drama League Award for Distinguished Achievement in Musical Theatre Award.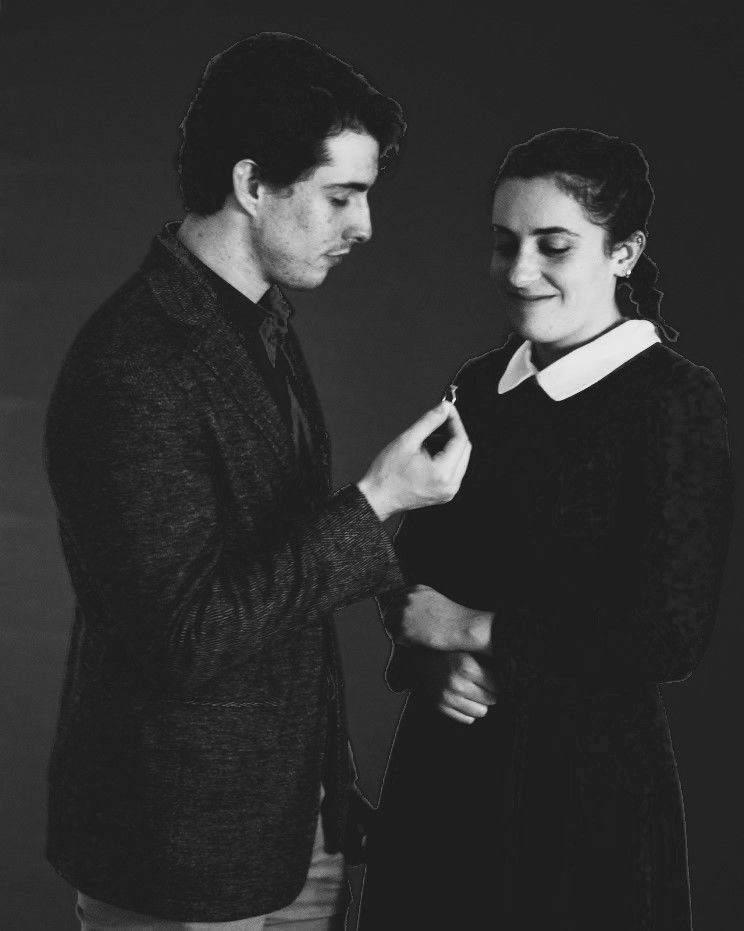 (Photo: Vajra Spring as "Lucas Beineke" and Ilana Whittaker as "Wednesday Addams" in the Andrew Lippa musical, "THE ADDAMS FAMILY" presented by StageWorks in Fitchburg, MA. through November 19, 2023. Photo Credit Jen Knight)
As part of some bizarre plan, Wednesday coerces her parents into inviting over to dinner the parents of secret fiancé Lucas, Mal (Matthew Valeri) and Alice Beineke (Katharine Taylor), a more conservative couple.
The again, when it comes to "THE ADDAMS FAMILY," almost EVERY other family could be considered "more conservative."
Morticia and Gomez reluctantly agree to Wednesday's wishes but the secret Gomez keeps from his wife is unbearable as he coveys in the consecutive songs, "Two Things/Wednesday's Growing Up/Three Things."
There are some fine duets in the score, including "Trapped," "Live Before We Die" and the Tango number, "Tango De Amour."
Of the more upbeat numbers includes a song that might prove dangerous to one's health, "Crazier Than You," as sung by Wednesday and Lucas (joined in a reprise later by Alice and Mal).
As Wednesday, Whittaker sings the song "Pulled" opposite Loren Bennington as her brother, "Pugsley," which is one of the musical highlights of the show.
As Morticia, DeSisto is charged with the lilting, "Just Around the Corner" while Celularo must render the more somber, "Happy Sad."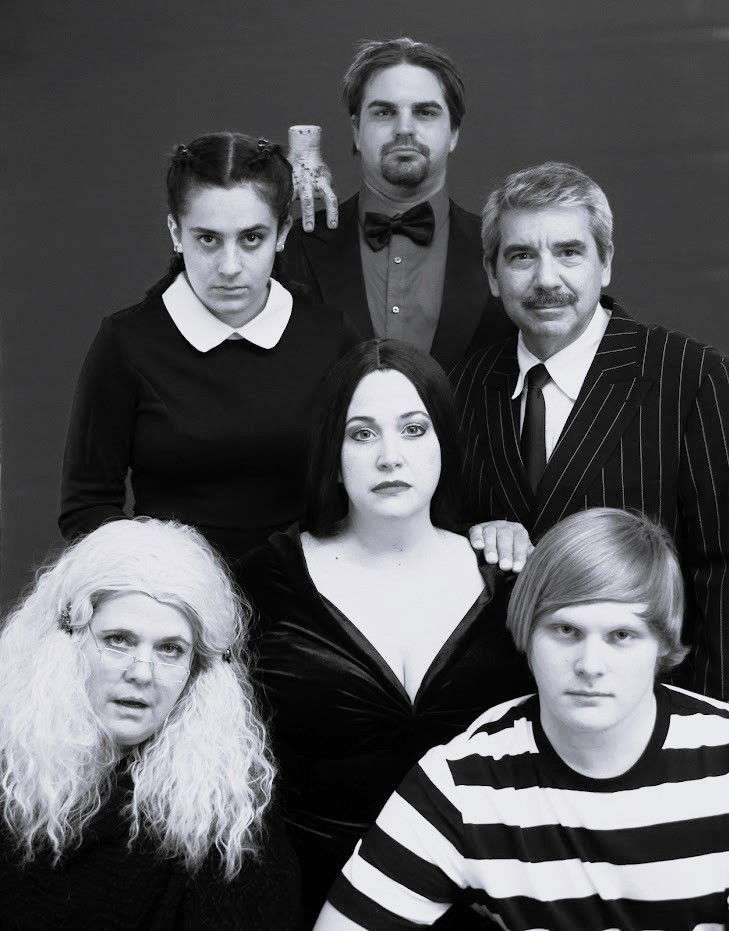 (Photo: The CAST of the Andrew Lippa musical, "THE ADDAMS FAMILY" presented by StageWorks in Fitchburg, MA. through November 19, 2023. Photo Credit Jen Knight)
Michael Knight plays our guide throughout the evening, "Uncle Fester," who sings to us of the concept of love in a sort of "preamble" to the song, "Let's Not Talk About Anything Else But Love." Then, later, Fester confesses of his own love for some…one?…as expressed in the song, "The Moon and Me."
Rounding out the StageWorks cast are Jennifer MacLean as "Grandma ADDAMS" (although her actual family link is a tad bit unclear), Alex Hebert as the family butler "Lurch" and Collin Patriss as "Cousin It" (also doubling as an "Ancestor").
The balance of "THE ADDAMS FAMILY" ensemble appear as various "Ancestors" - each and every one of them assists in "undertaking" the "execution" of the story.
In addition to the act one opener, the Ensemble is also featured in "One Normal Night," the act one closer, "Full Disclosure" and in the show's finale, the more ominous sounding, "Move Toward the Darkness."
StageWorks' production of "ADDAMS FAMILY" plays this weekend in Fitchburg until November 19th.
So, go and "pay a call on" this wonderful family. For more information or tickets, contact StageWorks via email at info@stageworksarts.org
Approximately two hours, 40 minutes with one intermission.
Kevin T. Baldwin is a member of the American Theatre Critics Association (ATCA)
@MetrmagReviews
@Theatre_Critics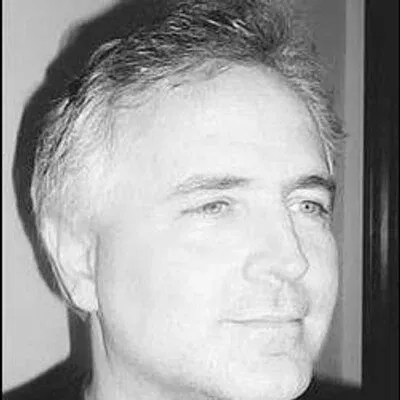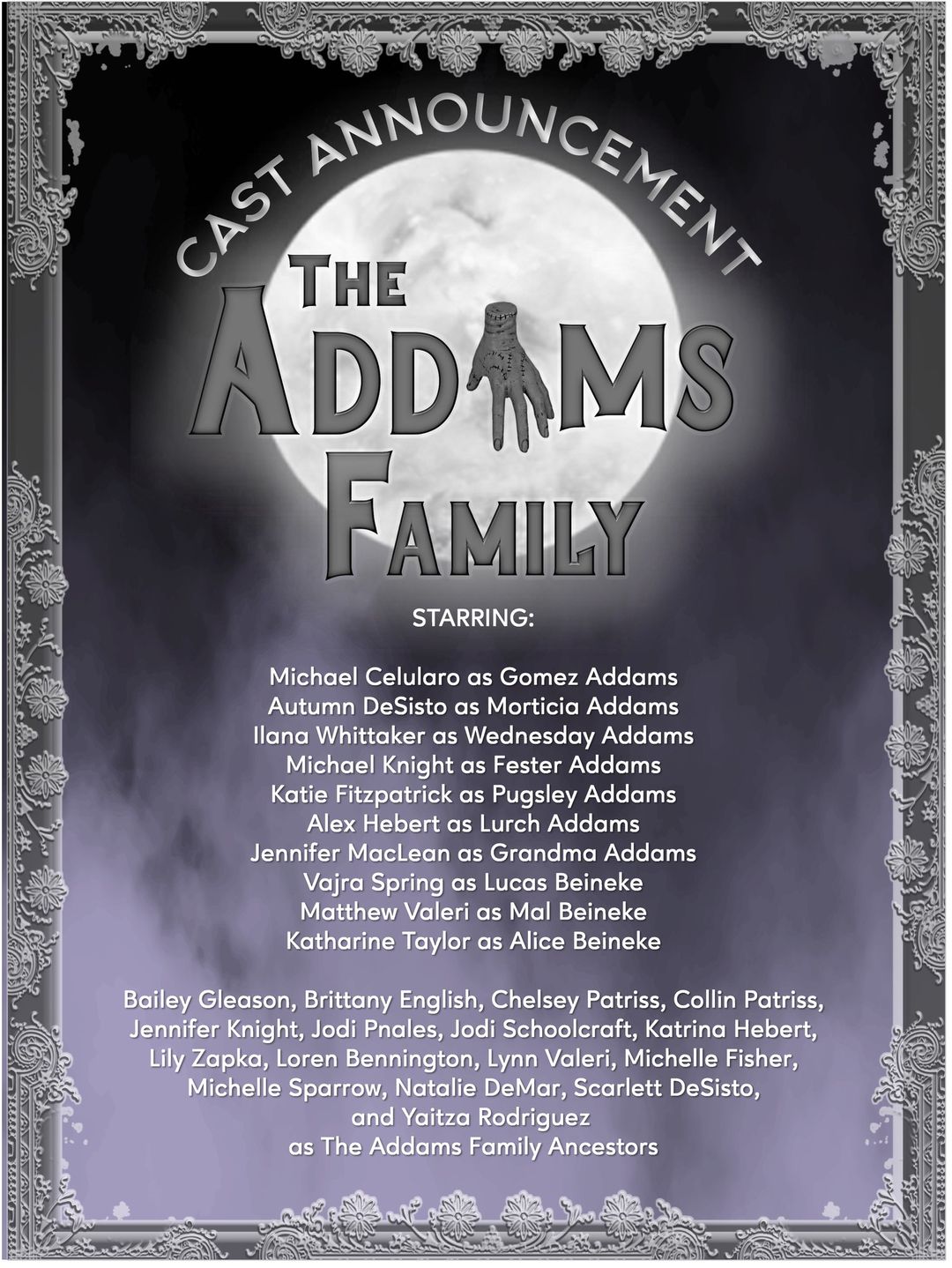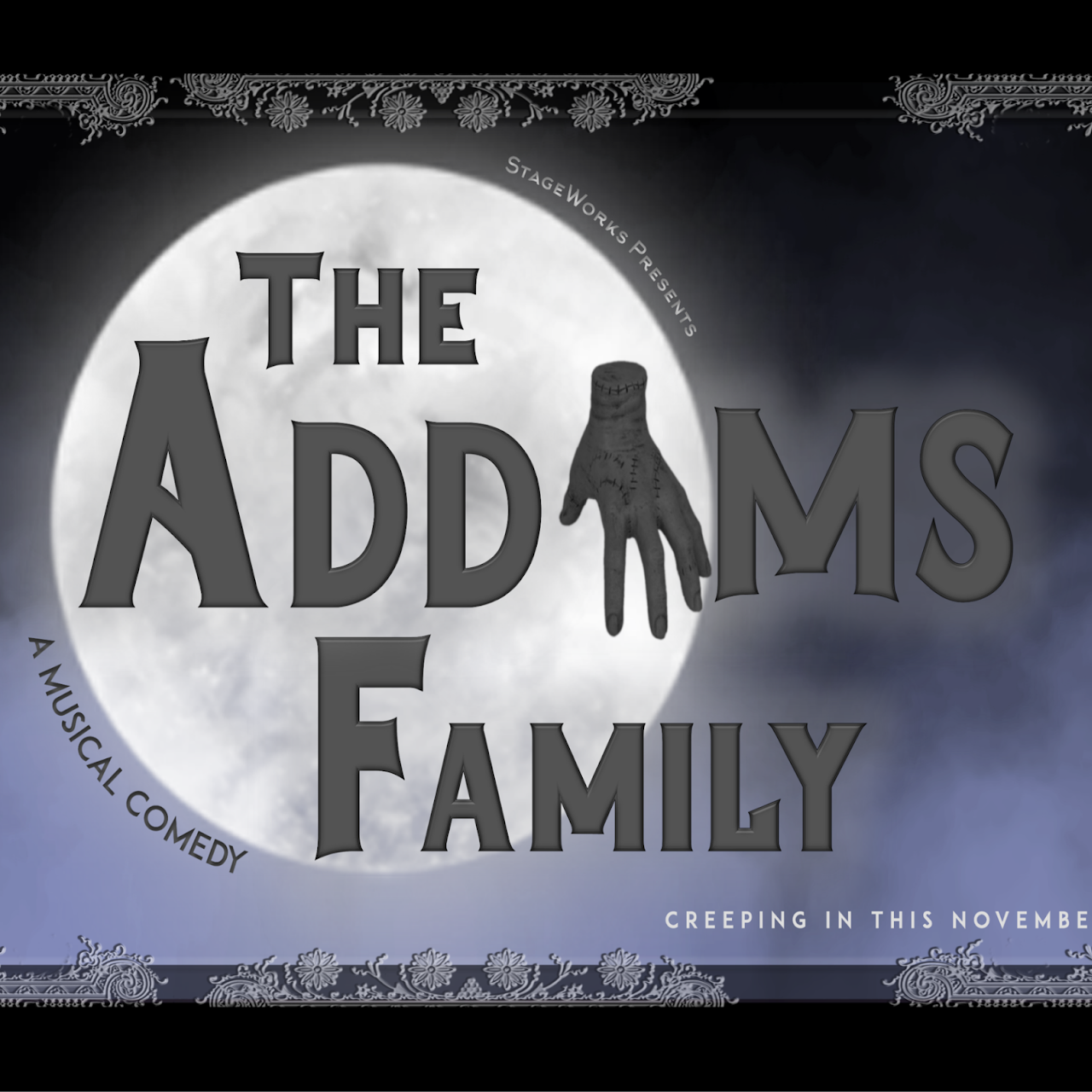 ABOUT THE SHOW
In the kooky, upside-down world of "THE ADDAMS FAMILY" to be sad is to be happy, to feel pain is to feel joy, and death and suffering are the stuff of their dreams.
Nonetheless, this quirky family still has to deal with many of the same challenges faced by any other family, and the spookiest nightmare faced by every family creates the focus for the musical by Andrew Lippa, Marshall Brickman and Rick Elice.
"THE ADDAMS FAMILY" kids are growing up.
THE ADDAMSES have lived by their unique values for hundreds of years and Gomez and Morticia, the patriarch and matriarch of the clan, would be only too happy to continue living that way.
Their dark, macabre, beloved daughter Wednesday, however, is now an eighteen year-old young woman who is ready for a life of her own.
She has fallen in love with Lucas Beineke, a sweet, smart boy from a normal, respectable Ohio family — the most un-ADDAMS sounding person one could be!
And to make matters worse, she has invited the Beinekes to their home for dinner.
In one fateful, hilarious night, secrets are disclosed, relationships are tested, and "THE ADDAMS FAMILY" must face up to the one horrible thing they've managed to avoid for generations...
Change. (STAGEAGENT)

ABOUT STAGEWORKS
STAGEWORKS is incorporated under under 503(c) not for profit status with the mission of delivering performance arts to the public and forwarding cultural enrichment. STAGEWORKS is supported in part by a grants from local agencies which are supported by the Mass Cultural Council, a state agency.
info@stageworksarts.org