(Photos courtesy of Kait Rankins and the Majestic Theater)
Presents Ira Levin's
"DEATHTRAP"
Written by Ira Levin. Director Robbie Simpson. Producing Director Danny Eaton.
Cast includes: Ron Komora, Krista Lucas, Jack Grigoli, Lisa Abend and Walter Mantani.
"Deathtrap" by Ira Levin. Presented by the Majestic Theater, 131 Elm St, West Springfield, MA 01089 from Jan. 9 through Feb. 16, 2020. Ticket prices range from $24 to $31. For tickets and more information: http://www.majestictheater.comby or contact the box office at (413) 747-7797. You may also visit the box office when it is open (Monday through Friday 10:00am to 5:00pm, Saturdays 10:00am through 1:00pm).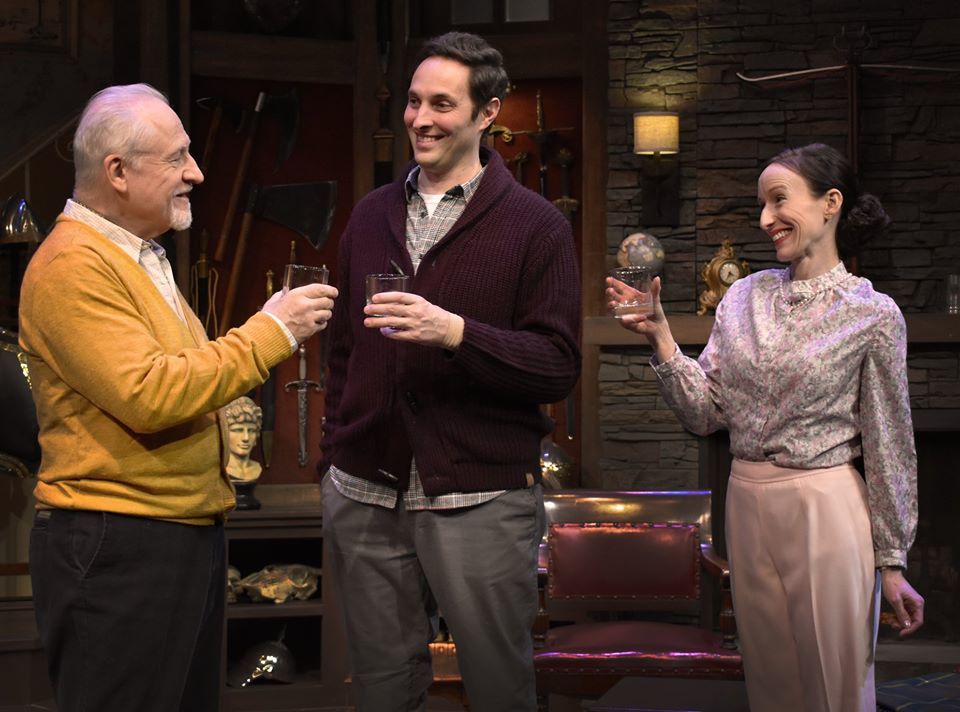 Ron Komora, Jack Grigoli and Krista Lucas in Majestic Theater's "Deathtrap". Photo courtesy of Kait Rankins)

West Springfield, MA – The latest production in the Majestic Theater's 23rd Season is "Deathtrap," which runs January 9 through February 16, according to Producing Director Danny Eaton.
The classic comedy/thriller by Ira Levin follows the story of Sidney Bruhl, a formerly successful playwright now low on money and inspiration.
A play written by a student, Clifford Anderson, arrives and Sidney is certain it will be a hit, even joking to his wife that he may have to kill the young man and steal his script.
Sidney invites Cliff over to work on the play, which is also titled "Deathtrap," then learns there are no other copies of the play in existence.
To the horror of his wife, Sidney appears to choke Cliff to death and drag him off to bury him, but are things as they seem?
Levin's play is described as an ingenious and spellbinding thriller, both sinister and hilarious.
The cast includes Ron Komora, Krista Lucas, Jack Grigoli, Lisa Abend and Walter Mantani.
Danny Eaton is producing director. The director is Robbie Simpson, set design is by Greg Trochlil, Dawn McKay is costume designer and the lighting design is by Dan Rist. Stephen Petit is production stage manager.
Ticket prices range from $24 to $31 and can be purchased by calling the box office at (413) 747-7797 or visiting while the box office is open (Monday – Friday 10am – 5pm, Saturday 10am – 1pm). Tickets for the other plays in the Majestic's 23rd Season can also be purchased. Those plays are:
Performances: Jan. 9, 16, 23, 30, Feb. 6 & 13 at 7:30pm; Jan. 10, 11, 17, 18, 24, 25, 31, Feb. 1, 7, 8, 14 & 15 at 8:00pm; Jan. 12, 19, 26, Feb. 2, 8, 9, 15 & 16 at 2:00pm; Jan. 15, 22, 26, 29, Feb. 2, 5, 12 at 7:00pm.
Also coming this season from The Majestic Theater:
"The Pitch" (Contemporary drama; February 27 – April 5, 2020) This contemporary drama by Pioneer Valley-based writer Stan Freeman is a play about baseball, best friends and betrayal. Retired sportswriter Roger Pennell reluctantly agrees to collaborate with a young reporter, Mike Resnick, on the biography of a boyhood friend of his. That friend, Vernon Peters, was a pitcher – a lefty who could throw a fastball. He'd been languishing on a farm team for the New York Yankees, but then came "the call" and he was on the mound at Yankee Stadium. In the batter's box was Boston's Carl Yazstremski. Peters threw only one pitch on that day nearly fifty years ago, and then his career in the Major Leagues abruptly ended. In digging into the story, the young writer discovers a secret at the heart of it all—a secret the older writer fiercely intends to protect.
"9 to 5: The Musical" (Musical; April 16 – May 31, 2020) This rollicking musical by Dolly Parton and Patricia Resnick is based on the 1980 movie of the same name. It features three unlikely friends, Violet, Dora Lee, and Judy, stuck in life and stuck in unrewarding jobs. Faced with a domineering and lecherous boss, the ladies plot their revenge in a wildly funny series of events.
The Theater Project is a non-profit company that Eaton founded in 1991. Since March 1997 it has been in residence in West Springfield's historic Majestic Theater, a century-old venue that has been named "Best Place to See Theater" and "Best Live Theatre Company" in newspaper polls. In addition, Eaton's work at the Majestic was honored with a Regional Award for Outstanding Achievement in the American Theatre by the New England Theatre Conference. For additional information, visit www.majestictheater.com.