(Cover Photo: The cast of Joe DiPietro's "Over The River and Through the Woods" presented by Square One Players. Photo Courtesy of Joanne Smith)
By Kevin T. Baldwin
METRMAG Reviewer
Contact: 774-242-6724
Square One Players
presents
Joe DiPietro's
"Over The River and Through the Woods"
Performances to be held at the Flanagan Theater in Southgate at Shrewsbury, 30 Julio Drive, Shrewsbury, MA.
Performances:
July 31, 2021 at 7:30pm;
August 1 and 8, 2021 at 2:00pm
August 6 & 7, 2021 at 7:30pm
Written by Joe DiPietro. Directed by Ed Lindem. Production Manager Joanne Smith. Stage Manager Tara Wykes. Asst. Production Manager Tara Alano. Costumes by Foley Herrmann. Prop Mistress Krissi Forgues.
Cast Includes: Dan Biggins, Christina Pierro, James Lamoureux, Jim Catapano, Stephanie Sarkisian, April Swanson.
Members of now-defunct Regatta Players resurface at Southgate as new theatre group "Square One Players" - picking up where the former group left off with a comedy piece by renowned playwright Joe DiPietro.
Before the pandemic shutdown, Regatta Players, of Shrewsbury, were readying their planned production of "Over the River and through the Woods" by DiPietro.
Regrettably, as Asst. Production Manager Tara Alano recollects, right before the production's "tech week," the group was forced to cease production as their performance space located at "Southgate at Shrewsbury" was closing their doors to the public.
Then, more unfortunate news as a result of the pandemic shutdown.
"A few weeks later we were told Regatta folded," Alano says. Like many theatres adversely affected by the shutdown, the theatre company was ultimately forced to cease operations. According to the show's Stage Manager Tara Wykes, there was still a strong desire to continue with the work that Regatta had begun in staging "Over the River."
"It was such an amazing experience to rehearse for this show and, when it had to close in March 2020, we all knew that, no matter what, we still had to do this show someday," Wykes says.
Then, the Regatta show's original director, Ed Lindem, advised he would put the show on with his production company once pandemic restrictions eased in what many hoped would be a few weeks. However, as the pandemic shutdown advanced from "a few weeks" to over 16 months, more things changed, adversely affecting the hope of the production pressing forward.
"Over the year, Ed had gotten married and had relocated to Minnesota," Alano says, leaving those still hoping the production would happen left with the question of what to do next.
"We knew the actors wanted to perform the play - the set was complete, blocking finished and (we) knew how much work and effort had been put in," Alano says.
As Production Manager Joanne Smith recalls, "This left the three of us with a dilemma. We knew how much this show meant to the cast and knew that it was already in a good spot production wise."
The cast was set, the sets were done, the show was blocked, the costumes were good, and, according to Smith, "Southgate was willing to let us have the space, since they already knew us and our work ethic."
Alano affirms, "It was at this point (we) decided we can do this." "We decided to go out on our own and create a theater company with the three of us as owners/operators," Smith says. "We decided to go back to 'square one,' hence the name of 'Square One Players'!"
For the sake of the show, the team decided to resume production under a new organization entitled "Square One Players" with their premiere production of "'Over the River and Through the Woods" taking place in the Flanagan Theater at Southgate beginning July 31st, 2021.
"Honestly, it was as if the show chose us," Alano says with Wykes adding how "Over the River…" is "one of the few shows that I have worked on that I would do time and time again. The cast is wonderful, the story is relatable, hilarious and thoughtful."
Alano maintains, "With our relationship with Southgate from prior productions (as "Regatta Players") we were fortunate to have them welcome us at the Flanagan Theater to start our endeavor as well."
Wykes elaborates on the ongoing active communication between Square One members, the "Over the River…" cast and the staff at Southgate.
"Ever since we first had to shut down, we were willing to do whatever Southgate asked of us to put on this show," Wykes recalls. "We held rehearsals over Zoom throughout 2020 and discussed other ways of doing this production. Could we do it over Zoom? Should we do it outside? The cast and production team all agreed that this a show that needed an audience. We would only put on this show if we could do it in person, indoors and in a theater. Fortunately, Southgate welcomed us back with open arms!"
Smith advises that, since Regatta had all of the previously accumulated sets, props and costumes from the planned production in storage, it simplified the process of bringing these items back into the Southgate theater space.
"Since the state lifted constraints in May (Southgate has been following all of the state's protocols), and we didn't start our rehearsals until June, there have been no COVID-19 restrictions for us at all," according to Smith. "We have been able to rehearse without masks or social distancing. Our audience will have no restrictions as well. Back to 'normal', as they say!"
Alano indicates the newly formed Square One Players rehearsed in June sans masks or social distancing.
"We went with the guidelines our host (Southgate) needed to operate safely," Alano says. "Once they knew it was safe for everyone, they opened their doors to the public and us."
The group plans an "Opening Night Celebration" on the 31st hosted by Southgate with free wine, cheese, fruit and crackers available to all an hour before doors open for the performance. According to Alano, "It's a nice opportunity to talk to some of the audience before we all suit up and get ready to start the show!!"
DiPietro's "Over the River and Through the Woods" is about a New Jersey based Italian-American family dealing with the unsettling news that one of their own plans to leave the family nest to move across the country.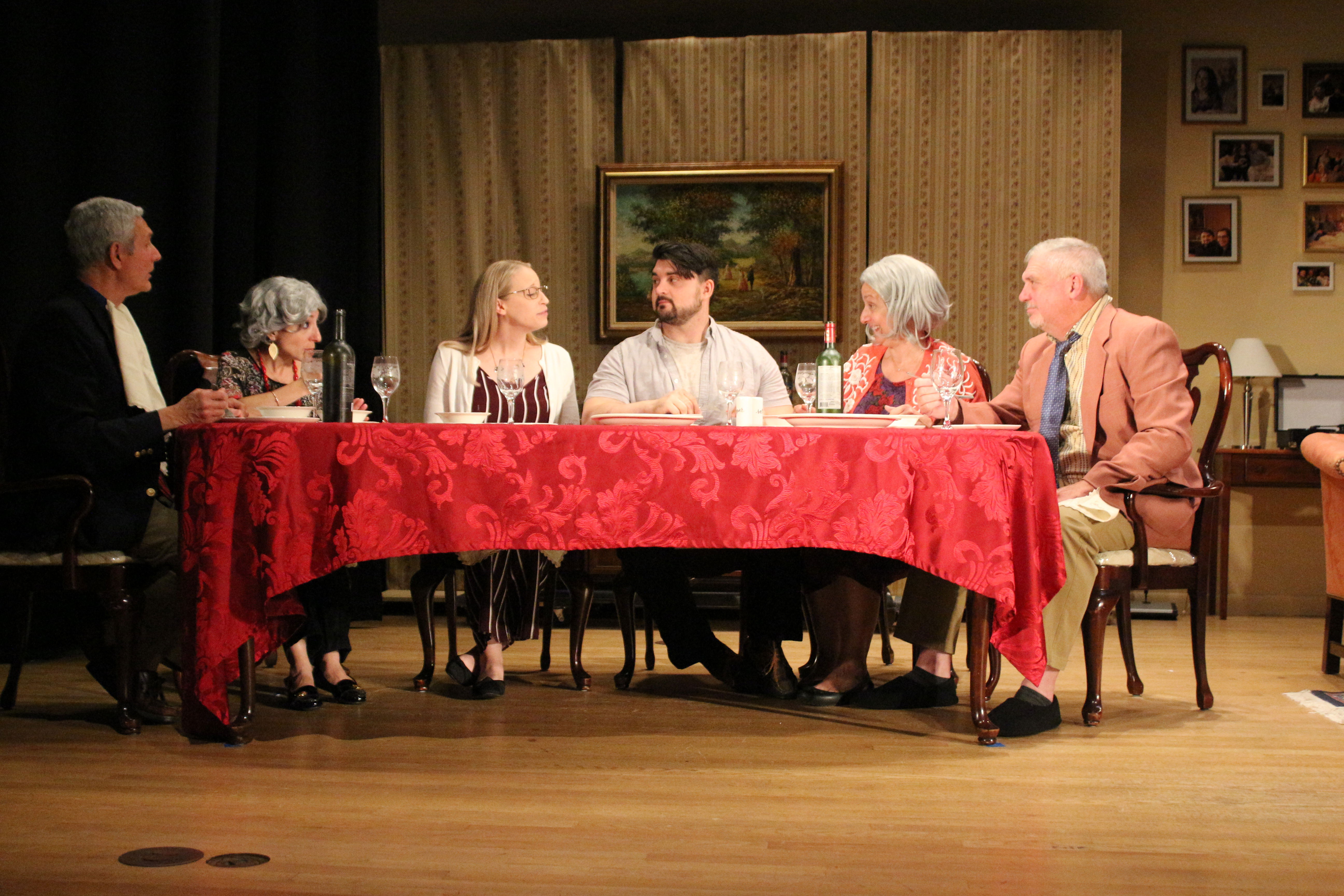 (Pictured: The cast of Joe DiPietro's "Over The River and Through the Woods" presented by Square One Players. Photo Courtesy of Joanne Smith)
The premiere Square One cast includes: Dan Biggins as 'Frank"; Christina Pierro as "Aida"; James Lamoureux as "Nick"; Jim Catapano as "Nunzio"; Stephanie Sarkisian as "Emma" and April Swanson as "Caitlin O'Hare".
DiPietro is well known also for writing the books of the musicals "Memphis" and "I Love You, You're Perfect, Now Change" which, according to the production team, raises their level of appreciation for his body of work.
Smith says, "From the moment I read the ('Over the River…') script, I knew it had to be performed on stage."
"His work is emotionally relatable and shines light brightly on the not so perfect everyday life we all experience," Alano says. "'Over the River…' is no different. It is like sitting and watching your own family at dinner!"
Alano praises her actors, affirming, "I think each actor has brought a little of themselves to their individual characters." She points out how "four of them (Tina, Dan, Jim and Stephanie) are playing much older characters and the familiarity of family and parenting has allowed the script to resonate deeply with them."
Lamoureux and Swanson, the two actors playing younger characters 'Nick' and 'Caitlin,' have also found the script close to their heart as well, with Alano indicating how "they each understand the generational differences and the difficulty it can cause with family relationships. It's a very relatable play and I believe each actor finds a piece of it could've been written from a day in their own home at some point in time."
"All I can say is this cast is amazing. Period. It's a 'no drama drama' - if you know what I mean!"
About resuming production, Wykes emphasizes, "The biggest re-adjustment for the cast is just getting back into theater. It's not often that theater people take such a long break between shows. So, we needed to take some time of getting back into the theater mindset of remembering lines and blocking and going to rehearsals."
Among the cast includes the aforementioned Lamoureux as 'Nick,' the family's grandson and who, according to Wykes, "has perfect comedic timing as he argues over the DVD player with his grandparents but will also easily have you in tears in the next scene."
With Pierro as 'Aida,' one of Nicks grandmothers, Wykes cites the actress as bringing "such a warmth and lovingness to her character." "You want her (Pierro) to be your grandmother," Wykes continues. "She is also perfectly partnered with her real life partner Dan Biggins who plays 'Frank.' The two have such wonderful chemistry that they bring to their relationships with each other and all the other characters that truly makes this show feel like it's a family."
Sarkisian, praises Wykes, portrays the most "energetic and loud grandmother you will ever see."
"She brings an energy and lovability to her character that makes anyone love her," Wykes says. "She is very well balanced with Jim Catapano who plays her husband 'Nunzio.' Jim, as an actor, is very reliable and is the rock that holds the cast together and in a way that is very much translated to his character who is trying to support his grandson and his family."
Smith also lauds DiPietro's script, "He writes stories that we all know so well because we live them every day. The family in 'Over the River…' is a lot like my family. Even though we are not Italian, we still have our gatherings around food and games. The show's mantra is Food, Family and Faith and that resonates with people. While it is very funny because it is so true, it also deals with the seriousness of learning to appreciate and love your family for who they are and while they are still with us."
Alano echoes Smith's sentiments stating, "I think it's meaning goes even deeper as it shows us how the relationships we have really do help shape who we are. I hope the audience truly leaves entertained and with warm memories of loved ones. This show truly makes you think of them through the laugh out loud lines and especially the more serious parts. It is a touching and lovely show."
Wykes also agrees, emphasizing, "I think it was an impactful and relatable show before COVID-19 and now, after the past year and a half of families being separated or losing loved ones, the impact is even stronger. You can see yourself in these characters and I think that will leave an impact on the audience, they will walk out still thinking about this show."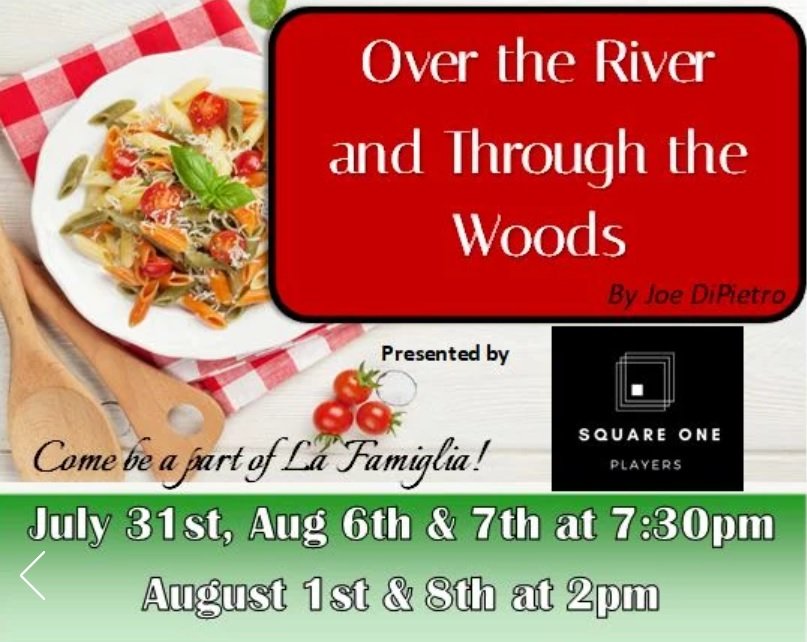 Opening performance is Saturday July 31th, 2021. Attendees of this performance are invited to an Opening Night Celebration prior to the performance. It all begins at 6:00pm and features a complimentary Wine and Cheese hour. The performance begins at 7:30pm.
Additional performances are on Sunday August 1st at 2pm, Friday August 6th at 7:30pm, Saturday August 7th at 7:30pm and Sunday August 8th at 2:00pm.
Ticket prices are $20 for General Admission and $17 for Students/Seniors.
All performances take place at Flanagan Theater in Southgate at Shrewsbury, 30 Julio Drive, Shrewsbury, MA. Reserve tickets now by visiting www.squareoneplayers.com. Tickets can also be reserved by calling 508-669-7750.