Kevin T. Baldwin
METRMag Reviewer
# 774-242-6724
Pilgrim Soul Productions
Presents
"OUTSIDE MULLINGAR"
"Outside Mullingar" by John Patrick Shanley. Presented by Pilgrim Soul Productions. GB & Lexi Singh Performance Center at Alternatives' historic Whitin Mill, 60 Douglas Road, Whitinsville, MA. Performances: March 6, 7, 13 & 14 at 7:30pm; March 15 at 2:00pm. Tickets $20.00; Under 18 and Seniors $18.00; Groups of 10 or more $16.00. To reserve tickets call 508-296-0797, or send email to pilgrimsoulproductions@gmail.com . (Tickets are also available at the door.)
Written by John Patrick Shanley. Directed by Matthew J. Carr.
Cast Includes: Dave Clark, Bernard Galvin, Susan Nest, Cherry Lynn Zinger.
Synopsis:
Anthony and Rosemary are two introverted misfits straddling 40. Anthony has spent his entire life on a cattle farm in rural Ireland. Rosemary lives right next door, determined to have him, watching the years slip away. Despite a land feud simmering between their families, these yearning, eccentric souls fight their way towards solid ground and some kind of happiness. Their journey is heartbreaking, funny as hell, and ultimately deeply moving. Outside Mullingar is a compassionate, delightful work about how it's never too late to take a chance on love.
John Patrick Shanley's Irish comedy "Outside Mullingar" comes to Whitinsville
Described by director Matthew Carr as a "gentle comedy", the John Patrick Shanley play "Outside Mullingar" will be presented by Pilgrim Soul Productions (PSP) beginning this week (going up March 6th at 7:30pm) in Whitinsville.
The show, according to Carr, is about "a couple of 40-somethings who have been 'looking for love in all the wrong places.'"
"Although Anthony and Rosemary are lifelong neighbors and friends, no spark of passion has ever had a chance to ignite between them," Carr says. "Now, as each of them faces their respective mid-life crisis, perhaps the Universe will intervene in their favor."
That is, unless, as Carr points out, a long-standing land feud between their families doesn't "tear asunder their already tenuous relationship."
This is not the first play set in Ireland that Pilgrim Soul Productions has staged. Last year the group staged "A Skull in Connemara" by Martin McDonagh. It is not unreasonable to assume this is intentional to coincide these shows with the month that celebrates St. Patrick's Day.
"I was born in county Galway, Ireland, so I have an affinity for Irish literature and the Irish (and Irish-American) playwrights in particular," Carr says. "Given PSP's seasonal offerings, our March production seems like the logical slot for works by these playwrights."
Carr points out how he grew up surrounded by "lots of Irish aunts, uncles, and cousins."
"Among other aspects of Irish drama, I am particularly drawn by its almost perverse ability to find humor in the darkest subject matter."
And how many others has Carr staged at Pilgrim Soul with the Irish theme?
"To be honest, I've lost count," Carr say. "When PSP first began, we were producing a couple of Irish plays per season. In recent years, we have limited ourselves to one Irish play in March."
Over the years, according to Carr, the group has presented the works of Sean O'Casey, Brian Friel, Martin McDonagh, Hugh Leonard and others.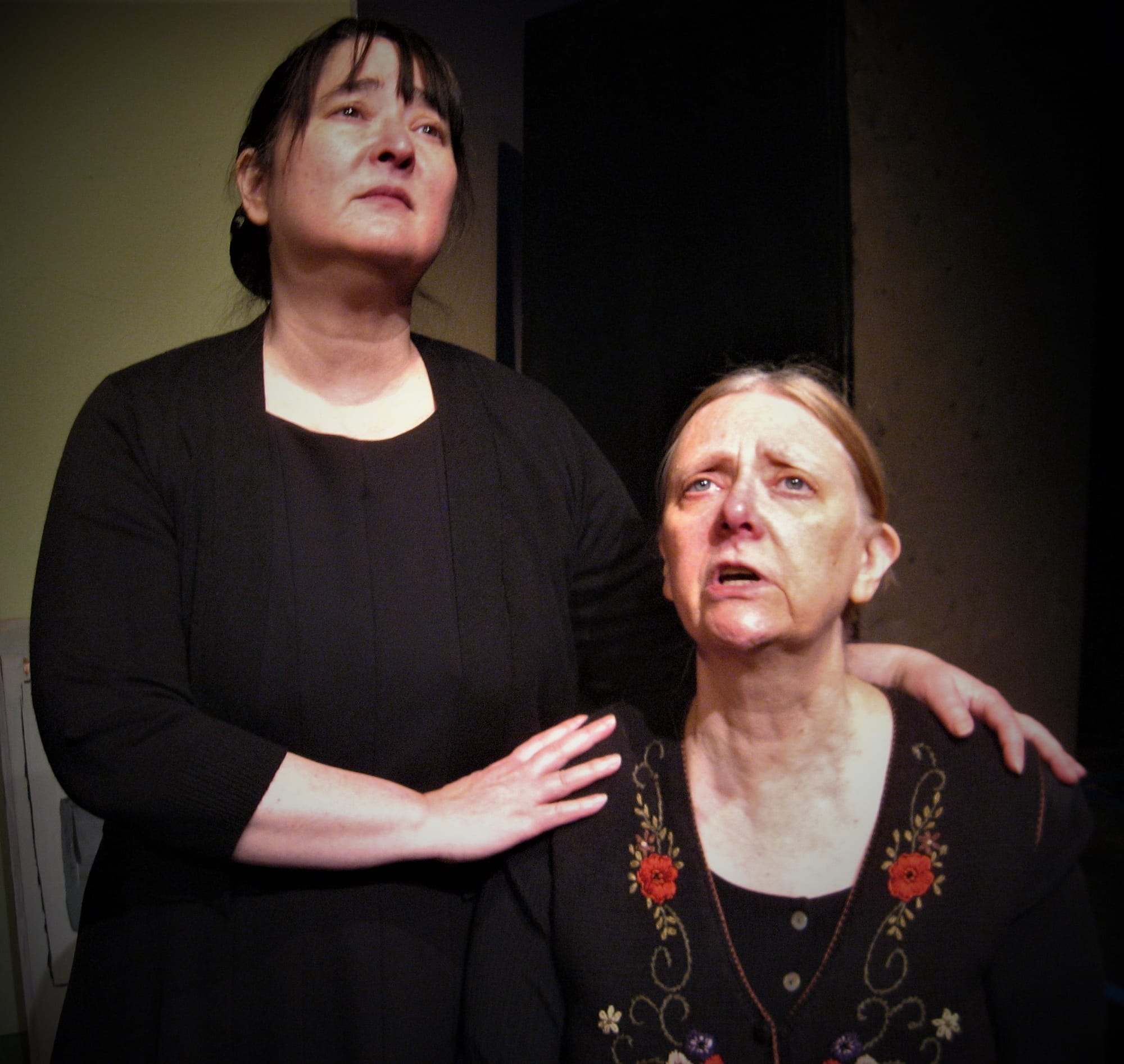 Cherry Lynn Zinger as Rosemary Muldoon and Susan Nest as Aoife Muldoon.
Photo Credit: Matt Carr.


Carr describes how he and his actors approach the varied dialects involved in producing a show set in Ireland.
"For any dialect other than standard American English (if there even is such a thing), I rely on the dialect materials provided by 'Paul Meier Dialect Services'," Carr says. "His simplified approach to dialects works well for those of us who are not professional linguists. It allows actors to enhance their characterizations with a flavor of authenticity."
The play is set on a small Irish farm, 120 years old. But the overall message of the story seems less about the farm, less about land and more about family and human relationships.
"For me the play's overall message is that, despite all odds, regardless of circumstance or station, no matter how alienated we may feel or how much we try to isolate ourselves from humanity, love will find us and heal us," Carr says."
The cast of "Outside Mullingar" includes Dave Clark, Bernard Galvin, Susan Nest and Cherry Lynn Zinger. Carr describes what they have collectively contributed to the production.
"It has been a joy to work with this cast. They work hard outside of rehearsal to study and shape their characters and come to rehearsal ready to bring life to the playwright's text," Carr says. "Rehearsals are always a collaborative experience: the actors, stage manager, and I work together as a team, sharing ideas and always willing to try different approaches to solve dramatic problems."
As with the staging of most productions, "Mullingar" also came with some creative challenges, as well, as Carr describes.
"The biggest creative challenge has been realizing the set and lighting," Carr says. "The set depicts numerous locations, each of which must be individually illuminated."
Another of Shanley's work, "Doubt, A Parable" coincidentally, goes up later this month in Worcester at Studio Theatre Worcester.
"I have seen the film, but not the play," Carr says. "I was not aware of the upcoming Worcester production. Thanks for the heads up."
And what is next up for Pilgrim Soul Productions? Carr indicates the group plans to "switch dialects" as they move from Irish to British for PSP's May production of Alan Ayckbourn's hilarious British comedy, "Absent Friends." Performance dates for that show will be announced soon.
Kevin T. Baldwin is a member of the American Theatre Critics Association (ATCA)