By Kevin T. Baldwin
METRMag Reviewer
Contact: 774-242-6724
(Cover Photo: June Dever as Mrs. Muller breaking down in John Patrick Shanley's "Doubt, a Parable". Photo credit: Amy Mae Photography)
Studio Theatre Worcester
Presents
John Patrick Shanley's
"DOUBT, A Parable"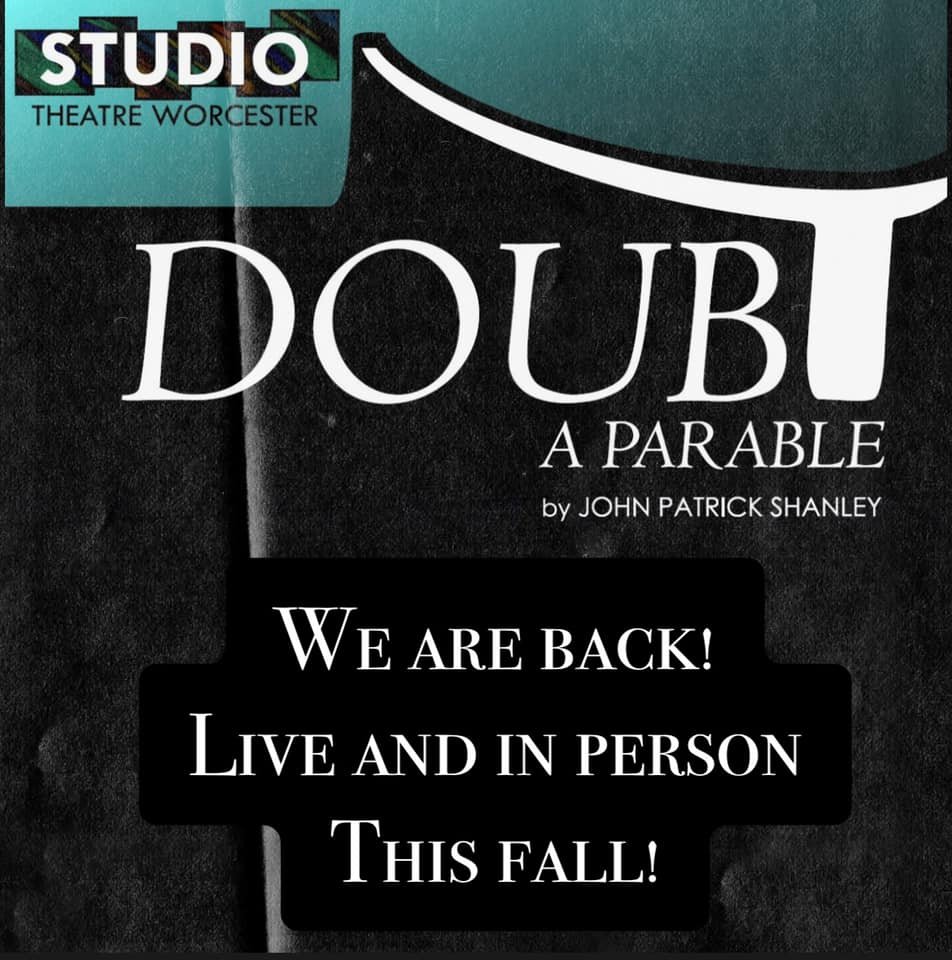 Written by John Patrick Stanley
Directed by John Wayland Somers
Performances:
September 24* & 25, October 1 & 2, 2021 at 7:30pm
September 26*, 2021 & October 3*, 2021 at 2:00pm
Performances to be held at Salem Covenant Church, 215 Mountain Street East, Worcester, MA. 01606
Cast includes: Todd Vickstrom, Alexandra Barber, June Dever, Alexa Hope
General Admission.
STW announces that all tickets for this show will be 100% PAY WHAT YOU CAN!
STW: "We feel that this show deserves to be seen by all and are excited to increase access to the arts to everyone!"
THE STORY:
In this brilliant and powerful drama, Sister Aloysius, a Bronx school principal, takes matters into her own hands when she suspects the young Father Flynn of improper relations with one of the male students.
Winner of the 2005 Pulitzer Prize and Tony Award.
METR Magazine spoke with John Somers, the director of "Doubt, a Parable", the third professional production presented by Studio Theatre Worcester (STW).
Set in the Fall of 1964 at the fictitious St. Nicholas Church School, the play, according to Somers, centers around a priest, Father Flynn, who is accused of inappropriate relations with a young male student by Sister Aloysius, the principal at the school.
"All this unfolds against a landscape of America during a time of social and political unrest," Somers says. "The play addresses several hard-hitting topics, including race, alleged sexual abuse, and the battle between progressive and conservative Catholicism.
"Somers explains, exactly, what the "Parable" part is of the story.
"Phenomenal question. You'll note that many people refer to this play simply as 'Doubt,' when the true title is 'Doubt, A Parable,'" Somers says. "By definition, a parable is a story that teaches a religious or moral lesson. The addition of 'A Parable' to the title elevates the play beyond a story."
Somers illustrates how each of the four characters in the play transform in some fashion from where they started.
"We see how characters are changed as a result of this situation they are embroiled in," Somers says. "I'm hopeful this transformation occurs within the audience members as well."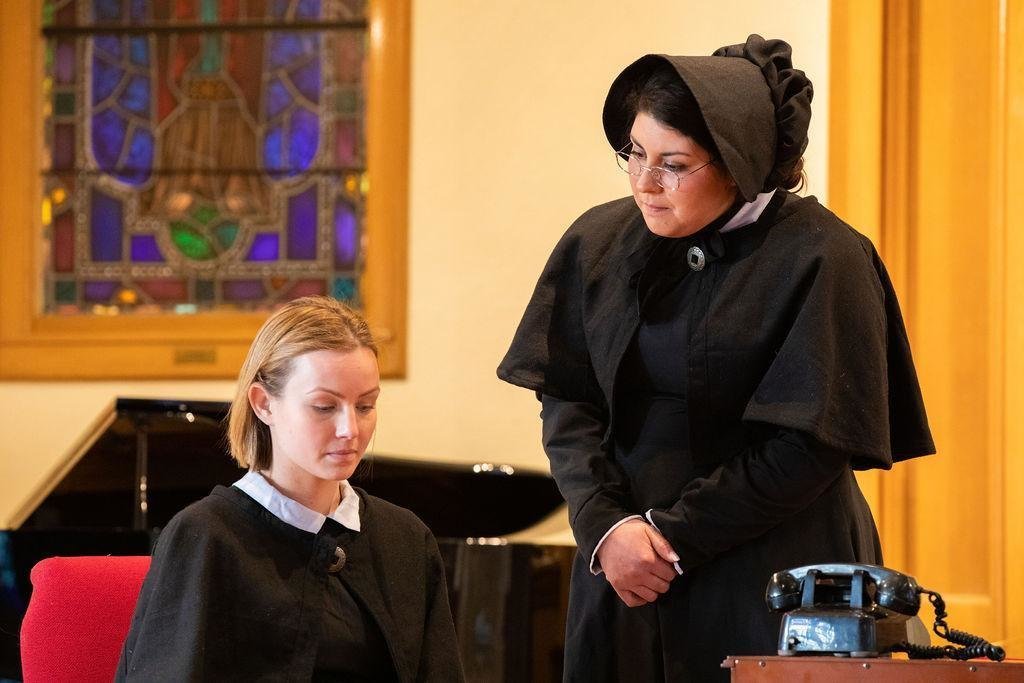 (Alexandra Barber and Alexa Hope in Studio Theatre Worcester's production of "Doubt, a Parable". Photo Credit: Amy Mae Photography.)
Somers discusses how his actors have been approaching the varied subjects involved in producing a show set in a 1960s Catholic environment.
"None of the members of the cast were raised Catholic, but several have ties to other religions," Somers says. "The cast and production team performed a lot of research throughout the rehearsal period. We explored the differences between Vatican 1 and Vatican 2, essentially the battle between conservative and progressive Catholicism."
But, as Somers points out, the creative team and cast did not stop with just religious exploration.
"We also looked at the social climate during this time in the Bronx, including race relations and the Harlem riots of 1964," Somers says.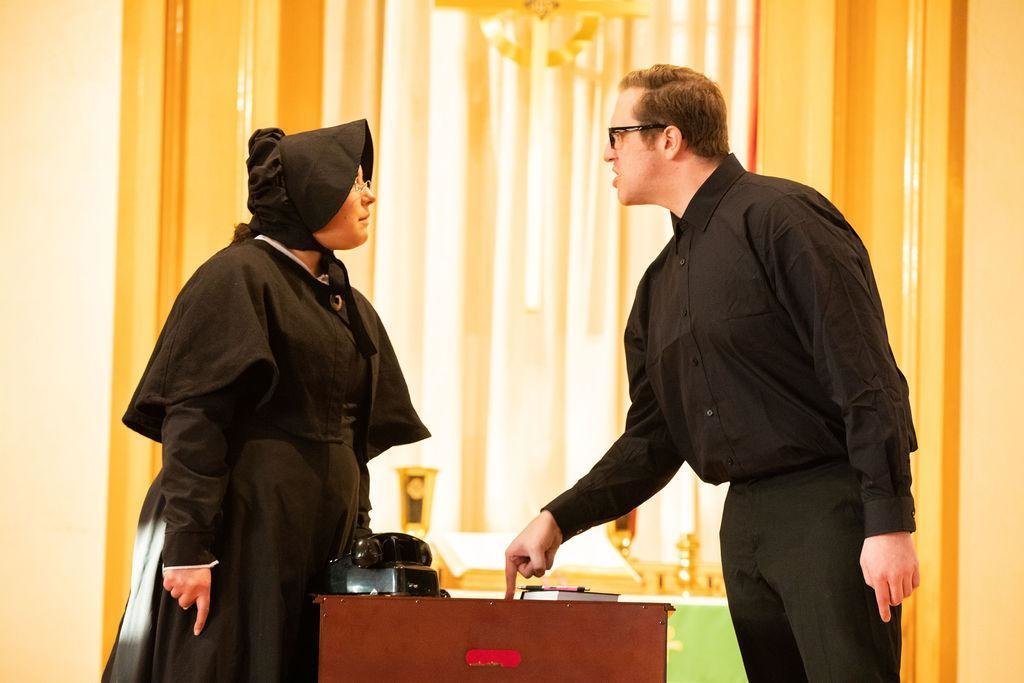 (Todd Vickstrom and Alexa Hope in "Doubt, a Parable" by Studio Theatre Worcester. Photo Credit: Amy Mae Photography.)
Somers explains what drew him to this style of drama.
"I haven't had much personal experience with Catholicism," Somers says. "The only time I've really attended church was the summers I spent as a child at my Grandmother's house outside Roanoke, VA. She was a Southern Baptist, so Sunday service was a ritual occurrence for us."
However, Somers indicates that, as part of the rehearsal process, the cast and production team joined him one Sunday for a Mass at St. John's Catholic Church in Worcester prior to the pandemic shut-down in 2020.
The play is set in a Catholic Church school in the Bronx. But the story seems less about the suspected incident of a priest accused of inappropriate actions, and more about interpersonal human relationships and the lengths some people go to in order to stand by their convictions.
"What drew me to this play was the uncertainty I was left with after reading it," Somers says. "To this day, I keep wavering in my stance of whether Father Flynn was truly guilty of the accusations levied against him. We have structured our approach to this production so that uncertainty remains through to the end."
And what does the play's overall message convey to Somers?
"For me, one of the messages that stands out is from one of Father Flynn's sermons when he asks, 'What do you do when you're not sure?' It seems that today we live in a world where most everyone is certain, at least within the world of social media," Somers says. "We live in a world of 'I am right. You are wrong.' It feels we have lost the capacity to even consider that we may be wrong on occasion. We are so quick to target others and poke holes in other's reasoning, but we don't take the time to reflect and think 'Maybe I'm the one that is wrong.' I'm hopeful this production encourages a bit more of that latter thinking."
The "Doubt" cast includes Todd Vickstrom as Father Flynn, Alexandra Barber as Sister James, June Dever as Mrs. Muller and Alexa Hope as Sister Aloysius. Somers describes how the cast has been to work with and what each has brought to their character and the overall story.
"Three of the four actors in this production are new to Studio Theatre Worcester and new to Central MA theatre," Somers says. "Each of these actors are so amazingly talented, that it makes my job as a director easier."
Todd Vickstrom: "Todd is well known in the area for his contributions to the Central MA musical theatre scene. I am confident theatergoers that know Todd and know his work well will find his portrayal of Father Flynn deeply rooted and a vast departure from what they're used to seeing."
Alexandra Barber: "Alexandra was discovered during StageSource auditions last year. A terrific find for sure," Somers says, praising the actress. "She approaches Sister James from a completely different angle than Amy Adams (from the 2008 film adaptation). It has been a refreshing approach on this character."
June Dever: "June portrayed Mrs. Muller with another company in the past. I, unfortunately, did not see that production," Somers says. "However, she nailed the emotional nature of Mrs. Muller on day one. She is fearless. Not at all afraid to just go with it and explore."
Alexa Hope: "Alexa brings such gravitas and authority to Sister Aloysius. Such a demanding role," Somers says. "It would be easy to follow the typical narrative and portray Aloysius as the harsh, unfeeling representation of conservative Catholicism. Alexa has found amazing moments of humanity and brings a relatability to this character."
With every show there are always some creative challenges and, outside of a global pandemic shut-down causing a year and a half production delay, Somers discusses how his biggest creative challenge was trying to, "strike a balance between the experience we want to achieve and the typical requirements of a production."
"We (STW) pride ourselves on our aesthetic of an experiential approach to productions that illicit visceral responses from the audience," Somers says. "In keeping with this aesthetic, we have purposefully staged this production of 'Doubt: A Parable' in an actual church (Salem Covenant Church)."
Somers elaborates, pointing out how the audience will notice the production elements are "minimal," which he says is by design.
"Our goal was to strip away any elements that traditionally make an audience feel removed from the experience," Somers says. "We would have gone completely without additional stage lighting if we could. However, the actors need to be seen. We have just enough light to illuminate the actors; just enough of a set to suggest locations."
Somers states he does not want the audience to forget "for one second" that they are in a church.
"The church essentially becomes a 5th character for this production," Somers says. "When I started researching 'Doubt, A Parable,' I learned it was the first part of a trilogy often referred to as the 'Church and State' trilogy and includes 'Defiance' and 'Storefront Church.'"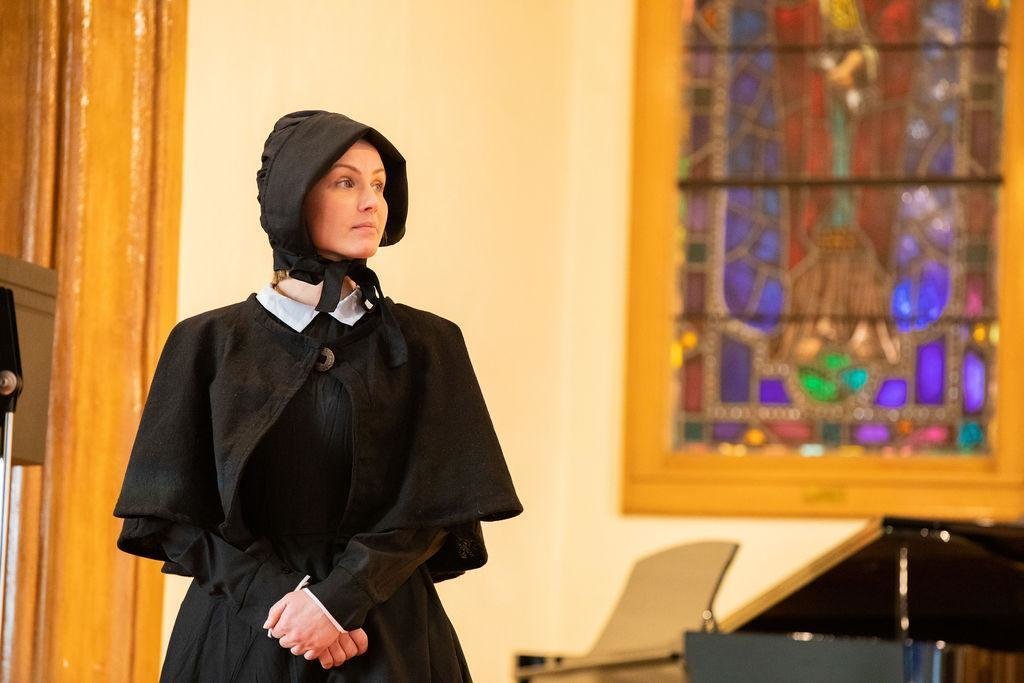 (Alexandra Barber in Studio Theatre Worcester's "Doubt, a Parable". Photo Credit: Amy Mae Photography.)
While "Doubt, A Parable" certainly has more than its fair share of messages, Somers says he prefers to "dive into" what he wants the audience to feel or hope they experience.
"I hope they leave with a sense of uncertainty," Somers says. "They may have strong convictions on whether they believe Father Flynn is guilty or not, but can they be certain? Are they certain Aloysius's approach was the right approach? I hope it hits them in such a way that they are thinking and feeling this show for weeks after seeing it. I hope it produces discussions and disagreements that carry into our talkbacks and long beyond."
Kevin T. Baldwin is a member of the American Theatre Critics Association (ATCA)
@MetrmagReviews
@Theatre_Critics
Some reviews of the play "Doubt, a Parable"
"All the elements come invigoratingly together like clockwork in John Patrick Shanley's provocative new play, DOUBT, a gripping story of suspicion cast on a priest's behavior that is less about scandal than about fascinatingly nuanced questions of moral certainty. Something rare for this season: a laudable new American play." —Variety.
"How splendid it feels to be trusted with such passionate, exquisite ambiguity unlike anything we have seen from this prolific playwright so far. Blunt yet subtle, manipulative but full of empathy for all sides, the play is set in 1964 but could not be more timely. In just ninety fast-moving minutes, Shanley creates four blazingly individual people. DOUBT is a lean, potent drama…passionate, exquisite, important and engrossing." —NY Newsday.
"A beautifully balanced drama. Shanley is a writer working at the top of his craft, making the most of a muted but evocative palette in the pursuit of truth's shadows. Here, for the first time in a long time, is a play that is about something." —Chicago Tribune.
"An eloquent and provocative investigation of truth and consequences. A gripping mystery, tightly written." —Time Out NY.


There will be SIX chances to see this show!
There will also be THREE opportunities (*) to participate in a post-show conversation with the cast, crew, and community members!
https://studiotheatreworcester.ticketleap.com/doubt/t/METRMag/?fbclid=IwAR1nePOZMFXav6BpeHLiHxpXk2l4aXTHy2pQsMC5eVyTDj6gnwbH8_FFLIw
Questions or issues with tickets? Please feel free to call the box office at 508-556-0576