"RENT" will play the Boch Center Shubert Theatre
October 29 – November 10
SPECIAL OFFERS
DINNER PACKAGES AVAILABLE!
Click here to learn about Fleming's dinner packages for RENT!

Click here to learn about Rock Bottom dinner packages for RENT!

Click here to learn about MJ O'Connor's dinner packages for RENT!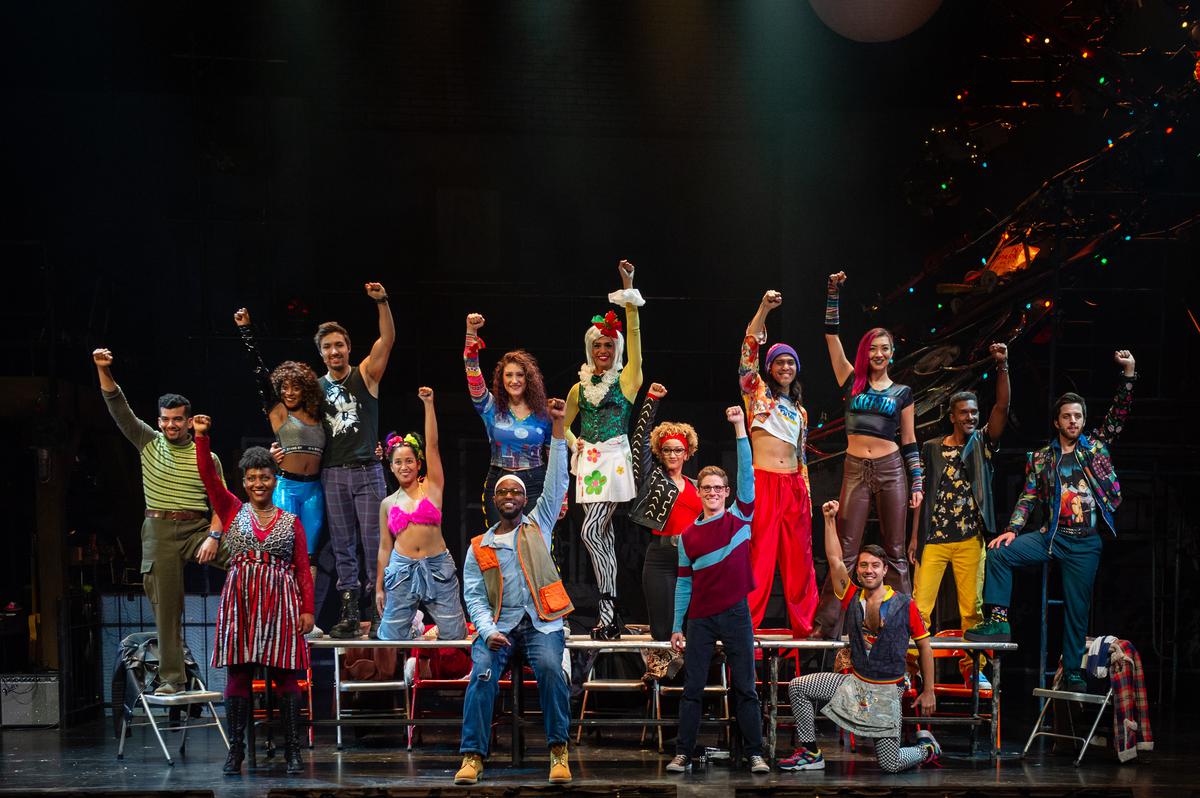 The Company of the RENT 20th Anniversary Tour.
Photo credit: Amy Boyle 2019.
BOSTON: What is it that still draws musical theatre fans to "RENT" after 20 years? It could be how, like so many classic musicals still being staged and revived across the country and all over the world, the musical reflects many elements of an era that still are entrenched in our collective psyche.
The characters in Jonathan Larson's "RENT' all defy stereotype and authority...and sometimes good sense and logic...but they are a collective of guttural, vibrant, unpredictable, undependable loose cannons that, when they blow, they take no prisoners, bring the house down and fly right over the moon.
From now until November 6th - do not miss "RENT" at the Shubert Theatre.
CAST INCLUDES: Cody Jenkins, Coleman Cummings, Aiyana Smash, Shafiq Hicks, Joshua Tavares, Kelsee Sweigard, Samantha Mbolekwa, Juan Luis Espinal, Zare Anguay, Rayla Garske, Lexi Greene, Ysabel Jasa, Caira Asanté Lakota, Stephen Rochet Lopez, Benjamin H. Moore, Carlina Parker, James Schoppe, Jason Tyler Smith, Kevin Stevens and Sam Van Vleet (cast information from 2019 tour site and information subject to change).
PURCHASE GROUP SALES
GROUPS OF 10+ SAVE!
GET MORE INFORMATION on pricing and seating options
GROUPS BOOK NOW
ABOUT THE SHOW

In 1996, an original rock musical by a little-known composer opened on Broadway… and forever changed the landscape of American theatre. Two decades later, Jonathan Larson's RENT continues to speak loudly and defiantly to audiences across generations and all over the world. And now, this Pulitzer Prize and Tony Award®-winning masterpiece returns to Boston in a vibrant 20th anniversary touring production. A re-imagining of Puccini's La Bohème, RENT follows an unforgettable year in the lives of seven artists struggling to follow their dreams without selling out. With its inspiring message of joy and hope in the face of fear, this timeless celebration of friendship and creativity reminds us to measure our lives with the only thing that truly matters—love. RENT won the 1996 Tony Award® for Best Musical as well as the Pulitzer Prize for Drama.


PLAN YOUR EVENING
This restored 1500+ seat theatre; and considered Boston Theater District's "Little Princess", continues to be the home for many local community arts organizations. The Shubert Theatre also serves as a venue for the touring companies that present Broadway, theater, music, dance, and opera.
Performance Dates: