("Dancing With the Stars" Photos Courtesy of Geoff Burke for Facultyinc)
By Kevin T. Baldwin
METRMAG Reviewer
Contact: 774-242-6724
Elite Entertainment and Parachute Concerts Present
DANCING WITH THE STARS
LIVE TOUR 2020
BOCH CENTER WANG THEATRE
JANUARY 16 & 17, 2020 AT 7:30PM
BOSTON, MA - The Boch Center, Elite Entertainment & Parachute Concerts announced that America's favorite dance show returns to Boston with 'Dancing With The Stars: Live!' at the Boch Center Wang Theatre for two performances on Thursday, January 16 and Friday, January 17, 2020 at 7:30PM. Tickets for both shows are on sale now.
According the tour's press release, the all-new ("DWTS") production will feature fan-favorite professional dancers wowing audiences with every type of dance style as seen on ABC's hit show Dancing with the Stars.
The show continues its legacy of performing showstopping routines alongside new numbers choreographed just for the live show ranging from the time-honored dances of the Cha Cha, Foxtrot, Salsa, Tango - and everything in between.
In the longest and most expansive North American tour to date, audiences will have the opportunity to experience the excitement, glamour and glitz they see in the ballroom every Monday night live in their hometowns.
What you will NOT see on the tour? "DWTS" host Tom Bergeron (former mime, former local "People Are Talking" host and who recently released a new musical recording, ""We Are a Moment"), co-host and Fox NFL sports reporter Erin Andrews, and judges Carrie Ann Inaba (currently co-hosting on CBS daytime show "The Talk"), Bruno Tonioli (who also been a long time judge for the U.K. DWTS variant "Strictly Come Dancing") and emeritus or head judge Len Goodman (also long of "Strictly Come Dancing").
What you WILL see on the tour? A spectacular night of dance performances from world-renowned dancers including:
Brandon Armstrong
Lindsay Arnold (DWTS "Mirror Ball" Champion season 25)
Alan Bersten (Champion season 28)
Witney Carson (Champion season 19)
Val Chmerkovskiy (Two Time "Mirror Ball" Champion seasons 20 & 23)
Sasha Farber
Jenna Johnson (Champion season 26)
Gleb Savchenko
Emma Slater (Champion season 24) and more.
The tour's directors include Mark "Swany" Swanhart (Little Big Shots, World's Best), Amanda Balen (La La Land, A Star Is Born) and assistant Haylee Roderick (Bunheads, So You Think You Can Dance).
Supervising Choreographer for the tour is Will Loftis (whose credits include credits include the Teen Choice Awards and the "Maks Val Peta MVP" tour) with assistant Brit Stewart (who was DWTS first black female professional dancer to have a full-time role on the show).
Contributing Choreographers include Emmy-winning Mandy Moore and Travis Wall, twice Emmy-nominated Chris Scott, along with Matt Cady (Madonna's "Madame X" tour) and Jonathan Redavid (X-Factor Italy).
Assistant Choreographers include Katelyn Cushing (Lip Sync Battle and American's Got Talent) and Ricky Palomino (Abby's Ultimate Dance Competition).
Winner of the "DWTS" 28th season's highly sought "Mirror Ball Trophy" was Alan Bersten ("AB") who spoke with METR Magazine from the road.
Q: You are coming off a winning season with DWTS – Congratulations - Your first mirror ball trophy – Can you recall how that moment and how you felt when they announced you and (ABC's "Bachelorette" contestant) Hannah Brown had won?
AB: "Exhausted, shocked. If you look at when they announced our names, we were as stunned as the audience. Just look at my face. I have that surreal look like it was the shock of the century."
Q – You started off as part of the DWTS troupe in March, 2015 but then moved into a pro position in season 25 (September 2017). Is that correct? Had you even seen the show prior to becoming involved?
AB: "Yeah. I remember being about 10 or 11 years old, watching on the TV at my grandmother's. She looked at the TV and then told me that would be me on that show someday."
Q - Did she ever get to see this dream realized?
AB: "Yes. Thankfully, she is still with us, fortunately, and she has gotten to see me on the show."
Q - You are 25 years old. Born in Minnesota. You are a Latin and ballroom dancer. What else can you tell me of your background? Do you ever feel at a disadvantage because everybody else on the show seems to be either from Europe or Utah?
AB: (Laughing) Well my family emigrated here from Russia so there's still that European influence.
Q – How are you feeling these days? Apparently you suffered from a tumor on one of your parathyroid glands last year while also on tour? You had surgery to have it removed and were back on the road shortly after, is that correct?
AB: "Yes. While we were on tour, doctors discovered a benign tumor. So, I went back to the doctor, had it removed, and was back on the show just before the start of the (abbreviated) DTWS Athletes season."
Q – You have also filled in for some of the other Pros who suffered injuries on the show over the years – Max and Mark, right? How much pressure does that put on you, even as a Pro, to have to move into those partnering roles so unexpectedly with little or no time to prepare in having to pick up the routines? Have they ever thrown a style at you to which you literally had little or no exposure?
AB: "It is a different kind of stress and excitement. With a regular partner, you have more time to get acquainted and work on routines and, in the end, it leads to a sense of great accomplishment. You are on the journey together from the beginning. With those 'one-off' moments all you can do is hope for the best but I've been so lucky with who I have had as partners to work with."
Q – Quick question on the judging involved on the show then we can discuss a little more about the tour: Last few seasons have been controversial, especially with Bobby Bones and Sean Spicer coming under overwhelming criticism for "skewering" the voting results. I know you can't speak for the producers, but how has this ongoing issue been affecting the Pros and has anyone from the troupe or staff of the show tried to address this to give the judges a "killer veto" to set aside the decision if they (however respectfully) dispute the audience poll results?
AB: "You know the judges have an extremely difficult job. They have to evaluate and critique all the critical elements of each dance routine. With each and every celebrity sure, there are kinks, and nobody can tell if people (the DWTS voting viewers) are going to like them or not. The voting is a popularity contest, sure, but I felt the judges' critiquing this past season was fair and the new 'judge's save' seems to be working well to help iron out all those kinks. It gave second chances to some couples who might not have advanced otherwise."
Q – Let's talk about the tour – Is the show comprised of routines from the past season or are these all new routines? What sort of things can audiences expect to see?
AB: "This tour has been put together so beautifully. There are some routines, some moments from the show audiences might recognize, plus some all new dances. Our choreographer Mark (Swanhart) has really put together this tour so well."
Q – How many tours is this for you, personally? Is there a closeness like a family or is it strictly a professional relationship with your fellow dancers? If the former, who have you become closest to during this time?
AB: "Honestly, and I know this may sound corny, but we (on the show and on tour) really are like a family. This is my seventh tour. Emma (Slater) has done eight. And it has really become like a family. I mean, on our days off we have together, have dinner. There is an incredible bond and that camaraderie is visible on stage."
Q – I understand Sasha is on this tour – has he pulled any pranks yet? Who are the real troublemakers and pranksters in the troupe? It's the Utah girls (Lindsay, Witney), right?
AB: (Laughing) "Well, the tour has just started so no pranks....yet."
Q – In your overall association with DWTS, what accomplishment are you most proud of and what has been the best part of the experience for you (both on the show and on tour)?
AB: "Wow. There have been so many different milestones. I still can't believe winning. I am so grateful to be part of this tour - to express my gratitude. To perform before this amazing audience, not just the TV audience, but the audiences we play for on tour. I think it revitalizes us each time (we perform)."
Q – After 28 seasons the show is still engaging and still has a huge loyal fan base - What do you hope audiences come away with after seeing this new DWTS 2020 tour?
AB: "With our audiences it is all about the family relationship built with our fan base. We know we are not up here without them and try to show them how much we appreciate that relationship."
Thank you very much for your time Alan. Best wishes for continued success.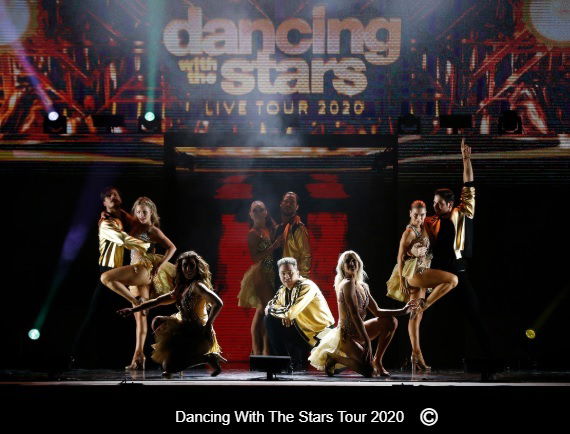 ("Dancing With the Stars" Tour 2020 live.
Photo Courtesy of Geoff Burke for Facultyinc)
Just the facts:
WHAT: Dancing with the Stars: Live Tour 2020
WHEN: Thursday, January 16, 2020 at 7:30PM & Friday, January 17, 2020 at 7:30PM
WHERE: Boch Center Wang Theatre
TICKETS: Tickets start at $53.00. Tickets available at the Boch Center Box Office, www.bochcenter.org, by phone at 800.982.ARTS and via Ticketmaster.
The Boch Center is one of the nation's leading nonprofit performing arts institutions and a guardian of the historic Wang and Shubert Theatres. As New England's largest cultural venue, the Boch Center is home to theater, classical and popular music, dance, comedy, opera, Broadway musicals, family entertainment, and more.
Located in Boston's historic Theater District, the Boch Center also offers a diverse mix of educational and community outreach initiatives, including the City Spotlights Leadership Program and ArtWeek; collaborates with artists and local nonprofit arts organizations; preserves historic venues; and acts as a champion for Greater Boston's arts and cultural community. Learn more at bochcenter.org.
Kevin T. Baldwin is a member of the American Theatre Critics Association (ATCA)