(Cover Photo: The Hanover Theatre Repertory (THT Rep), Artistic Director Olivia "Livy" Scanlon with the Creative Team and CAST of Tennessee Williams' "THE GLASS MENAGERIE" now playing at the BrickBox Theater at the Jean McDonough Arts Center in Worcester, MA. through October 15, 2023. Photo by Unity Mike Photography )


The Hanover Theatre THT Rep
Presents
Tennessee Williams'
Written by Tennessee Williams
Directed by Olivia Scanlon (Livy)
Cast Includes: Steven Barkhimer* as "Older Tom"; Brad Goren-Wilson as "Younger Tom"; Cheryl McMahon* as "Amanda"; Meri Stypinski* as "Laura"; Luis Rivera Figueroa* as "Jim."
* Member of Actors' Equity Association, the Union of Professional Actors and Stage Managers in the United States
Presented at the BrickBox Theater at the Jean McDonough Arts Center, 20 Franklin Street, Worcester, MA. 01608
Performances:
September 28, 2023 through October 15, 2023
(Contact Box Office for Exact Times)


TICKETS:
Tiered tickets from $12-$200
Click here

to learn more about available tiered ticket pricing
Please contact the box office at # 877-571-7469 for more information
Email:

boxoffice@jmacworcester.org
Recommended for Ages 12+

Approximately two hours, 30 minutes with one intermission.
METRMAG Spotlight On: THT's Olivia Scanlon brings new approach to Tennessee Williams' classic "Glass Menagerie" (Worcester, MA.)
The city of Worcester will witness an exciting new approach to Tennessee Williams' magnum opus, "THE GLASS MENAGERIE" as presented now through October 15th.
The latest production adds to a magnificent, heartfelt campaign of sustainable Worcester professional theatre and Equity entrainment through the ongoing efforts of entities such as the Hanover Theatre, Broadway in Worcester, Studio Theatre Worcester and THT REP.
Established in 2020 - then almost immediately sidelined by the COVID-19 pandemic - The Hanover Theatre Repertory Company (THT REP) continues to operate out of the BrickBox Theater at the Jean McDonough Arts Center in Worcester.
Since then, while presenting some fine material to enthusiastic crowds, THT REP has had to work hard to build a wider audience. Although given this, the audiences THT REP has played to have been staunchly supportive.
From its inception, the ongoing THT REP evolution owes much of its endurance to Artistic Director Olivia Scanlon, who goes by "Livy,"
According to Scanlon's bio: Before joining The Hanover Theatre, Scanlon worked for other groups such as New Rep, Commonwealth Shakespeare, Trinity Rep, Paper Mill Playhouse, Hartford Stage and Bridge Rep, the last one was both founded and helmed by Scanlon for five years.
Scanlon is also an Elliot Norton Award Winner for Director ("Dark Room") and an IRNE Award Winner for acting ("Mrs. Packard").
Scanlon teaches Acting in the Department of Humanities and Arts at WPI, and the Department of Music and Theatre Arts at MIT, receiving a Levitan Teaching Award.
Scanlon's full credentials can be found here: https://thehanovertheatre.org/tht-rep/about-tht-rep/
Scanlon deserves much praise for maintaining course at THT REP - especially considering having had to operate THT REP pretty much right out of the gate at the start of a global pandemic.
"We felt compelled to push forward with THT REP even with the restrictions forced by the pandemic," Scanlon says. "How we stayed relevant was to create shows from the ground up. Necessity truly is the mother of invention."
In 2021, THT REP presented its first major production of "Julius Caesar" outside, taking place on the steps of City Hall in Worcester.
Prior to this, in October, 2020, toward the end of the pandemic and as limited theatre was barely just beginning to resume, located in the beautiful BrickBox, THT REP presented a one-actor show.
The "Poe Double Header" featured two stories by Edgar Allen Poe powered by one performer, Scanlon, with no real backdrops or sets. More on that last part later.
Much like the Hanover's own December production of "A Christmas Carol," the "Poe Double Header" is fast becoming an annual October tradition, coinciding with Halloween (and in lieu of a month full of predominantly bad horror movies).
Q – Do you actually see the "Poe Double Header" becoming a Worcester staple, much like the Hanover's "Christmas Carol?"
"Ah, I see you're onto me, you're onto my master plan," Scanlon says, jokingly. "I would love to just do this for a few nights during each spooky season. We did a more socially distant one ('Poe') in 2020 and, when we could finally have audiences in the BrickBox again, we moved THT forward. After 'Julius Caesar' we remounted the 'Poe Double Header' and we're looking forward to doing that again this year."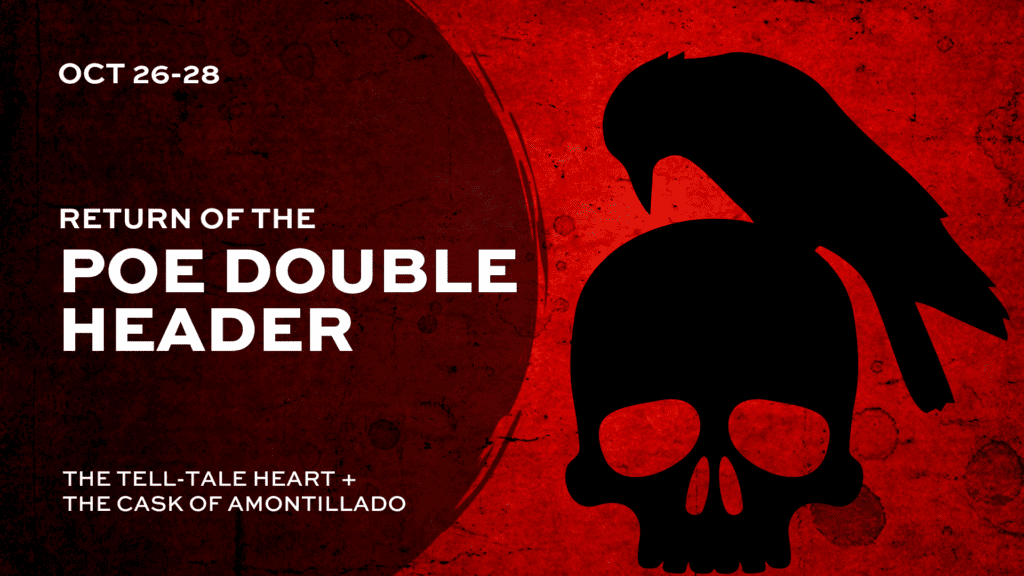 Like the Hanover's "Ebenezer," could THT REP potentially bring in other actors to take on the role of the one-actor "Poe" narrator and characters or does Scanlon consider it all 'eminent domain?'
"I love acting it. I don't see myself letting go but it absolutely could be acted by somebody else," Scanlon says. "You want to honor the original person's direction but I love performing it and have all the words in my head."
In 2022, THT REP staged an ambitious production of Shakespeare's "Macbeth"...which, again, featured no sets.
This was followed by a 2023 staged reading of Arthur Miller's "Crucible" which featured a top-notch cast - including Elliot Norton Prize Winner (for Sustained Excellence) Bobbie Steinbach -
Yet, again, no staging or sets.
Now comes the Tennessee Williams classic tale, "THE GLASS MENAGERIE."
Looking at the THT REP production team, the creative team list includes:
Costume Design, Lighting Design, Properties Coordinator, Stage Manager, Production Manager, Wardrobe Supervisor
…No scenic designer.
Some readers might recall that other groups have presented shows with similar "minimalist" approaches at the BrickBox. Worcester County Light Opera Company (WCLOC) staged two shows there - "The Niceties" in 2021 and the musical "Fun Home" in 2022 - both with very few sets or set pieces involved. Fourth Wall Stage Company presented their production of "If I Forget" in 2022.
In a copy of the licensing agreement obtained by METRMag, there is a stipulation in the agreement that indicates:
"Licensee shall not perform any construction work, including, without limitation, attachment of any fixtures or equipment to the walls, floors, or ceilings of the Licensed Premises, except only for those situations and procedures specifically listed as allowed in the Presenters Handbook, without obtaining on each occasion the prior written consent of THT."
Q – What's the issue with sets, Livy? Are you not allowed to build any kind of standing set inside the JMAC BrickBox? If so, is that something you established or were these restrictions set by the fire department or the management staff at the Hanover?
"We can build things and it is an area where the initiative can grow," Scanlon says. "The pieces that we're doing have been classic pieces - pieces that do not require a realistic 'kitchen sink sets.' Almost all of the things I have directed here have been done with an intentional minimalist approach in mind. Even with 'Macbeth' we had some set pieces, like a piano, for instance - but was still staged mostly with an indelibly simple design. We do try not to reach for anything like the Broadway tours that come into the Hanover. Our intention was-and-is to offer a complimentary and supplementary alternative experience to Hanover audiences who regularly attend the more fully realized, large scale or more complexly designed staged productions."
Q – Briefly describe some of the other obstacles THT REP is working to overcome in trying to build upon what THT REP has begun?
"Money is always a big one," Scanlon says. "Non-profit theatre is lopsided in what it costs to create vs what the market will bear out in ticket sales. It is very important for regional theatre to NOT make up for expenses from ticket sales. That will be an ongoing initiative with THT."
Scanlon continues, describing the type of valued support THT REP has received.
"We have a $1.5 million matching gift campaign by the McDonough Family through December 31, 2023. (Editor's note: The McDonough Foundation is matching public donations, dollar for dollar, up to $1.5 million) We are at $1.2 and we have another $250,000 to go. That is a nest egg to nurture this venture. Money is certainly tight. We produce these shows on a very lean budget with artists who are engaged to work on them. This is a common theme across many regional houses."
Another major challenge Scanlon notes is the process of "cultivating talent."
"in central Mass, access to professionally trained artists is a challenge because they tend to live in other major cities. Our immediate region is not enormously populated with those artists. So, we have been working on cultivating 'earlier in their career' artists and, through this, are drawing actors from Boston and Providence. "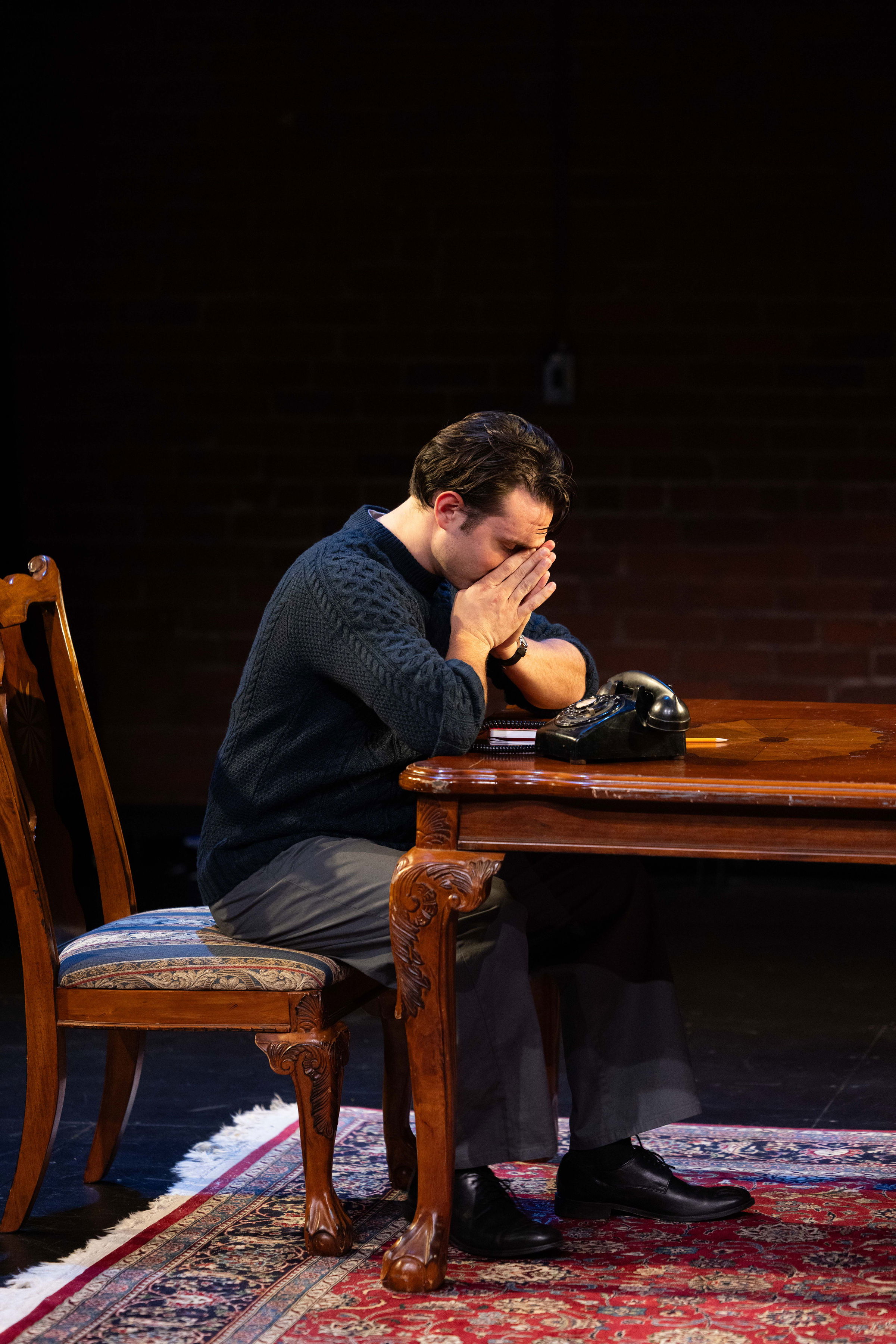 (Photo: Brad Goren-Wilson as "Younger Tom" in a scene from the The Hanover Theatre Repertory (THT Rep) production of Tennessee Williams' "THE GLASS MENAGERIE" now playing at the BrickBox Theater at the Jean McDonough Arts Center in Worcester, MA. through October 15, 2023. Photo by Unity Mike Photography )
Focusing on THT REP'S latest show, "THE GLASS MENAGERIE" is a small cast show ("fully staged," by the way, according to Scanlon) with only five characters:
The older "Tom" is played by actor Steven Barkhimer, with his younger self played by Brad Goren-Wilson.
Tom's desperate, manipulative mother, "Amanda," is played by Cheryl McMahon.
Tom's sister, "Laura," as portrayed by Meri Stypinski, is an introvert who has an interest in Tom's more outgoing co-worker, "Jim," played by Luis Rivera Figueroa.
Q – What approach have you taken with the Tennessee Williams' story? And it really is considered a "Williams story" because it has been said to be partly autobiographical in content.
"It is. It's hugely autobiographical," Scanlon says. "I told my cast that, if Williams wanted to write his autobiography, he would have done it. So, we should feel free as artists to explore our own ideas and concepts."
As the show's director, the first such "exploration," as Scanlon describes, is the conceptual decision to split the role of "Tom" between two actors.
"I thought the two voices in the play benefits the show. There's the older Tom who recalls his early days, then there's younger Tom who is actually living out those memories. It really was just something that spoke to me."
The show's protagonist, Tom, dreams of being a writer or a merchant seaman while, in actuality, is stuck working for low pay in a factory warehouse while his mother, Amanda, sells subscription renewals by telephone.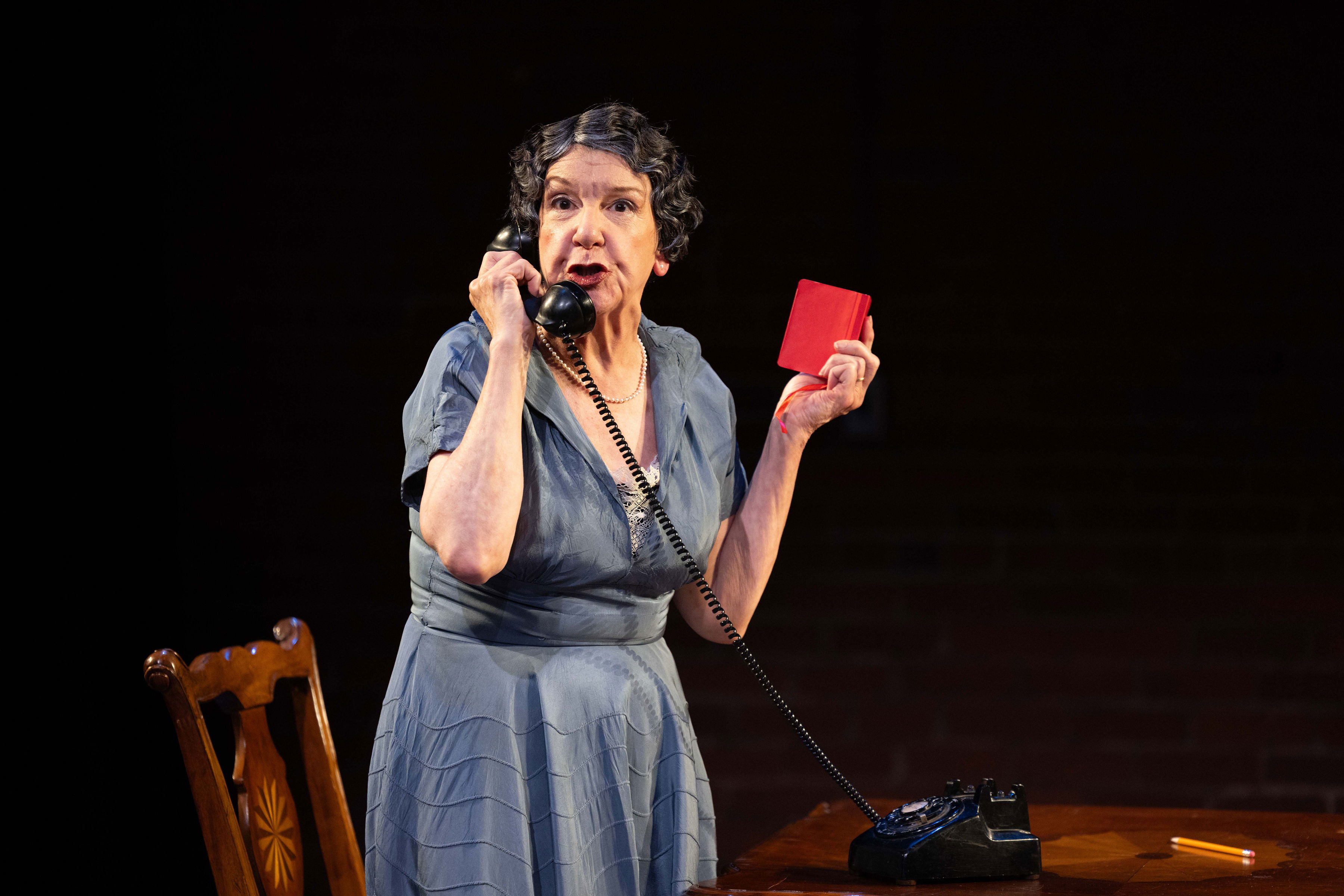 (Photo: Cheryl McMahon as "Amanda" in a scene from the The Hanover Theatre Repertory (THT Rep) production of Tennessee Williams' "THE GLASS MENAGERIE" now playing at the BrickBox Theater at the Jean McDonough Arts Center in Worcester, MA. through October 15, 2023. Photo by Unity Mike Photography )
Tom is physically and emotionally exhausted. He smokes and drinks heavily. He mentally walks a frayed tightrope above what life has given him. He wants nothing more than to leave the only existence he has known - which is not existence but mere subsistence.
Scanlon describes the THT REP approach to the relationship between Tom and his mother.
"When I described these two characters to my colleagues, I said: try to think of two magnets resisting each other, you know, like when you flip magnets over and try to get them to connect? You can't because they are just sort of repelling each other. Tom and his mother are like that. They are really trying to make it work. Amanda is trying to get Tom to act in a manner that benefits the family and Tom is trying to get Amanda to see how this is damaging the family."
How does Scanlon see Amanda?
"Amanda can be portrayed as overbearing and I think our portrayal is not that and more sympathetic. They (Amanda's children) don't want her help in the way she wants to give it."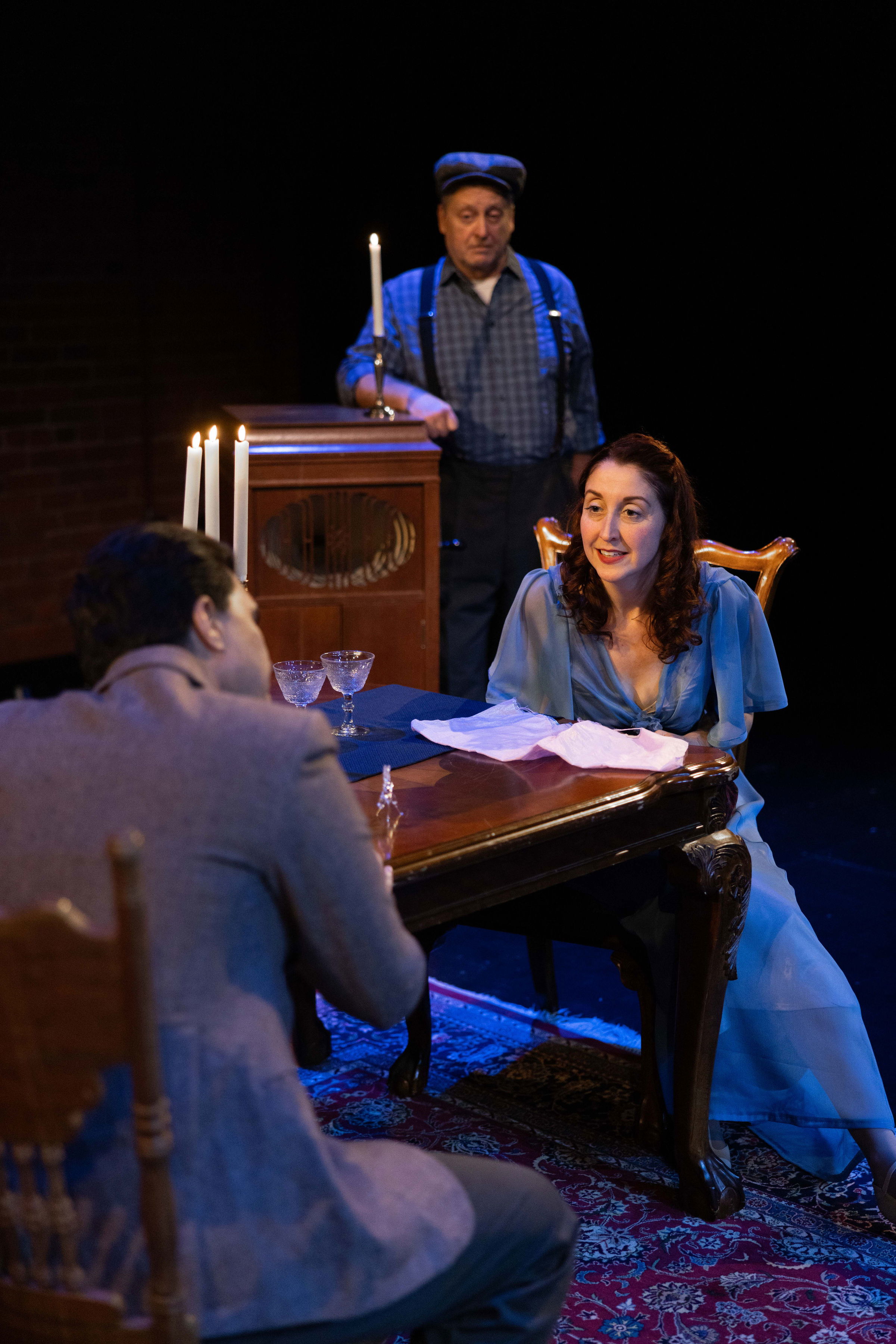 (Photo: Luis Rivera Figueroa as "Jim," Meri Stypinski as "Laura" and Steven Barkhimer as "Tom" in a scene from the The Hanover Theatre Repertory (THT Rep) production of Tennessee Williams' "THE GLASS MENAGERIE" now playing at the BrickBox Theater at the Jean McDonough Arts Center in Worcester, MA. through October 15, 2023. Photo by Unity Mike Photography )
Which brings us to the relationship between Amanda and her daughter, Laura, in the play.
In the text of the play, the two characters appear vastly different because Amanda feels she is entitled to take and hold onto everything the world has to offer (especially that which she feels has been denied to her). Yet, Laura only seeks to retreat from the world. She wants nothing whatsoever to do with it.
As a director, how did Scanlon view and approach this antithetical relationship?
"I geared my actress Meri (Stypinski) away from making Laura 'hyperfrail,'" Scanlon says. "I think Laura is actually strong in her own way. Laura is introverted, taking solace in animals or her glass figurines. It is in the more situations of human relationships which make her anxious, which is identifiable. I think there's many of us who might also find comfort in the presence of a dog or cat. What we looked at with Laura is that, when she is at home, she has more a sense of self. That sense of self is just not one that carries outside the home or lends itself to the outside world. She is extremely shy, filled with social anxiety and awkwardness. Meri makes Laura more complex and not simply play her like a freak show."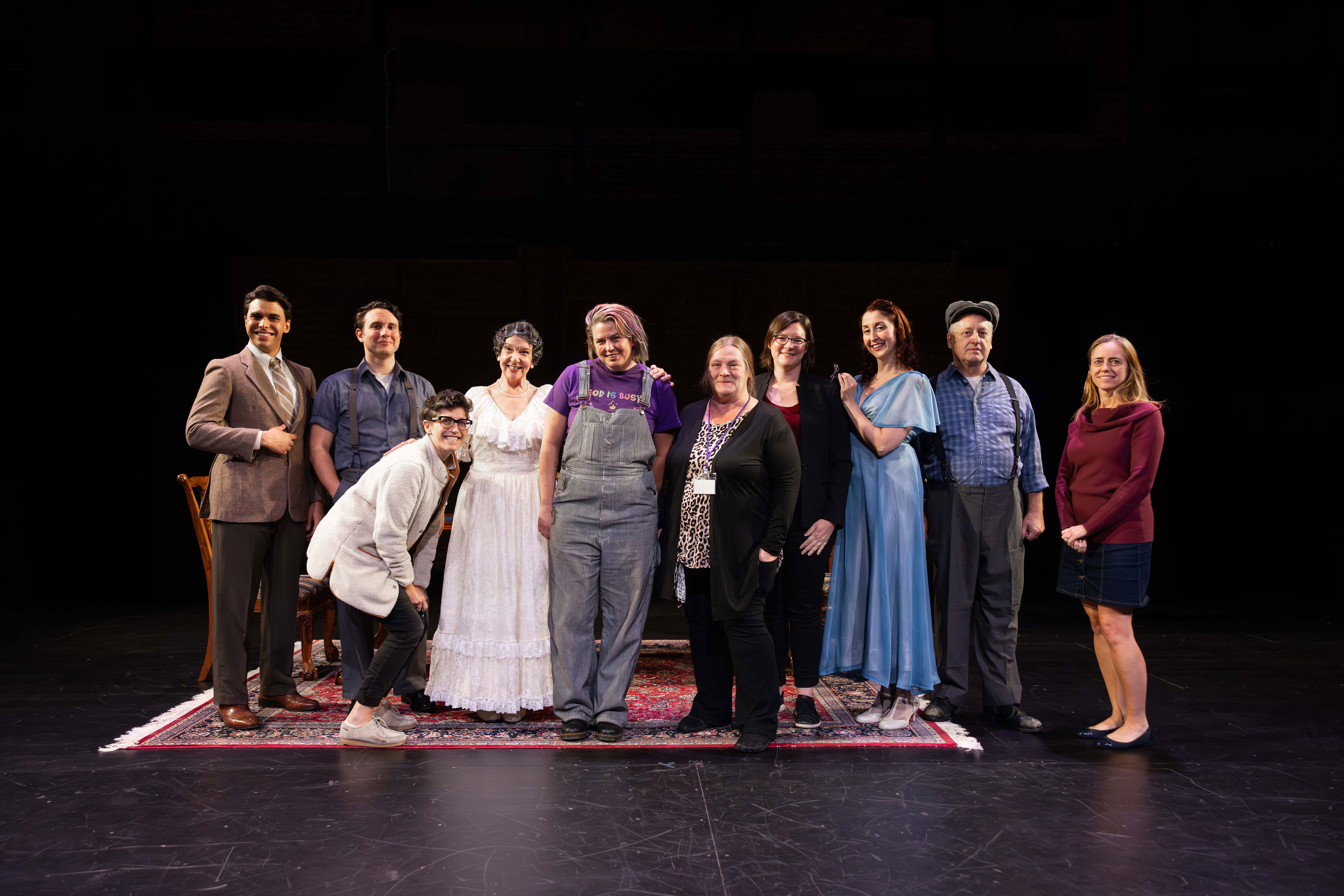 (Photo: The Hanover Theatre Repertory (THT Rep): Artistic Director Olivia "Livy" Scanlon stands (slightly stooped) with the Creative Team and CAST of Tennessee Williams' "THE GLASS MENAGERIE" now playing at the BrickBox Theater at the Jean McDonough Arts Center in Worcester, MA. through October 15, 2023. Photo by Unity Mike Photography )
Q – What does Scanlon say audiences can most look forward to from THT REP'S production of "THE GLASS MENAGERIE?"
"The acting. These actors are just really good and at the top of their game and have great chemistry. Totally professional. So, the acting...and, of course, my brilliant set design," Scanlon says, laughing at that last part.
Q – Does Scanlon have a "wish-list" of shows to have happen within the BrickBox space?
"Yes! On my short list, I'd love to do 'Raisin in the Sun,' 'Our Town, and 'Romeo and Juliet.' It would be fun to introduce these iconic pieces and perhaps also humbling to present them to people who might not ever have had the access or the chance to see them."
After "GLASS MENAGERIE" closes, below are other upcoming events THT REP audiences can look forward to. For more information on any of these productions or on THT REP, visit: https://thehanovertheatre.org/tht-rep/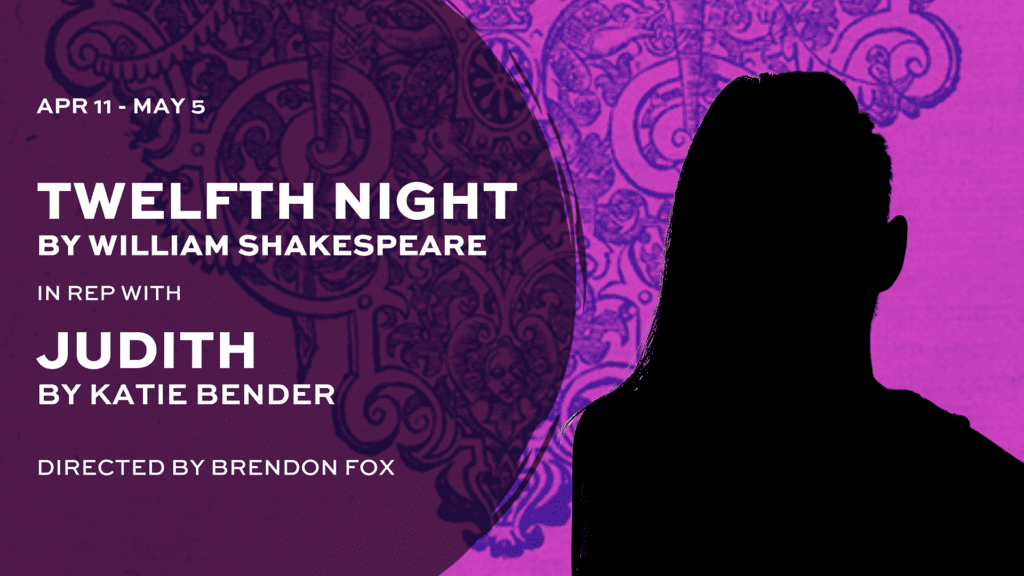 Kevin T. Baldwin is a member of the American Theatre Critics Association (ATCA)
@MetrmagReviews
@Theatre_Critics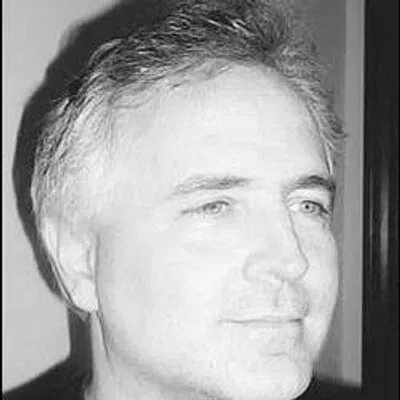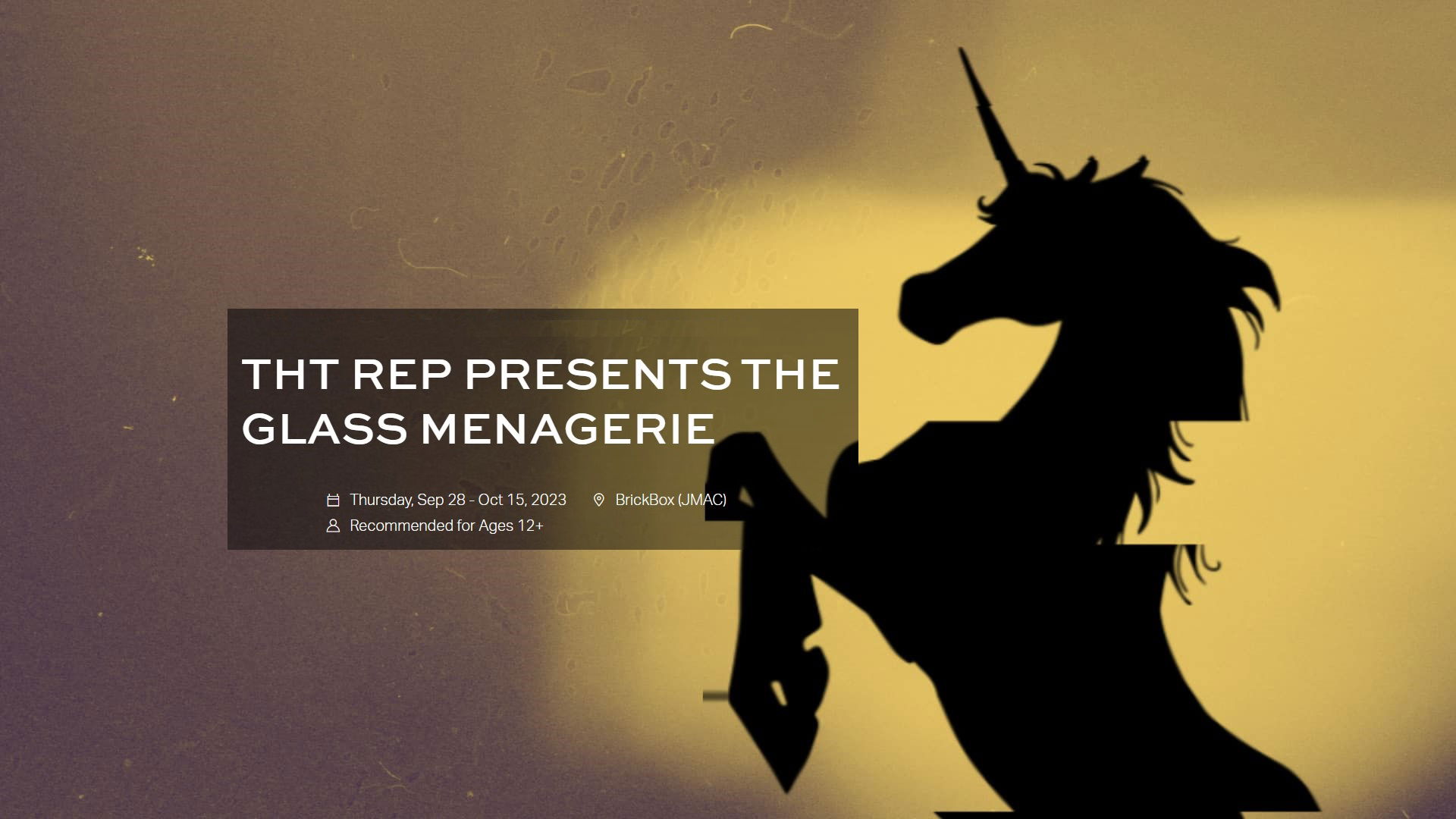 ABOUT THE SHOW
"Yes, I have tricks in my pocket, I have things up my sleeve. But I am the opposite of a stage magician. He gives you illusion that has the appearance of truth. I give you truth in the pleasant disguise of illusion."
THT REP presents a family drama of great tenderness, charm, and beauty, Tennessee Williams'

"THE GLASS MENAGERIE

.

"
The story follows Amanda Wingfield, a remnant of Southern gentility now living in a dingy apartment with her son, Tom, and her daughter, Laura.
The father has deserted them, leaving Tom to support his mother and sister with a shoe-factory job he finds unbearable.
When Amanda convinces Tom to bring home from his workplace a "gentleman caller" for Laura, the illusions that Tom, Amanda and Laura have each created to make life bearable shatter.
This memory play is set in St. Louis during the Great Depression and is widely considered to be one of the most significant plays of the 20th century!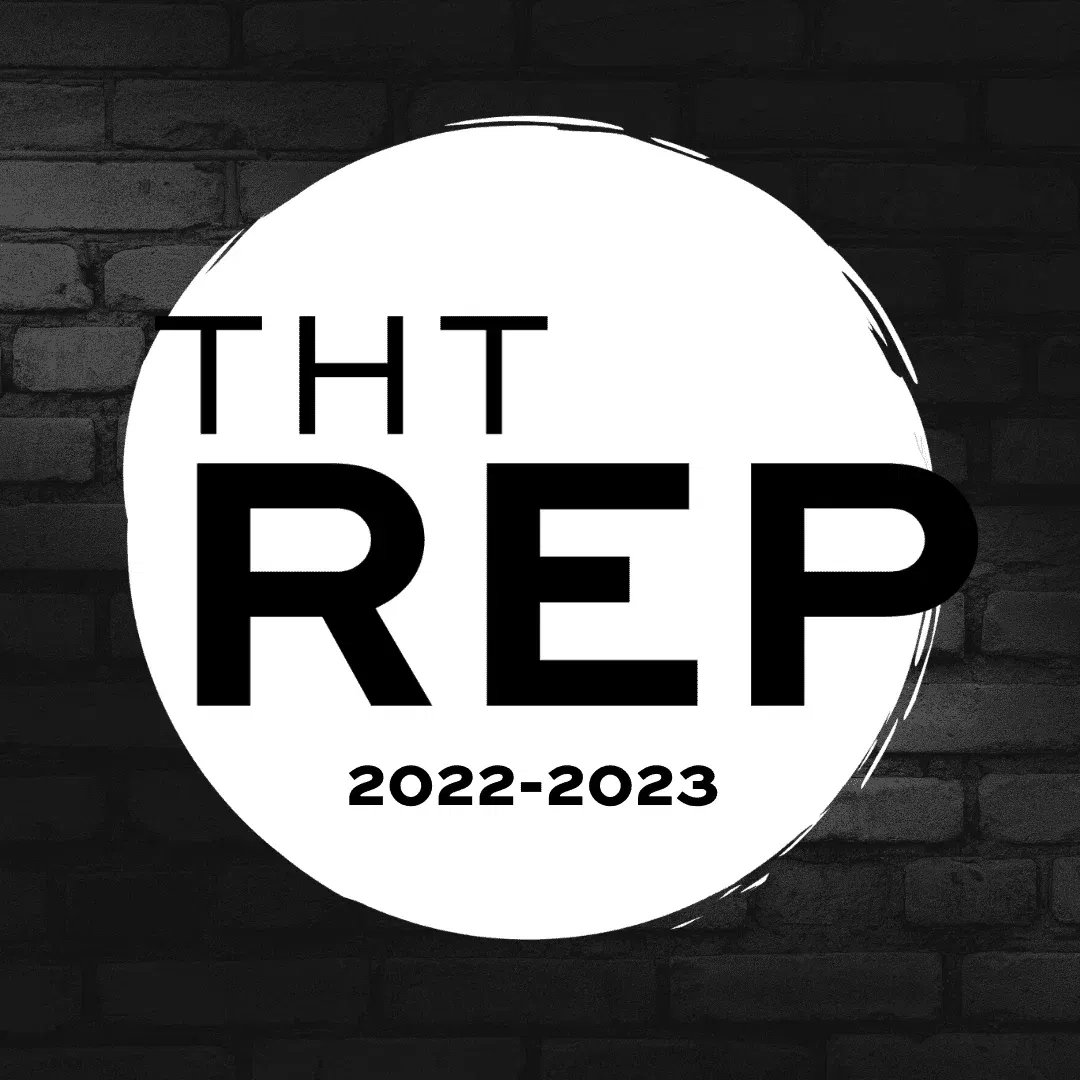 ABOUT THT REP
The arts play a vital role in helping individuals of all ages develop self-esteem, compassion and problem solving skills. Students who study or participate in the arts have proven academic success. They find their voice and discover new avenues for creative expression. It is our goal to maximize a student's social and emotional development while introducing them to theatre, dance, music and design. In addition, access to state-of-the-art equipment and hands-on training with industry professionals in our world-class venue allows students to gain real-world experience in the performing arts field.
ABOUT THE VENUE
With its industrial aesthetic and intimate seating, the BrickBox Theater at the Jean McDonough Arts Center is perfect for fresh, sophisticated stagings of classic works.
THE REP at the BrickBox Theater
Jean McDonough Arts Center
20 Franklin Street
Worcester, MA. 01608
508-413-JMAC/877-571-SHOW (Box Office)
boxoffice@jmacworcester.org