(Cover Photo: The CAST of "A CHORUS LINE" at the The Theatre of Northeastern Connecticut at the Bradley Playhouse. Photo Courtesy of Aidan Horrigan)
By Kevin T. Baldwin
METRMAG Reviewer
# 774-242-6724

METRMAG Spotlight On:

"The Singular Sensational "CHORUS LINE" kicks up its heels at the Bradley Playhouse"
Book by James Kirkwood, Jr. and Nicholas Dante
Music & Lyrics by Marvin Hamlisch
Lyrics Edward Kleban
Directed by Aidan Horrigan
Music Director Justin Simone
Dance Instructor Nikki Mead
Cast Includes: Marc Cerrone as "Zach"; Kat McInnes as "Lori"; Nathan Conrow as "Don Kerr"; Alaina Belsito as "Maggie Winslow"; Lily Mueller as "Mike Costa"; Paisley Gothreau as "Connie Wong"; Lincoln Millard as "Gregory Gardener"; Brenna Griswold as "Cassie Ferguson"; Moriah Perrett as "Sheila Bryant"; AJ Lurette as "Bobby Mills"; Allison Thebeau as "Bebe Benzenheimer"; Anna Kate Werge as "Judy Turner"; Tristan Arnold as "Al DeLuca"; Sophia Pontbriand as "Christine Urich-DeLuca"; Emily Baldwin as "Valerie Clark"; Shawn Cummings as "Mark Anthony"; Dean Hernandez as "Paul San Marco"; Alyssa Morales as "Diana Morales"; Nebile Kapicioglu as "Tricia"; Teal Griswold as "Vicki"; Spencer LaBell as "Butch"; Mike Griswold as "Frank."
Performances:
***CANCELLED***

It is with regret that we must announce the cancellation of our production of A Chorus Line.
Due to an unfortunate miscommunication by a hard-working and committed volunteer, the rights-holder has chosen to revoke our rights to the show.
A terrible mistake was made, without malice or intent.
We wish to formally apologize to Concord Theatricals for the error, and provide assurance that steps are being put into place to ensure that something like this can never happen again.
Our hearts go out to the cast and crew who have worked so hard during the last three months, and we offer our most sincere apology to our ticketholders who were so excited to come out in support of this show.
Ticketholders will be given the choice to either get a refund or to have their purchase applied to one of the remaining shows in this season.
Flex or Season Pass holders may exchange for a ticket to either Good Acoustics (the upcoming concert featuring the music of Simon & Garfunkel and James Taylor) on August 26th or one of the two performances of Cabaret on October 27th & 28th.
Please contact our box office at 860-928-7887 from 9 – 4 Monday thru Friday so we can assist you.
We offer our most sincere apologies and are grateful for your understanding and continued support. ~ Tonya L. Brock, President

Bradley Playhouse, 30 Front Street (Route 44) in Putnam, CT.
COVID 19 PROTOCOLS
Contact Venue for Most Updated COVID-19 Safety Protocols and Information.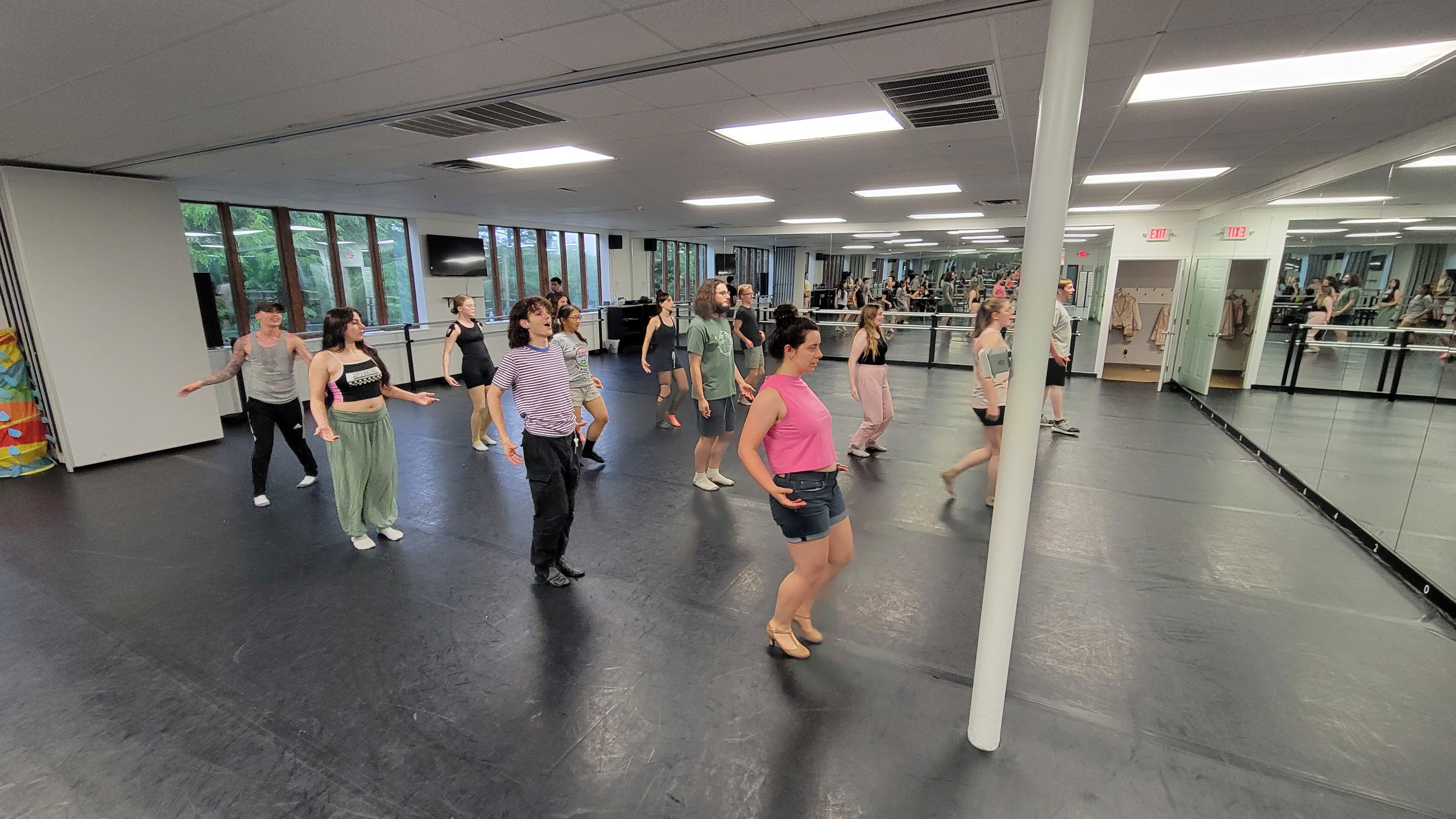 (Photo: "A CHORUS LINE" in rehearsal. The show hits the Bradley Playhouse stage. Photo Courtesy of Aidan Horrigan)
METRMAG Spotlight On:
"The Singular Sensational "CHORUS LINE" kicks up its heels at the Bradley Playhouse"
The Theatre of Northeastern Connecticut (TNECT) at the Bradley Playhouse will be bringing to Putnam, CT. the award-winning musical juggernaut, "A CHORUS LINE."
Aidan Horrigan directs the TNECT production with Justin Simone as music director and Nikki Mead as choreographer.
One of two Broadway shows most credited for saving Broadway from extinction back in the 1970s (along with the musical, "Annie") "A CHORUS LINE" opened on Broadway at the Shubert Theater in 1975 and was an immediate smash hit, forever changing what had been considered (up to that point) the norm for standard musical format.
The brilliant "CHORUS LINE" was nominated for 12 Tony Awards and won 9, including Best Musical, Best Book of a Musical, and Best Original Score. It also was awarded the 1976 Pulitzer Prize for Drama.
Now approaching a near 50-year milestone (come 2025), the story is of a group of auditioners who sing and dance their hearts out, revealing the events that shaped their lives in their quest to fill the limited number of spots open on this particular "CHORUS LINE."
"A CHORUS LINE" was conceived and originally directed and choreographed by Michael Bennett.
Featuring a book by James Kirkwood and Nicholas Dante, and music by Marvin Hamlisch and Lyrics by Edward Kleban, "A CHORUS LINE" was co-choreographed by Bob Avian.
Set on a bare stage at a New York Broadway venue, the musical takes us behind the scenes - back to the beginning, just as a bold new musical is being cast.
"God, I hope I get it!"
As the opening number unfolds, there is an prevailing aroma of sweat, anxiety, self-doubt, self-confidence, self-loathing, mixed levels of frustration and desperation that all fills the air.
Each of these struggling dance artists competes - outwardly being supportive and friendly while, internally, needing to be cold blooded, calculating and ruthless - all for achieving that "singular" big break.
After several rounds of cuts, only a few dancers remain. All of a sudden, the bare stage looks larger - and yet, somehow, smaller - both at the same time.
This is not just a dance show. The show explores what the dance means to the story. So, it is imperative the show be cast with just the right balance of performers and those performers who can bring a sense of who they are to the parts they will be required to play.
To assist in selecting the right dancers, Zach (Marc Cerrone), the director, attempts to get to know them, beyond what is on a résumé, to see if they have the drive to make it on Broadway.
As Lori (Kat McInnes), Zach's assistant, teaches the dancers the show's routines, Zach ponders the question: Does the dancer define the dance or is it the dancer who is defined by the dance?
As more cuts are imminent - Zach needs to know which of these remaining few dancers can bring to the stage that "X factor" - that unknown element which is required of a dancer beyond their execution of the choreography.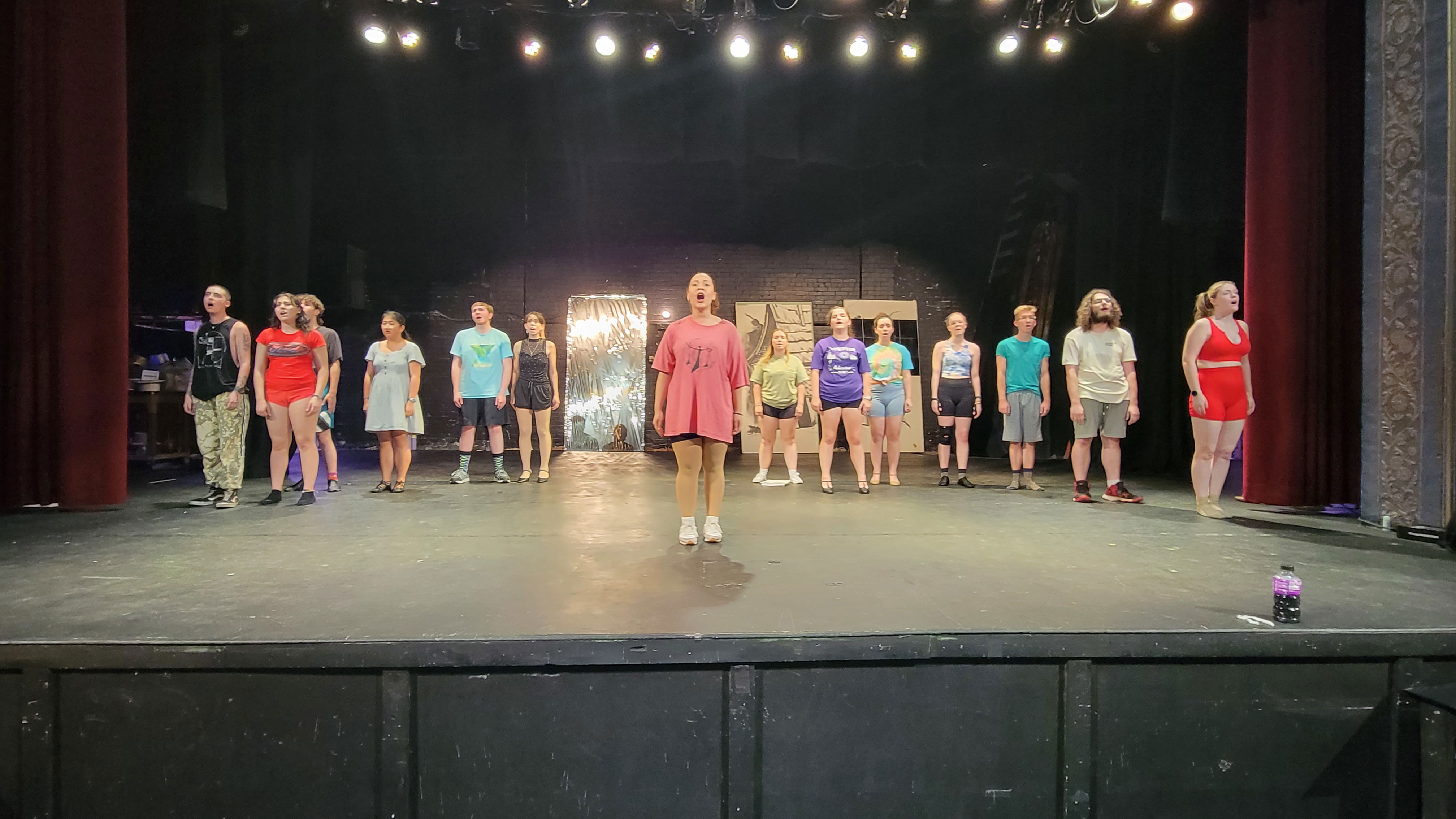 (Photo: "A CHORUS LINE" in rehearsal. The iconic Broadway juggernaut hits the Bradley Playhouse stage in Putnam, CT. Photo Courtesy of Aidan Horrigan)
"Who am I anyway? Am I my resume? That is a picture of a person I don't know."
We meet each of the young performers - all vying for that big break that will "jumpstart" their Broadway careers with coveted spots on "A CHORUS LINE."
Reluctantly, they slowly emerge from behind their resumes and headshots to reveal their pasts, events that shaped their lives, their decisions and their ultimate journeys to become dancers.
Don (Nathan Conrow) recalls his first job at a nightclub.
During one, elongated musical part of their disclosed stories, the discussion of "awkward adolescence" arises in the song "Hello Twelve, Hello Thirteen, Hello Love."
In the musical number "I Can Do That" Mike (Lily Mueller), recollects to Zach how, growing up the youngest of 12 children, being both fascinated and inspired to become a dancer while watching sibling Rosalie's dance class.
Meanwhile, in the melancholy montage "Mother," Judy (Anna Kate Werge) remembers her childhood, as do some of the others, but Judy reveals some other more 'notable' actions on her part:
"Little brat! That's what my sister was! A little brat! And that's why I shaved her head."
In the song "Sing!" the sweet but "vocally-challenged" Kristine (Sophia Pontbriand) laments being UN-able to sing, receiving nothing but support from her husband and fellow-auditioner, Al (Tristan Arnold).
A trio of dancers, Sheila (Moriah Perrett), Bebe (Allison Thebeau) and Maggie (Alaina Belsito) each describes their respective journey in the ethereal song, "At the Ballet."
Gregory (Lincoln Millard) recalls his first awareness of his homosexuality.
In "Dance: Ten; Looks: Three" dancer Val (Emily Baldwin) describes the benefits she has found in plastic surgery which has helped her not only to land roles but to build more self-confidence.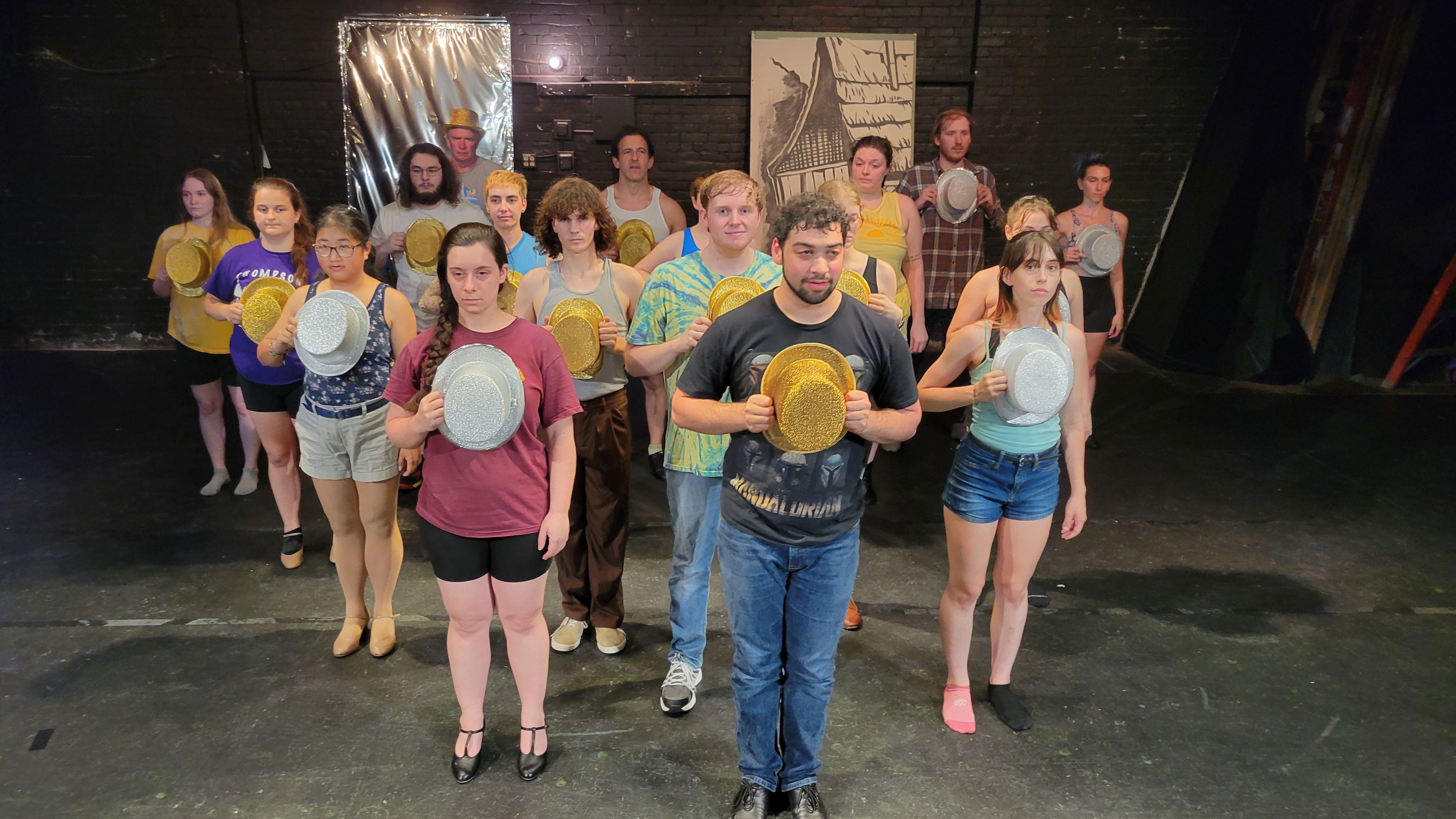 (Photo: The CAST of "A CHORUS LINE" at the The Theatre of Northeastern Connecticut at the Bradley Playhouse. Photo Courtesy of Aidan Horrigan)
For Zach, though, among all the dancers, there is one auditioner who stands out from the rest - Cassie (Brenna Griswold).
Cassie is a fabulous dancer - a once notable, still recognizable dance star - but one whose star has since faded and now Cassie finds herself struggling to find solo work.
She and Zach have history, but she is still willing to come back to the chorus where she can at least still express her passion for dance.
Other songs audiences can look forward to is the wistful classic, "What I Did for Love," and the grandest of all grand finales, "One."
The show's Book by James Kirkwood, Jr. and Nicholas Dante magnificently aligns with the score by Marvin Hamlisch and Edward Kleban.
Even after almost half a century, the social impact of "A CHORUS LINE" cannot be ignored.
In popular culture, there have been numerous documentaries and news segments that have focused just on this one show.
The song "What I Did for Love" has been recorded by many artists including Aretha Franklin, Petula Clark, The Three Degrees, Christine Ebersole and Lea Michele. In fact, in 1976, both of the songs "One" and "What I Did For Love" were massacred….uh, "performed" by the cast of "The Brady Bunch Variety Hour."
Many television shows have spoofed the iconic gold costumed imagery seen in the chorus line number of "One." You only have to look at the opening theme to "Family Guy" to see that it, too, obviously has been inspired by the song, replete with identical spangled gold costumes.
"You know you'll never be lonely with you-know-who"

There is an irony inherent in "A CHORUS LINE" which is that, as each dancer joins the group in the finale of "One," in every little step, all that we have learned about each of these individual dancers...each of these persons...is slowly obliterated by the line itself.
As one singular sensational dancer after another gradually merges into the unified formation, it becomes impossible to distinguish one dancer from another.
However, if one has been been paying attention, watching and listening closely to their respective stories, one might still walk away with a better appreciation for the dancers...the people...involved in all chorus lines.
Approximately two hours, 30 minutes with one intermission
Kevin T. Baldwin is a member of the American Theatre Critics Association (ATCA)
@MetrmagReviews
@Theatre_Critics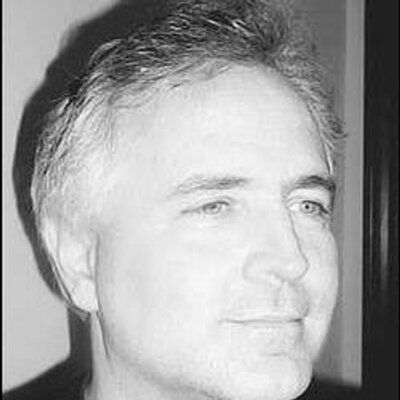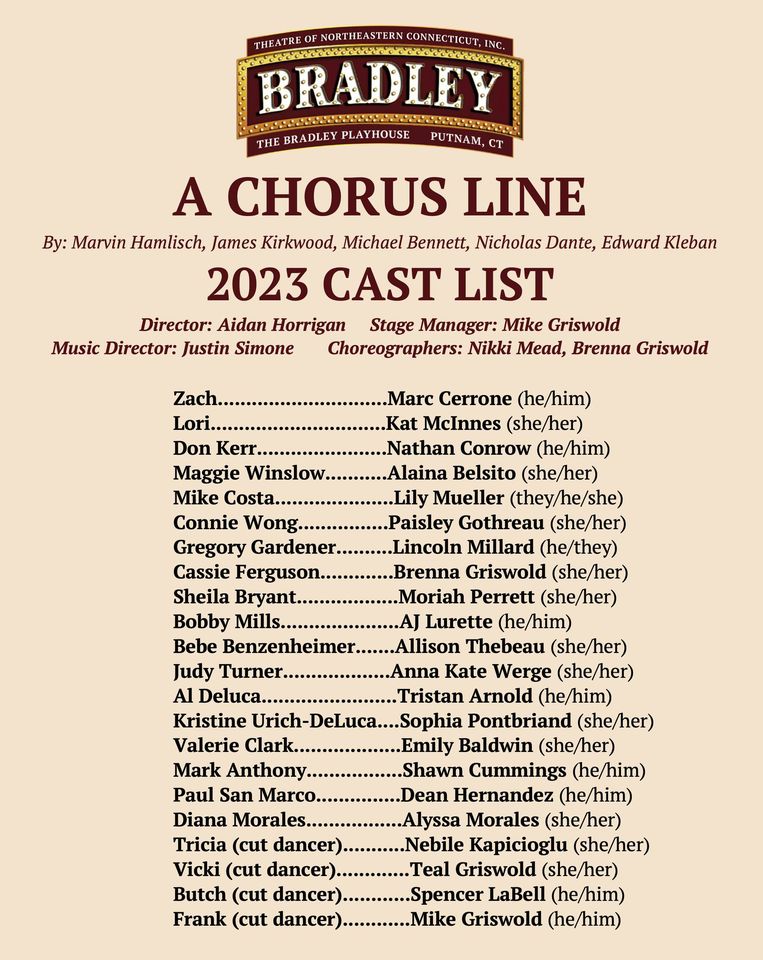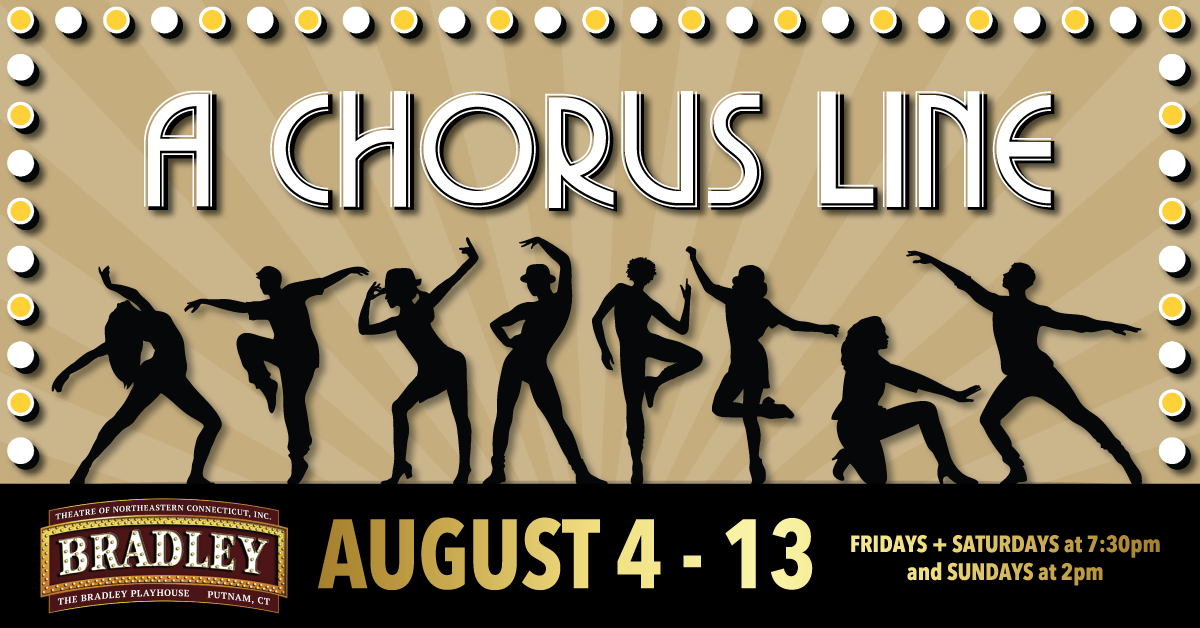 ABOUT THE SHOW
"A CHORUS LINE" examines one day in the lives of seventeen dancers, all vying for a spot in the "chorus line" of a Broadway musical.
After the first round of cuts, Zach, the director and choreographer, asks each dancer to speak about themselves.
Discomfort opens into revelation, confession leads to redemption, and within the bright, outwardly homogenous chorus, the audience begins to see each dancer's individuality.
From Cassie, the star who just needs the "music and the mirror and the chance to dance," to Val, a small-town girl with a brand-new big-town body, to Mike, who took his sister's place in dance class, saying "I can do that."
Based on real Broadway dancers' stories, as told to fellow dancer and choreographer Michael Bennett, "A CHORUS LINE" is funny, heartbreaking, and refreshingly honest.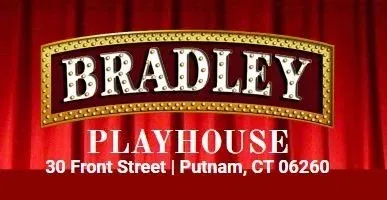 ABOUT THE BRADLEY PLAYHOUSE
The Bradley Playhouse is a 117 year-old vaudeville theatre in the heart of the Putnam antiques and restaurant district in the "Quiet Corner" of Northeastern Connecticut. Since 1991, the Bradley Playhouse has been managed by the volunteers of The Theatre of Northeastern Connecticut, Inc. (TNECT).
ABOUT THEATRE OF NORTHEASTERN CONNECTICUT
TNECT produces eight main season shows per year and a number of special fundraising events for The Bradley Playhouse Restoration Fund. TNECT's mission is to produce and sponsor quality theatre and entertainment for the residents of Northeastern Connecticut and the surrounding areas, to encourage the development of creativity through the support of local artists, and to support education and hands-on experience in the creation, direction, and production of theatre and the performing arts.
The Bradley Playhouse
30 Front Street
P.O. Box 71
Putnam, CT 06260-1942