(Cover Photo: Kira Troilo and Jared Troilo appearing in "The Last Five Years," playing at the Lyric Stage of Boston throughout November and into December, 2021. Photo Credit Heather Darrow)
Kevin T. Baldwin
METRMag Reviewer
# 774-242-6724
The Lyric Stage Company of Boston
Will Present the Musical
"The Last Five Years"
Written By Jason Robert Brown
Directed by Leigh Barrett
Music Director Dan Rodriguez
Cast: Jared Troilo* as Jamie and Kira Troilo* as Cathy.
Production Team: Scenic Design - Jenna McFarland Lord; Costume Design - David Lucey; Sound Design - Andrew Duncan Will; Lighting Design - Karen Perlow**; Production Stage Manager - Nerys Powell*; Assistant Stage Manager/Covid Safely Manager - Rose Mancuso; Props Artisan - Lauren Corcuera.
Performances:
November 12, 13, 19, 20, 26 & 27, December 3, 4, 10 & 11, 2021 at 8:00pm
November 13, 14, 29, 21, 27 & 28, December 4, 5, 11 & 12, 2021 at 3:00pm
November 17, 24, 2021 at 2:00pm
November 17, 18, 23, December 1, 2, 8 & 9, 2021 at 7:30pm
* Member of Actors' Equity Association, the Union of Professional Actors and Stage Managers in the United States
** Represented by United Scenic Artists, Local USA 829 of the IATSE°Stage Directors and Choreographers Society


PRODUCTION SPONSORED BY NINA AND DON BERK
DIRECTOR LEIGH BARRETT, SPONSORED BY PAUL KASTNER
140 Clarendon Street, Boston, MA 02116
BOX OFFICE # 617-585-5678
The Lyric Stage will present Jason Robert Brown's two-actor musical "The Last Five Years" this November.
Directed by Leigh Barrett with Music Direction by Dan Rodriguez, the show features real-life married couple Jared Troilo* as "Jamie" and Kira Troilo* as "Cathy."
Barrett discusses how the Lyric Stage came to choose this particular production, which is about a marriage coming to an end as conveyed by the countering perspectives of the couple involved.
"I'll be honest, I'm really not sure," says Barrett. "I was supposed to direct 'Legally Blonde' but, when COVID hit, that idea had to go, for a variety of reasons," Barrett says. "One of which was it was just entirely too big a show. The Lyric wanted a way to continue to tell stories but in the safest possible way. So a two-person cast was and is a great choice. And a pair of artists who also happen to be a 'quaranteam' is icing on the cake."
For Jared and Kira Troilo, after such a long imposed hiatus, both describe the resumption of rehearsals and performances for "The Last Five Years" as "surreal" with Kira calling it "healing" and Jared referring to it as "wonderful."
"Being back in the theater feels like coming home in a lot of ways," Kira says. "And I'm very aware now of what a privilege it is to even be in a theater, being able to make art in person. It feels so much more special now that we understand that a world with live theater is not just a given."

"It took a second for me to find my footing and remember how things run again in theaters, but once I did it was as if no time had passed at all," Jared says. "Being in the rehearsal room especially with this team has brought me nothing but joy, and I will certainly never take it for granted again.
However, in response to Jared's comment, Barrett points out, "If I may...If staging almost half the show in less than a week is what Jared considers 'taking a second,' I'm here to tell you that it's as if he never left."
Barrett praises the couple citing their preparedness as artists as "A: not surprising and B: incredible."
"And is 100 percent why we could start staging so quickly. It's been an absolute joy to be making art in the rehearsal room with this team and at the Lyric."
Barrett describes certain collective challenges the team at the Lyric Stage faced in staging this show since resuming post the extended COVID-19 shutdown.
"The Lyric is taking their obligation of public safety around COVID-19 protocols extremely seriously and the protection of their artists is on top of the list," Barrett says. "They (the Lyric) have been very transparent with their approach. We feel very safe. We are wearing masks in the space and that feels weird, of course, so I think we are all working that much harder to be expressive with each other so we can feel connected."
This is a rare production where the entire book and score are by a singular source, in this case, Jason Robert Brown, who also gave us "Songs for a New World" and "Parade," (for which he won the 1999 Tony® Award for Best Score). He also is currently in production for the film version of the musical "13." Where does the Lyric team see "The Last Five Years" placing in the hierarchy of his shows?
"It's completely subjective," Barrett says. "I like things about so much of his work for a variety of reasons. Depends on the day."
"It's hard for me to say which of his shows is the 'best' because he has such a variety of shows and scores that he's written," Jared says. "But I will say that this show is definitely his most intimate. Rarely does a musical focus so specifically on one relationship and flesh it out in its entirety. However, I can confidently say that this score is his BEST hands down (my opinion!)."
Echoing Jared's sentiment, Kira also seems particularly attracted to this show by Brown.
"I don't know if it's the best one overall, but 'The Last Five Years' has always been my favorite of his musicals because it has always been my favorite to listen to all the way through," Kira says. "Many of the songs are so epic, they are like mini-musicals in themselves. And the emotion just pours from every moment - It's always helped me feel my feelings when I need to (we all love a good musical belting session on long car rides, right?)."
Kira has history with some of Brown's other works, as well, having choreographed and performed in "Parade," and performed in a concert version of "Songs for a New World."
"But something about the music in 'The Last Five Years' just pulls at my heartstrings in an intimate way. With the uniqueness of the backwards storytelling device and the moving music, this show is at the top of the list for me."
As mentioned, this show chronicles the five-year life of a marriage, with "Jamie" accounting from meeting to break-up and "Cathy" from break-up to meeting. How does the actual married couple draw from their own marriage (with one child) to the fictitious relationship and unique perspectives conveyed by each of these two characters?
As Jared immediately points out, "Well, thankfully, our relationship has been somewhat more successful than 'Jamie' and 'Cathy's'."
"However, we certainly have had our challenges along the way," He explains. "Anyone that's been married knows that there's no manual on how to have a good marriage. Most of it you have to figure out as you go (and throwing a toddler into the mix only makes things more difficult)."
"The root of most challenges is that people never stop growing and changing, so the person you married at 23 isn't necessarily the exact same person you're married to at 28. I empathize with 'Jamie' and 'Cathy' because they, like everyone else, are just trying their best to figure this marriage thing out. In the end, we hope the audience will be rooting for them."
Kira explains that she and Jared had wanted to perform "The Last Five Years" since they were in college.
"But truth be told, I'm glad we didn't get to do it until now," she explains, offering, "Now we know what marriage is, as opposed to imagining what life as a married couple might be like when we were in our late teens/early twenties."
Kira continues, "Jared is Jewish, and I am indeed a 'shiksa,' (a term used sometimes by Jewish people to describe a Gentile girl or woman). But, luckily for us, 'Jamie' is not much like Jared, and 'Cathy' is not much like me. (In fact, in some ways, we personally relate more to each other's characters, so it is fun to step into each other's shoes on occasion!) And their marriage is not like ours."
However, Kira expounds, as a couple now seven years into their own marriage, and having become parents, each can now "understand all of the phases of a relationship, and how marriage differs from the early days."
"And that helps us really dig into the full scope of the five year relationship," Kira says. "We understand that marriage is difficult. Wonderful and joyous and difficult. And while we've had much more success than 'Jamie' and 'Cathy,' we understand how even minor miscommunications can send a relationship off the rails."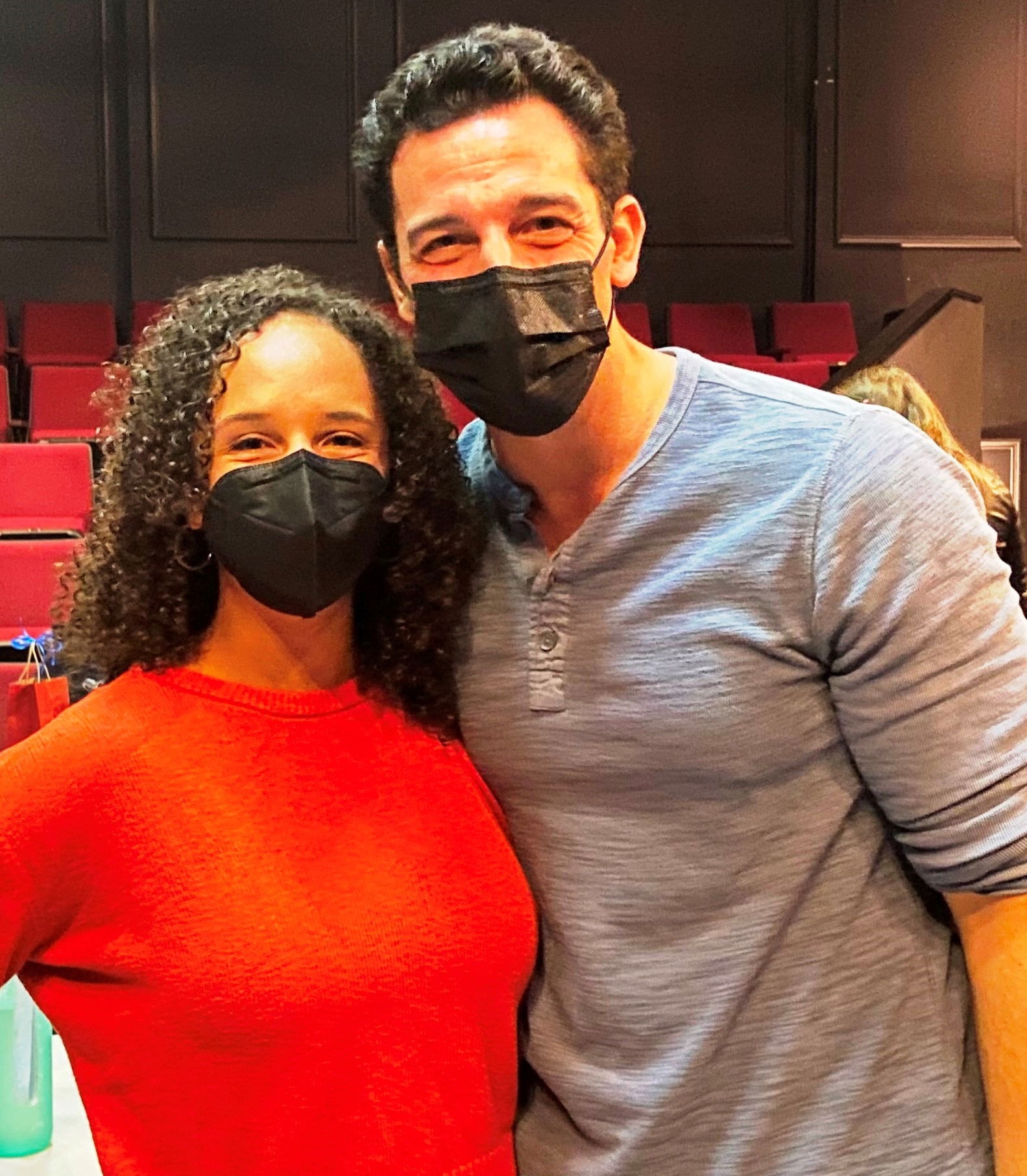 (Kira Troilo and Jared Troilo appearing in "The Last Five Years," playing at the Lyric Stage of Boston throughout November and into December. Photo Credit Heather Darrow)
The story of "Last Five Years" is based on Brown's own failed marriage. Would any of the participants say this musical is more reflective of that specific era of millennial relationships or does the concept of the overall piece seem to transcend time?
"I think it transcends time," Jared says. "Marriage is hard no matter who you are or what generation you're from. Love isn't enough. It requires work, patience, communication, compromise etc., and no one is there to teach you how to do these things. I think every audience member will be able to see themselves in 'Jamie' and 'Cathy' at various points throughout the story, whether they like it or not."

Barrett concurs indicating that, "While 'L5Y' was written from Brown's specific experience, it's not limited to just that or one period of time in one's life or relationship. It's also applicable to any relationship really."
"In 'L5Y' we get the unique perspective of hearing/seeing the relationship from each person's own point of view," Barrett explains. "We are the 'fly on the wall' in their experience of the same situation ('Jamie's' point of view and then 'Cathy's'). We have ALL been there at some point. I think there will be a lot of relatable 'oh that's me' moments."
Kira notes that some of the show's 'time-specific' references may have required updating for the Lyric production but, at the heart of it, she says, "This show could happen at any time."
"It's really just an intimate look at a relationship, told from two different points of view. And from the outside, we can see where it, bit by bit, goes off the rails. We can see those moments where 'if Cathy just spoke up!' or 'if Jamie just waited for an answer!' they may have been able to work through their issues and save their marriage. But, like real life, people within relationships don't have the benefit of an outside perspective. I think that's so universal."
For both Jared and Kira, there is one song that is a particular favorite.
"Easily 'The Next Ten Minutes'," Jared says. "It's the only time in the play where 'Jamie' and 'Cathy's' stories are aligned together in time. On a personal note, it's the only time where Kira and I get to use each other as scene partners and I always love working with her. We don't get to work together often but when we do it feels like we're high school juniors again at Shrewsbury High School doing one of the many shows we did together as kids."
Kira agrees, referring to the song as, "the only true duet in the show."
"'Jamie' and 'Cathy' actually get to be in the same place at the same time, sharing an intimate moment together," Kira says. "And Jared and I actually get to sing a love duet together on stage, which hasn't happened in a show since high school. It's pretty special to be able to have that kind of moment on a professional stage."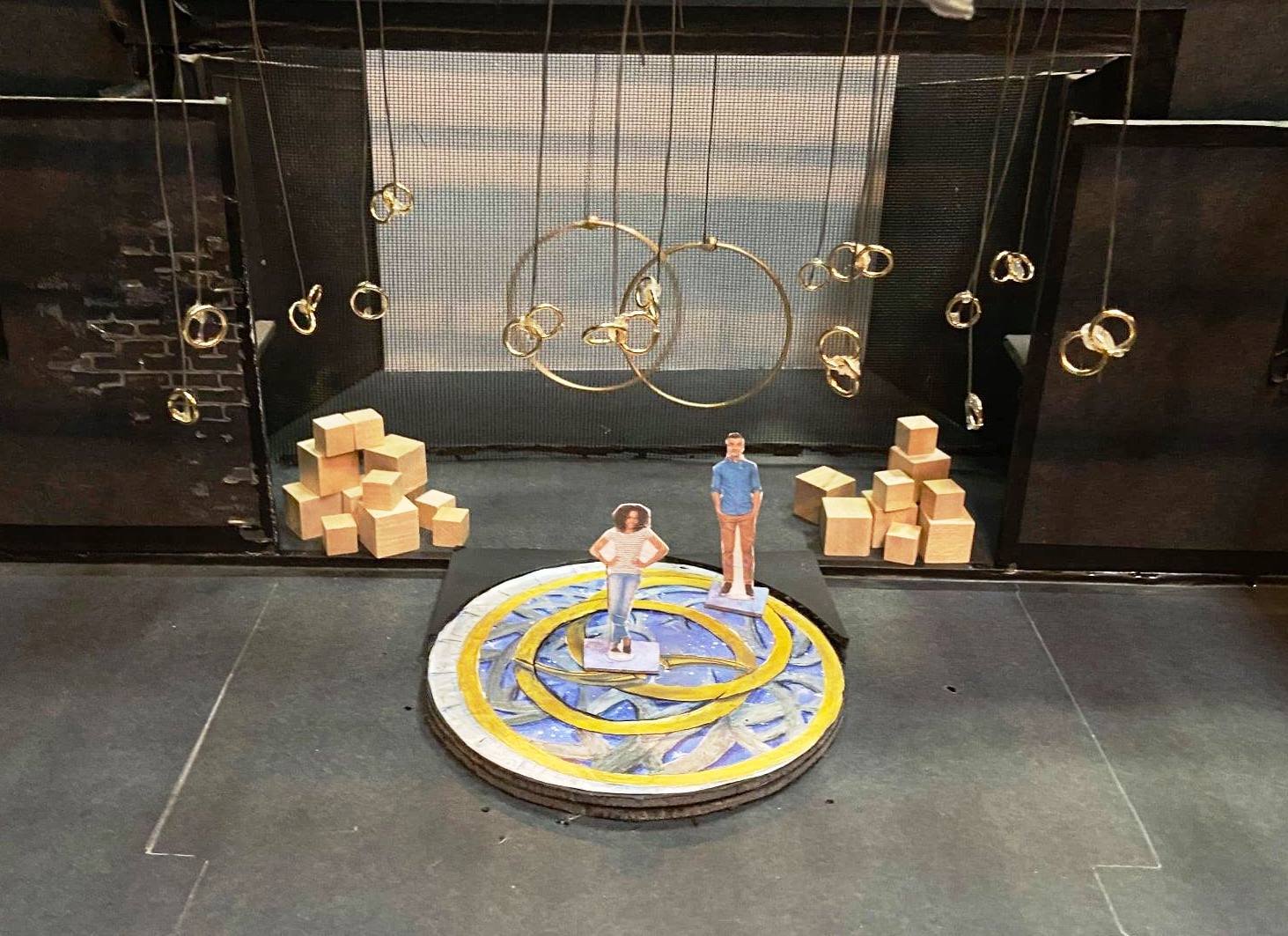 (The set for the Lyric Stage's upcoming production of "The Last Five Years". Set rendering by Scenic Designer, Jenna McFarland Lord.)
There aren't any elaborate or massive ensemble production numbers in this musical as the entire ensemble consists of just the two characters. This could increase pressure on the Troilos as performers to carry the material successfully through to the end.
"There's a lot of pressure on us to make sure the story tracks and to also make these characters believable, interesting, and relatable," Jared says. "However, Brown sets us up for success with a score that is incredibly detailed and specific. We're also so blessed to have Leigh directing, and Dan (Rodriguez) music directing because they're both incredibly creative and insightful. We both trust them completely and are so grateful for them."
"Oh, it puts an enormous amount of pressure on us," Kira says, agreeing with Jared. "JRB has certainly provided us with lots of amazing tools, and Leigh and Dan are absolutely the best team to have on your side when you're essentially staging two one-person shows. But yes, it is a huge challenge for me to carry material essentially by myself, creating other characters on stage with only my mind. It's an honor to be able to do this, and such a wonderful challenge to tackle, but absolutely a challenge."
Although we know the end of the musical's story…or at least think we do…Jared and Kira explain why it is that we still root for this couple which, as Jared explains, is because, on paper, they are "perfect for one another."
"They really do love each other and their intentions (for the most part) are good," Jared says. "They often say and do the wrong things and they never really figure out how to communicate openly and honestly. But they come so close to figuring it out."
He compares the above to watching the relationship of Jack and Rose in the 1997 movie "Titanic."
"We know the boat sinks and Jack freezes, but maybe, the next time I watch it, they will all live happily ever after," Jared explains. "Maybe, there will be enough room on that raft for Jack and, maybe, our production will have a happy ending, too. Who knows?"
Theatregoers will just have to attend multiple performances to see if this theory pans out. According to Kira, though, we root for the couple because we, the audience, ARE on the "outside."
"We have the perspective of seeing one character from the end and one character from the beginning of the relationship," Kira says. "We can see where they make their mistakes, and where they could have done better, and how with just a few small tweaks, they could have saved their marriage. So of course we root for them, because even though we know the ending from the beginning (spoiler alert), we get to know and hopefully love these characters throughout the course of the show. And we hope that they somehow come out of "The Last Five Years" with something more than a shattered relationship."
"I think we have to have hope," Barrett says. "I mean, if we haven't figured THAT out after this past year I'm not sure...lol. We have to hope that they can turn it around, that they'll learn something. They get SO close! We're all sitting there saying 'oooooo come on! Just listen! Just SEE!' And, for me, we have to hope that whatever is next for these people - what they discover about themselves and about this particular relationship - will help guide them in the next one."
After the show concludes its run, what is next on the horizon for everybody?
For director Barrett, it will be back to "A Christmas Carol" at North Shore Music Theatre "for my, I wanna say...thirteenth season. (Lucky 13!)."
Jared will actually be back at The Lyric this spring appearing in "A Gentleman's Guide to Love and Murder" playing the character of "Monty." The show had been slated to open in 2020 but was canceled due to COVID-19. "So, we're so excited to FINALLY dig into that hilarious show THIS spring, Jared says.
Kira says she will also be "back on a Boston stage in the spring" but, in the interim, much like her character 'Jamie,' has been working on her writing which she refers to as her "first passion."
"I've got a blog that I update regularly (biracialmom.com), and I'm currently writing my first novel as well," Kira says. "I'm also working hard to learn and grow in Equity, Diversity and Inclusion pursuits - another fierce passion of mine. So lots more to come soon!"
As we can expect many great things to come from everyone involved in this Lyric production.
The show's approximate run time is 90 minutes with no intermission.
Kevin T. Baldwin is a member of the American Theatre Critics Association (ATCA)
@MetrmagReviews
@Theatre_Critics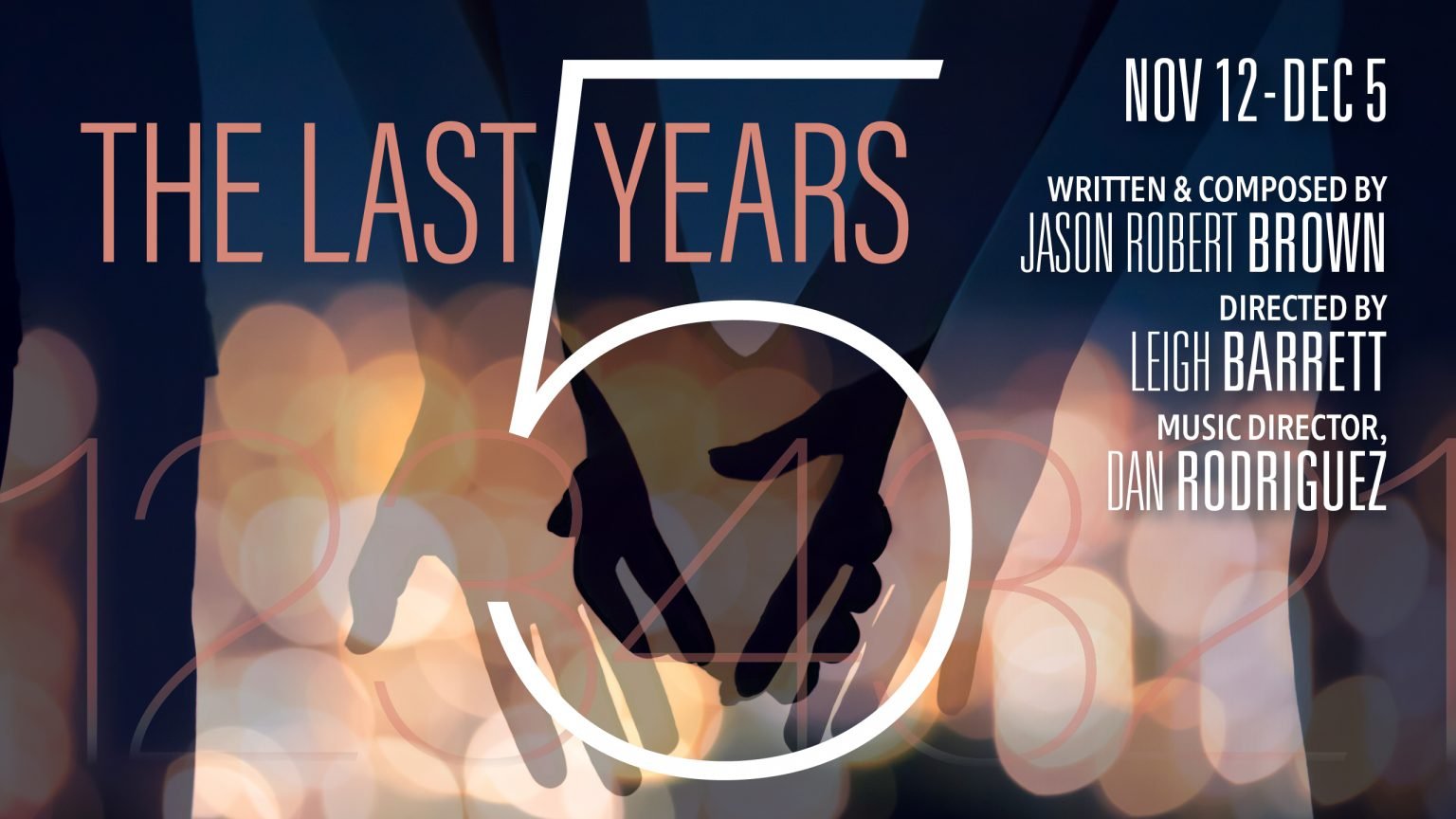 ABOUT THE SHOW
The Last Five Years is an emotionally powerful and intimate musical about two New Yorkers in their twenties who fall in and out of love over the course of five years.
The show's unconventional structure consists of Cathy telling her story backwards while Jamie tells his story chronologically.
Lyric Stage launches "Lyric for All" Affordable Price Options
In an effort to integrate live theater into the lives of all residents of Greater Boston, Lyric Stage offers multiple options including $30 Under 35, advanced Student Tickets, Senior Tickets, and partnerships with MassWIC and EBT Cardholders that allow audiences to visit as often as they like. More information at: https://www.lyricstage.com/tickets/lyric-for-all/
COVID-19 PROTOCOL
The City of Boston requires that our guests wear masks in the theater for the duration of the performance. Lyric Stage is requiring all its guests to show proof of vaccination: either a physical vaccination card or a legible photo of the vaccination card. When the City of Boston no longer meets the CDC's definition of a community at high risk of transmission, the requirement to show proof of vaccination will be lifted. All ticket holders will be notified of any policy changes within 48 hours of their ticketed performance.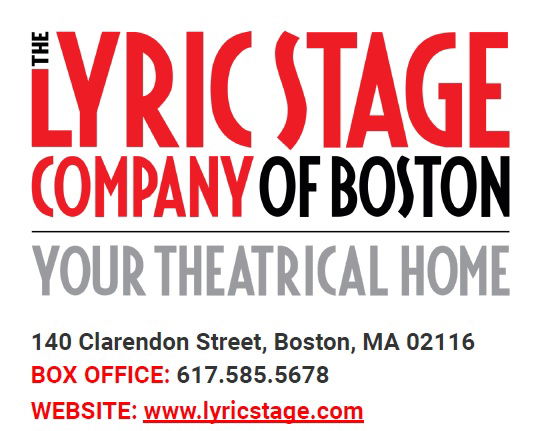 ABOUT THE LYRIC STAGE COMPANY OF BOSTON
Founded in 1974 and in residence at 140 Clarendon Street since 1991, the Lyric Stage Company is Boston's oldest resident theatre company. Its mission is to produce and present live theatre in Greater Boston with an intimate approach that promotes inclusivity and connection. The Lyric Stage leads an effort to integrate live theater and theater education into the lives of all residents of greater Boston.
140 Clarendon Street
Boston, MA. 02116
BOX OFFICE: 617-585-5678