(Cover Photo: "RUDOLPH THE RED-NOSED REINDEER: THE MUSICAL!" actress TALIA GLOSTER. The holiday tour comes to the Boch Center Shubert Theatre in Boston, MA. beginning November 24th and running through November 26, 2023. Photo Courtesy of taliagloster.com)


Presents a Holiday Treat
Coming for a Limited Engagement this Holiday Season!
Performances:
November 24, 2023 through November 26, 2023
(Contact Box Office for Exact Times)
SHUBERT THEATRE, 265 Tremont Street, Boston, MA 02116
TICKETS:
Start at $43
For Tickets contact the Boch Center Shubert Theatre at bochcenter.org.
COVID 19 PROTOCOLS
Contact Venue for Most Updated COVID-19 Safety Protocols and Information.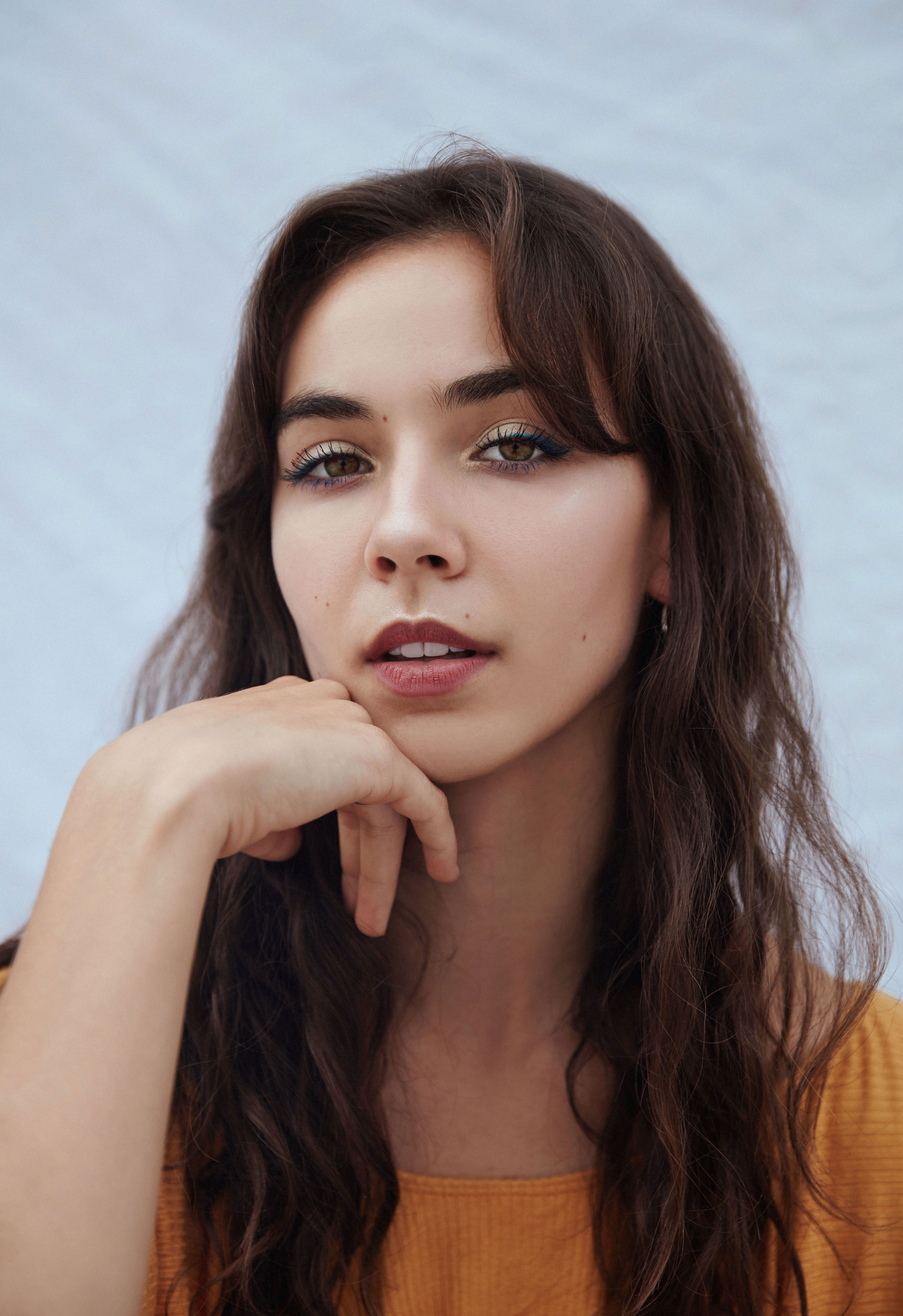 (Photo: "RUDOLPH THE RED-NOSED REINDEER: THE MUSICAL!" actress TALIA GLOSTER. The holiday tour comes to the Boch Center Shubert Theatre in Boston, MA. beginning November 24th and running through November 26, 2023. Photo Courtesy of taliagloster.com)
The holiday classic comes alive on stage at the Boch Center Shubert Theatre and METRMag had a chance to chat with "RUDOLPH" performer TALIA GLOSTER, who approaches the experience to play such an iconic character with some great training and skills.
Q - Judging by your resume, it seems your decision to pursue theatre as a life's choice began at UCLA, but what city/town were you born and raised? Did you grow up in the San Jose (CA.) area?

TG - "I grew up in the Bay area near San Jose," says GLOSTER.

Q – What was your first acting experience? Was it in elementary or high school?

TG - "Well, actually, in addition to San Jose, I also lived on Long Island (NY) with my Dad's family for a few years," GLOSTER says. "When I was five-years-old, I was in my first production of 'Annie.' That was my intro to theatre at the JCC. From there, I became obsessed with performing and just kept going."

Q – What was the first show that solidified your intent to pursue performing as a profession and how did your family react?

TG - "I really don't recall a specific decision or announcement made - It was just something I had always done and there was no other option or, at least, no other option in my mind," GLOSTER recalls. "Having experienced of theatre and the art that played out in my life, at least to that point, it was pretty clear that this was what I expected me to do."
GLOSTER continues.
TG - "As for my family - there were no negative conversations or reaction from them. In fact, when I told them, they said where can we start looking for where I could apply to 'theatre schools.'"

Q – From your time at UCLA, it appears you worked with some impressive instructors, including the legendary performer Lainie Kazan and RENT's Adam Pascal. What were those experiences like and what do you think you came away learning from each of them?

TG - "UCLA arts program was really a valuable experience," as GLOSTER remembers. "The instructors are actors working in the industry while they are serving as instructors at UCLA - and that was true of Adam and, to a certain extent, Lainie."
GLOSTER describes the UCLA experience with Kazan and Pascal.
TG - "They each had a calling and they are still evolving and experiencing with things. They were open about any questions we (students) had and made it super relevant and up-to-date. They shared their experiences that they were going through now in the industry - the same industry we (students) were also about to enter into."
"They were just so generous with their knowledge and wanting to continue this cycle of creating and pursuit of art," GLOSTER says. "All good intentions from people who want to help the next generation grow and thrive."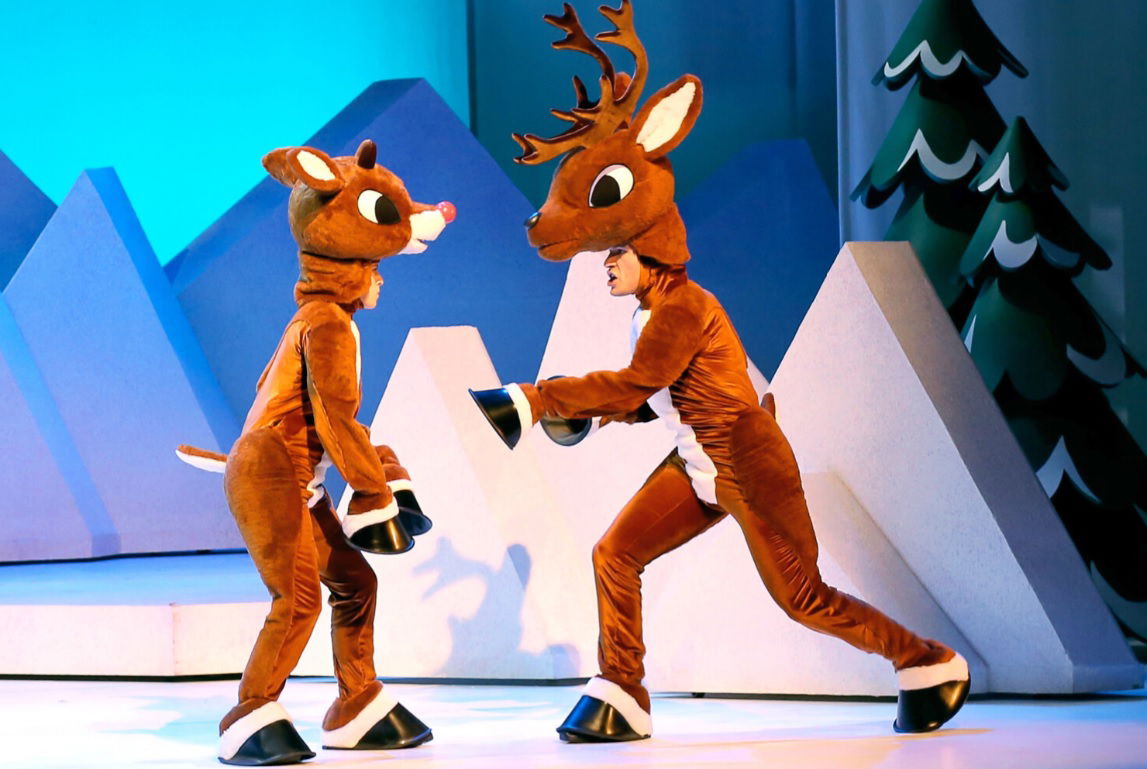 (Photo: A scene from "RUDOLPH THE RED-NOSED REINDEER: THE MUSICAL!" coming to the Boch Center Shubert Theatre in Boston, MA. on November 24th and running through November 26, 2023. Photo Courtesy of the Tour Website)
Q - From your resume, I can see you've played a lot of great characters including "Sheila" from "HAIR" and "Little Red" from "Into the Woods." Which of these pre-"RUDOLPH" roles was a favorite experience of yours?

TG - "Actually, 'Sheila' from 'HAIR' - because this was initially supposed to be an in-person live theatre experience but wound up being a ZOOM production (because of the COVID-19 pandemic)," says GLOSTER. "But even so, having 'HAIR' selected as our musical, we worked really hard to make that happen and, seeing it come to fruition, that was a real confidence builder for me."
"In an educational environment the goal was building that foundation and helping you become more sure of yourself," GLOSTER points out. "We worked hard and achieved it which was satisfying. Optimistic characters like 'Sheila' and, to a great extent, 'RUDOLPH,' require you to try that brain on so to speak to see their experience through their eyes - that is what is so beautiful for me as an actor."

Q – Moving into "RUDOLPH" territory now: I see you also studied at the BADA (British American Drama Academy) in 2019, where you trained in "Voice, Classical, Modern, Physical and Audition Techniques" - All things one would expect from a really good "RUDOLPH THE RED-NOSED REINDEER." Besides it being a steady gig, what drew you to this role and what was the casting process like for you?

TG - "What initially drew me - and continues to draw me - to this role, 'RUDOLPH' is about some pretty deep things; prejudice, acceptance and the 'hero's journey,' really," says GLOSTER. "I think, in order to tell a story to a child, and to get them to believe anything from that story, you need to be able to find the purest, simplest version of what you are trying to say and infuse it into your performance, into your show. 'RUDOLPH' does that and succeeds tremendously."

Q – Okay, long lead up but there is a question at the end here: It's safe to say the animated special, which came out in 1964, "RUDOLPH THE RED-NOSED REINDEER" has not aged well in the past 59 years. But its story of inclusivity, acceptance and representation are still quite in the public consciousness, especially given recent global events. As a performer playing this well-known character, how has the musical tried to adapt the original story to be more relevant today to these ideas?

TG - "I think, naturally, by casting, there's been an emphasis (by the 'RUDOLPH' creative team) to want to be inclusive and make sure there are lots of different voices and backgrounds and appearances - which helps build a more modern representation, a modern context and the way that the world actually looks - still supporting the ideals of the original story and its message while modernizing."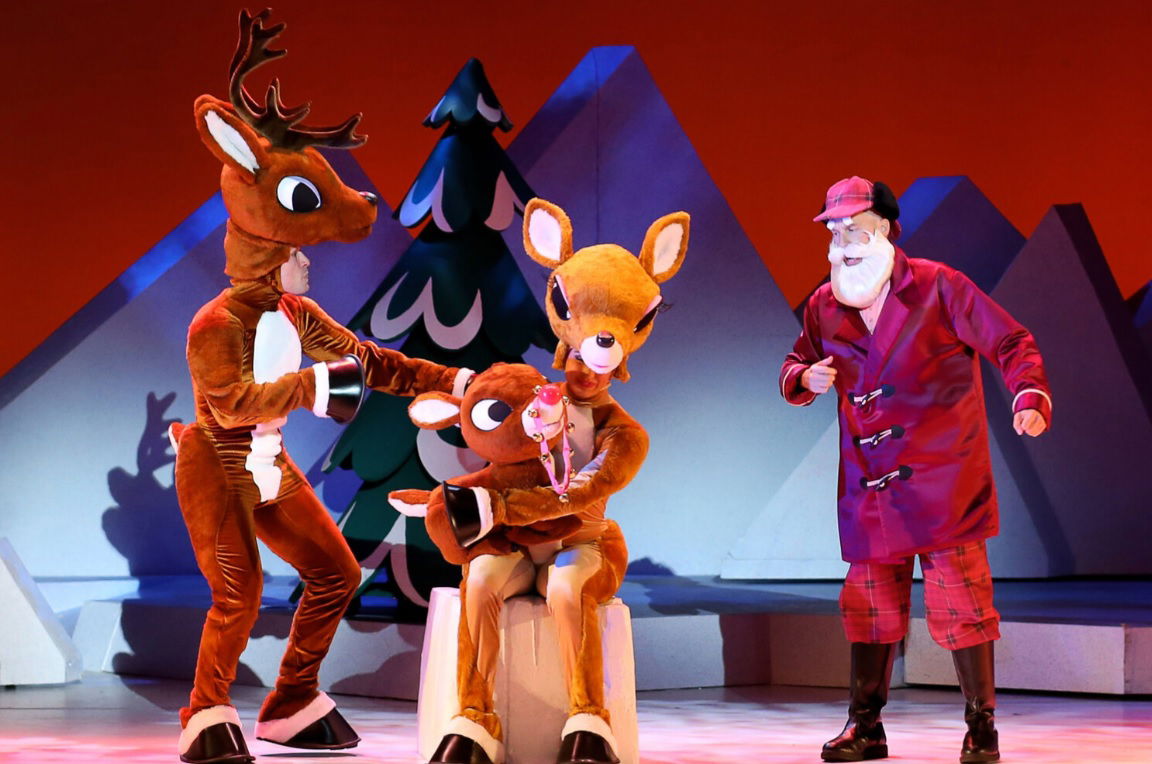 (Photo: A scene from "RUDOLPH THE RED-NOSED REINDEER: THE MUSICAL!" coming to the Boch Center Shubert Theatre in Boston, MA. on November 24th and running through November 26, 2023. Photo Courtesy of the Tour Website)
Q – There's a lot of technical wizardry going on and the show's costuming seems amazing – looking exactly how one would expect these characters to look on stage. But what have been some of the artistic challenges you faced in performing the character?

TG - "Well, there's a big reindeer head on top of my head," GLOSTER points out, laughing. "So, I'm not only acting with my face but also with this face on TOP of my face. So I need to be aware of that, while acting, to consider both forms of expression. Also, this (staging) is all very physical and big, especially when performing on the really big stages. This is not like the 'small kind' of film acting. This is BIG, theatrical, 'sparkly' acting."

Q – What is your favorite part of playing this classic character and do you have a personal favorite song from the musical? Doesn't have to be one of yours, btw.

TG - "Well, going backwards: One of my favorite songs, is 'Silver and Gold' which is one I am not in and starts the second act," GLOSTER says. "A lot of times, the audience sings along with it because everybody knows that song. It really shows you people's connection to this story. There is also a moment where it does 'snow' on stage and, as the actor existing in the brain of 'RUDOLPH,' there is supposed to be this sense of 'childlike wonder' which I need to convey and which is a beautiful thing to experience as an actor."

Q - You're all up there, singing and dancing in those heavy costumes under hot stage lights for almost a full 90 minutes (with one intermission). How do you all manage to keep from getting drained or dehydrated from the rigorous routine?

TG - "I think we are all just aware of the responsibility involved - that this is a really important show for those coming to see it, especially kids for their first theatre production. We approach it as if we are carrying something precious and that helps carry us through," GLOSTER says, adding, "And, with touring in general, there always just has to be this pre-emptive taking care of ourselves, with lots of fluids and rest, Hyper taking care of yourself has to be the 'mode' when touring, especially in shows like this."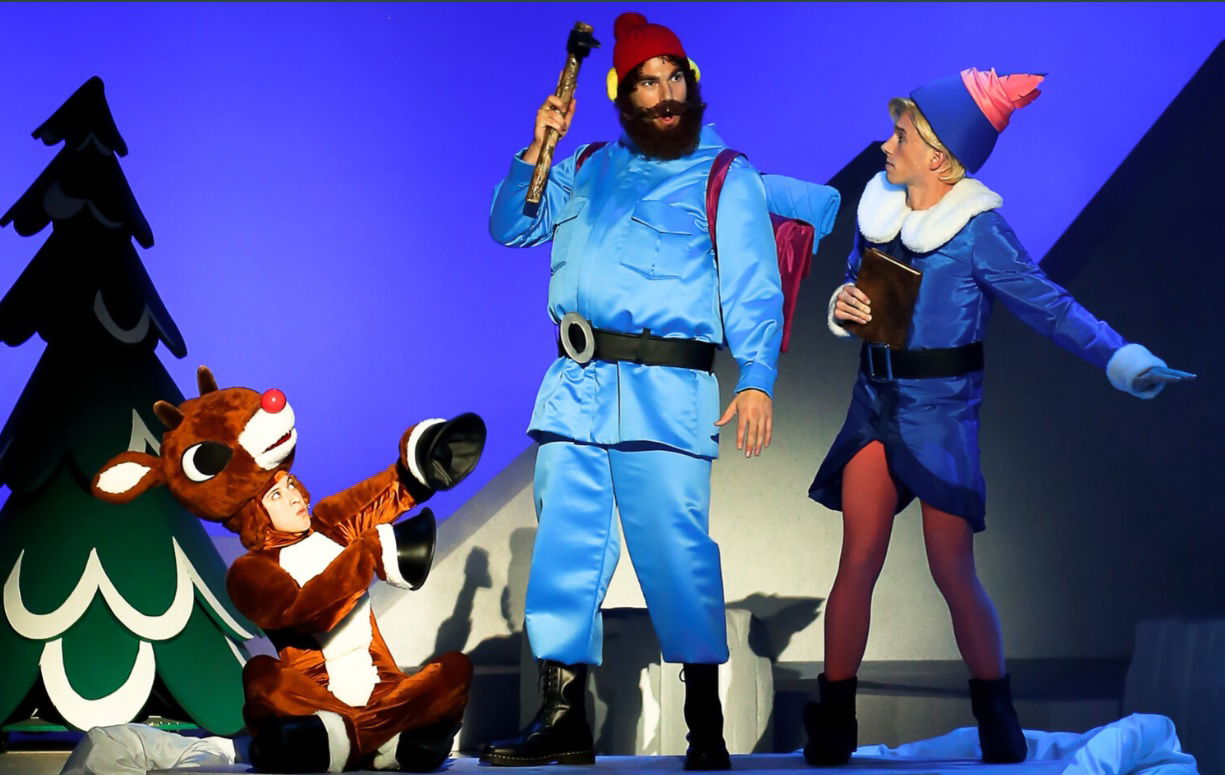 (Photo: A scene from "RUDOLPH THE RED-NOSED REINDEER: THE MUSICAL!" coming to the Boch Center Shubert Theatre in Boston, MA. on November 24th and running through November 26, 2023. Photo Courtesy of the Tour Website)
Q – How has the cast and creative team been to work with throughout the show?

TG - "They're wonderful. They really are. I want to say just about everyone is from the original team that started from 2014," says GLOSTER. "As for our director and music director, their love for (the show) hasn't faltered at all. That definitely shows and spreads to the other people working on this. Reverence and affection for the material does wonders when bringing it to life."

Q – I read in your resume that you are gifted with "double jointed elbows." Does that help in your costumed representation of a reindeer?

TG - "Well, I hadn't thought of it but I do have these sort of very lanky arms," GLOSTER says, laughing. "Does this fit into the way I perform the role of a reindeer? Sure, I suppose - I mean, I am supposed to play 'RUDOLPH' as very awkward, almost like a teenage boy – a teenage boy who doesn't know how to move his body. So, I probably do employ them sub-consciously to paint that awkward picture. But, now that you mention it, I might just look at that a little more (again laughing)."

Q – After the holidays and the tour ends, what is up next for TALIA GLOSTER?

TG - "I mean it is all just one grand mystery after another, isn't it?" says GLOSTER. "Honestly, I am not sure yet. Usually, after a tour, I might need some rest. So, I'll probably just try to make the most of it. It (the 'RUDOLPH' casting process) was really fast. When I got my offer it was literally within the span of a week. So things can really move fast when you are lucky enough to get into a project like this and tour. But everyone occasionally needs a little downtime to help decompress and rest."

Q – Last question: What do you hope most folks, kids AND adults, will come away with after the experience of seeing this live adaptation of "RUDOLPH?"

TG - "It feels really special to tap into this story on stage," GLOSTER says. "If we can tap into that emotional spirit, I hope on a deeper level, people see 'RUDOLPH' as ostracized for this one thing that is his difference. And then, as he experiences his 'hero's journey' with other people who love and accept him as he is, 'RUDOLPH' learns to love himself as he is with all the parts that make him up instead of shying away from them. AND then he also winds up saving the holidays. Yay!"
"It really is a powerful testament to how we all should nurture those parts of ourselves that might be different."
"RUDOLPH THE RED-NOSED REINDEER: THE MUSICAL!" plays at the Boch Center Shubert Theatre in Boston, MA. beginning November 24th and runs through November 26, 2023. Tickets start at $43. For Tickets and Information, contact the Boch Center Shubert Theatre at bochcenter.org.
Kevin T. Baldwin is a member of the American Theatre Critics Association (ATCA)
@MetrmagReviews
@Theatre_Critics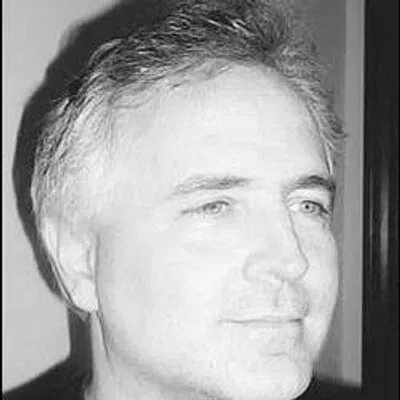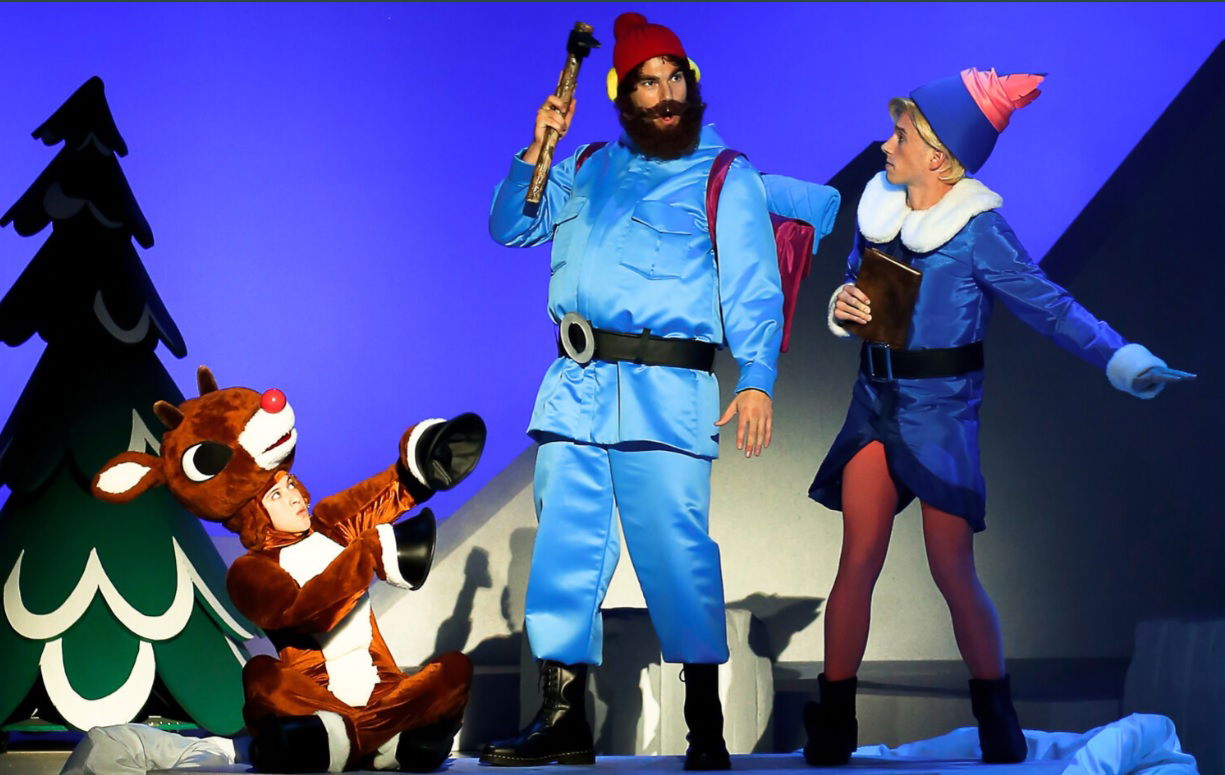 ABOUT THE SHOW
Come see all of your favorite characters from the special including Santa and Mrs. Claus, Hermey the Elf, Bumble the Abominable Snow Monster, Clarice, Yukon Cornelius and, of course, RUDOLPH as they come to life in "RUDOLPH THE RED-NOSED REINDEER: THE MUSICAL!"
It's an adventure that teaches us that what makes you different can be what makes you special.
Don't miss this wonderful holiday tradition that speaks to the misfit in all of us.
Approximately 90 minutes with one intermission
For Tickets contact the Boch Center Shubert Theatre at bochcenter.org.

ABOUT THE WANG AND SHUBERT THEATRES
Just as the city and audience have evolved with the times, the Boch Center, as guardian of the WANG and SHUBERT THEATRES (and from 2012-15, the Center also managed the historic Emerson Colonial Theatre), has changed to meet the needs of its community.
Uniquely using a Balanced Scorecard (a Fortune 500 management framework), strategy map, and strategic dashboard, the Boch Center ensures that our Theatres and programs stay relevant to the community we serve. Today, the Boch Center is considered a best practice institution and nonprofit arts leader. With the belief that arts make and keep us a civilized nation, the Boch Center is dedicated to providing high-quality, diverse and culturally relevant arts and entertainment, and arts education programming for New England residents and visitors.
ABOUT THE BOCH CENTER
The Boch Center is one of the nation's leading nonprofit performing arts institutions and a guardian of the historic WANG and SHUBERT THEATRES. As New England's largest cultural venue, the Boch Center is home to theater, classical and popular music, dance, comedy, opera, Broadway musicals, family entertainment, and more. Located in Boston's historic Theater District, the Boch Center also offers a diverse mix of educational, cultural and community outreach initiatives, including the City Spotlights Leadership Program and the Folk Americana Roots Hall of Fame; collaborates with artists and local nonprofit arts organizations; preserves historic venues; and acts as a champion for Greater Boston's arts and cultural community. Learn more at bochcenter.org.