(Cover Photo: Peter Cincotti who will be appearing at the Town Hall in Needham, MA. on November 5, 2022. Photo Courtesy of www.petercincotti.com)

By Kevin T. Baldwin
METRMAG Reviewer
# 774-242-6724


METRMAG Spotlight On:
Peter Cincotti
Will Perform
at

The Needham Town Hall
ONE NIGHT ONLY!
November 5, 2022 at 8:00pm
Needham Town Hall, 1471 Highland Ave, Needham, MA 02492
"88 keys, a bench and a mic."
The above comes directly from the Peter Cincotti web site (www.petercincotti.com) indicating that, with just those three things, the accomplished American singer-songwriter "can take you anywhere."
Now, Cincotti takes his new show "88 Keys" to the Needham Town Hall on November 5 as part of Needham's Great Hall Concert Series.
Born in New York City, Cincotti, now 39, began playing a toy piano given to him by his grandmother at the age of three.
"I had very supportive parents and my grandmother bought me this little toy piano for my third birthday and taught me to play 'Happy Birthday' on it," Cincotti says. "And this little three- year-old kid just became addicted to playing it."
Cincotti remembers beginning piano lessons by the age of four and then was given an actual piano by age five because, as he describes it, "There was an immediate fascination for it."
In New York City, Cincotti would be exposed to the various music styles coming from the many blues clubs, Broadway shows and more.
"There was a lot to absorb and I always gravitated toward the piano players that I admired," Cincotti says.
Today Peter Cincotti blends genres while bringing active, rhythmic piano playing back into the landscape of modern music.
It was legendary music producer Phil Ramone who discovered the up and coming musician and produced Cincotti's debut album (pictured below) which reached number one on the Billboard jazz charts, making 18-year old Cincotti the youngest artist ever to do so.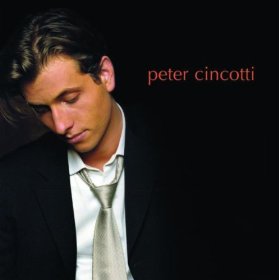 Did music come easy to Cincotti as a kid?
"Well, I practiced a lot but a lot of it was just I knew how to play. Certain things just seemed to make (musical) sense to me," Cincotti says. "It was the platform I used and built upon."
Cincotti recalls, "I did not have parents that pushed me into performing, but they did certainly notice my level of interest."
"At my first classical lesson, my mother asked the teacher to not just include the classical regimen but to also include things she knew that I would enjoy playing," Cincotti says. "She felt, in those early formative ages, that it was important for someone just learning to associate the playing of the piano with something they'd love to play. I give great credit to both my mother and teacher."
Does Cincotti find performing still as enjoyable today as it was back then?
"Well, it is a lot more complex today – 'music business' is two words - and the business aspect is always changing and changing fast," Cincotti says. "It has been a challenge to produce and manage the business aspects. But I have always been able to play the music I wanted to play and make the kind of records I wanted to make."
According to his web site, Cincotti has performed in some of the world's most prestigious venues from Carnegie Hall to L'Olympia in Paris, collaborated with artists ranging from Andrea Bocelli to David Guetta, has been featured in blockbuster films such as "Spiderman 2," represented the global fashion brands Ermenegildo Zegna and Tod's, and even appeared as himself in Season 3 of the hit Netflix series "House of Cards."
Outside of the music people are accustomed to hear Cincotti play, is there a style or genre of music people might find surprising to learn that the artist is drawn to?
"I'm surprised that people are surprised," Cincotti says. "'Goodbye Philadelphia' came out of me and it was something I performed that had nothing to do with Jazz. People were surprised to hear it. I see connective tissues to all the genres."
Cincotti recalls multiple past masters of piano who influenced him as a performer.
"Well, it is quite a range," Cincotti says. "When I was seven-years-old, Harry Connick called me up on stage and I remember learning a lot from him. In my early teens, there were a lot of people like the great (famed American jazz pianist) James Williams and a long list of people I studied with."
When he began taking his act on the road and was touring, Cincotti also has had some unbelievable experiences like opening for the legendary Ray Charles.
"I opened for Ray just before he passed away" Cincotti remembers while noting how the equally iconic Jerry Lee Lewis (aka "The Killer"), who passed away only the day before this interview took place, was also an influence.
"Jerry Lee was such an icon and I always practiced 'boogie woogie' on the piano - which drove my family crazy," Cincotti says.
This will be Cincotti's first time performing at the Needham Town Hall.
"Yes, this will be my first time in the area and I'm really looking forward to it," Cincotti says.
And what can the audience expect to see when Cincotti performs on November 5th?
"Hopefully they'll hear a lot of piano playing, forget their troubles and just sit back and enjoy a night of entertainment, and who knows? Maybe they'll learn how to play the piano - and (recalling the Killer) I'll try not to light the piano on fire like Jerry Lee did."
Cincotti hosts a live stream show entitled, "That Friday Feeling With Peter" from New York, where fans from around the world join in "for drinks, talk, music and more." Some episodes are available on Instagram.
Cincotti describes the live stream experience as a different, more reciprocal way of interacting with his fans been like.
"It has been a nice way to stay close to fans - and especially during the pandemic when I was unable to tour," Cincotti says. "I would have them on as guests and I would learn a lot from them. When I began touring again, that connection maintained, especially when I would see them in the audience and we'd talk, remembering certain things we had talked about during the show."
Speaking of the pandemic, Cincotti notes how it has been "great" performing again in front of live audiences.
"It has been great. I mean you just feel their hunger for live music and the excitement in the room," Cincotti says. "You feel this energy in the room that feels like it is long overdue."
Cincotti's repertoire includes the songs "Sway," "Some Kind Of Wonderful," "Cinderella Beautiful," "Rainbow Connection," "St. Louis Blues," "My Religion" and more.
But, on this latest tour, are there any "deep cuts" which might pleasantly surprise the more hardcore Peter Cincotti fans?
"You know 'Come Tomorrow' (from 2007) is a song not a lot of people know but it became a bonus track and it was the first song I wrote for that era of songs," Cincotti says. "Definitely a 'deep cut' that does still resonate with people that know it is there."
The Needham Bank Great Hall Concert Series comes from the efforts of The Great Hall Performance Foundation, Inc., a nonprofit 501(c)3 corporation pledged to continue the good work of its predecessor, Citizens for the Preservation of Town Hall.
More information may be obtained at www.greathallperformance.org
The Great Hall Concert with Peter Cincotti will take place on November 5, 2022 at 8:00pm at 1471 Highland Ave, Needham, MA 02492
Peter Cincotti's new album "Killer On The Keys" honors some of the most influential piano men and women of all time, as well as some autobiographical originals. Blending influences from Nat King Cole, Billy Joel, Lady Gaga, John Lennon, Bill Evans and Coldplay, Cincotti creates a kind of crazy glue between generations of pianists with a style all his own.
In honor of Jerry Lee Lewis (1935–2022) here is Cincotti performing "Killer On The Keys"
Kevin T. Baldwin is a member of the American Theatre Critics Association (ATCA)
@MetrmagReviews
@Theatre_Critics