(Cover Photo: "MY ISLAND, MY HEART." Photo courtesy of Compagnie France Film and Les 7 Doigts)
By Kevin T. Baldwin
METRMAG Reviewer
# 774-242-6724
METRMAG Spotlight On:
"MY ISLAND, MY HEART"
One of New England's favorite visiting production companies from Montreal, The 7 Fingers, is collaborating on the highly-anticipated opening of the iconic ESPACE ST-DENIS' STUDIO-CABARET in Montreal.
Compagnie France Film is proud to co-produce the inaugural production with Les 7 Doigts (world renowned circus arts troupe from Montreal also known as The 7 Fingers) who are celebrating their 20th anniversary this year -- the show is called "MY ISLAND, MY HEART."
September 8, 2022 Grand Opening
Shana Carroll - 7 Fingers Co-Founder and Artistic Director
PRESS RELEASE:
One hundred and five years after its March 6, 1916 opening, the THE THÉÂTRE ST-DENIS has added a new, grandiose chapter to its history.
The legendary venue has become part of a multipurpose entertainment complex called ESPACE ST-DENIS, an important cultural, touristic, technological and gastronomic hub.
THE THÉÂTRE ST-DENIS is a major economic driver of the Quartier Latin, and its integration into ESPACE ST-DENIS will not only strengthen this role but also significantly contribute to the revitalization of the area.
Along with ESPACE ST.-DENIS comes the long-awaited and highly-anticipated opening of ESPACE ST-DENIS' STUDIO-CABARET taking place September 8, 2022.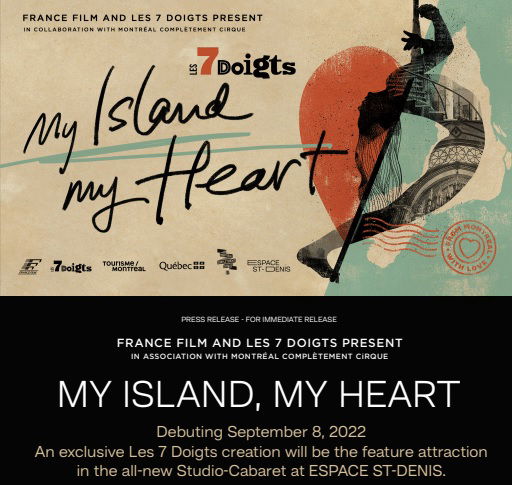 ABOUT THE SHOW
"MY ISLAND, MY HEART" tells the tale of Pablo - A new arrival, Pablo finds himself in Montreal as the result of a fleeting romantic relationship, but whose fate will take a completely unexpected turn. Pablo's story takes the audience on a journey that includes meeting a variety of characters and discovering a universe which, ultimately, could very well be our own!
"MY ISLAND, MY HEART" will feature all the incredible artistic possibilities this new immersive venue has to offer.
"MY ISLAND, MY HEART" in rehearsals.
"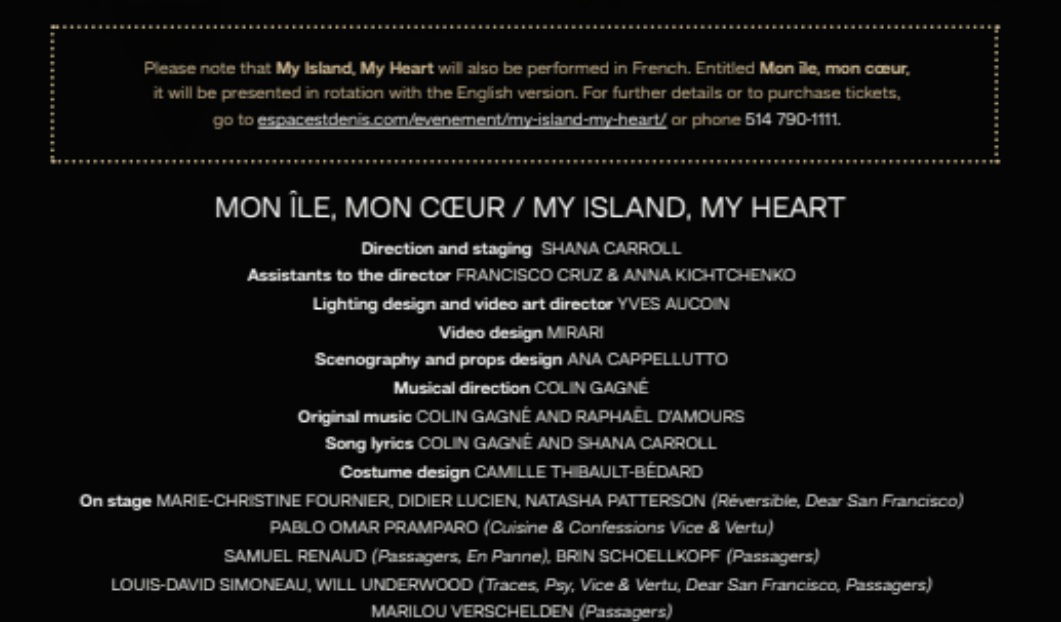 "MY ISLAND, MY HEART" is a one-of-a-kind experience in North America. Presented as an immersive circus cabaret, the show celebrates the city of Montreal.
The grand reopening of the cabaret space will delight audiences with its unique experiences!
Equipped with an array of 180-degree LED screens and 4K projection equipment, ESPACE ST-DENIS' STUDIO-CABARET entices spectators to enter an immersive experience. Eventually there will be dinner-show options available at the space as well.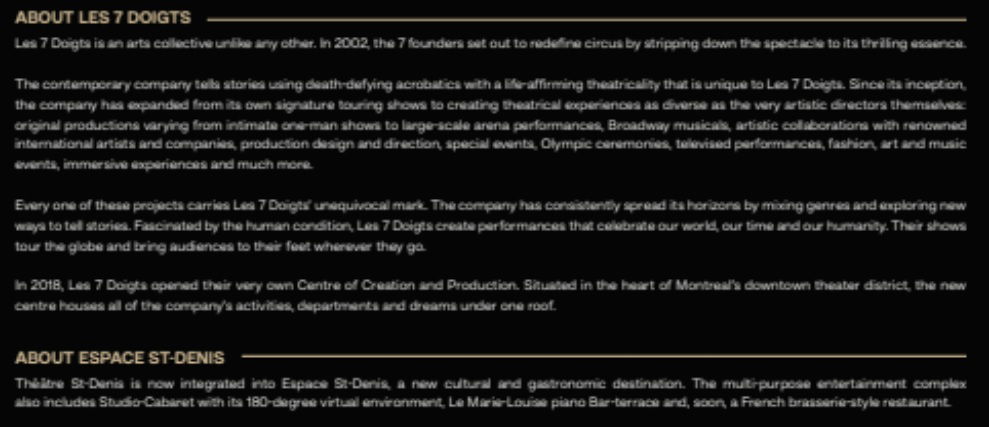 Please note that "MY ISLAND, MY HEART" will also be performed in French. Entitled "MON ILE, MON COEUR," it will be presented in rotation with the English version.
For further details or to purchase tickets, phone # 514 790-1111 or go to:
espacestdenis.com/evenement/my-island-my-heart/
Kevin T. Baldwin is a member of the American Theatre Critics Association (ATCA)
@MetrmagReviews
@Theatre_Critics