(Cover Photo: Company of "Million Dollar Quartet", playing at the Boch Center Shubert Theatre. Photo Courtesy of the Tour)
Kevin T. Baldwin
METRMag Reviewer
# 774-242-6724
The Boch Center Shubert Theatre
Presents the Tony® Award-Winning Musical
"Million Dollar Quartet"
Million Dollar Quartet Comes to Boston's Boch Center Shubert Theatre For Three Shows
Written by Colin Escott and Floyd Mutrux.
Directed by Tim Seib
Cast Includes: Jacob Barton (Elvis Presley), Nathan Burke (Carl Perkins), Trevor Dorner (Jerry Lee Lewis), Sean Casey Flanagan (Sam Phillips), Taylor Kraft (Dyanne), Steven Lasiter (Johnny Cash), Bill Morey (Brother Jay), Jon Rossi (Fluke, Music Director)
Additional Creative Team Includes: Gershwin Entertainment – Producer; Jaimie Selke - Associate Producer; Evan Bernardin Productions - General Manager; Steve O'Shea - Associate Lighting Designer; Kirk Bookman - Lighting Designer; Steve Royal & Adam Koch - Scenic Design; Jeffrey Meek - Costume Designer.
Performances:
October 29, 2021 at 8:00pm
October 30, 2021 at 2:00pm and 8:00pm.
Boch Center Shubert Theatre, 265 Tremont Street, Boston, MA.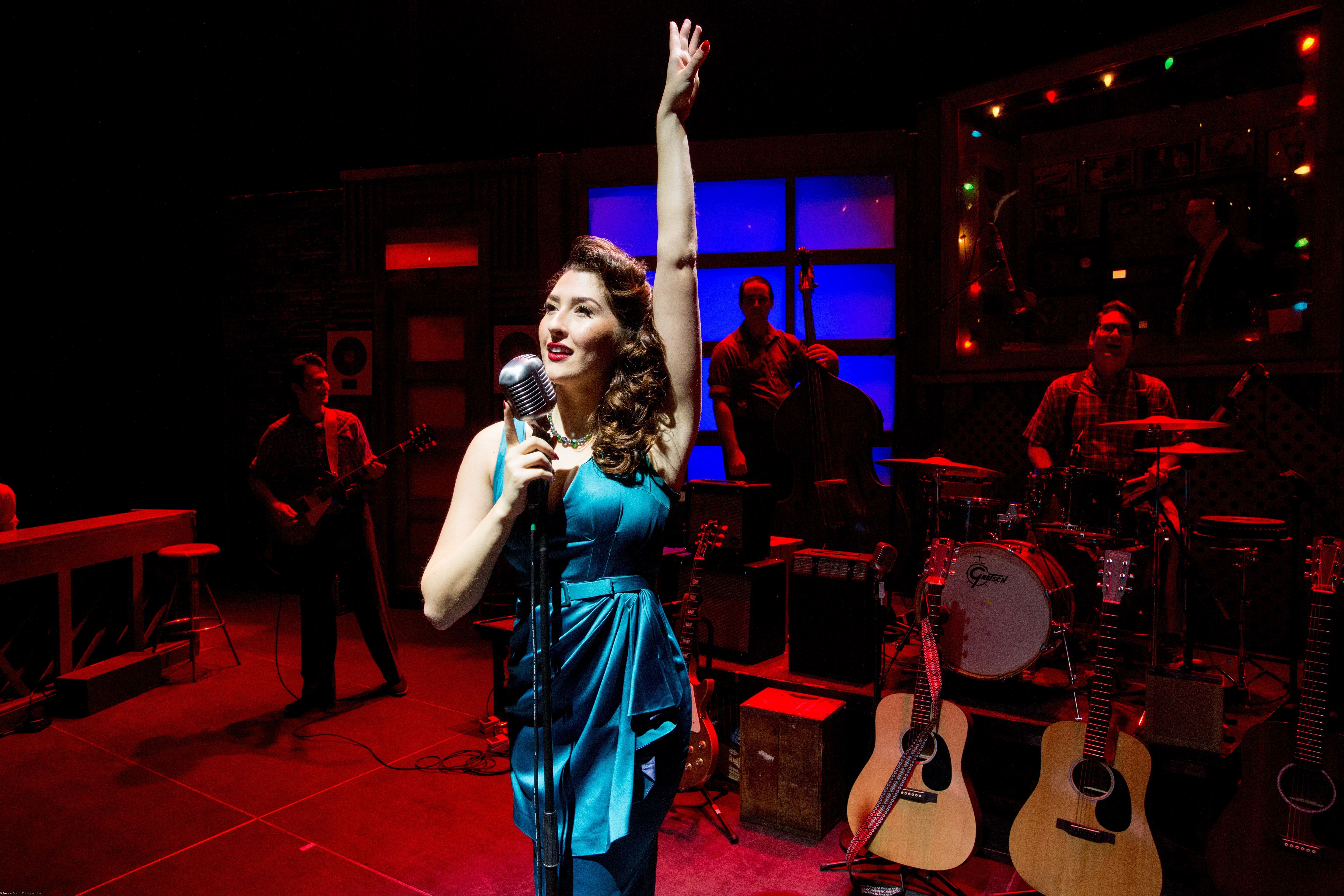 (Taylor Kraft of "Million Dollar Quartet", playing at the Boch Center Shubert Theatre. Photo Courtesy of the Tour)
METRMAG Spotlight On: "Million Dollar Quartet" Interview with Taylor Kraft ("Dyanne")
Taylor Kraft has a long history with the musical "Million Dollar Quartet" extending all the way back to 2016 in Fayetteville, NC where Kraft appeared in a lot of diverse productions, including "Million Dollar Quartet."
The show is making its return to Boston this fall for three performances at the Boch Center Shubert Theatre (October 29th at 8:00pm and October 30th at 2:00pm and 8:00pm) with Kraft appearing in the role of "Dyanne."
The Tony award-winning show captures the magic of one of the greatest nights in rock-n-roll history as Johnny Cash, Jerry Lee Lewis, Carl Perkins, and Elvis Presley all came together in a recording studio in Memphis.
Kraft describes her journey from appearing in the 2016 show making her way to the latest tour.
"While doing the show at the theatre in Raleigh, NC (Fayetteville) the Artistic Director I was working with mentioned to me that there was this 'rock show' coming up," Kraft says. "I met Tim Seib and Jon Rossi who actually weren't connected with the upcoming tour at that time. But it just goes to show that you never know who you are working with now and who they will be in the future. Fortunately, I have been touring with them ever since."
Kraft was cast as "Dyanne" in 2019 just before the pandemic shut down.
"Fortunately now the show has come back in a big way," Kraft says. "I still had such a love for the show when I was approached to play 'Dyanne.' So I sent in a video reel of what shows I had done previously. Then we all met in person just to see if I would be a good 'fit' and the rest just fell into place."
Since her association with the show, Kraft also established a special connection to the person playing Elvis Presley, Jacob Barton.
It was never our intention to work together on this show, specifically, but now Jacob is my husband of two years," Kraft says. "In 2017, we began dating while doing different shows. I never thought we'd play roles together but it all sort of naturally happened."
The duo began performing in the show as a couple and toured together. On January, 2020, as the previous tour was coming to a close and just before the shutdown, the two got married.
"Fortunately, since we married in January and the shutdown didn't happen until March, a lot of our friends were able to make it and enjoy," Kraft says.
When the COVID-19 pandemic shut things down for the couple, Kraft describes how it impacted them. She notes the whole cast did various things during the enforced "down time" which actually helped them progress as performers while awaiting resumption of the tour.
"During the pandemic, we worked on music separately. Then, a lot of us took on solo work and music, I did a jazz show over the past summer," Kraft recalls, offering, "We came back with new, enhanced or improved skills and, when we got back, gelled instantly."
"We have a cast that has stuck together and we had just gotten done before March (2020)," Kraft says. "We all spoke to one another throughout the shutdown, expressing our thoughts. We were always kept in the loop. We knew the tour was going to survive and resurface...it was just a matter of when. It reminded us all that every day is not a certainty."
And what about the performer herself? Kraft explains.
"Personally, I gave myself some downtime. I found I was able to take time to slow myself down but still be productive."
That said, what was her initial reaction once they finally notified the cast that the tour was back on?
"Overjoyed! It was a lot of 'maybes' right up until the day we got our finalized (tour) dates which was only about a month ago and, now, we have many dates into 2022."
Kraft describes her relationship with the cast as working with family.
"If that is a trope, I apologize, but the show is back up on its feet and there is only a cast of eight of us with one stage manager. So, this is not a huge group. We are extremely paired down to where we actually have been able to travel in just two sleeper buses. So, we do keep it together just like a family."
"Million Dollar Quartet" focuses on a singular moment - a unique, and actual, meeting of some of the most famous rockers of the period who gathered one night at Sun Records in Memphis, TN on Dec. 4, 1956.
Elvis Presley, Carl Perkins, Johnny Cash and Jerry Lee Lewis all met and held a spontaneous jam session where an iconic photograph of the quartet was taken. To some, this foursome could seem like the Mount Rushmore of early rock and roll music. Kraft describes how and where her character, Dyanne, fits into the story.
"When the show was written and initially performed at the Apollo in Chicago in 2009/2010, the producers had the recordings of this night and there were women there (Marion Keisker, Sam Phillips' secretary, Johnny Cash's first wife, Vivian Liberto, etc.)," Kraft explains. "As they were developing the show, they knew they needed a strong female presence and the role of 'Dyanne' was based on Elvis Presley's girlfriend at the time, but she was not able to be tracked down until, one night, she actually came to one of the shows."
1956 was a completely different world than today in terms of the "power dynamic" between men and women. This gathering features some heavy-duty Alpha males of that earlier time period. Kraft's character, "Dyanne" is based on Elvis's real girlfriend at the time, dancer Marilyn Evans (by some accounts, the real Marilyn was closer to a casual friend than romantically involved with Elvis).
"Dyanne" is not only an observer of the action but also becomes an integral part of the performance dynamic. Kraft discusses challenges faced in this portrayal.
"Well, you're right in that the 1950s were an extremely different time - and women were under-represented as they are today," Krafts says. "But, while these were such amazing icons, we do see there were also iconic women of stage and screen and, while learning to play 'Dyanne,' Tim Seib, the director, and I discussed all these things."
"Dyanne" also serves, Kraft explains, as a theatrical device to help provide more of an outsider's perspective on these men - to reduce their respective and collective legend and make their humanity a little more accessible to the audience.
"From day one, he (Seib) instilled in me the confidence to find Dyanne's strength, what she finds in the music industry, how smart she is, how intuitive she is. She sees what these guys were going through and gets them to talk more about their feelings."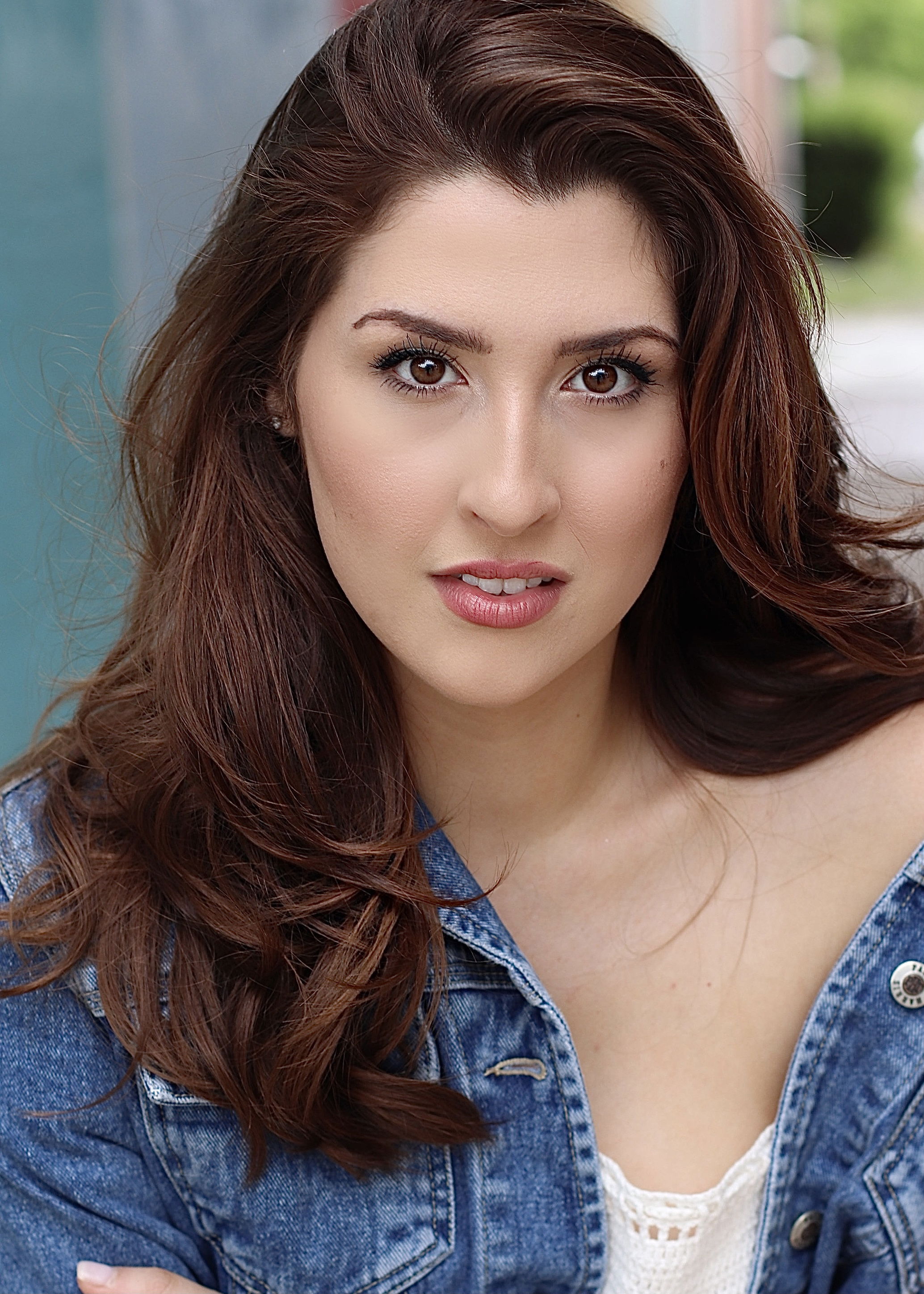 (Headshot of Taylor Kraft from "Million Dollar Quartet", playing at the Boch Center Shubert Theatre. Photo Courtesy of the Tour)
While the cast is young, Kraft notes she was familiar with the Dyanne songs "I Hear You Knockin'" and "Fever" prior to the show.
"Yes. I have a background in jazz and performed in jazz bands and have sung 'Fever' hundreds of times," Kraft says. "We (the cast) are old souls and love retro music. I listened to Johnny Cash in my household. Now it is just learning more history and these new musical arrangements. This is an actor-musician show which really is more about the actor's relationship to the music. When we are on the road we are only listening to this music."
While the show is considered a "jukebox musical" Kraft points out how the Colin Escott/Floyd Mutrux true story construct about this gathering of music icons works well with songs chosen to be performed.
"Absolutely. The show is based on the actual songs those guys sang that night. The original recording is fairly short and our show expands on it but is totally authentic to the sound of that music. Since the tour began, we have edited the book to really include even more of those really specific details that you would have heard listening to the recording of that 1956 moment."
There are also some lesser known "deep cuts" in the show (like Carl Perkin's "Matchbox" and Buddy Holly's "Brown Eyed Handsome Man") that, unless a person is really familiar with these musicians and that era, may not resonate. Which songs now resonate with Kraft after such a long association with "Million Dollar Quartet?"
"I would have to say my favorite song across the run is 'Brown Eyed Handsome Man' because it isn't as well known. When it comes in around the 30 minute mark in the show, we have all been introduced, we are all playing together, we are all in the room and we are all on instruments. I also have developed a real affection and respect for Carl Perkins."
The cast have performed in a number of venues since the tour resumed and Kraft recalls one of the more interesting destinations along the way.
"One of our coolest stops was in Cheyenne, Wyoming, in a very small town. We were all staying in this 'haunted hotel' and, some of us are 'Ghost Hunter' types, so we really enjoyed staying there. A lot of us are history buffs and enjoy a good scare."
But Kraft is just as enthusiastic on how much she is anticipating the tour's upcoming stop in Boston.
"I can't tell you how much I am looking forward to being in Boston - I mean, just so much history, and to be there around Halloween? I cannot wait."
And what is her hope for the Shubert theatregoers?
"I hope that audiences come away dancing. On their feet, young and old, forgetting the world around them, just enjoying the music around them."
And what about AFTER, when the Quartet "fever" breaks? What comes next for Taylor Kraft?
"As of right now, we've got a lot of dates well into 2022," Kraft explains, while also hinting, "It is pretty busy, but I would say I am working with some amazingly talented friends who have some projects coming up. So, lots of new projects on the horizon."
Tickets for Million Dollar Quartet are on sale now at the Boch Center Box Office or www.bochcenter.org.
Kevin T. Baldwin is a member of the American Theatre Critics Association (ATCA)
@MetrmagReviews
@Theatre_Critics

ABOUT THE SHOW:
On December 4, 1956, an auspicious twist of fate brought together four young musicians – Johnny Cash, Jerry Lee Lewis, Carl Perkins, and Elvis Presley. Sam Phillips, the undisputed "Father of Rock 'n' Roll" who was responsible for launching the careers of each of these icons, gathered the four legendary singer/songwriters at the Sun Records studio in Memphis for the first and only time. The result? One of the greatest rock 'n' roll jam sessions in history.
Million Dollar Quartet brings that unbelievable musical moment to life with an irresistible tale of broken promises, secrets, betrayal, humor, celebration, unforgettable performances of such timeless and enduring hits as "Blue Suede Shoes," "Fever," "That's All Right," "Sixteen Tons," "I Walk the Line," "Great Balls of Fire," "Folsom Prison Blues," "Whole Lotta Shakin' Goin' On," "Hound Dog," and more.
The cast of actors portraying the four legends in this jukebox musical certainly hold the likeness to the original artists. Elvis Presley will be played by Jacob Barton; Johnny Cash will be played by Steven Lasiter; Jerry Lee Lewis will be played by Trevor Dorner; Carl Perkins will be played by Nathan Burke; Sam Phillips will be played by Sean Casey Flanagan; Brother Jay Perkins will be played by Justin Bendel; Fluke is played by Jon Rossi; and Dyanne will be played by Taylor Kraft.
Million Dollar Quartet won a Tony® Award for Best Performance by a Featured Actor in a Musical and received two Tony® nominations, one for Best Musical and one for Best Book of a Musical (Colin Escott and Floyd Mutrux).
The show received an Outer Critics Circle Award for Outstanding Featured Actor in a Musical, a Drama Desk nomination for Outstanding Musical Revue, and three Drama League nominations including Distinguished Production of a Musical and Distinguished Performance.
Million Dollar Quartet is written by Colin Escott and Floyd Mutrux. The show is directed by Tim Seib with musical direction by Jon Rossi and produced by Gershwin Entertainment. Lighting Design by Kirk Bookman, set design by Adam Koch and costume design by Jeffrey Meek.
COVID-19 UPDATE
The Boch Center is committed to helping stop the spread of COVID-19 and announced it will require all patrons to be fully vaccinated or provide a negative COVID test taken within 72 hours of the show. Guests will be asked to show their vaccination card or test results and a government issued ID prior to entering an event at the Wang or Shubert Theatres. The new policy goes into effect on September 14. The Boch Center recently introduced a similar measure, requiring all administrative staff members, ushers, security personnel, stagehands and vendors be fully vaccinated. At this time masks are required for all guests as per the City of Boston mandate. The Boch Center will continue to monitor state and local health guidelines and will adjust the mask policy if the current guidelines change.

ABOUT THE SHUBERT THEATRE
Tickets for Million Dollar Quartet at the Boch Center Shubert Theatre October 29th 8:00 PM and October 30th, 2:00 PM and 8:00 PM are available at the Boch Center Box Office, www.bochcenter.org, by calling (800) 982-ARTS (2787) and via Ticketmaster. The Shubert Theatre is located at 265 Tremont Street in Boston, MA.
ABOUT THE BOCH CENTER
The Boch Center is one of the nation's leading nonprofit performing arts institutions and a guardian of the historic Wang and Shubert Theatres. As New England's largest cultural venue, the Boch Center is home to theater, classical and popular music, dance, comedy, opera, Broadway musicals, family entertainment, and more. Located in Boston's historic Theater District, the Boch Center also offers a diverse mix of educational, cultural and community outreach initiatives, including the City Spotlights Leadership Program and the Folk Americana Roots Hall of Fame; collaborates with artists and local nonprofit arts organizations; preserves historic venues; and acts as a champion for Greater Boston's arts and cultural community. Learn more at bochcenter.org.