(Cover Photo: Kirsten Salpini and Jared Troilo celebrate the careers of George Gershwin and Leonard Bernstein in "FASCINATING RHYTHM" a limited engagement event at the Lyric Stage in Boston, MA. until July 16, 2023. Photo Courtesy Lyric Stage)

By Kevin T. Baldwin
METRMAG Reviewer
# 774-242-6724
METRMAG Spotlight On:

KIRSTEN SALPINI and JARED TROILO
Discuss

"FASCINATING RHYTHM"
at the

Lyric Stage Company


Featuring music by George Gershwin and Leonard Bernstein
Created By & Starring Kirsten Salpini and Jared Troilo
Performances:
July 7, 14, 2023 at 7:30pm (Pay What You Can)
July 8, 9, 15 & 16 2023 at 3:00pm
(Contact Box Office for Exact Times)
140 Clarendon Street, Boston, MA 02116
TICKETS:
$45 General Admissions and $10 Students
BOX OFFICE # 617-585-5678
COVID 19 PROTOCOLS
Contact Venue for Most Updated COVID-19 Safety Protocols and Information.
Just as "Back to the Future - the Musical" opens to previews on Broadway, Lyric Stage Company in Boston takes us all "back in time" as well.
The reason for Lyric's time travel excursion, though, is for a nostalgic retrospective of musical legacies, specifically those of legendary composers George Gershwin and Leonard Bernstein.
While not arriving in a DeLorean, "FASCINATING RHYTHM" - a new revue created by and starring Kirsten Salpini and Jared Troilo from Lyric Stage's performance of "Murder For Two" - arrives in the form of "four hands, two voices and 176 keys."
METRMag chatted with the duo to learn more.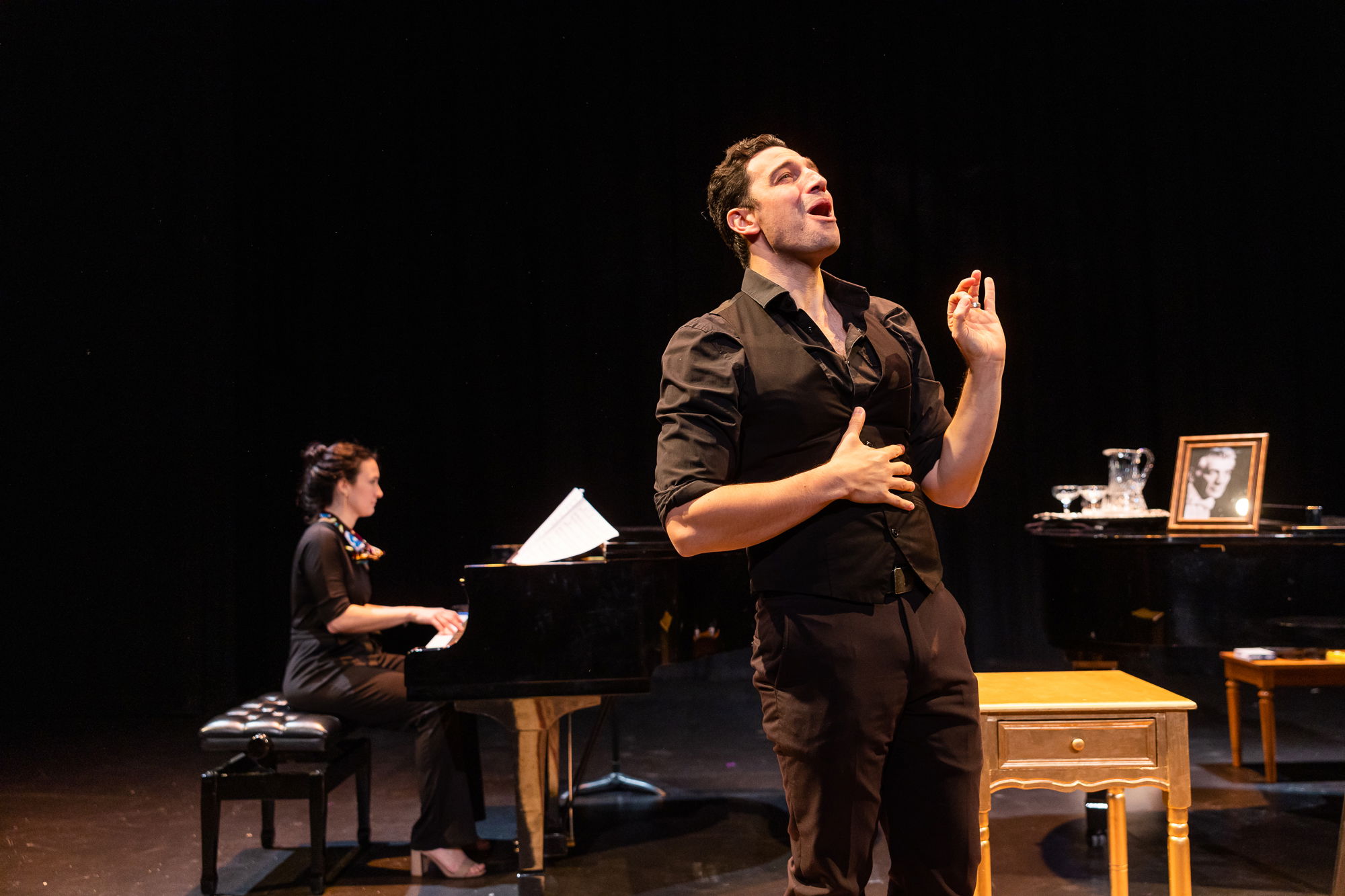 (Photo: Kirsten Salpini and Jared Troilo celebrate the careers of George Gershwin and Leonard Bernstein in "FASCINATING RHYTHM" a limited engagement event at the Lyric Stage in Boston, MA. until July 16, 2023. Photo Courtesy Lyric Stage)
Greetings to you both.
Q – How did this collaboration come to be?
We both met when we were cast in the 2016 production of "Murder for Two" at the Lyric Stage Company of Boston.
The show was a big success in every way, and we both really enjoyed collaborating with each other, discovering a mutual love of piano and silliness.
Since then, we've been dying to work together again. So instead of leaving that up to someone else, we decided to create our own show.
And thus, "FASCINATING RHYTHM" was born.
Kind of unusual for two people so young to focus on a revue of material by George Gershwin and Leonard Bernstein. Two musical geniuses in their own right but with Bernstein known to be an absolute fan of Gershwin.
Q - What drew each of you to the material?
Training and working in musical theatre gives you a respect for the craft of these composers and the timelessness of their work.
Kirsten grew up listening to a lot of jazz singers at home (i.e. Nat King Cole) and she learned a lot of Gershwin's songs that way.
Jared played "Tony" in "West Side Story" which, besides being an iconic role, gave him a deeper appreciation for and connection to Bernstein. Also, as a Jewish musician, it was exciting for him to explore the music of two extraordinary Jewish composers.
Q – The show has the tagline ending "…told with four hands, two voices and 176 keys." How long have you two been at this?
The creative process started for us in the summer of 2022, when we were approached by another theatre company and asked to create a two-piano show to present for a weekend slot in January.
We met weekly via zoom for almost six months (Kirsten lives in North Carolina now, and Jared still lives in Massachusetts) discussing ideas, writing dialogue, and creating an interesting setlist.
Then we were on our own, rehearsing our piano and vocal parts separately. We finally got together in the same room a week before the January show opened and put it all together.
Since that production, we've continued to meet, fine tuning moments in our show, as well as creating and forming our own company, 176 Keys.
That is an amazing level of commitment.
When one thinks of (Lawrence, Mass native) composer, conductor and pianist Leonard Bernstein, one might instantly recall his pieces from "West Side Story."
When one considers the legacy of George Gershwin, with or without his brother, Ira, one might immediately think of the iconic songs from "An American in Paris."
Q - Does "FASCINATING RHYTHM" explore, at all, how Bernstein was influenced by Gershwin or do you just try to keep the show focused on the music itself?
Yes, it does explore how Bernstein was influenced by Gershwin!
We were fascinated by the idea of finding parallels in their music, and we play with that in a speculative way by discussing certain specifics and even creating mashups.
They really were both pioneers, so we think that spirit is another parallel, beyond the nuts and bolts of musical composition.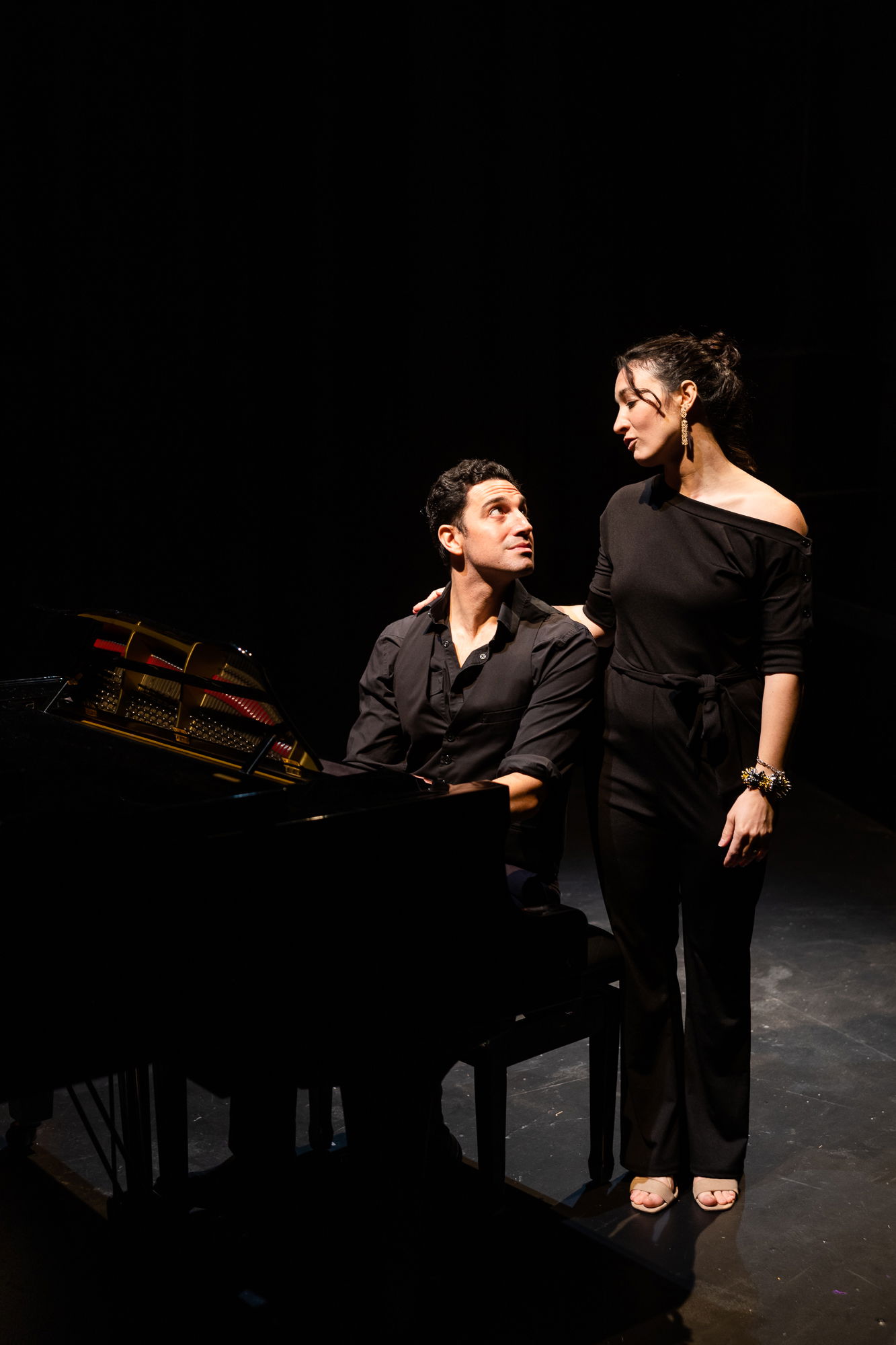 (Photo: Jared Troilo and Kirsten Salpini perform songs by George Gershwin and Leonard Bernstein in "FASCINATING RHYTHM" a limited engagement event at the Lyric Stage in Boston, MA. until July 16, 2023. Photo Courtesy Lyric Stage)
The song "Rhapsody in Blue," a piece which particularly impacted Bernstein at an early age (13), has seen a resurgence in notoriety thanks to Sean Hayes' Tony-winning performance on Broadway in "Good Night, Oscar."
Q - Do you also perform this piece, as well, as part of this review and, if so, how do you approach it?
We do perform a portion of it.
Of course, we'd love to perform the whole thing, but the piece can run as long as 16 minutes, and with such a large catalogue of music to choose from, we felt it would take up too much performance time.
We are very well aware of the link between the two composers that this piece represents, so it appears in our show and is even interwoven with some of Bernstein's music.
Q – Is the show "set" or do you tweak it each time you perform it? What keeps it all fresh and "fascinating" for both of you?
It's mostly set, but it was created with a lot of freedom and breathing room.
We are both comfortable improvisers, and there's this sense that when we're onstage together, we'll take care of each other, no matter where the other person decides to go with a moment/bit.
Our dialogue has room for jokes on the fly, and we have some audience interaction pieces that are different every night!
We try to make each other laugh by staying relaxed and staying in the moment, and the audience interaction definitely keeps it fresh.
Q – In total, how many songs are in this revue?
24
That may seem like quite a number of tunes. Yet, probably even more difficult a task would be whittling that number down from the vast combined number of songs that exists between these two contemporary musical pioneers!
Q – "Porgy and Bess," "West Side Story," "An American in Paris" and on and on and on – how do you choose from such vast respective musical catalogs?
What a great question!
It was a struggle to whittle it down. We each had a few songs we adored, so those were easy choices.
Beyond that, we looked at a few things: ensuring a variety of works (instrumental, musical theatre, opera), choosing pieces we thought highlighted the composers' similar sensibilities, being practical about our abilities and limitations (this took things like giant, symphonic works largely off the table).
Q – What are some songs that resonate personally with each of you? Is there one tune that touches you more than any other?
For Kirsten, "Love is Here to Stay" is one of her favorite love songs of all time, so there's something special about playing it every show. Also, "Somewhere" from West Side Story has such a touching message, singing the lyrics "we'll find a way of forgiving" is particularly meaningful.
For Jared, "Maria" is a perfect song. The repetition and simplicity of the melody, contrasting with the angst and uncertainty of the chord structure, makes it so, for lack of a better word, fascinating. Also, as a tenor, the vowels are very singer-friendly, making it such a joy to sing.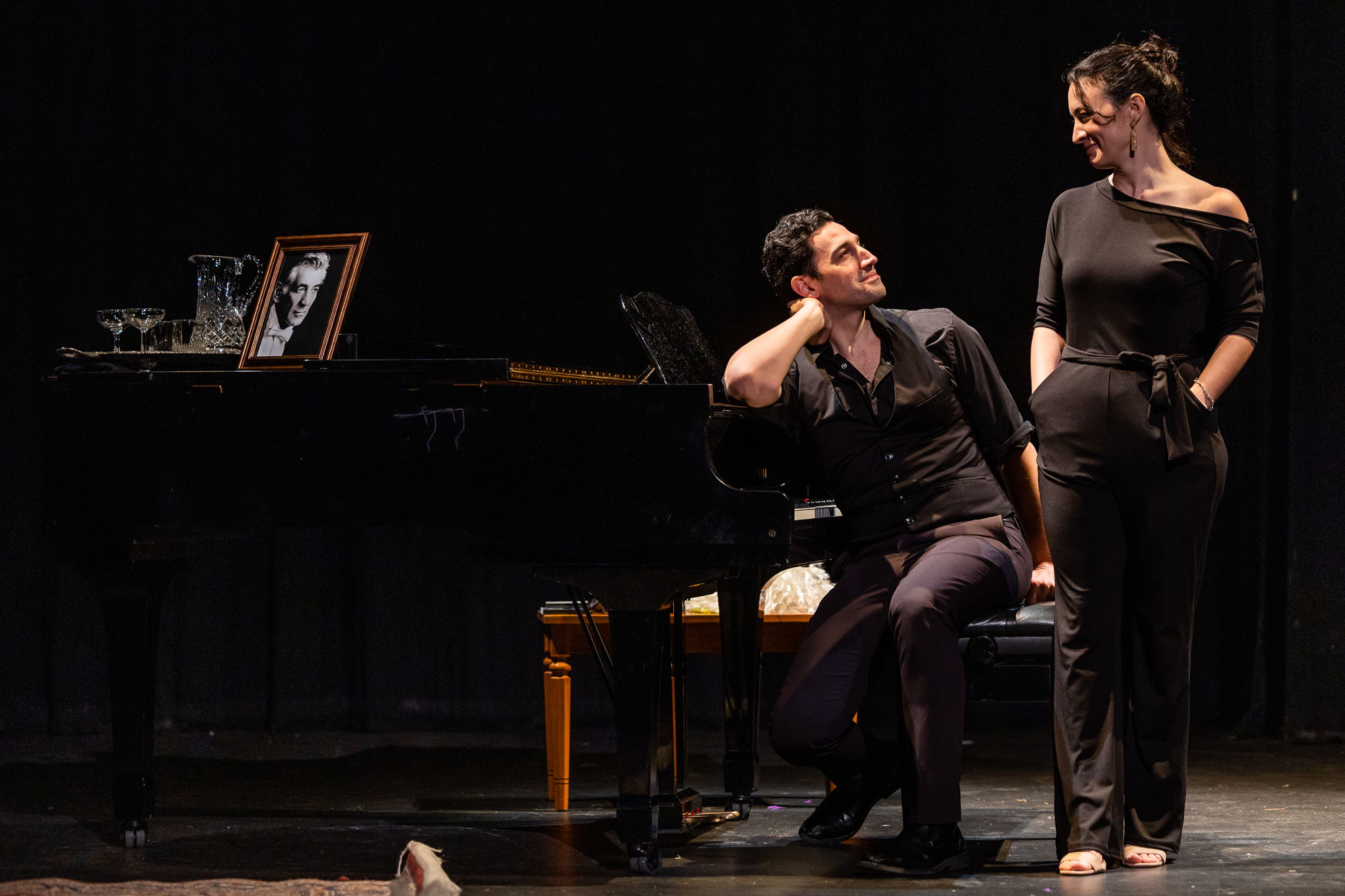 (Photo: Troilo and Salpini together musically 'channel' Gershwin and Bernstein in the musical revue "FASCINATING RHYTHM" a limited engagement event at the Lyric Stage in Boston, MA. until July 16, 2023. Photo Courtesy Lyric Stage)
Q – Some folks out there might look at an evening of Gershwin and Bernstein as a little dry and, dare I say it, dull. How would you respond to this criticism?
*laughs* Have you listened to a Bernstein piece?! They're so wonderfully chaotic and unexpected.
Well, not all of them.
Regardless, let's say "this is not-your-grandmother's Gershwin show."
We are children of a different era and although we respect these composers deeply, we approached their work with a lot of creativity: we've reimagined some songs with our own interesting arrangements, created mashups, and added silly crowd interactions and improvisations.
We were committed to making this show warm and inviting, not stiff like some concerts can be.
Q – How much audience interaction is there and what tunes do you see from the show as being the big crowd pleasers?
We have a variety of audience interactions ranging from singalongs to more direct participation.
It's not constant, and it's all in good fun, but we are in conversation with the audience throughout the show.
Obviously, "I Got Rhythm," "Someone to Watch Over Me," and anything from "West Side Story" are all sure to be crowd pleasers.
Q – With the combined catalog of these two composers, is there enough room for a sequel to "FASCINATING RHYTHM?" Or, do you see yourselves, perhaps, collaborating for revues on the works of other composers? In other words, what comes next for the team of "Salpini and Troilo?" (Or is it, "Troilo and Salpini?" 😉)
You read our minds! We have a name for our two-piano act/musical collaboration now, for that very reason.
We're called "176 Keys". We are already discussing future shows that will explore other composer duos.
We'll be looking for other intersections in music, since that provided us such a useful lens with which to view Gershwin and Bernstein.
For now, people can follow us on Instagram @176keys, on Facebook as 176 Keys to see what we're up to!
"FASCINATING RHYTHM" is a limited engagement event, now playing at Lyric Stage Company in Boston until July 16th.
Kevin T. Baldwin is a member of the American Theatre Critics Association (ATCA)
@MetrmagReviews
@Theatre_Critics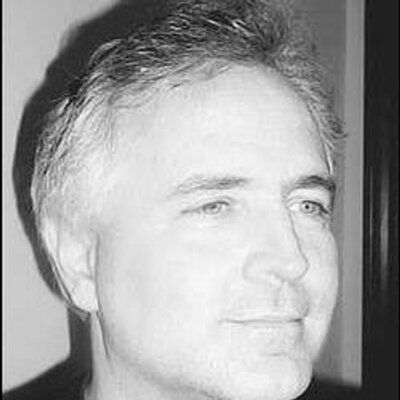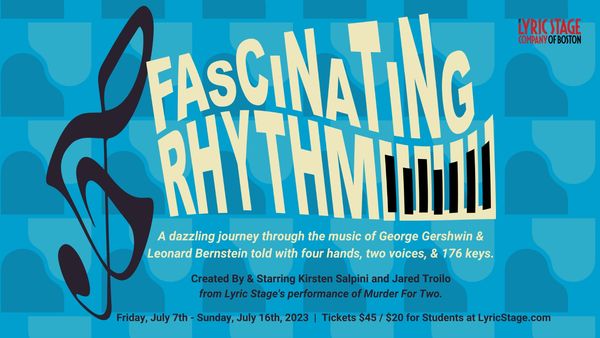 ABOUT THE SHOW
A dazzling journey through the music of George Gershwin & Leonard Bernstein told with four hands, two voices, & 176 keys.
Created By & Starring Kirsten Salpini and Jared Troilo from Lyric Stage's performance of "Murder For Two."
.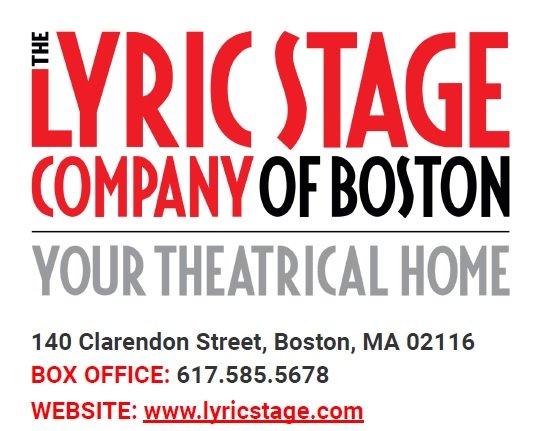 ABOUT THE LYRIC STAGE OF BOSTON
Founded in 1974 and in residence at 140 Clarendon Street since 1991, the Lyric Stage Company is Boston's oldest resident theatre company. Our mission is to produce and present live theatre in Greater Boston with an intimate approach that promotes inclusivity and connection. The Lyric Stage leads an effort to integrate live theater and theater education into the lives of all residents of greater Boston.
140 Clarendon Street
Boston, MA. 02116
BOX OFFICE: 617-585-5678