The State Theatre
Presents

A Unique Concert Event
"GUSTER'S ON THE OCEAN"
MAINE WEEKEND 2023!
Guster's On The Ocean Weekend
in Portland, MAINE
Expands To Three Days!
Musical Guests include Shakey Graves, Bahamas, Lucius,
2023 GRAMMY Award-winner Madison Cunningham
and Maine Locals The Ballroom Thieves and Oshima Brothers!
Performances:
August 11 - 13, 2023
"On The Ocean" has become a family affair which means there are special Kids Prices for fans 13 and under: $20 ticket per day or a 2-day pass at $30.
Tickets for "On The Ocean" weekend go on-sale Friday, April 7th at 12:00 Noon.
For tickets and information visit www.ontheoceanfest.com
Follow @ontheoceanfest on Instagram and Twitter for updates and last-minute weekend announcements.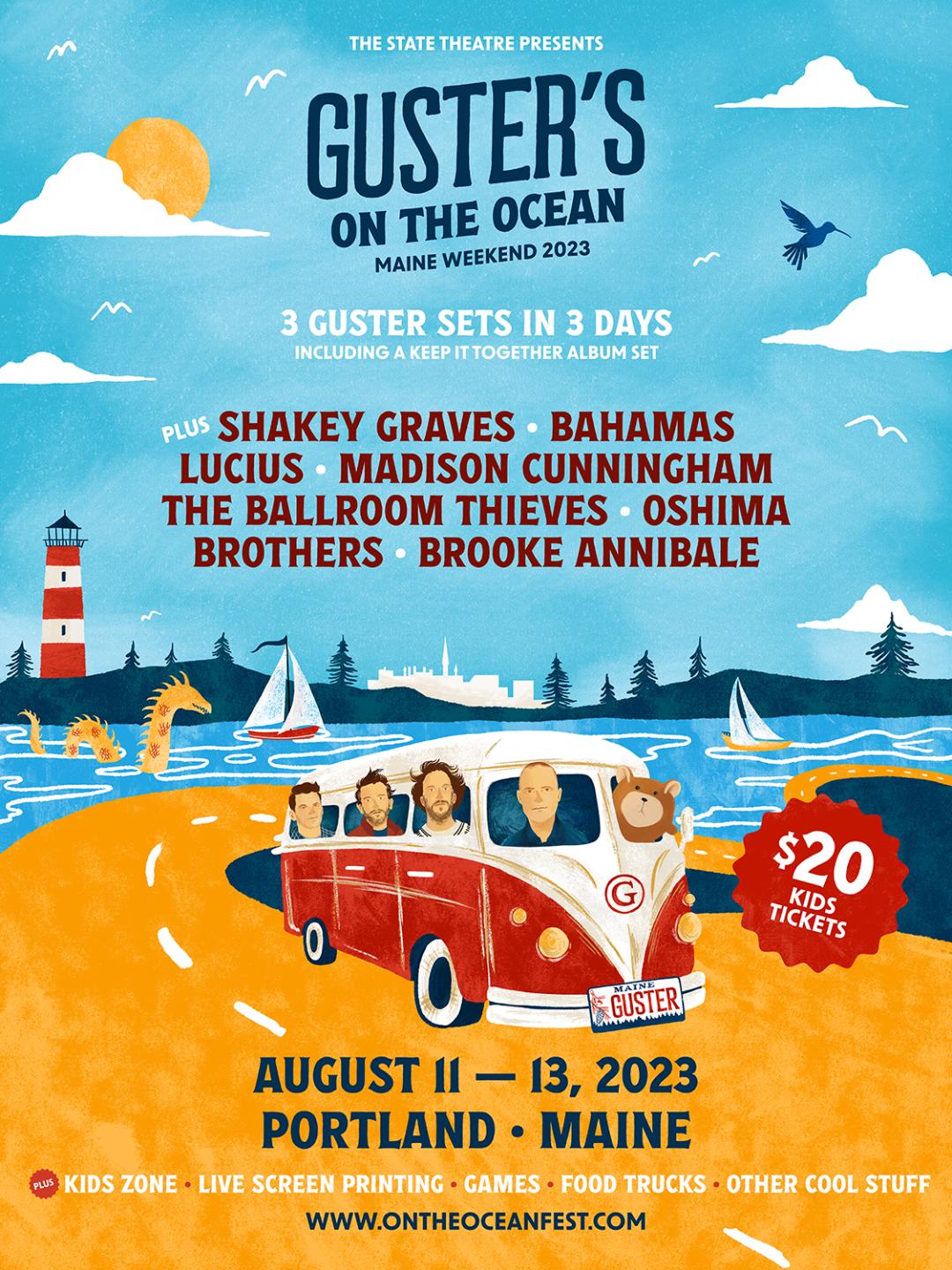 ABOUT THE SHOW
Guster's "On The Ocean 2023" Maine Weekend returns to Portland, ME for the 5th summer with three days of music and fan experiences.
This year's festival features the biggest musical line-up yet and promises three days to enjoy great music, food, and fun for the whole family in picturesque Portland, ME.
"We've always centered this event around coming together and celebrating our love of music, and this year we're going further," said Guster's Adam Gardner, a Portland, ME resident. "Three days means more time to reconnect with friends, meet new ones, enjoy family time, and explore this great town."
"On The Ocean 2023" kicks off on Friday night at The State Theatre, with the Enchantment Under The Ocean Dance.
Fans are invited to dress up in their most weird and wonderful prom-themed attire for a party that will feature a DJ, photo booth, cocktail weenies and an acoustic set from Guster.
Saturday, the festival moves to Thompson's Point for the first of two full days of music and family fun.
The musical lineup will include Guster, Bahamas, 2023 GRAMMY Award-winning Madison Cunningham, The Ballroom Thieves, and Brooke Annibale.
Sunday's lineup at Thompson's Point features Shakey Graves, Lucius, Maine's Oshima Brothers and Guster playing a 20th Anniversary Keep It Together set.
The Kids Zone is back for 2023 providing the ideal spot for little ones and guardians to step away from the music and crowds for some low-key activities such as arts and crafts, face painting, games and more.
With Portland's renown as a foodie destination, Saturday and Sunday will find some of the region's finest food trucks on Thompson's Point with options for everyone from die-hard foodies to those with less adventurous palates.
"On The Ocean 2023" will offer fans a new VIP level experience (both 3-day and 2-day tickets available), with access to an exclusive concert viewing area, bar access, lounge seating, a discounted VIP food truck, and more.
Tickets go on sale Friday April 7th at www.ontheoceanfest.com
Kevin T. Baldwin is a member of the American Theatre Critics Association (ATCA)
@MetrmagReviews
@Theatre_Critics