(Cover Photo: Company of North American Tour of "Fiddler on the Roof" coming to the Emerson Colonial Theatre December 21, 22 & 23, 2021 at 7:30pm and December 23, 24 & 26, 2021 at 2:00pm. Photo by Joan Marcus)
Kevin T. Baldwin
METRMag Reviewer
# 774-242-6724
The Emerson Colonial Theatre
Presents
"FIDDLER ON THE ROOF"
Based on the stories by Sholem Aleichem
Performances:
December 21, 22 & 23, 2021 at 7:30pm
December 23, 24 & 26, 2021 at 2:00pm
Book By Joseph Stein.
Music by Jerry Bock and Lyrics by Sheldon Harnick.
Original Choreography & Direction by Jerome Robbins.
Director Bartlett Sher.
Music Director/Conductor Jonathan Marro. Music Director and New Orchestrations Ted Sperling.
Choreographer Hofesh Shechter.
Cast Includes: Yehezkel Lazarov (Tevye); Maite Uzal (Golde); Andrew Hendrick (Lazar Wolf); Brooke Wetterhahn (Yente, Grandma Tzeitel); Kelly Gabrielle Murphy (Tzeitel); Noa Luz Barenblat (Chava); Ruthy Froch (Hodel); Daniel Kushner (Motel); Solomon Reynolds (Perchik); Jack O'Brien (Fyedka); Jason Thomas Sofge (Constable); Danny Arnold (Mordcha); Nick Berke (Swing); Andrea Marie Bush (Swing); Morgan Cohen (Ensemble); David Scott Curtis (Ensemble / Rabbi); Eddieomar Gonzalez-Castillo (Ensemble); Ansley Grace Hamilton (Swing); Jenna Harwood (Shprintze); Jonathan Hashmonay (Avram, Villager); Elliot Lazar (Ensemble / Mendel); Randa Meierhenry (Ensemble / Rivka); Carlye Messman (Ensemble / Mirala); Ali Arian Molaei (Ensemble / Fiddler); Jacob Nahor (Swing); Max O'Connell (Ensemble); Honza Pelichovsky (Ensemble); Carly Post (Bielke); Lauren Blair Smith (Ensemble); Alex Stone (Ensemble / Sasha); Rosie Webber (Ensemble / Fruma-Sarah); Scott Willits (Ensemble/Nachum/Yussell)
(NOTE: Information from tour web site and subject to change)
Creative Team Includes:
Michael Yeargan - Scenic Design; Catherine Zuber - Costume Design; Donald Holder - Lighting Design; Scott Lehrer & Alex Neumann - Sound Design; Mikiko Suzuki Macadams - Additional Set & Adaptations; Tom Watson - Hair/Wig Design; B.H. Barry - Fight Director; Oran Eldor - Dance Arrangements; John Mezzio - Music Coordinator; Bond Theatrical Group - Marketing & Publicity Direction; Andy Drachenberg - Interactive Marketing; The Booking Group - Tour Booking; Jason Styres – Casting; Charlie Stone - Executive Producer; Networks Presentations – Producer; Claire Farrokh - Production Stage Manager; Christopher T.P. Holman - Company Manager; Gentry & Associates, Inc. - General Management; Steve Varon - General Manager; Sari Ketter - Associate Director; Shelley Butler - Tour Director; Christopher Evans - Associate Choreographer; Kathy Fabian - Props Supervisor; Liam Millward Assistant - Company Manager.
(NOTE: Information from tour web site and subject to change)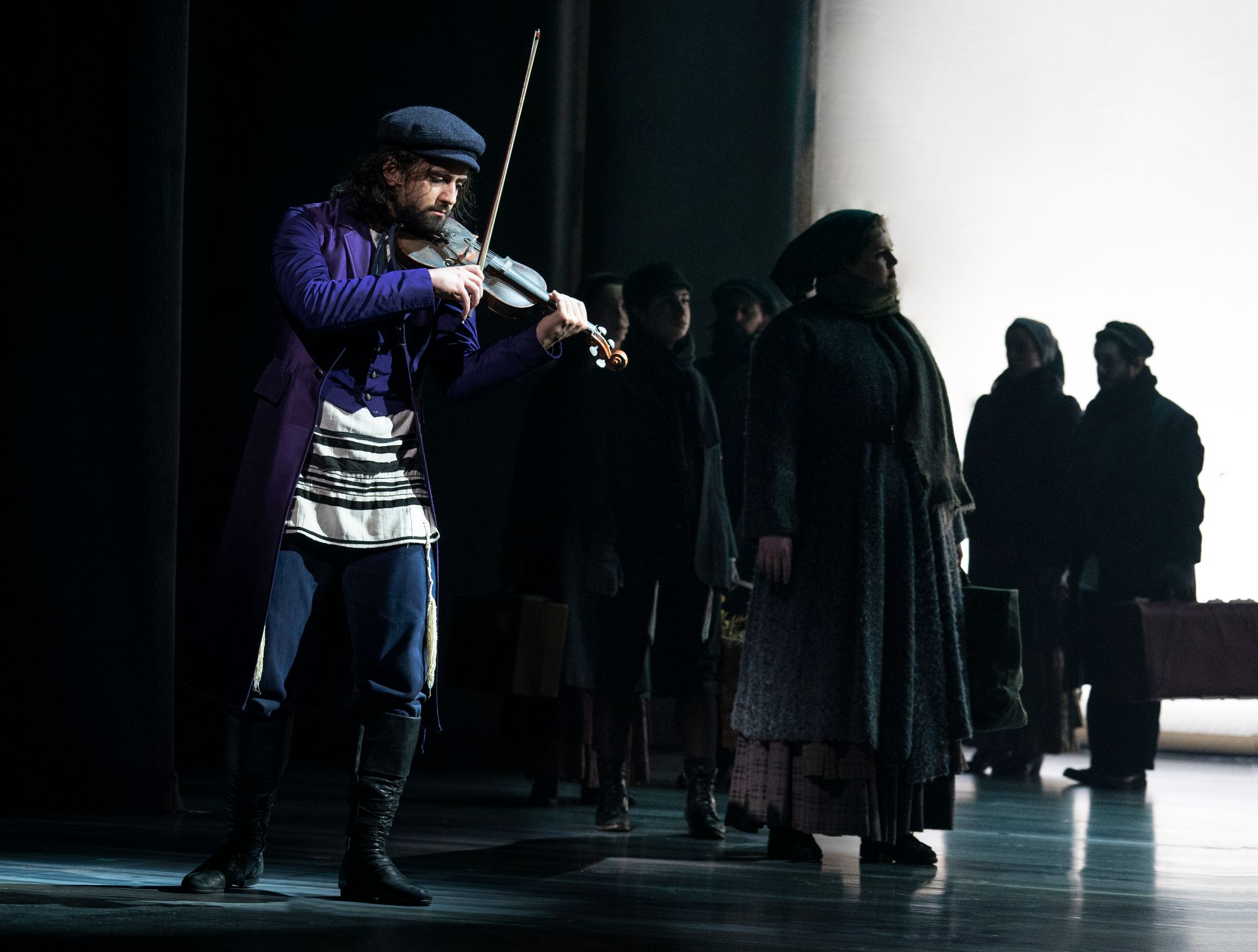 (Ali Arian Molaei of "Fiddler on the Roof" coming to the Emerson Colonial Theatre on December 21, 22 & 23, 2021 at 7:30pm and December 23, 24 & 26, 2021 at 2:00pm. Photo by Joan Marcus)
METRMAG Spotlight On: "Fiddler on the Roof" Interview with Ali Arian Molaei ("The Fiddler")
Ali Arian Molaei is an actor, dancer, and singer originally from the San Francisco Bay Area.
A 2021 graduate the Boston Conservatory with a BFA in Musical Theatre and an Emphasis in Dance, he graduated cum laude.
According to the Ali Arian Molaei website, a life-long dream came true the summer after his junior year at the Conservatory, when he landed the title role of "The Fiddler" in the Broadway National Tour of "Fiddler on the Roof" directed by Tony® Award winner Bartlett Sher (South Pacific, which Sher also directed in London and Australia). The show has performances in Boston beginning December 21st.
Molaei looks back on the first paid professional gig which took place long before deciding on the career path chosen.
"My first paid gig was in the seventh grade for the San Jose Rep Theatre (now defunct)," Molaei recalls. "It was for 'A Christmas Story' (the play) and I went in because I was referred by an old drama teacher who remembered me from 8 or 9 years old. I remember the audition really wanting to play 'Schwartz' ("I Triple-Dog-Dare Ya!") and I couldn't believe I got that part! I mean, at 12 years old it was the most amazing experience working with professional cast and crew."
Molaei was fortunate to have family support when ultimately choosing performing as a career path.
"You know, yeah. I am Persian and most of my family is like 'You WILL be a lawyer, doctor, dentist (or whatever) and my mom and dad just told me to follow my dreams and I waltzed into theatre and almost fell in love immediately."
Molaei actually has a number of Boston connections having attended Boston Conservatory. Now, coming back, the busy schedule of a Tour may still yield some chances to visit old haunts.
"Oh, my gosh - we have ALL been so looking forward to Boston," Molaei says. "It is such an amazing city. One of my fellow dancers also graduated this last spring and we are looking forward to going back to our old stomping grounds. We may not get to see a lot of friends, but we'll still try to hit a lot of our old spots."
Molaei was already on the road in the original 2020 Fiddler tour for eight months (179 performances, 25 cities) before COVID-19 shut everything down. So, Molaei used the time to come back to Boston to complete the BFA in Musical Theatre and an Emphasis in Dance, graduating in the spring of 2021.
Molaei 's first exposure to the show actually came many years ago when he performed in "Fiddler" previously out on the West Coast for West Valley Light Opera. Molaei describes the experience back then and how it actually helped him prepare for this current 2021 NETworks "Fiddler" Tour.
"That production was my intro to 'Fiddler' as I had never seen the movie or show," Molaei remembers. "I auditioned to be chorus and bottle dancer. Well, I got to be dance captain for that company. I loved the experience because it always felt like family. I remember having a close connection with that company. It really gave me a whole new understanding of just what a special show 'Fiddler' is. So, when this (2021) tour came along, it was my first professional tour but I felt I was ready to take on this show that is so special and means so much to so many people."
If there is a "Top 10 List" of iconic musicals, of course, "Fiddler on the Roof" is near the very top of that list, if not number one. There is an established legacy to the show, as well. Molaei describes working with current 2021 "Fiddler" Tour director Bartlett Sher as a "dream come true."
"I have to confess to being a 'Sher fan,'" Molaei says. "I have loved his work since PBS broadcast his production of 'South Pacific.' I fell in love with his overall vision and aesthetic. When I got the audition I was surprised that he was actually in the room with me. It was an unbelievable magical experience."
Molaei recollects Sher's approach to the "Fiddler" story as being "very balanced."
"He (Sher) is so smart, so detailed. I love the way he blends the politics that are in ALL these pieces he chooses to direct but, then, at the same time, he puts the audience at ease with the music and dance," Molaei says. "He is taking the issues at the core of each story and puts them into a context whereby the audience can understand. He is a genius."
And what does Molaei say 2021 Tour choreographer Hofesh Shechter adds to the already established choreography originally contributed by Jerome Robbins?
"Hofesh is really amazing. 'Fiddler' has been done so much the same way over the years. He (with Bartlett) took the skeleton of the Jerome Robbins movement and blended it with more traditional Gaga and Batsheva movement choreography which adds a fresh authenticity - it is very spiritual yet also very athletic. Every where we go people just rave about the choreography that we do. Technically it is modern dance, yielding an emotion. It is both really, really hard but also rewarding to do each night."
Molaei describes being with today's 2021 Tour companions in the cast as "a blessing."
"For us to all be out of work for 20 months and then to finally again have the opportunity to be with these beautiful bodies back up on stage to sing and dance is just so magical," Molaei says. "These are all world class performers serving every night."
Molaei also indicates a fondness for Yehezkel Lazarov, the actor playing the lead character of Tevye. As Tevye explains from the musical's quintessential opener "Tradition," the title of the show is derived from its most obvious symbol: a fiddler on the roof. Molaei, as The Fiddler (at least, according to Tevye), represents the fragile balance of life in the village. Were there any conversations had with Bartlett Sher about how to approach this aspect of the character?
"It is very interesting - The Fiddler is kind of this all knowing presence. He is always there. He interweaves all throughout the story," Molaei says. "When Tevye needs to 'keep on his toes' or when he is heartbroken, he (The Fiddler) is there. He represents their faith (the villagers of Anatevka) and how their faith will lead them throughout the rest of their lives. I play the poetic center because The Fiddler also represents the balance of these times and the turmoil people are going through right now, every day."
Most audiences are acquainted with the image of The Fiddler from the musical but not much is known about him beyond the symbolic. He is not mute yet never speaks. How does Molaei interpret him as a person in approach?
"It changes so often. I feel so present as a human and yet, sometimes, I also feel as if I am a rift of fog just rolling in across the stage," Molaei says. "He is the most 'real' at the end of the story as Tevye asks him to join in their journey out of Anaetevka. He is their faith that will go with them wherever they go, wherever they travel."
Since the musical premiered in 1964, with every revival, authenticity has become essential in older shows like "Fiddler" or "Cabaret" (another show that has experienced numerous revivals, with each revival becoming more "authentic-like" than the last for the setting and time period where the show takes place). But has this latest incarnation sacrificed anything from the original in order to achieve that authenticity?
"I honestly think nothing has been sacrificed," Molaei says. "This version, the show, is rooted in truth. So much research took place about life in the Shtetls to help most accurately depict these characters. It is so real to the human condition. We are laughing one moment then, in the next, we are sobbing, That is just the way life is. This story is truthful to what these characters would have been dealing with in this time. "
Does Molaei have a personal favorite scene or song from the musical?
"I have two favorites songs - 'Miracle of Miracles' and 'Chavelah," Molaei says. "Two of the favorite melodies and 'Chavelah' is such a beautiful dance moment."
Molaei also gets to do the famous "bottle dance" from the wedding scene where several male dancers perform while balancing bottles on their heads.
"When we do those final slides on the knees, audiences go wild," Molaei says. "It is magical to feel that kind of energy from an audience. This is 'Fiddler' and so many people know every song. They know every word. It is really incredible."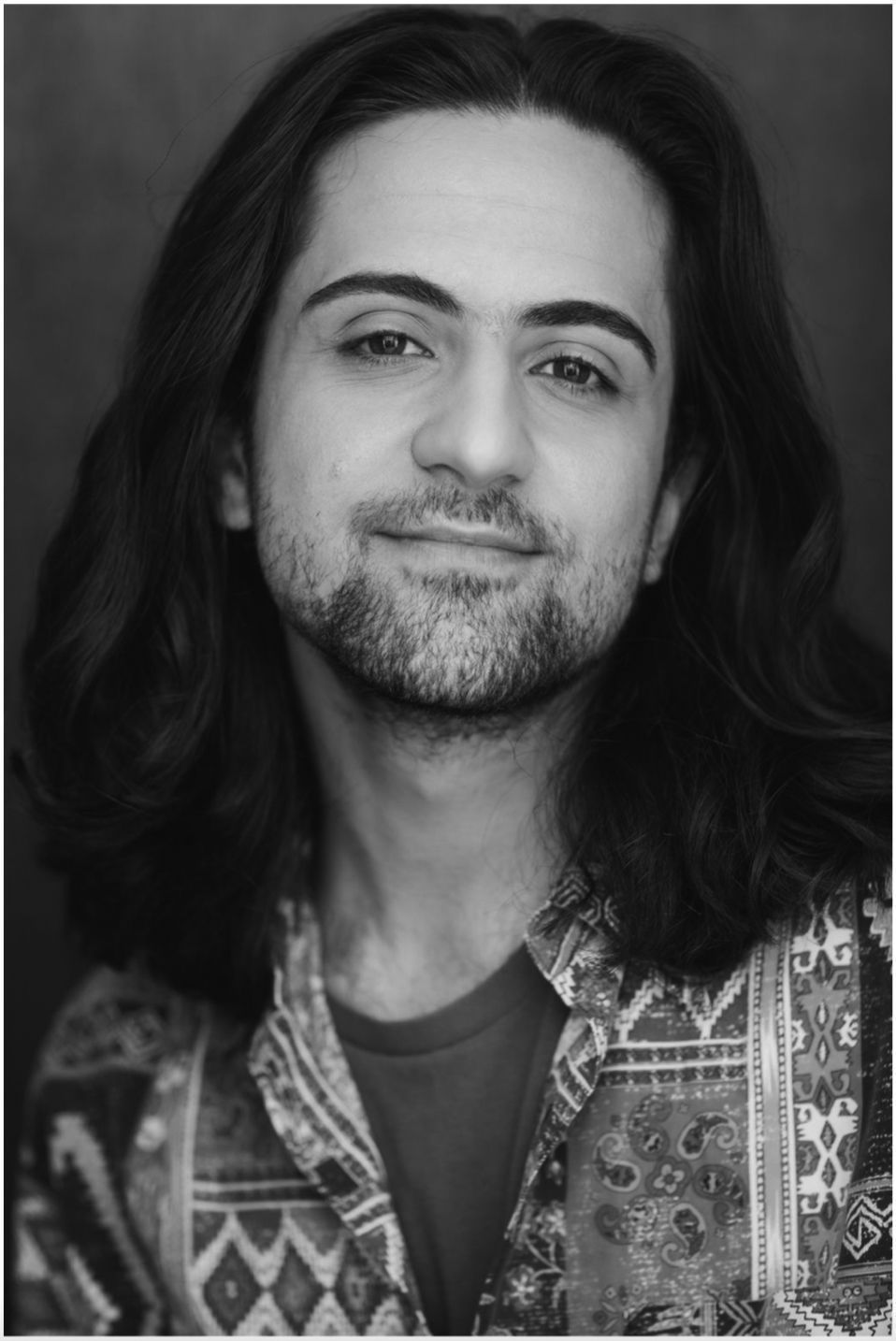 (Ali Arian Molaei plays "The Fiddler" in "Fiddler on the Roof" coming to the Emerson Colonial Theatre on December 21, 22 & 23, 2021 at 7:30pm and December 23, 24 & 26, 2021 at 2:00pm. Photo by Joan Marcur)
After the tour ends, what comes next for Ali Arian Molaei after he puts down his fiddle and bow and takes the bottle off his head?
"I think I will finally move to New York City," Molaie says. "I remember growing up in California. I always dreamed of living there but life pivoted and I wound up in Boston. Now, I will be 25 at the end of the tour and will finally move to NYC."
After seeing "Fiddler on the Roof" Molaie indicates a hope that audiences will see just how the overall message of 'Fiddler' is timeless.
"The thing I love most is that 'Fiddler' is so universal - multiple storylines of refugees, love, families, maintaining truth to oneself and dedication to loved ones while the world is constantly changing around you. We are feeling that right now. We are constantly changing, dismantling, changing everything we do every day. It's hard, very hard. Tevye changes his ways for the happiness of his daughters and family. So many things that people will be able to relate to."
The show's approximate run time is three hours with one intermission.
Kevin T. Baldwin is a member of the American Theatre Critics Association (ATCA)
@MetrmagReviews
@Theatre_Critics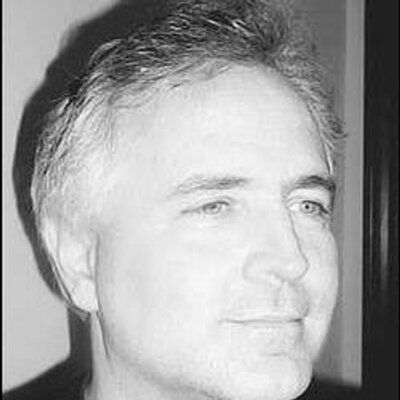 ABOUT THE SHOW
Audiences across North America are toasting a new production of FIDDLER ON THE ROOF!
Rich with musical hits you know and love, including "Tradition," "Sunrise, Sunset," "If I Were A Rich Man," "Matchmaker, Matchmaker" and "To Life (L'Chaim!)," FIDDLER ON THE ROOF is the heartwarming story of fathers and daughters, husbands and wives, and life, love and laughter.
Tony®-winning director Bartlett Sher and the team behind South Pacific, The King and I and 2017 Tony-winning Best Play Oslo, bring a fresh and authentic vision to this beloved theatrical masterpiece from Tony winner Joseph Stein and Pulitzer Prize winners Jerry Bock and Sheldon Harnick.
Featuring a talented cast, lavish orchestra and stunning movement and dance from Israeli choreographer Hofesh Shechter, based on the original staging by Jerome Robbins, FIDDLER ON THE ROOF will introduce a new generation to the uplifting celebration that raises its cup to joy! To love! To life!
(VIDEO CLIP: Company of "Fiddler on the Roof" coming to the Emerson Colonial Theatre on December 21, 22 & 23, 2021 at 7:30pm and December 23, 24 & 26, 2021 at 2:00pm. Courtesy of the Tour Website)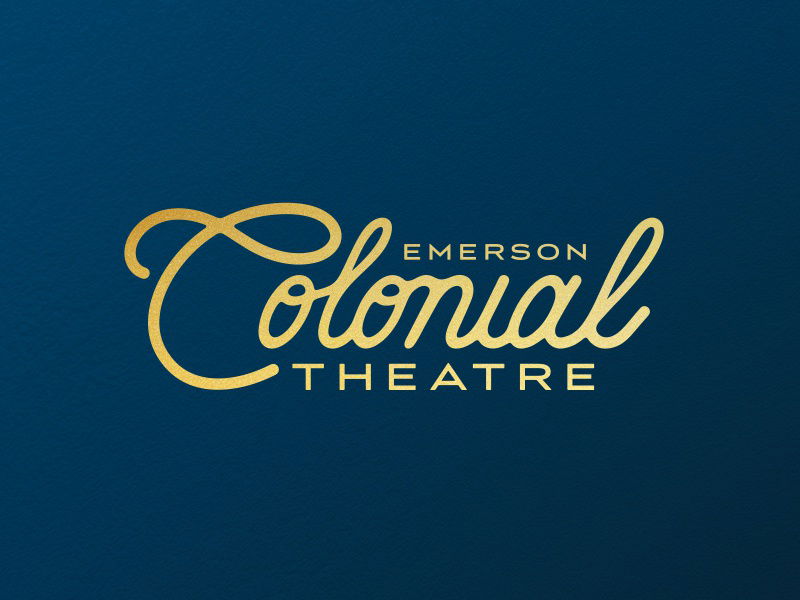 ABOUT THE EMERSON COLONIAL THEATRE
In its storied history, The Emerson Colonial Theatre has debuted such seminal Broadway shows as Anything Goes , Porgy and Bess , Oklahoma! , Born Yesterday , Follies , A Little Night Music , Grand Hotel , and La Cage aux Folles, among others. Reviving a great theatrical tradition, Boston's newly restored Emerson Colonial Theatre officially re-opened its doors in July 2018 with the pre-Broadway World Premiere of Moulin Rouge! The Musical . Emerson Colonial Theatre, which opened in 1900 with a production of Ben-Hur, is the oldest continuously operated theater in Boston; as well as being amongst the most magnificent, having retained most of its original period details. A theatre for the community, Emerson Colonial Theatre will once again contribute to the rich cultural landscape of Boston, with a new and varied program of Broadway shows, live music, comedy and events.

Emerson Colonial Theatre
106 Boylston Street
Boston, MA 02116